Page 3 - A Closer Look, Board Layout, Test System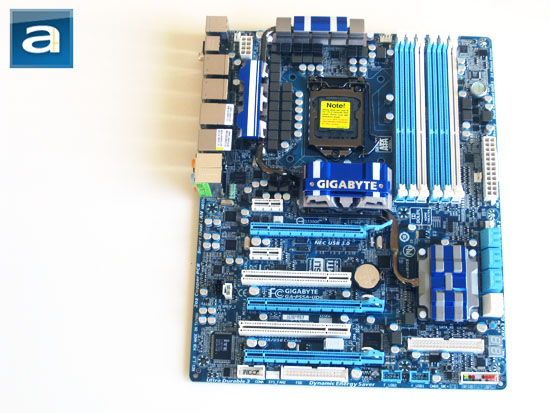 The Gigabyte GA-P55A-UD6 motherboard arrives in the trademark Gigabyte blue printed circuit board design. Like Asus and DFI motherboards, its use of PCB and component colors makes the product easily identifiable by others. The majority of the components on the motherboard are colored either a variation of blue, ivory, or black. I am personally not a big fan of this color scheme since it feels very... blue, haha. But what the heck -- I don't think disliking a motherboard's look really stopped anyone from buying it if it's truly an excellent product. As it has gained immense popularity for the last couple years, the Gigabyte GA-P55A-UD6, like all Gigabyte performance motherboards, features 100% Japanese manufactured SMD solid state capacitors.
As you can see the design of the heatpipes above, it's a little more than just an L-shaped heatpipe. The black colored copper heatpipes feature a C-shaped design which can be seen at the top, where heat dissipation is implemented over components in three of four sides of the CPU socket in the middle. Wait a second... didn't you say that P55 does not have a Northbridge and Southbridge? That is correct -- the bottom end section of the heatpipe system begins with a blue and silver block to bring additional cooling over the ITE IT8213 PATA controller chip and Marvell 9128 SATA-600 controller chips, where the Southbridge used to reside. From there, it leads on to the main build via a single heatpipe. The heatpipe continues on from the central P55 PCH cooler directly to the first array of cooling fins for heat dissipation out the back -- this is taken advantage of when airflow is brought over this area by the rear exhaust fan in a standard chassis, as well as the CPU cooler. During our tests, the heatpipe system worked well and adequately cooled our P55 chipset even under overclocking scenarios, despite the fact that it's not in the correct upright orientation -- we tested it on its back in our Danger Den Torture Rack chassis.
As with its predecessors, the ATX 4-pin/EPS 8-pin power connector is located at the top left corner of the motherboard, behind the PS/2 connectors. It is fairly cramped in that area, especially considering adjacent to the power connector are several other components, in addition to a 3-pin fan connector. It is not as hard to disconnect once the ATX 4-pin/EPS 8-pin connector is clipped in, as compared to the past -- however, shuffling the components around to make the connector face up would have been easier on the end user.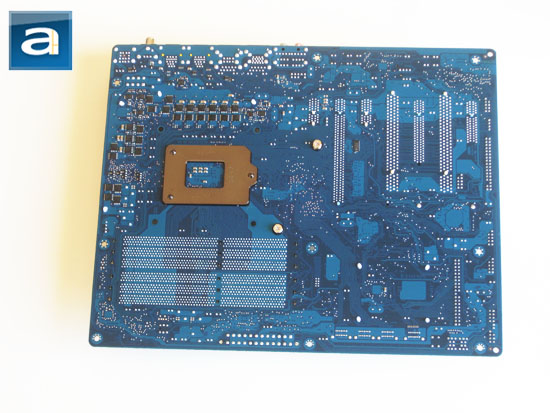 A shot of the back of the motherboard. It's a relatively clean design, nothing in particular here. There's none of those large "Crazy Cool" copper plates at the back to interfere with anything. The standard Intel backplate is present, but all heatsinks designed for LGA1156 should be designed to work with the backplate in its place. Two ounces of copper were used on the power and ground layers of the P55A-UD6 to improve its electrical and cooling efficiency, as well as delivering more stable power to the components. Regarding the use of capacitors, the use of surface mounts is evident, as shown in the image above. Pins still stick out for other components, for example, the RAM socket pins and PCI slots -- since SMT is not capable of withstanding higher mechanical stress required for this purpose.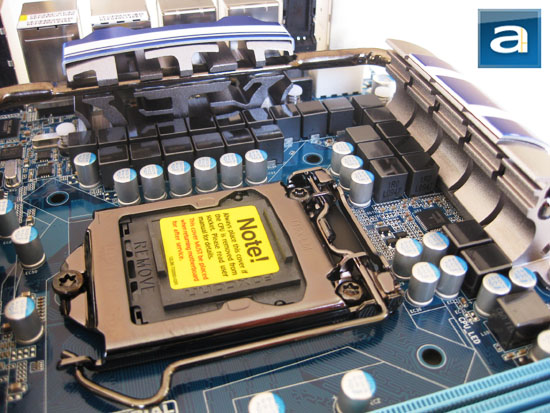 Within close proximity of the LGA1156 processor socket is the usual array of items -- components relating to the CPU voltage regulator circuit, as well as heatsinks from the heatpipe loop. The components in general are relatively low profile, so I experienced no problems in installing large heatsinks such as the Noctua NH-D14. The Gigabyte GA-P55A-UD6 also features ferrite core chokes rather than iron core chokes; additionally, MOSFET transistors with low RDS(on) characteristics are implemented on this motherboard. Counting the "black blocks" around the processor, as shown in our photo above, reveals that the P55A-UD6 features a 24-phase power design, featuring a total of sixteen Axxon Tech A2724 and twelve A2726 ICs. This is generally excellent for lower voltage ripples and steady power, and also contributes to better overclocking results. Power usage and CPU life may also be improved to a certain extent. With all this in mind, the Gigabyte GA-P55A-UD6 should deliver superior performance and stability, while reducing heat and power loss.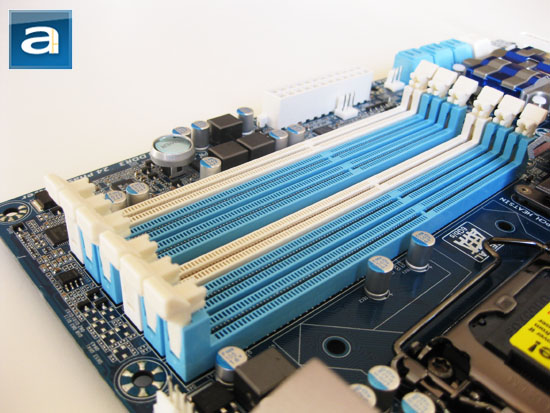 What may cause further confusion on the Gigabyte P55A-UD6 are the memory slots. There are six DDR3 slots in total. Wait a second -- don't Lynnfield processors only support dual channel memory? That is correct -- and it is no different (Nor can it be different, since the memory controller is now on the CPU) on the GA-P55A-UD6. Gigabyte implemented two additional slots, so when all six slots are populated, the white slots can take either single or double sided memory, while the blue slots can only accept single sided RAM. This simply allows more flexibility to the end user with lower capacity modules, and the system uses them as if they are double sided in the blue slots. Pretty smart and innovative, but for the most part it may simply end up being a waste of PCB space.
The RAM slots are placed a reasonable distance away from the CPU socket, but you may experience clearance issues with the inside slots if you have memory with tall heatspreaders in conjunction with a large CPU HS/F. The ATX 24-pin power connector is placed along the side of the motherboard as far as standard design is concerned. Meanwhile, a large power button can be seen on the motherboard itself, as shown in our photo above. This is especially convenient for enthusiasts who may not be installing their motherboard in a standard chassis, or have their case power buttons connected at all times.
Eight color coded Serial ATA connectors are angled perpendicular to the motherboard for optimal cabling convenience. The six blue SATA ports are native to the chipset, and support RAID 0, 1, 5 and 10. A Marvell 9128 chip resides under the heatsink, and connects to the motherboard via PCI Express to support two SATA 6Gb/s ports, shown in white, and supports RAID 0 and RAID 1. An ITE IT8213 PATA controller is also found under the heatsink to provide the single IDE connector on board. I found its placement kind of weird and definitely not optimal, but most users won't be needing it nowadays anyway, haha. A tiny reset switch is placed next to the SATA-600 ports. Adjacent to the PATA connector is a two-digit display, which shows an error code if there are any POST problems. It is certainly much more convenient than having to listen to beep codes!
It is important to note that, if you have the SATA 3.0 and/or USB 3.0 chips enabled while running a dual graphics card configuration such as CrossFireX or SLI, said graphics setup will degrade the maximum bandwidth of the SATA ports. By default, it will run off one of Lynnfield processor's sixteen available PCI Express lanes. On the other hand, if you have two graphics card plugged in, the BIOS will switch the chips to run off the PCIe lanes provided by the P55 chipset. This ensures that the graphics card will receive maximum available bandwidth. The bandwidth available to the Serial ATA drives will be reduced by half to 2.5Gb/s though. It is certainly not a significant problem, because existing SATA 3.0 drives at press time don't even exceed this limit.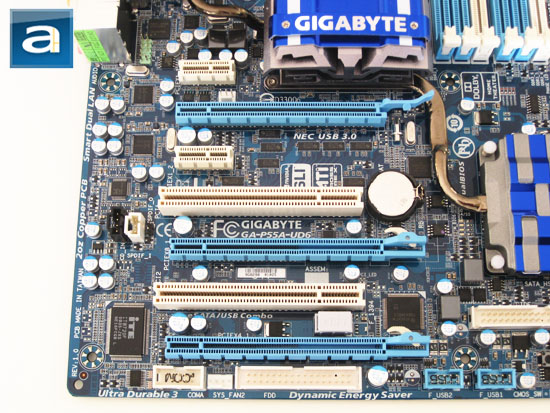 The expansion slots, in order from the top, are: PCIe x1, PCIe x16, PCIe x1, PCI, PCIe x16, PCI, and another PCIe x16 slot. The Gigabyte GA-P55A-UD6 takes the best of both worlds and supports both CrossFireX and SLI. However, do keep in mind that only the first PCIe x16 slot is a "true" PCIe x16 slot; the second one will do a split (Share the bandwidth) with the first slot if a graphics card is installed to become two x8 slots. This is due to limited availability of PCIe lanes provided by Lynnfield core processors. The third slot isn't even a true x16 slot by any means; the P55 chipset supplies four lanes to it -- so while you can install a video card there, you won't get full bandwidth. The top PCIe x1 slot will only support very short cards, since the PCH heatsink will get in the way.
A communication port, floppy disk connector, and two pairs of USB 2.0 internal headers lay across the bottom of the motherboard. The floppy connector, again not optimally placed but a connector most users won't be needing anyway, is controlled by an ITE IT8729 chip. An internal Firewire header is located between the last PCI slot and last PCIe graphics slot, controlled by the Texas Instruments TSB43AB23 integrated circuit.
The back panel offers a generous array of available external connectors. It features one dual purpose PS/2 connector, and a total of ten USB ports of varying colors. Despite the fact that the USB ports come in yellow, black, and blue, the only NEC D720200F1 powered USB 3.0 ports on the P55A-UD6 are the ones colored in blue -- the rest are only different in color with the exception of two yellow USB ports. As shown in our photo above, two out of four yellow USB 2.0 ports are combo jacks that double as eSATA connectors. It would have been less confusing if only the special ports carry this contrast. On the topic of USB ports, rather than the standard 500mA power delivery, the Gigabyte GA-P55A-UD6 is able to provide up to 1500mA on each USB port. It is certainly a very nice touch by the engineers, since many devices such as 2.5" external hard drives require 1A at 5V to work. This saves the need to use two USB ports due to insufficient power delivery. Two Firewire ports powered by Texas Instruments' TSB43AB23 controller are found, as well as two Realtek RTL8111D based Gigabit LAN ports connected via one PCIe lane each. These ports support teaming configuration. The rest are audio connectors based off the Realtek ALC889 codec; both S/PDIF coaxial and optical outputs can be seen in addition to the six standard 3.5mm analog jacks.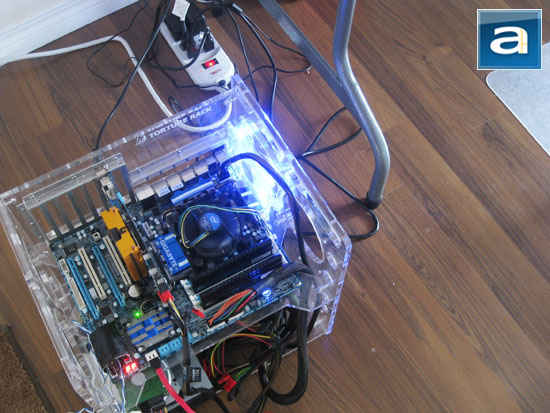 We benchmarked the Gigabyte GA-P55A-UD6 processor using our test platform with the following specifications:
CPU: Intel Core i5-750 (133*20, 2.66GHz, 8MB L3, 45nm Lynnfield, Turbo Mode/SpeedStep disabled)
CPU Cooling: Noctua NH-D14
Graphics: Gigabyte GeForce 8800GT TurboForce
Memory: Patriot Extreme Performance 2x1GB @ DDR3-1333 7-7-7-20 2T
Chassis: Danger Den Torture Rack (1x Thermaltake 120mm LED Fan)
Power: OCZ EliteXStream 800W
Sound: Integrated (Motherboard)
Optical Drive: Liteon 16X DVD-ROM
Hard Drive: Western Digital Caviar 7200RPM 80GB 8MB Cache
Operating System: Microsoft Windows 7 Professional x64
Compared hardware
- Gigabyte GA-P55A-UD6 (Intel P55, $249 retail at press time)
- Asus P7P55D-E Premium (Intel P55, $279 retail at press time)
---
Page Index
1.
Introduction, Features, and Specifications
2.
Bundle, Chipset, BIOS
3. A Closer Look, Board Layout, Test System
4.
Benchmark: EVEREST CPU
5.
Benchmark: EVEREST FPU
6.
Benchmark: EVEREST Memory
7.
Benchmark: PCMark Vantage
8.
Benchmark: 3DMark06 Professional
9.
Benchmark: PassMark PerformanceTest 7.0
10.
Benchmark: SuperPI 1M, Cinebench R10
11.
Onboard Sound (RMAA 6.2.3) Analyzation
12.
Overclocking and Conclusion