Page 12 - Asus Express Gate Onboard Linux
I got my hands on the first Asus motherboard with their Express Gate onboard Linux based operating system back in 2007; the excellent P5E3-Deluxe X38 motherboard made significant amounts of news when it was first launched. Since then, the last motherboard I have used which is equipped with this nifty feature is the Asus M3N-HT Deluxe on the AMD platform. At this moment, if you are a bit confused and wondering what Express Gate is exactly, it is a small, lightweight installation of Linux embedded on a flash memory chip on the motherboard. It allows the user to quickly get online in less than ten seconds without fully booting the system. Let's take a look at how Asus' implementation goes, more than two years later since its initial debut!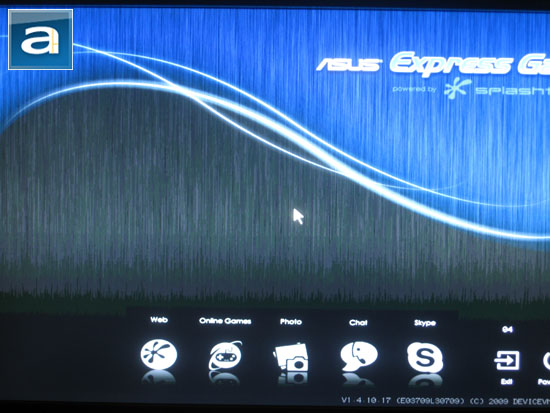 Preceding the BIOS series of boot screens is the Asus Express Gate interface, as shown in our image above. Your mouse will work at this stage of the boot process. In the latest revision of Asus' onboard Linux, they have introduced yet another new theme (At least from the last time I used it, which is in mid-2008 haha). Its dark, brushed aluminum accent with clean lines flowing across the screen brings a level of sophistication to make the latest design also my favorite to date. Five application icons extend across the bottom of the screen, labeled Web, Online Games, Photo, Chat, and Skype, respectively. Near the bottom right corner are two navigation options, along with a timeout indicator. The first navigation option is Exit to skip this screen before timeout occurs, and the second option is Power to turn off your computer immediately. The timeout for how long this screen appears can be set in the BIOS. This screen can also be disabled entirely in the BIOS.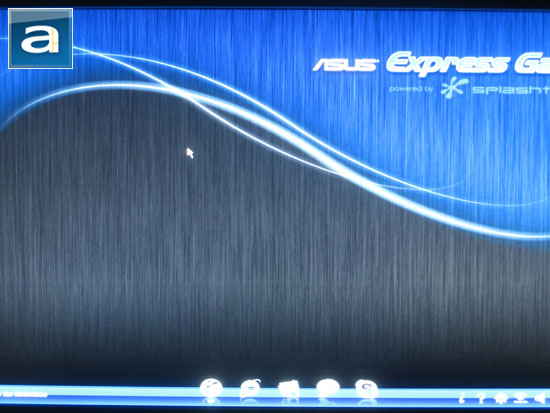 The new default theme is called "ExpressGateSimpleBlue", while themes seen in previous iterations of Asus' Express Gate are available for user selection under the names "ExpressGateBioBlu" and "ExpressGateMirage". Across the bottom of the screen by default is the LaunchBar with the date and time across the bottom right corner, the five large application icons as aforementioned across the center, followed by smaller About, Help, Configuration Panel, Network, Sound, Exit, and Power Off buttons at the bottom right corner. A dot will appear under the main application icons to indicate that it is active and running. The LaunchBar can be configured for autohide, as well as being moved to any four edges of the screen.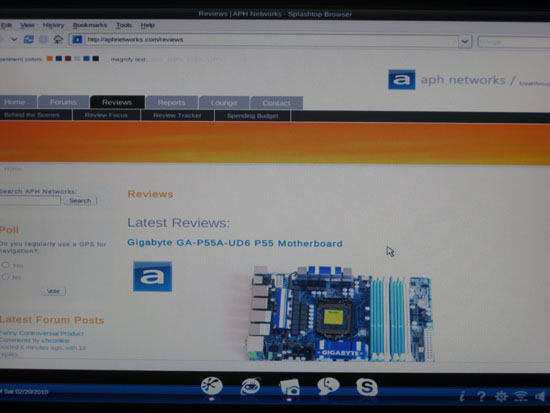 First application on the LaunchBar is the Splashtop Browser, which is an adapted version of the popular Mozilla Firefox web browser. Users familiar with Firefox will be able to use it without any learning curves involved, except a few minor details have been shifted around the menus. For example, setting your homepage is done under Bookmarks. The default homepage is a Splashtop branded Google search page.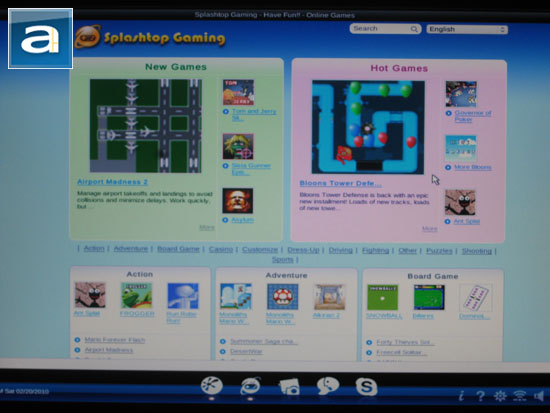 Next on the list is the Online Games application, which loads up the Splashtop Gaming website in a customized browser interface. I personally don't see how this would come in handy for someone purchasing a $270 motherboard just to save a minute or so loading Windows to play some real games, but hey -- who knows.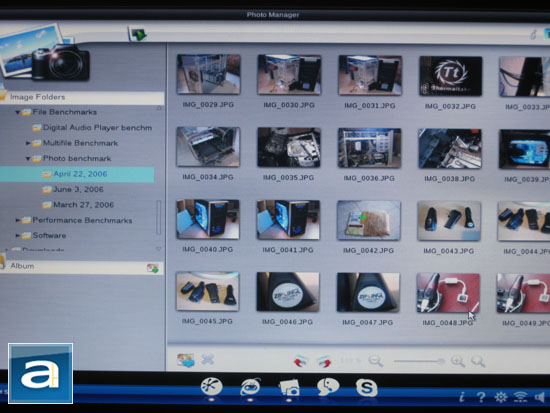 The Photo program is a Flash-based application that permits the user to view photos located on their hard drive, or any other connected disks to the computer. You can organize photos into database based albums created here, view slideshows, and the like. It's pretty much a read-only interface, so if you want to edit any photos, you are better off booting into Windows instead.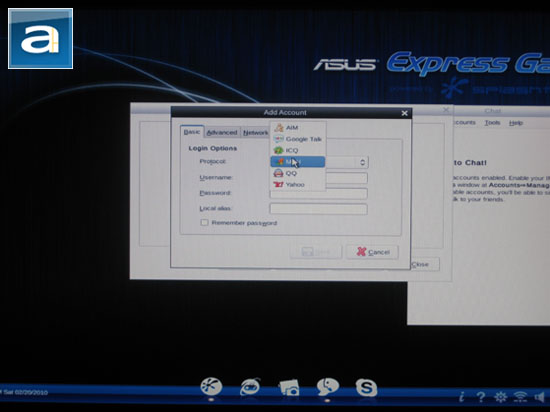 Asus Express Gate's Chat program is an adapted version of Pidgin, a popular multiprotocol cross-platform application. It will work with all major instant messaging networks, such as AIM, Google Talk, Windows Live, and Yahoo.
As with previous implementations of Asus' Express Gate, the final program on the dock is Skype. It will work straight out of the box, assuming you are using the P7P55D-E Premium's integrated audio. Also shown is the configuration panel for setting date and time, input language, language and keyboard, LaunchBar settings, network, environment settings, screen settings, and volume control options. A few of these are redundant shortcuts already present at the end of the LaunchBar by default. One thing to note is that, for some reason, I can only select 1024x768 from the screen settings; no other resolutions are available. The 8800GT I am using with the test is nothing particularly new, and it is certainly detrimental to my usage experience.
I have said it in the past, and I'll say it again -- I found Express Gate quite interesting and cool to use, especially if you are booting up just to check your email. However, one of the biggest things missed out in my opinion would be an integrated stability testing and temperature/voltage monitor program -- it would be beyond valuable for overclockers to quickly test their system without booting into Windows. If Asus could implement things like the photo manager and online games application, I don't think my request would be too much to ask for!
---
Page Index
1.
Introduction, Features, and Specifications
2.
Bundle, Chipset, BIOS
3.
A Closer Look, Board Layout, Test System
4.
Benchmark: EVEREST CPU
5.
Benchmark: EVEREST FPU
6.
Benchmark: EVEREST Memory
7.
Benchmark: PCMark Vantage
8.
Benchmark: 3DMark06 Professional
9.
Benchmark: PassMark PerformanceTest 7.0
10.
Benchmark: SuperPI 1M, Cinebench R10
11.
Onboard Sound (RMAA 6.2.3) Analyzation
12. Asus Express Gate Onboard Linux
13.
Overclocking and Conclusion