By: Jonathan Kwan
May 6, 2008
An Asus M3N-HT Deluxe/Mempipe!? What's that? Hey, if you are asking that question, you probably forgot already that there's actually another manufacturer other than Intel that makes CPUs; which goes by the name of "AMD". It's interesting how quickly we forget about the days of glory for AMD and their Athlon 64 back in 2003. But the most important thing is that, AMD is still 'sort of' alive for some competition against microprocessor giant Intel to keep the CPU market 'just sort of' nice and fair. When I received the Asus M3N-HT Deluxe/Mempipe motherboard for review last month (Which was still on NDA for the chipset), I was excited to see what kind of motherboards were produced currently on the AMD platform. Combined with NVIDIA's flagship 780a chipset, it certainly brought back memories of the whole NVIDIA-AMD combination that ruled back in the days of the MSI K8N-Neo2 Platinum, DFI LanParty Ultra-D, and the Asus A8N-SLI Premium. Driving down to a local computer store to purchase an AMD CPU to go with this review (I mean, I don't actually have an AMD AM2 CPU, haha), I was contemplating on whether I was going to buy a Phenom X4 or just some low cost Athlon 64 X2. Well, to be honest, if I was going to spend over $200 on a processor, it would probably be an Intel Core 2 Quad and not a Phenom X4. To make a long story short, I went with a mid-priced Athlon 64 X2 4400+. Let me tell you this -- I don't really find it funny to pay over $80 with tax for an AMD dual core CPU at this time, partially because I was forced to let Memory Express rip me off -- and really, everyone knows that they aren't the cheapest place to buy computer parts from. But hey, what the heck -- let's pop in this CPU and see how the M3N-HT Deluxe is worthwhile if you prefer the AMD route for your current AM2 computer or whatever your story may be.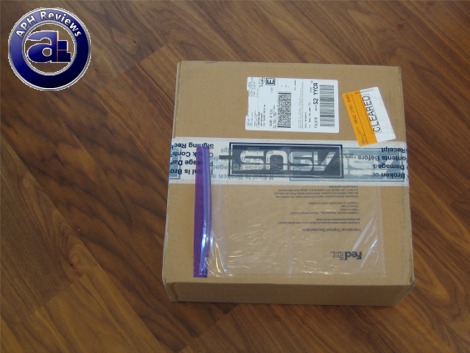 Our review unit of the Asus M3N-HT Deluxe/Mempipe (Or what we will refer to as the "Asus M3N-HT Deluxe" or something to that extent in this review) arrived in a large brown corrugated cardboard box from Asus' offices in Fremont, California using FedEx International Economy. The packing box was filled with lots of packing material to ensure that everything inside arrives in absolutely perfect condition.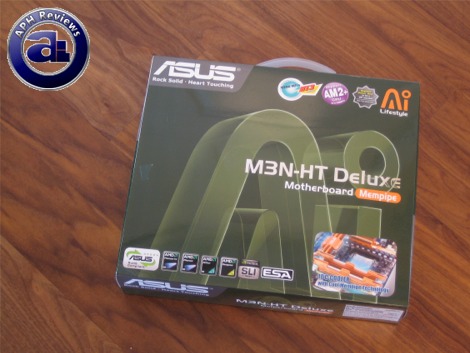 Our review unit of the Asus M3N-HT Deluxe arrived in retail packaging, as usual from Asus. The standard Asus motherboard sized package carries primarily a green color scheme providing a more distinctive design than the black and gold color schemes we've seen on the Intel platform. Across the front are the standard elements including Asus' logo at the top left corner, the motherboard model across right middle, and an array of icons in representation of its features along various edges. A special thumbnail at the bottom right specifically promotes the Asus Mempipe system included with this motherboard.
Flipping open the front flap reveals a plethora of feature highlights with tons of pictures -- such as Asus' Express Gate onboard Linux feature, 3-way SLI support, NVIDIA Hybrid SLI, and HDMI support. Some are repeated at the back as well; but mainly the difference is a table of data outlining specifications of the M3N-HT Deluxe along with a picture of the motherboard on top of it.
With regards to the arrangement of its abundance of accessories inside the retail box, again everything is packed in individual plastic bags; tightly and securely in semi-arranged sections inside the box. A divider separates the accessories and manuals on top, with the motherboard itself in an anti-static bag at the bottom.
At the time of review, specifications are not published on Asus' website, so we obtained the data from the back of the M3N-HT Deluxe board:
CPU Support: AMD Socket AM2+/AM2 Phenom FX / Phenom / Athlon 64 / Sempron
Chipset: NVIDIA nForce 780a SLI
System Bus: Up to 5200MT/s; HyperTransport 3.0 for AM2+ CPUs - 2000MT/s or 1600MT/s for AM2 CPUs
Memory: Supports dual channel; 4xDIMM max 8GB, DDR2-1066 / 800 / 667 / 533 ECC and Non-ECC (DDR2-1066 for AM2+ CPUs only)
Onboard NVIDIA GPU: Max shared memory of 512MB; HDMI up to 1920x1200; DVI 1920x1440; VGA 1920x1440; PCIe 2.0 architecture; Microsoft DX10, OpenGL 2.0, and Pixel Shader 4.0 support
Expansion Slots: 3x PCIe x16 for 3-way SLI - 16-16 configuration or 16-8-8 configuration; 1x PCIe x1; 2x PCI 2.2
Storage: Chipset providing 1x Ultra DMA 133 / 100 / 66 / 33, 6x SATA2 ports, NVIDIA MediaShield for RAID 0, 1, 0+1, 5, and JBOD disk configuration; Marvell 6111 SATA controller for 1x eSATA port
LAN: Gigabit LAN featuring AI NET 2
Audio: ADI 1988B 8-channel high definition audio codec with optical and coaxial out
IEEE 1394: LSI FW322 controller for 2x IEEE 1394a ports
Form Factor: ATX form factor, 12" x 9.6" (30.5cm x 24.4cm)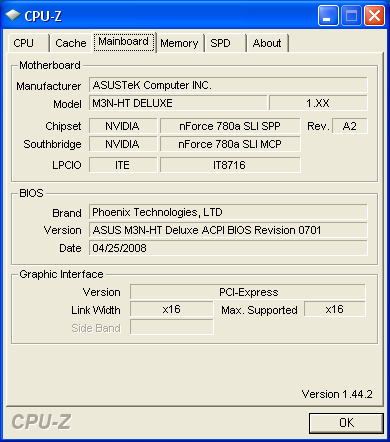 CPU-Z screenshot of the Motherboard tab running on the Asus M3N-HT Deluxe/Mempipe motherboard.
---
Page Index
1. Introduction, Features, and Specifications
2.
Bundle, Chipset, BIOS
3.
A Closer Look, Board Layout
4.
Test System; Benchmark: 3DMark06
5.
Benchmark: PCMark05
6.
Benchmark: Cinebench R10, SuperPI 1M
7.
Benchmark: EVEREST CPU
8.
Benchmark: EVEREST FPU
9.
Benchmark: EVEREST Memory
10.
Benchmark: EVEREST Memory Latency, HDTach 3.0.1.0
11.
Onboard Sound (RMAA 6.06) Analyzation
12.
Asus Express Gate Onboard Linux
13.
Overclocking and Conclusion