Page 2 - Bundle, Chipset, BIOS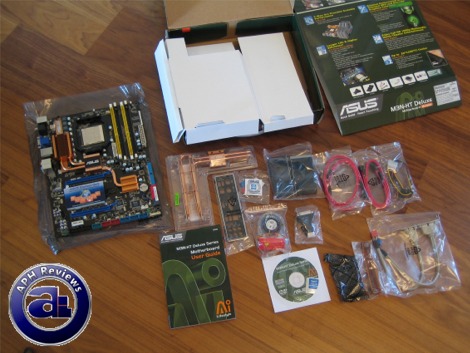 Out of the box, you will receive the following:
- 1x Asus M3N-HT Deluxe/Mempipe motherboard
- 1x Copper heatpipe system for RAM
- 1x 3-way SLI bridge
- 1x SLI bridge
- 3x Asus Q-Connectors (1 each: Chassis, Firewire, USB)
- 1x PATA cable
- 1x Floppy IDE cable
- 3x SATA cables
- 1x Molex to dual SATA power cable
- 1x Internal to external dual USB and single Firewire PCI backplate
- 1x Chipset fan
- 1x Asus Q-Shield backplate
- 1x HDMI to DVI adapter
- 1x Drivers/Utilities DVD
- 1x Manual
The Asus Mempipe is essentially a copper heatpipe system for dissipating heat away from up to two memory modules installed.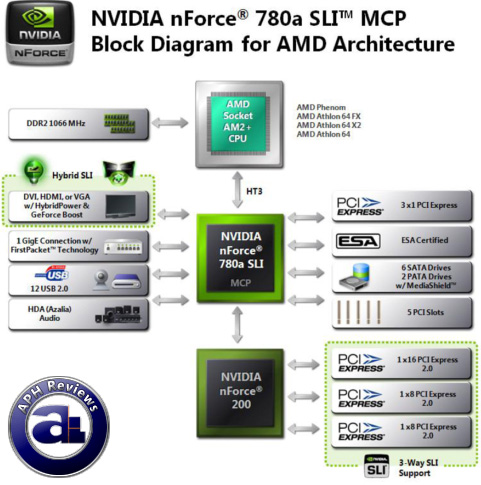 Chipset information, as obtained from NVIDIA:
- Validated for AMD Phenom CPUs
- Hybrid SLI technology
- HybridPower — Unleashes graphics performance when needed and switches to low-power operation for everyday computing
- Designed for 3-way SLI
- PCI Express 2.0 bus support — twice the bandwidth of PCI Express 1.0
- Full support for SLI Ready memory and EPP technology
- Combine certified ESA components for complete system control
- Debug and tune system for maximum performance
One of the biggest things NVIDIA is promoting with the 780a chipset is Hybrid SLI/Hybrid Power -- basically, this feature works in three modes: Save Power, Boost Performance, and Additional Displays. In Save Power mode, support discrete GPUs are shut off and the motherboard GPU takes over. In Boost Performance mode, the discrete GPU does all the processing and the data is transferred to the frame buffer on the motherboard GPU; which then sends off to the connected display. There will be a performance loss of up to 5% according to NVIDIA in this mode. In Additional Displays mode, up to two displays can be enabled per GPU -- including the motherboard -- meaning that in a basic system with one video card on the M3N-HT Deluxe, it will support four displays off the bat.
Please note that, at press time, the only cards that supports NVIDIA Hybrid SLI are the 9800GTX and 9800GX2.
On the chipset itself, the NVIDIA 780a MCP is paired with the nForce 200 Southbridge featuring 35 PCI Express lanes and 7 links. NVIDIA's MediaShield supports RAID 0, 1, 0+1, 5, or JBOD over its SATA2 ports. PCIe 2.0 and NVIDIA's ESA is also introduced with this chipset.
Interestingly, the onboard GPU actually supports NVIDIA PureVideo for hardware video decoding.
The excellent AwardBIOS is used on the Asus M3N-HT Deluxe, as usual from Asus motherboards. In terms of overclocking, however, settings are placed on multiple screens -- unlike the Intel motherboards we've used in the past. Nothing much has changed since the original S754 Athlon 64 days though -- so it didn't take me too long before I understood how everything worked again.
The JumperFree configuration page allows voltage and CPU clock adjustments, as shown above. The CPU voltage range is quite adequate; with the memory controller voltage adjusted independently with the VDDA voltage setting.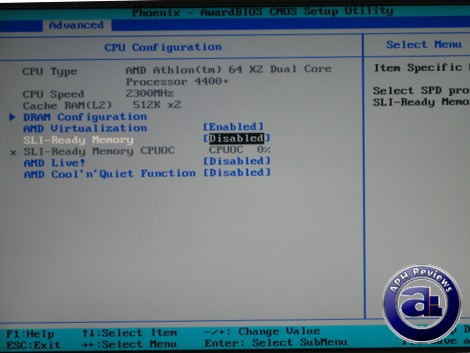 The CPU configuration page to toggle settings such as AMD Live! and the Cool & Quiet function. To access the RAM configuration page, you'll have to pass through the CPU configuration screen -- it was a bit confusing initially because on Intel platforms they are usually in the JumperFree Configuration screen -- but recalling into the good old days of my K8V board, it's exactly the same thing haha.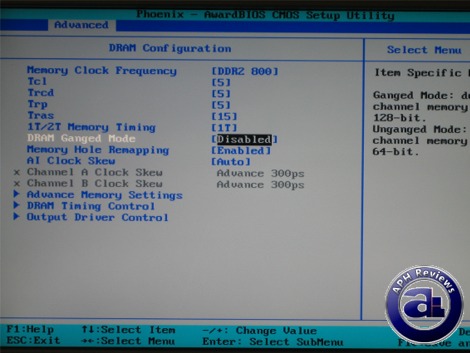 Basic RAM settings such as timings and frequency can be set here.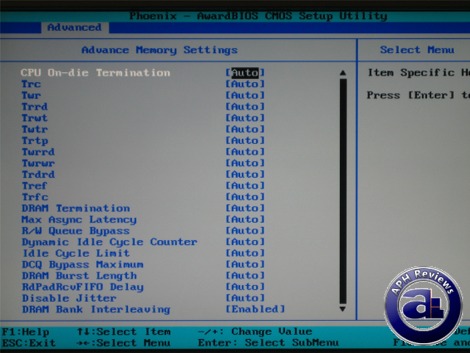 More advanced settings for those who want to tune more in terms of memory.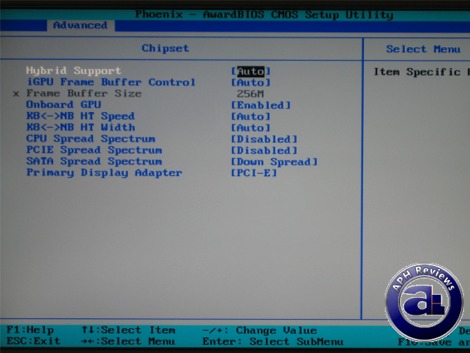 Chipset and graphics options such as Hybrid SLI can be determined here as well.
Description from NVIDIA themselves:
- Hybrid Support: [Auto] - This enables NVIDIA HybridPower functionality in the BIOS.
- iGPU Frame Buffer Control: [Auto]
- Frame Buffer Size - The Frame Buffer size must be set to a minimum of 256 MB for HybridPower to work.
- Onboard GPU: [Enabled] - The onboard GPU is the motherboard GPU. When HybridPower is enabled, the onboard GPU is automatically enabled.
- Primary Display Adapter: [Onboard] - This sets the primary display adapter. If the display is connected to another adapter, the system will detect it. The display will default to this setting with multiple displays.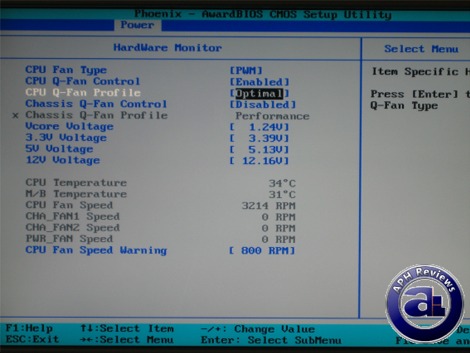 The Hardware Monitoring page. Nothing too special here; it's basic information such as voltages, fan speeds, and temperatures. As usual from Asus boards, motherboard fan controller preferences can be defined by the options on this page.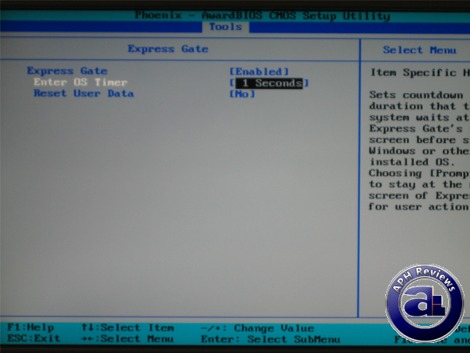 Configuration for Asus' Express Gate onboard Linux based OS can be set to enabled or disabled; along with timeout during bootup. Data clearing/reset for Express Gate can also be done on this screen.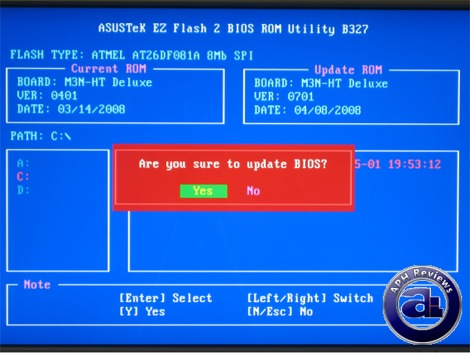 As usual with Asus motherboards, the Asus M3N-HT Deluxe features Asus' EZ Flash BIOS update utility. This allows flashing without a floppy or the problems of Windows utility flashing. I experienced no problems updating with the ROM file stored on a USB flash drive.
However, we must note that the BIOS chip on the Asus M3N-HT Deluxe as with all of Asus' current generation motherboards is actually soldered onto the motherboard, and not a socketed unit -- meaning the chip is not self-replaceable. This could lead to BIOS flash problems that would require the whole motherboard to be replaced.
---
Page Index
1.
Introduction, Features, and Specifications
2. Bundle, Chipset, BIOS
3.
A Closer Look, Board Layout
4.
Test System; Benchmark: 3DMark06
5.
Benchmark: PCMark05
6.
Benchmark: Cinebench R10, SuperPI 1M
7.
Benchmark: EVEREST CPU
8.
Benchmark: EVEREST FPU
9.
Benchmark: EVEREST Memory
10.
Benchmark: EVEREST Memory Latency, HDTach 3.0.1.0
11.
Onboard Sound (RMAA 6.06) Analyzation
12.
Asus Express Gate Onboard Linux
13.
Overclocking and Conclusion