By: Jonathan Kwan
November 12, 2010
Whew, time sure flies by. When I pulled up my last Patriot RAM review in preparation for this article today, a quick glance at the date labeled 'November 8, 2008' revealed it has been a good two years already (Mind you -- the Patriot Extreme Performance series memory we tested back in November 2008 was some very good stuff). For as long as I have been a computer enthusiast, this company has been a prominent player in the industry, making its name among computer enthusiasts as a manufacturer of high performance computer memory products. In addition to the usual flash drives, SSDs, and the such, Patriot also has some cool stuff in their collection, such as the Patriot Box Office network media player we took a look at back in February this year. After giving G.SKILL's Ripjaws F3-12800CL7D-8GBRH 2x4GB DDR3 a run through our labs, posting a series of very favorable results on the board a couple of weeks ago, it is now the Patriot Viper II Sector 5 PC3-12800 2x2GB set's turn to step up to the challenge. And what a challenge it is. Retailing at around $80 at press time after mail-in rebate, the Viper II Sector 5 running at DDR3-1600 with 8-8-8-24 latencies is, undeniably, priced very competitively among its peers. As the icing on the cake, Patriot also throws in a copy of Futuremark's 3DMark Vantage benchmarking software as part of the package. If you have been following APH Networks and have read all our reviews from the last two weeks, the benchmark results in our review today should be nothing new to you. But for the stuff that really matters, like what kind of IC Patriot has plugged in behind the Viper II Sector 5's heatsink, and how well it overclocks, this is where we will have you all filled in. Let's jump right in and see what we have found out!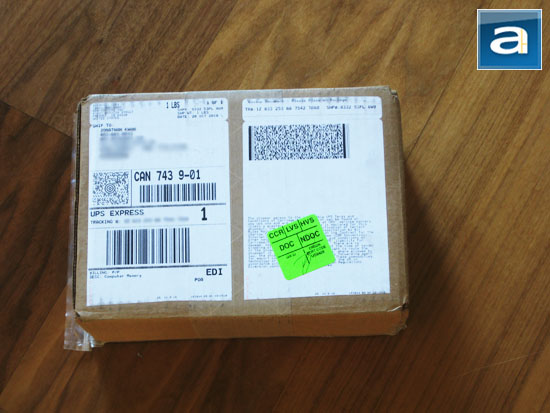 Our review unit of Patriot's Viper II Sector 5 PC3-12800 2x2GB dual channel kit came in a small, brown corrugated cardboard box from Patriot's corporate headquarters at Fremont, California, USA. Using UPS Express, everything was handled appropriately, and arrived in pristine condition. The small shipping box was convenient enough to be left on our doorstep without catching too much attention unattended, haha. In related news, the same UPS guy came to our location here in Calgary for the fifth time within two weeks.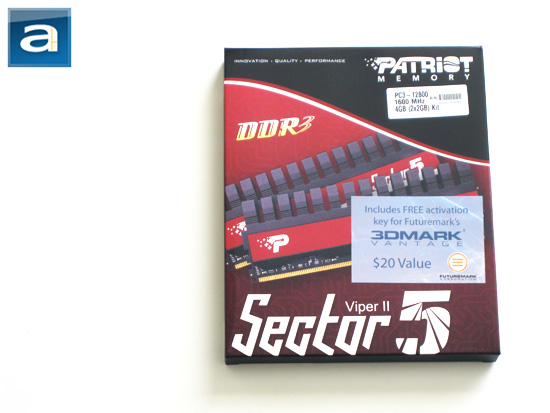 Unlike majority of the memory kits we have tested in the past, our set of Patriot Viper II Sector 5 2x2GB RAM comes in a retail box, as shown in our photo above. The usual clamshell package is actually the second layer, which we will find enclosed. Meanwhile, the company incorporates quite a clean design for the retail box; using mainly black and a shade of dark red gradient with a PCB pattern as its background. Patriot's logo can be found in the upper left corner. Thanks to a large image of the memory modules printed across the center, along with the 'Viper II Sector 5' branding prominently shown near the bottom, there will be no questions about the contents inside. Specific model information (Speed, capacity, and serial number) is denoted by a label under the Patriot logo. And who could miss the big sticker advertising the fact that you will get a free activation key for 3DMark Vantage when you buy these RAM?
Before we move on, let's take a look at the specifications of the Patriot Viper II Sector 5 PC3-12800 2x2GB dual channel kit, as obtained from the manufacturer's website:
- Extreme Performance PC3-12800 (1600MHz)
- Low Latency (8-8-8-24)
- XMP Ready
- Equipped with advance aluminum heat-dispersing shields
- 100% Tested and Verified
- Lifetime Warranty
- RoHS Compliant
- Tested on Intel® P55 chipset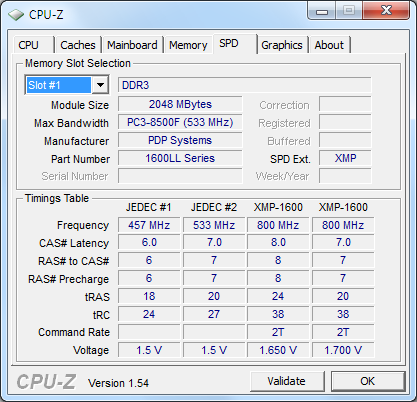 A screenshot of the memory tab in CPU-Z with the Patriot's Viper II Sector 5 PC3-12800 2x2GB installed. The SPD timings table in CPU-Z reads standard JEDEC specifications programmed into the memory, as well as Intel XMP data for running the memory at DDR3-1600. Using the latest BIOS revision, our Asus P7P55D-E Premium motherboard used for testing had no issues detecting and working with the Patriot RAM and its XMP settings. As you can see in our screenshot provided above, this Patriot dual channel kit runs at a relatively high frequency of 1600MHz (800MHz actual clock) in conjunction with 8-8-8-24 latencies at 2T command rate. On the other hand, it promises 7-7-7-20 at 1.70V -- a voltage generally not recommended for Nehalem processors, but we will see how well the latency scales in our overclocking tests later on in this review.
---
Page Index
1. Introduction and Specifications
2.
A Closer Look, Installation, Test System
3.
Benchmark: EVEREST CPU
4.
Benchmark: EVEREST FPU
5.
Benchmark: EVEREST Memory
6.
Benchmark: PCMark Vantage
7.
Benchmark: 3DMark06 Professional
8.
Benchmark: PassMark PerformanceTest 7.0
9.
Benchmark: SuperPI 1M, Cinebench R11.5
10.
Overclocking Results and Conclusion