By: Jonathan Kwan
February 11, 2010
As the Editor-in-Chief here at APH Networks, it's probably no surprise to you if I told you that my house is fairly filled with technology. What I have around here is nearly a dozen computers, spread over three floors. There are several network attached storage file servers. Multiple wireless routers are set up to cover both sides of the house. Central wired home networking with Gigabit switches are deployed for stationary devices. Adding to that is a couple of network color laser printers. If what I have mentioned sounds similar to what you have at home, man, you have got to keep reading. If you don't, then man, you still got to keep reading, haha. A few years ago, I reviewed Slim Device's Squeezebox V3 (Now owned by Logitech) -- an otherwise excellent network audio streaming device in its days. The device was not without its limitations, however. For one thing, it was still relatively expensive for approximately $300 at that time. Secondly, it only plays audio, and not video. Thirdly, it only streams data from computers with SlimServer installed. But times have changed. Today, we'll look at Patriot's Box Office -- and to say Patriot's Box Office is probably one of the most versatile media players that can hook up to your home theater system may merely be an understatement. It not only plays music, but also videos at up to 1080p resolution. It can play media files over network on virtually any device with no modifications. Don't have a central media server? No worries -- the Box Office can also accommodate an internal 2.5" hard drive to store your music, movies, or photos, or even access files on an USB mass storage device. With all the convenience to let you simply sit down on your couch and access all your media by an (included) remote control, most people might be scared to look at the price of admission at this point. But you know what? It's only $100. Yep, I'm not kidding, and you didn't read it wrong -- a hundred bucks! Read on to see if the Patriot Box Office is really that big of a deal. Pun intended.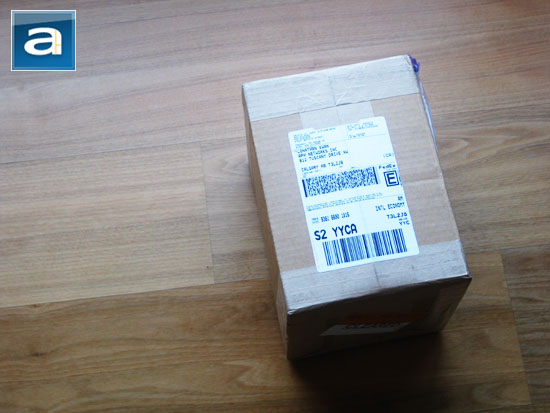 Our review unit of Patriot's Box Office media player came in a small, brown corrugated cardboard box from Patriot's corporate headquarters at Fremont, California, USA. Using FedEx International Economy, everything arrived in absolutely mint condition. FedEx also conveniently made the delivery to my doorstep coincidentally a few minutes before I left for my first Electrical Engineering class of the day last Friday. The arrival of the Patriot Office really made my weekend. Sounds geeky, I know.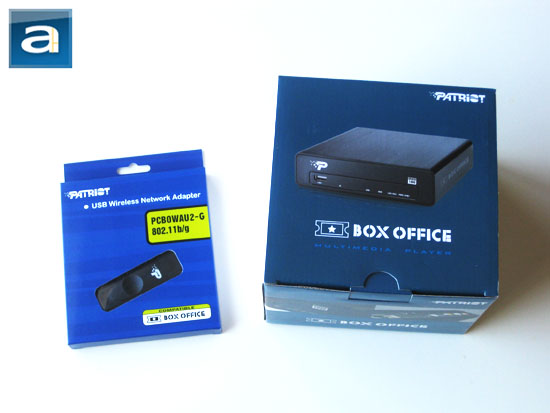 Patriot sent along their optional USB wireless adapter in addition Patriot Box Office media player itself. The Box Office doesn't have an integrated wireless module, therefore if you want to do wireless streaming, you will want to pick up the Patriot PCB0WAU2-G Wi-Fi adapter as well. Patriot's USB wireless adapter is based off the Realtek RTL8187B B/G chipset; there's nothing special about the adapter itself -- it will work with any computer with an USB port. The only assumption I would make in that regard is that the Box Office probably only has built in drivers for Realtek RTL8187B based devices. Therefore, it theoretically should work with any USB wireless adapters based on the same chipset.
The design of the Patriot Box Office's retail packaging is quite simple. A dark teal textured background color covers three sides of the box; namely the front, top, and back, for a continuous linear connection through the use of adjacent sides. A photo of Patriot's Box Office lies across the center of the box at the top, while Patriot's logo is set at the upper right hand corner. The "Box Office Multimedia Player" branding is situated under the image of the product. A similar design is implemented at the front of the box, and a matrix of icons is placed at the back of the box to highlight its features. Meanwhile, feature description and specifications are listed on the left and right side of the box, respectively, with black text on white background.
The Patriot PCB0WAU2-G USB wireless network adapter's retail package incorporates a similar background design as the Box Office's retail package, but with a different shade of blue. The text is clear and straight to the point of the included product. A window cut out is situated near the center of the box to give the user a quick glance of what's inside. Additionally, a "Box Office Compatible" badge at the bottom right corner highlights its compatibility with the company's media player. Specifications and features are then listed at the back of the box.
Before we move on, let's take a look at the features and specifications of both products, as obtained from the manufacturer's website:
-----------------------------------------
The Patriot Box Office is a media player that frees your digital media library from the constraints of a PC and bridges digital media to your home entertainment system to bring your entire media library to the comfort of your living room. With support for the most popular media formats (H.264, ISO, VOB, DivX, xVid, MKV, MOV, MPEG and more) you can remove the limits of your media collection. Box Office offers a variety of ways to connect to your media library: 3 USB ports, internal 2.5" hard drive (not included), UPnP streaming, 10/100 Ethernet connection and optional WiFi USB adapter.
- Works with any USB storage devices - Play content from most USB drives or any portable device that can be recognized as a mass storage device.
- Expandable internal storage - Use the internal 2.5" SATA drive slot with any SSD/HDD to increase the storage capacity for your expanding media library.
- Full HD video playback and navigation - Up to 1080p - Experience the highest quality HD video possible and crystal clear audio with Dolby and DTS surround sound. Use the included remote control to navigate and control your media collection with ease.
- Network Streaming - Stream media files through your wired or wireless (optional wifi adapter required) home network from desktop PCs.
- File transfer - Copy or transfer files between connected USBs, the internal hard drive (not included), network PCs or other network attached storage (NAS) devices.
- PC less download management - Download files via P2P sharing for easy access to media from the web.
- Universal Plug and Play (UPnP) - Support for UPnP streaming on UPnP capable devices such as Sony Playstation and Microsoft Xbox
- Picture viewing - Create custom slide shows and add your own background music to create a truly unique experience. Zoom and pan on each image to view hard to see details.
- Movie preview and playback - Quickly preview video files prior to playback. Once selected, control movies at your own pace... Fast forward, rewind, pause, zoom, and pan. Supports subtitles.
- Music playback - Listen to your entire music library with fast forward, rewind, pause, repeat and shuffle options.
- HDMI and composite video connections - The High-Definition Multimedia Interface (HDMI) port lets you connect to the highest quality HDTV or home theater. Additional composite (RCA) outputs ensure compatibility with virtually all television sets.
- File Formats Supported Music - WMA, MP3, Real Audio (RA) Graphics - JPEG, BMP, PNG Video - [MPEG-1] MPG/MPEG/DAT, [MPEG-2] MPG/MPEG/VOB/ISO/TS/TP/M2TS, [MPEG-4] MP4/AVI/MOV, WMV9, FLA, [H.264/AVC] MKV/TS/AVI/MOV/M2TS, [DviX 3/4/5/6, Xvid] AVI/MKV, [Real Video 8/9/10] RM/RMVB
- Inputs: 10/100 Ethernet, 3x USB 2.0 ports & internal 2.5" SATA HDD connector (HDD not included).
- Outputs: HDMI, composite A/V, S/PDIF
- System Requirements: External USB storage device or internal 2.5" SATA SSD/HDD with supported video or audio content stored on it. Standard or high definition television with HDMI or composite video connections.
-----------------------------------------
Patriot Wi-Fi adapter for Box Office Media Player
- Works with Patriot Box Office Media Player
- 2x gain for double the performance
- Qos, NDS and PSP X-link Support
- IEEE 802.11 b/g
- Frequency 802.11/b range 2.4~2.497GHz
- Frequency 802.11/g range 2.4~2.4835GHz
- 54Mbps data transfer rate
- USB 2.0
- 23 dBm transmission output power up to 500M
- Works with Windows 98SE/ME/2000/XP/Vista/Linux kernel v2.6.6 and up
- 100% Tested
Everything is neatly packaged in layers inside the retail package. Out of the box, you will receive the following contents:
- Patriot Box Office media player
- Remote control with batteries
- Composite audio/video cable
- HDMI 1.3 cable
- USB cable
- Screws for installing the internal hard drive
- AC adapter
- Quick install guide
- Software/Manual CD
As for the optional USB wireless network adapter, you will get the Patriot PCB0WAU2-G itself, along with a driver CD.
---
Page Index
1. Introduction, Packaging, Specifications
2.
A Closer Look - Hardware
3.
A Closer Look - Software
4.
Performance and Conclusion