By: Jonathan Kwan
July 3, 2007
With more and more people having double-digit to triple-digit-gigabytes of music files residing and spanning over several hard drives (Hey, I am one of them), it's always a great idea to get those tunes beyond the computer room. With such a great collection of audio, enjoying them on $200 PC speakers is really a waste -- especially if you just invested thousands on your home audio system. With the emergence of the digital home, commonly affordable wireless networks, integration of technology into the living room, the whole market is sliding to the trend of creating a media centric environment that allows information to be shared to be just at hand when we need it. Audio is no exception, and if you want an audio streaming device that's small, flexible, easy to use, stylish enough for the living room, as well as one that offers decent performance to an affordable extent -- we've got a candidate to contest for this position, in an attempt to meeting the criteria. How well will Slim Devices' Squeezebox V3 accommodate users in this market? Today, we'll discover and examine the excitement of this product.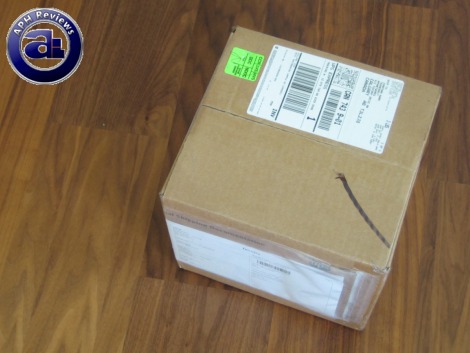 Our review unit of the Squeezebox came from Slim Devices' offices in Mountain View, California. Everything included was packaged inside a mid-sized shipping box using UPS Express.
Slim Devices was acquired by Logitech last year -- but I can see that they are still operating quite independently. Logitech's US offices are located in Fremont, California; and our Logitech review units typically use DHL as the courier.
Surprise, surprise!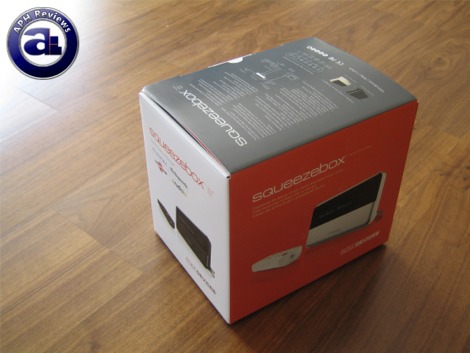 The latest revision of the Squeezebox was sent to us for our review today. The retail package carries a color scheme consisting primarily of grey, orange, and white. The relatively clean design is printed upon an easy to open cardboard box. The top is locked in additionally by a second tuck-in flap with specifications printed at the top of the box.
Speaking of which, before we move on, let's take a look at the Squeezebox's specifications, as obtained from Slim Devices' website -- edited for clarity as well as summarized by us slightly:
---
Audio outputs (general)
- Digital and analog outputs
- All RCA connectors are gold-plated
- Volume control is provided for all outputs
- Multiple outputs may be used at the same time
Analog RCA outputs
- High fidelity Burr-Brown™ 24-bit DAC
- Two dedicated linear power regulators for DAC and line-out stages
- Full 6.0Vpp line-level signals
- Signal-to-noise ratio: over 100dB
- Total harmonic distortion: less than -93.5dB (0.002%)
Digital S/PDIF outputs
- Optical and coax digital connections
- Dedicated high-precision crystal oscillators (no PLL, no resampling)
- Standard IEC-958 (S/PDIF) encoding
- Optical connector: TOSLINK 660nm
- Coax connector: RCA, 500mVpp into 75 ohms
- Sample rates: 44.1Khz, 48Khz
- Audio format: linear PCM, 16 or 24 bits per sample
- Intrinsic jitter: less than 50ps (standard deviation)
Headphone output
- Standard 1/8" jack also functions as an IR blaster
- Minimum headphone impedance: 16 ohms
- Total harmonic distortion: less than 0.03%
- Left/right crosstalk attenuation: 92dB
Audio formats
- Lossless Formats (Apple Lossless, FLAC, WMA Lossless)
o "Bit-perfect" CD audio streaming, with reduced storage and bandwidth usage.
o Approximately 2:1 compression ratio
- Uncompressed formats (AIFF, WAV, PCM)
o Supports raw pass-through of uncompressed PCM audio formats
o Digital passthrough to S/PDIF for DTS
- Compressed formats (MP3, AAC, Ogg Vorbis, MP2, MusePack, WMA)
o MPEG decoding uses MAD software, widely regarded as the most accurate, most compatible MP3 decoder.
o High accuracy 24-bit synthesis
o Supports all MP3 data rates and sample rates, including VBR
o May be streamed in PCM (raw), MP3 (transcoded), or FLAC (transcoded) formats
o Sound Check and Replay Gain support for automatic volume control.
o Some formats may require additional software installation (e.g. QuickTime), depending on platform.
Internet Radio
- "Always-on" Internet Radio, powered by SqueezeNetwork, lets you tune in to Internet Radio streams even when the home PC is switched off.
- Quick selection from hundreds of Internet Radio streams offered by Slim Devices' partners.
- Internet Radio favorites can be saved in a playlist for easy access.
- Displays song title information during playback
- Support for MP3, Ogg Vorbis, and WMA formatted Internet Radio streams
Architecture
- 250 MHz 8-way multithreaded RISC processor
- "Pure software" SlimDSP™ architecture
- Field-upgradeable Xilinx CPLD
- 64Mb high-speed RAM
- 16Mb program flash
- Low-power design, all solid-state, fanless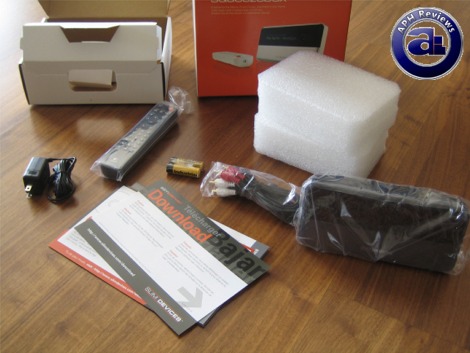 Everything was well packed inside the retail box; with foam brackets for holding the Squeezebox in its place, as well as a second box for the accessories. We got accessories right out of the box, including a remote, AC adapter, Panasonic AA batteries (Usually Logitech wireless keyboards/mice come with Duracells, see another difference?), as well as a 6-foot RCA cable. A manual and short guide is also included for setup and basic usage instructions.
Notice that there are no driver/software CDs included -- you are expected to download SlimServer (The software running on your computer to stream music to your Squeezebox) from their website.
The Squeezebox is available in two different color versions -- one black and one white. Our unit is the black version, which I do think looks better!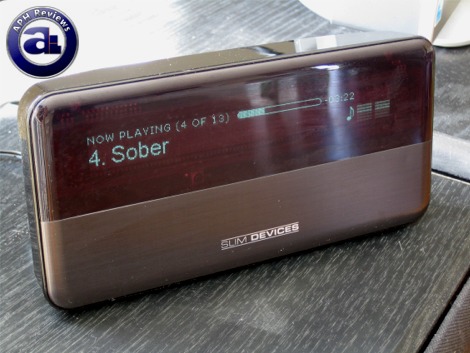 Setup is really easy. With SlimServer installed on my computer, setting up the Squeezebox is about as easy as simply plugging it in. Wireless will require a few more steps than going through its wired interface -- that is, if you have an encryption key -- which you should have nowadays.
Backtracking a bit, basic setup is just plugging in the AC adapter and connection to your receiver (I chose the optical route). Using the remote control to turn on the Squeezebox, basic setup and configuration will appear on screen. Assuming wireless is chosen, you will be given the choice to choose wireless networks (Please choose your own!) and then enter the encryption key. This one-time step is a bit awkward and time consuming, especially if you have a complex key with capital letters in addition to the lowercase letters.
The Squeezebox will then obtain an IP address from your router. If this step is successful, a list of computers on your network will be shown with name and IP address for identification purposes. Choose the one with SlimServer installed and we are all good to go. Please note that the first time I've gone through these steps, the Squeezebox automatically downloaded and updated its own firmware -- all without giving the user an opportunity to intervene.
Anyway, I also tested using the wired network route, since my house has network wiring built in. The steps are basically the same, but faster since you don't need to enter encryption keys. I experienced absolutely no problems configuring with either connection methods.
Back onto the Squeezebox itself, the whole unit is a huge fingerprint magnet and especially hard to clean. The shiny plastic is a big plus to the looks -- assuming it is clear of dust and finger marks.
Another aspect is the screen. Text size is adjustable in three sizes -- by default, it is on medium as shown in our photo above. This will show the most detail and strike a balance between size and information displayed. However, from around five meters away it will be hard to read -- and a size increase will be required for comfortable reading. Unfortunately, this will convert the screen into a single line display -- effectively reducing the amount of information it is normally able to output. Since this is a living room product, a larger display will definitely be appreciated.
One interesting thing, however, is that the number displayed in front of the song is actually obtained from track number using ID3 tag provided -- and not the actual number relative of the current playlist.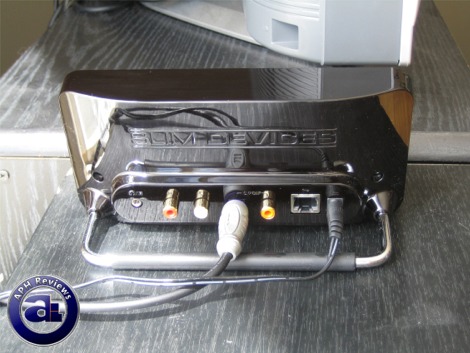 The rear connection panel. A generous array of connection options have been implemented; from the left is a 3.5mm headphone jack. RCA connectors reside next to it, and then two S/PDIF outputs -- one optical, and one coaxial.
An Ethernet (10/100) port is also there to accommodate wired connections, as well as power input located at the very right.
One thing I noticed regarding the wire stand at the back is that it's not collapsible/foldable -- it is actually rigidly attached to the Squeezebox itself. It would definitely be an improvement if it could have been folded up.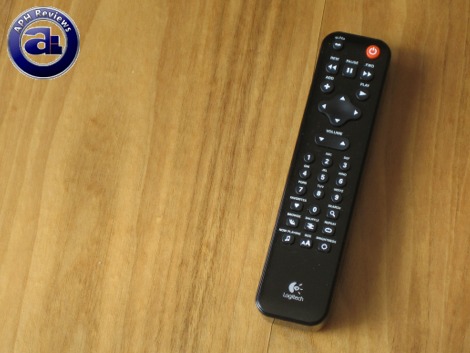 The remote control. This updated revision accommodates and utilizes two standard AA batteries (Included). It also has the Logitech logo on it as well.
Controls are quite simple and very logical -- I had no problems figuring out how to use the Squeezebox even without looking at the manual! Basically, it functions more or less like a high capacity digital audio player -- going through and browsing by albums, artists, genres, and the such. Scrolling through is a breeze; and shortcut buttons are physically located on the remote as well such as 'Now Playing', 'Browse', for convenience purposes.
The only thing I found kind of weird is that in the computer world, the Play button usually also doubles as the Pause button if you hit it again. With the Squeezebox remote, they are separate -- if you hit the Play button when a track is playing, it will restart the track which can be fairly annoying to some users.
Fast-forward search functions exactly like a DVD rather than like your computer or my Creative Zen Vision:M. It goes by scan speed (2x, 4x, etc) and plays a very small session of the track at regular speed and then skipping a bit to the next bit. You'll need to hit "Play" to continue playing normally at that point.
One thing to take into account is that the operation of Slim Devices' Squeezebox is entirely dependent on the remote control. Should your remote go missing, it will render the whole Squeezebox useless as there are no physical buttons on the Squeezebox itself for even basic operation. This may be necessary for an 'uber clean' design, or maybe it is to prevent the Squeezebox from fingerprint marks.
Speaking of which, the remote control is also a fingerprint magnet haha!
---
Testing and Operation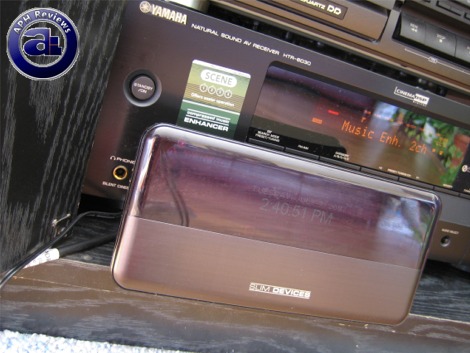 With SlimServer running on your computer, the Squeezebox will display your computer's time on its screen.
Speaking of SlimServer, users will rejoice that versions are available for Windows, Mac OS, as well as Linux distributions as long as it meets the requirements. I've only used the Windows version, but when it's running it will reside in your system tray and add two extra processes to the processes list. I have a NAS running in my basement running 24/7, it would be really nice if SlimServer can be installed easily into a Linux based NAS for audio streaming with a web-based configuration over network. That's one feature I would love to see in the next revision, which can be implemented by a software package. The Squeezebox does do internet radio without a PC turned on though.
SlimServer indexes your music library and runs off a MySQL database. Performance is excellent, and there's no lag when browsing through and instructing the Squeezebox to play songs. It also allows faster configuration of the Squeezebox using its web based interface -- separated by two vertical frames; the left displaying the music library and other configuration options while the right frame shows the Now Playing list. It is widely compatible with music formats, as long as it does not have DRM involved.
Configuration allows settings such as setting language, screensavers, and other interesting things I won't go into too much detail as it would take way too long ;) Anyway, as far as composing a temporary current Now Playing list, I would much prefer to complete it on my computer than manually add tracks to the playlist using the remote control.
One thing I noticed though -- the Squeezebox won't play music files with Chinese file names. It will simply show as "No Album" for its folder's ID3 tags. Also, the SlimServer program also had some weird errors -- placing songs under different albums on one occasion. I tried clearing the index and reindexing everything, and it did not help. I checked my ID3 tags and they all seem to be read correctly under my media players on my computer.
When it comes to performance, I'll first address audio performance, and then network performance. I'll admit that I don't know much about the technical side of audio -- but I can tell the difference with regards to audio quality. The Squeezebox uses Burr-Brown (Now a Texas Instruments company) 24-bit DAC (Digital to analog converter) for its analog output. As far as I've heard, Burr-Brown is known for high quality DACs -- at least when it comes to high end. Dedicated high-precision crystal oscillators are used on the digital side for less jitter.
Jitter comes into reference as how distortion and interference, to an extent, is expressed with analog devices. This factor of design is taken into account with all digital communication methods -- including USB, and even SATA. In digital audio, jitter causes received audio signals to be doubled up or possibly even skipped entirely. This signal property is a form of unwanted variation.
In terms of audio performance, I've heard better from other devices than the analog side. I've streamed uncompressed WAV files as well as FLACs using the Squeezebox, and to this can be compared to the original CD containing the same track. Performance is fairly good, but the high frequencies did not come out as high as expected, nor did the lows come out as distinct and solid as it did over digital connection on the Squeezebox itself.
Digital, on the other hand, seems to be very good on the Squeezebox -- which is usually not too limited to the device itself, since built in DACs are much more complex than a digital connection (It gets converted the analog later anyway, but that's up to the DAC on your receiver and not the Squeezebox). The sound is sharp, layered, separated and distinct between each instrument and the vocals are nice and clear when compared to analog connection. Everything comes in and blends together smoothly into one smooth performance -- but then again, if you don't want to be limited to the performance of the DACs used in a $300 device, I personally would definitely go the route of digital -- through this, the bottleneck effect will be less prominent. I guess what that really matters is that it sounds 'clean' enough over digital.
Therefore, it would be definitely more preferable for a coaxial or optical cable to be included out of the box rather than a RCA analog cable in my opinion. After all, most people who buy the Squeezebox probably have a receiver with digital inputs!
Network performance is very commendable. I experienced absolutely no drops during my weeks of testing over wireless; everything was so smooth that it did not feel like the music was being streamed at all. From a storey away from my router, however, the Squeezebox reported a signal strength of 54% with the information retrieved from SlimServer. The wireless feature on Asus' P5K-Deluxe motherboard has a signal strength of 82% from two stories away -- we can see that you probably cannot operate the Squeezebox too far away from your wireless router or the nearest access point.
---
In general, Slim Devices' Squeezebox is quite an excellent product. Setup is extremely easy and almost flawless; and it's easy to use and the features are nice -- it does what it's meant to do -- to stream music. Wireless performance is pretty good; I noticed no drops and to the end user signals are consistent. The wireless adapter on the Squeezebox itself seems to be a bit weak though.
SlimServer is fast and lightweight to run, but it's not without bugs. The Squeezebox also has some room for improvement both when it comes to its physical aspects as well as minor operation issues. What I want to say is -- for something easy to use, offers at least pretty decent audio quality at an reasonable enough price (Although it may still spell expensive to some people, I understand) -- the Squeezebox does spells 'Free Your Music' from your computer to your living room!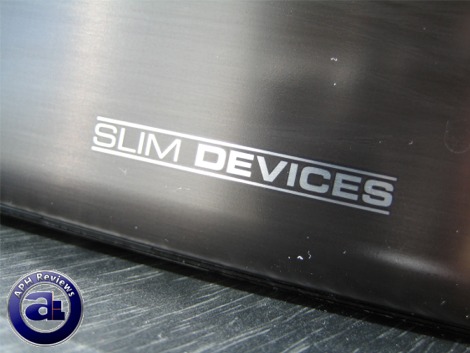 APH Review Focus Summary:
8/10 means Definitely a very good product with drawbacks that aren't likely going to matter to the end user.
7/10 means Great product with many advantages and certain insignificant drawbacks; but should be considered before purchasing.
-- Final APH Numeric Rating is 7.4/10
Please note that the APH Numeric Rating system is based off our proprietary guidelines in the Review Focus, and should not be compared to other sites.
Excellent media player. There is still room for improvement though!