Page 11 - Onboard Sound, Wi-Fi, Overclocking, Conclusion
The Asus P5K-Deluxe uses the same sound codec as the Asus P5W64-WS Professional -- the ADI SoundMAX 1988B audio codec. The analog performance is quite acceptable for regular usage, but for headphones the SNR is definitely not the best.
Compared to the X-Fi XtremeMusic, it sounds 'thinner' -- even with equalizer optimizations, the bass comes in less natural and not very solid/strong. Treble is not as distinct and sharp as the X-Fi; midrange (In terms of vocals) is also slightly lacking. In general, the sound variation is lower and contains significantly less depth of sound than the Creative X-Fi -- which is definitely not a top end sound card anymore. However, as far as integrated goes, users who are not picky will find the SoundMAX more than enough.
On the other hand, this board offers a generous array of connectors. S/PDIF (Digital) connectors include a single coaxial and optical out. Six analog outputs are also available, if you need all the analog connections as well as line-in and microphone.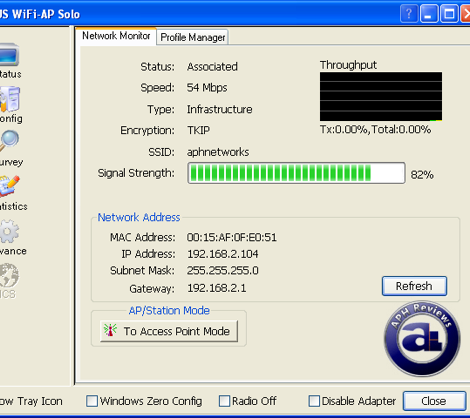 The Asus P5K-Deluxe (Well, Asus likes to refer to it as the full name of Asus P5K-Deluxe/WiFi-AP) also features wireless-G capabilities over a Realtek WLAN controller. An antenna is included; with the provided software your computer can function as an access point or connect to a wireless network with a click of a button. I had no problems connecting to my wireless network, and signal seems to be nice -- with my Microsoft MN-700 wireless-G router sold years ago (It turns out to be a rebranded Asus router running Windows CE), I still have signal strength of 82% from two floors away.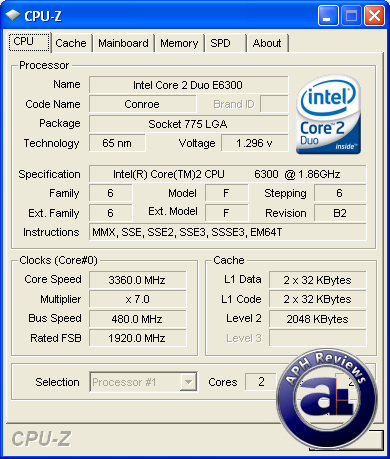 Wow, overclocking rocks on this board! With a Scythe Infinity and a couple of low RPM Noctua 120mm fans, there's little airflow over the northbridge -- yet it still operates at an acceptable temperature of roughly 48c (50c peak) with overclocking. An overheating motherboard has been one of my concerns lately, and the P5K-Deluxe definitely is not one that has this problem.
Using a pair of Micron D9 based OCZ Reaper HPC PC2-8500 2x1GB memory, I was able to reach an incredible 3.36GHz Orthos stable with my Intel Core 2 Duo E6300 (Stock 1.86GHz). Initially, I thought this chip was not the overclockable kind -- the highest I was able to attain previously was 2.94GHz (420*7) with a P965 based abit AB9-Pro. However, the P5K-Deluxe brought it to new heights with 480MHz FSB (1920MHz with QDR in effect!) -- an absolutely incredible result in my opinion. Plus, no overheat northbridge is a big plus.
I was able to boot at 490MHz FSB, however it was not Orthos stable (But it was stable enough for a round of SuperPI to get that 16s mark haha). Dropping the multiplier to 6 did not help, which seems to be finally a motherboard limitation.
Despite incredible front side bus overclocking, I can see a very prominent problem with the Asus P5K-Deluxe. There are no PCI locks -- I actually had to remove my Creative X-Fi XtremeMusic sound card during overclocking, because my sound card will go nuts once the front side bus reaches high enough. I noticed no PCI clock set in the BIOS to 33.33MHz, and apparently the locks will not automatically engage. Hopefully new BIOS from Asus will fix this problem.
Update: Our Asus representative informed us regarding the PCI lock issue. According to the R&D department, by setting "PCIe Spread Spectrum" in the BIOS to 'Disabled' will automatically engage PCI locks to be 33.3MHz.
The voltage I used was 1.3750V in the BIOS. There seems to be a vdroop of roughly -0.07V according to voltage readings with EVEREST Ultimate Edition and CPU-Z. However, by enabling "CPU Voltage Damper" it will reduce the vdroop.
---
Overall, I am very impressed by the Asus P5K-Deluxe. For the price it comes in, you will get a full loaded -- but not bloated -- quality motherboard with all solid capacitors you'd expect from Asus. I would have loved to say that the P5K-Deluxe is perfect. Unfortunately, it's not -- when it comes to layout, RAM slots are quite close to the first PCIe slot and may prevent easy removal of RAM due to clip clearing. Long graphics card will also block out some SATA ports. The JMicron controlled PATA connector is also placed oddly, but if you are a SATA optical drive user it probably won't matter to you.
On the positive side, there's a lot to compliment on this motherboard. Excellent overclocking -- 3.36GHz on my not-very-overclockable E6300 means an incredible 81.6% clock increase with 480MHz (1920MHz QDR) FSB. With this motherboard, chances are that your RAM and CPU will be limiting the overclocking -- PC2-8500 RAM might not be a bad idea for it to go with the P5K-Deluxe. Plus, no overheating northbridge -- it remains stable at an acceptable temperature with minimal airflow. Stable and solid motherboard; passed my Orthos stress testing without issues and never had any odd problems. Very generous amount of connectors located at the back panel I/O -- nice to see more USB ports, and the implementation of dual eSATA. Performance as commendable; although not consistent with all our benchmarks. We hope that a new BIOS revision will optimize its performance.
Speaking of BIOS, it's nice to see all the overclocking options on one page. But as far as overclocking goes, this motherboard needs a PCI lock otherwise users with PCI devices will be quite disappointed if desired add-on cards cannot be utilized. Vdroop, well, -0.07V is not really the best around to be honest. Disable "PCIe Spread Spectrum" and "CPU Voltage Damper" would eliminate the problems, respectively.
To conclude, just check out of the negatives matter to you. There are some BIOS issues to be fixed and performance can still be optimized to retain a higher degree of consistency. I am still going to give this motherboard a good general recommendation, and the chances of you disappointed in this board is not very high. If you are, just remember that z=(x - µ)/s :)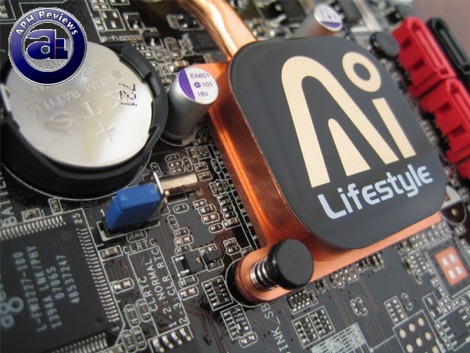 Special thanks to Asus for making this review possible.

APH:Renewal Award
Starting from April 30, 2007, Number Ratings have been dropped for motherboards, RAM, and graphics cards. This is to ensure the most appropriate ratings reflected without the limits of using numbers. Everything else will continue using the Number Rating System.
More information in our Review Focus.
The Asus P5K-Deluxe is a full featured, solid and stable motherboard. Incredible overclocking, chipset cooling nicely implemented, but layout has room for improvement, and it's too bad the BIOS chip is soldered on.
Do you have any comments or questions about the Asus P5K-Deluxe? Drop by our Forums. Registration is free, and it only takes a minute!
---
Page Index
1.
Introduction, Features, and Specifications
2.
Bundle, Chipset, BIOS
3.
A Closer Look, Board Layout
4.
Test System; Benchmark: 3DMark06
5.
Benchmark: PCMark05
6.
Benchmark: Cinebench 9.5, SuperPI 1M
7.
Benchmark: EVEREST CPU
8.
Benchmark: EVEREST FPU
9.
Benchmark: EVEREST Memory
10.
Benchmark: EVEREST Memory Latency, HDTach 3.0.1.0
11. Onboard Sound, Wi-Fi, Overclocking, Conclusion