Page 4 - Test System; Benchmark: 3DMark06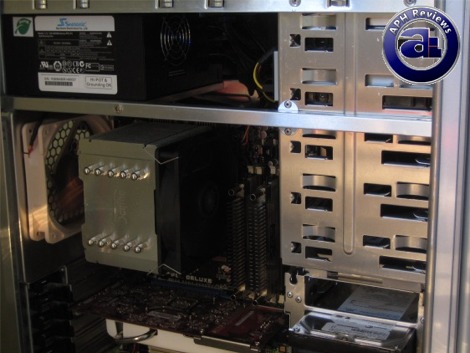 Photo used for demonstration only. RAM shown in photo are OCZ Flex XLC PC2-6400 CL4 2x1GB memory. And if you look a little closer, the clips on the second module are actually loose!
Well anyways...
Test System
CPU: Intel Core 2 Duo E6300
CPU Cooling: Scythe Infinity
RAM: OCZ Special Ops Edition Urban Elite PC2-6400 2x1GB
Power: Seasonic M12 500W
Graphics: Asus EAX1950PRO 256MB
Optical Drive: NEC AD-7170A 18X DVD+/-RW
Hard Drive: Seagate 7200.10 320GB 16MB SATA2
Case: Thermaltake Aguila
Case Fans: Noctua NF-S12-800 (Back), Noctua NF-S12-1200 ULNA @ 600rpm (Front)
Operating System: Microsoft Windows XP Professional SP2
Compared Motherboards:
- abit AB9-Pro (Intel P965+ICH8R)
- Asus P5W64-WS Professional (Intel i975X+ICH7R)
- Asus P5N-E SLI (NVIDIA 650i+NF430 MCP)
- Asus P5NT-WS (NVIDIA 650i+NF570 MCP)
- Asus P5K-Deluxe (Intel P35+ICH9R)
Important: All of the graphs used in this review are generated by Microsoft Excel 2007, with automatic computer defined scales. Some graphs with 5 point differences may appear large on the graph -- please do take the actual numeric result into account rather than the looks of the graph in order to obtain the most accurate perception of performance.
---
About 3DMark06
3DMark®06 is the worldwide standard in advanced 3D game performance benchmarking. A fundamental tool for every company in the PC industry as well as PC users and gamers, 3DMark06 uses advanced real-time 3D game workloads to measure PC performance using a suite of DirectX 9 3D graphics tests, CPU tests, and 3D feature tests. 3DMark06 tests include all new HDR/SM3.0 graphics tests, SM2.0 graphics tests, AI and physics driven single and multiple cores or processor CPU tests and a collection of comprehensive feature tests to reliably measure next generation gaming performance today. Futuremark's exclusive Online ResultBrowser web service tracks and compares 3DMark06 scores.
Key 3DMark06 Advanced and Professional Features
* DirectX® 9 3D game performance benchmark
* Includes separate graphics card and CPU tests
* Produces workloads that simulate next generation 3D gaming requirements
* Advanced 3D game engine supports HDR Rendering with SM3.0 Shaders, in addition to SM2.0 Shaders
* Includes two HDR/SM3.0 game tests and two SM2.0 game tests
* CPU performance testing via AI and physics workloads for both single core systems and multi-threaded, multi-core and multiple processor environments
* 3D graphics feature tests include Fill Rate, Pixel Shader, Vertex Shader, SM3.0 tests, and Batch Size tests
From: Developer's Page
In 3DMark06 Professional, we only had benchmark results for the Asus P5W64-WS Professional and Asus P5K-Deluxe with Asus' Radeon X1950 Pro graphics card. The rest of the benchmarks will compare results for all five motherboards listed above.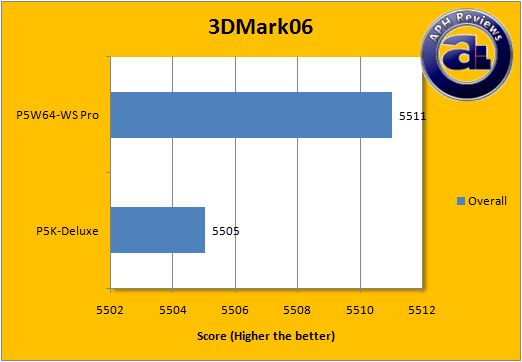 The Asus P5W64-WS Professional had a slight lead in 3DMark06 Overall. In general, it could be regarded as a statistical tie.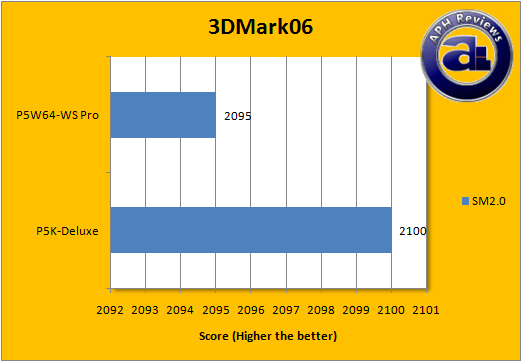 A statistical tie of a 5 point lead; but the P5K-Deluxe had a minor lead on paper.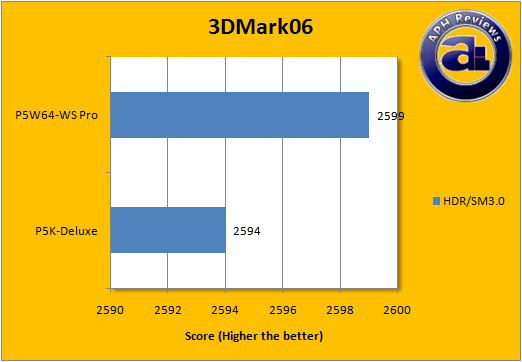 Everyone feels good with 5 point leads!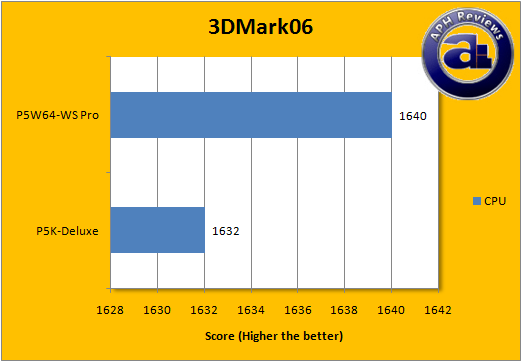 Again, a statistical tie -- but the P5W64-WS Professional had a minor lead.
---
Page Index
1.
Introduction, Features, and Specifications
2.
Bundle, Chipset, BIOS
3.
A Closer Look, Board Layout
4. Test System; Benchmark: 3DMark06
5.
Benchmark: PCMark05
6.
Benchmark: Cinebench 9.5, SuperPI 1M
7.
Benchmark: EVEREST CPU
8.
Benchmark: EVEREST FPU
9.
Benchmark: EVEREST Memory
10.
Benchmark: EVEREST Memory Latency, HDTach 3.0.1.0
11.
Onboard Sound, Wi-Fi, Overclocking, Conclusion