Page 3 - A Closer Look, Board Layout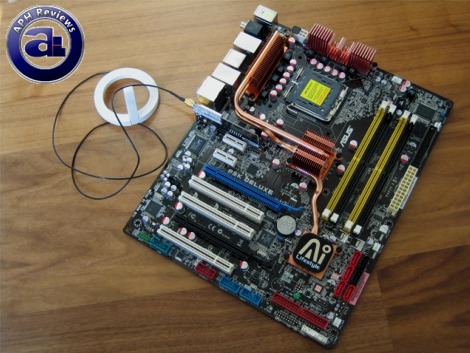 As far as color scheme goes, the Asus P5K-Deluxe is built upon a dark-chestnut colored -- almost black -- PCB. Copper heatpipes start from the ICH9R southbridge and leads up into the P35 northbridge; then pulling to the rear of the motherboard for I/O backplate heat exhaust. It is almost identical to Asus Commando's cooling and heatpipe design.
On a side note, it seems to us that the BIOS chip is not removable on the P5K-Deluxe.
With the ever-popular trend, the P5K-Deluxe features 100% solid state aluminum capacitors instead of 'classic' electrolyte capacitors. This will extend lifespan (If you are going to use your computer for that long), but also features no risk of exploding capacitors. Asus generally does not have this problem anyway, but regardless it is a nice change!
As usual from Asus' higher end motherboard offerings, the Asus P5K-Deluxe incorporates Asus' Stack Cool 2 design where a layer of metal is integrated into the motherboard to spread heat generated by components around more evenly. Through this, it lowers the amount of concentrated heat spots in one area but instead spread over a larger surface area for better heat dissipation.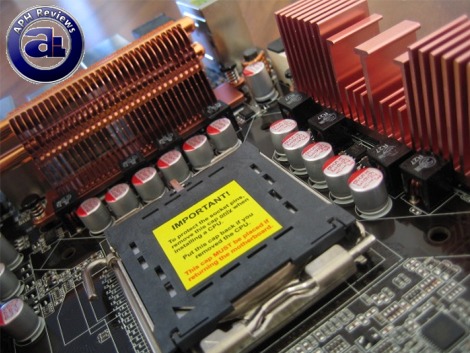 A copper heatsink is placed at the top of the motherboard for additional motherboard component cooling. An array of capacitors are placed close to the CPU socket; but are generally low enough to accommodate majority of CPU heatsinks. I had no problems installing the Scythe Infinity. Again, as you can see in the photo above, it demonstrates Asus' standard 8-phase power design with its last few generation of motherboards of this class (Count the black blocks).
The advantage of 8 phase power designs is that it will theoretically reduce the requirements for input ripple currents. Low voltage ripples allow the CPU to operate at a more stable voltage and thus create more opportunity for higher overclocks.
Because power consumption is directly related to input ripple current, there will be a slight decrease in power usage over motherboards with a 4 phase power design. When less power is used, less heat will be generated. This increases stability and life span of a CPU.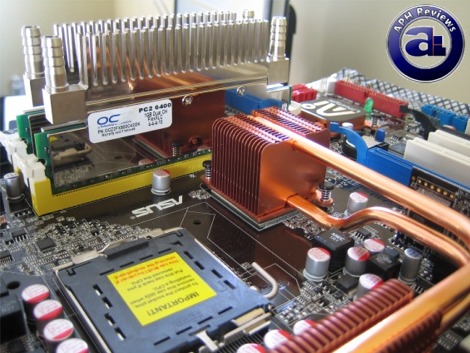 I love heatsink and heatpipe city.
Instead of using a full perimeter heatpipe design like the P5K3-Deluxe, Asus opted for a classic single route 90 degree angle heatpipe implementation. Two heatpipes lead away from the P35 northbridge up to another heatsink at the back for system airflow to bring heat out the back. An optional fan can be separately purchased and installed.
Since the power consumption of the P35 chipset is fairly low (Hey, much better than those sizzling NVIDIA chipsets), we found that cooling performance is very acceptable. Even as we overclock, the chipset's temperature peaked at 50c with minimal airflow. It is very hard for a chipset to perform well in our test system, since my obsession with quiet systems result in low RPM fans. Low RPM fans usually move less air in sacrifice of heat.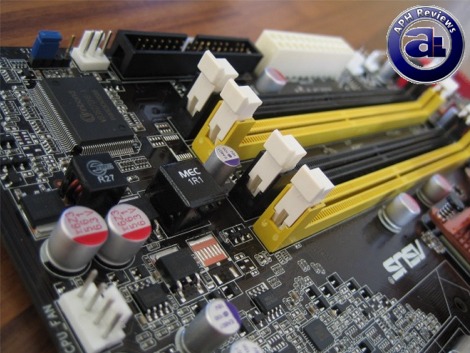 RAM slots are color coded in black and yellow, to allow the user to visually identify channel A and channel B. Interestingly, it appears to us that even the RAM has a single phase power design.
Since the RAM slots are placed lower than other motherboards, it gets quite close to the first PEG slot. With a long enough graphics card, it may interfere with DIMM clips, since there's less than a centimeter clearance between the two.
Floppy IDE connector is located on the right edge above the 24-pin power connector; both well placed in my opinion. The P5K-Deluxe does not require auxiliary power; as many of our previously tested motherboard required a Molex connection from the power supply.
Also shown is the Winbond W83627DHG chip.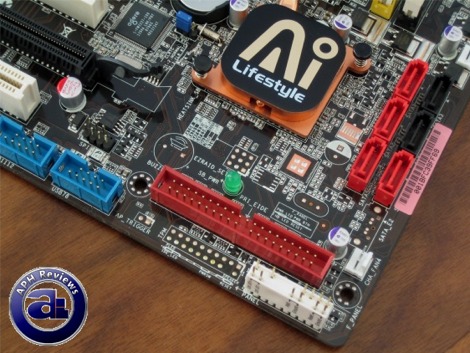 Lower right hand corner of the motherboard. Six SATA connectors are present. Unfortunately, two SATA connectors are located directly to the right of the primary PEG slot. An 8800GTX is guaranteed to block out at least a couple -- any thicker will cause you to lose four SATA ports. An Asus X1950 Pro takes out two; but might be able to redeem one through utilization of an included angled SATA cable.
Above case I/O connectors is a JMicron JMB363 controlled PATA port. This is due to the lack of native PATA support with Intel's ICH9R; also resulting in a slightly weird placement of connector. I was able to carefully wire a rounded IDE cable used with my NEC burner to make it less noticeable, but there are better locations on the motherboard to place it. In general, the Asus P5K-Deluxe is the happiest with SATA burners -- widely available at a low cost these days.
As usual, Asus' standardized Q-Connector is included. Since all Asus motherboards use the same case I/O connector design, when I installed this motherboard I simply used the pre-existing Q-Connector block I had and plugged it into the P5K-Deluxe. Absolutely no problems at all.
Two internal USB connectors for four USB ports are shown in the photo above (Bottom left of the shot).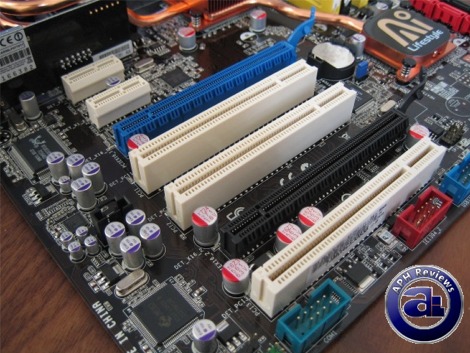 In terms of add-on card interfaces, two PCIe x16 slots are present. Up to three PCI devices can be accommodated with the slots; however chances are that users using this board will have a dual slot graphics card -- unfortunately, it's really that common. Two PCIe x1 slots reside above the first PEG slot. If you would consider this a design fault, but a long PCIe x1 card cannot be installed because it is blocked by the RAM. There's no really long PCIe x1 cards, but if one rolls in the future, then we've got a problem. So far, as long as it's going to be compatible with Asus' own upcoming sound card I will be satisfied.
The placement of CMOS battery near the first PCIe x16 slot is a bit odd -- if you ever need to remove the battery, chances are than you'll need to remove your graphics card as well.
Along the bottom is an internal Firewire connector (Red). The bottom left corner of the motherboard is where case audio connectors go -- our photo cuts off at that point, therefore not shown.
The left edge is the physical home of an array of chips and controllers -- Realtek RTL81100SC LAN controller, JMicron JMB363 (SATA and PATA), and ADI SoundMAX 1988B high-definition audio codec.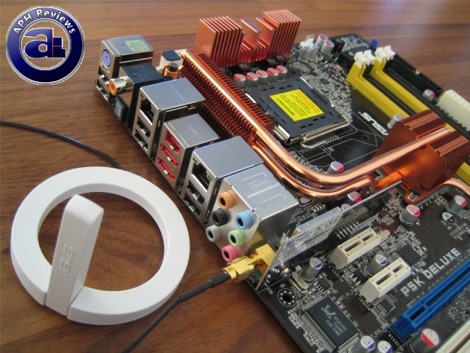 Finally, we are going to talk about the I/O backplate. A welcoming change is the discard of one PS/2 port for two USB ports at the top. I mean, who still uses PS/2 peripherals anyway? ;)
S/PDIF outputs include the standard optical and coaxial out. Four more USB ports are located on two different blocks with a Gigabit network adapter each. Between the two is a block with two eSATA ports (Thank goodness Asus finally decided to put eSATA back into its enthusiast line of motherboards) and a Firewire port. Six 3.5mm analog ports comes in standard, along with a Wi-Fi antenna connector. The antenna is included out of the box, and we'll discuss the software side of this in just a moment.
Wi-Fi is powered by a Realtek controller.
---
Page Index
1.
Introduction, Features, and Specifications
2.
Bundle, Chipset, BIOS
3. A Closer Look, Board Layout
4.
Test System; Benchmark: 3DMark06
5.
Benchmark: PCMark05
6.
Benchmark: Cinebench 9.5, SuperPI 1M
7.
Benchmark: EVEREST CPU
8.
Benchmark: EVEREST FPU
9.
Benchmark: EVEREST Memory
10.
Benchmark: EVEREST Memory Latency, HDTach 3.0.1.0
11.
Onboard Sound, Wi-Fi, Overclocking, Conclusion