Page 10 - Overclocking Results and Conclusion
At this point, you might think it is a complete waste of time after reading through pages upon pages of benchmarks, only coming to the conclusion that the performance of the tested memory modules are all virtually identical. But this is just the reality when it comes to testing components with similar specifications, haha. Motherboards and RAM generally come very close together in performance given the same testing scenarios, but it is not stock performance that tells the whole story. As far as RAM is concerned, overclocking is quite a fundamental element. And this is where the fun starts... that's right, on the last page of this review.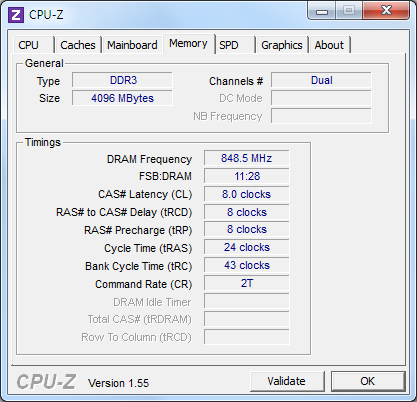 Initially, I was kind of lazy and plugged the Patriot Viper II Sector 5 PC3-12800 2x2GB RAM into my Asus Striker II NSE board with a Core 2 Extreme processor, because it was easier to overclock using memory unlinked mode. This laziness did not really pay off, because I ended up having to retest overclocking results on my Asus P7P55D-E Premium due to various complications in my configuration until way past midnight (That's how hardcore computer enthusiasts roll, yo). For the most part, setting it at stock latencies produced the same results as before in my P7P55D-E Premium -- I was only able to get it to DDR3-1700 at 8-8-8-24 (6.25% overclock). It is certainly not bad, but it is nothing spectacular either. On a side note, I was unable to get it to run my set stably at lower latencies given 1.65V.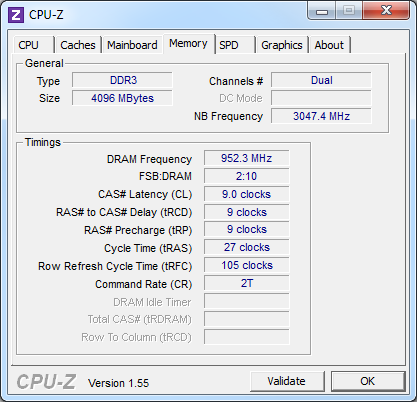 The difference really kicked in when I retested overclocking on my Nehalem based system, let's just say "for some reason" to not deviate off topic. I swear, I was just this close to hitting the magical 2000MHz (DDR) mark at loosened 9-9-9-27 latencies at 1.65V. Nevertheless, I still ended up with an impressive DDR3-1900 result -- which translates to a 18.75% overclock over stock, Prime95 stable. It is 50MHz higher than what I got with the G.SKILL Ripjaws a couple of weeks ago, except the Ripjaws I previously reviewed were 4GB modules, which are usually harder to overclock than 2GB modules. The SpecTek PRN256M8V69AG8GKF-15E may not be Superman ICs, but they are still pretty darn good from what I have seen.
-----------------------------------------
If you just look at Patriot's Viper II Sector 5 PC3-12800 2x2GB dual channel kit by specifications only, it probably won't be the first one to catch your attention. They are DDR3-1600 memory, which are quite common nowadays. It runs at relatively modest latencies of 8-8-8-24, which are considered neither low nor high by today's standards. It features medium profile heatspreaders, doing its job where it's needed, but it does not command attention by fancy design or sharp colors. Thanks to its modest specifications, its stock benchmark results reflect accordingly. These are the times where we need to look beneath the surface, however. Sure, they are not Superman ICs as aforementioned -- but the Micron-manufactured SpecTek PRN256M8V69AG8GKF-15E chips do quite a spectacular job if you loosen up the latencies and clock up the frequencies on these RAM. Hitting 1900MHz (DDR) is no easy feat something that costs less around $80 after mail in rebate at press time -- but the Viper II Sector 5 PC3-12800 is able to achieve that at 9-9-9-27 at 1.65V in our tests. While you won't be able to lower then latencies or do much at stock configuration, if you are looking for some great overclocking DDR3 memory on a budget, here is a kit you don't want to miss out on!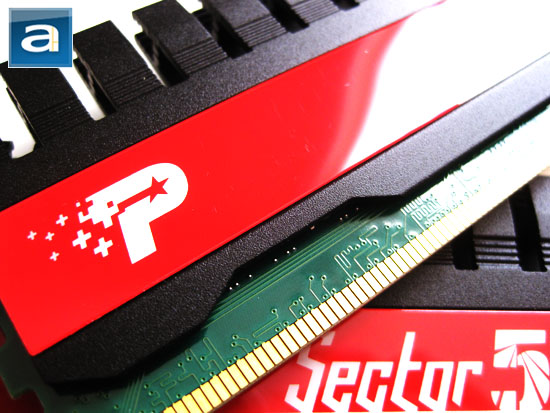 Special thanks to Mary over at Patriot for making this review possible.
Starting from April 30, 2007, Number Ratings have been dropped for all CPU, motherboards, RAM, and graphics cards. This is to ensure the most appropriate ratings reflected without the limits of using numbers. Everything else will continue using the Number Rating System.
More information in our Review Focus.
Patriot's Viper II Sector 5 PC3-12800 2x2GB memory set may be a modest kit in stock configuration, just wait until you start overclocking them.
Do you have any comments or questions about the Patriot Viper II Sector 5 PC3-12800 2x2GB RAM? Drop by our Forums. Registration is free, and it only takes a minute!
---
Page Index
1.
Introduction and Specifications
2.
A Closer Look, Installation, Test System
3.
Benchmark: EVEREST CPU
4.
Benchmark: EVEREST FPU
5.
Benchmark: EVEREST Memory
6.
Benchmark: PCMark Vantage
7.
Benchmark: 3DMark06 Professional
8.
Benchmark: PassMark PerformanceTest 7.0
9.
Benchmark: SuperPI 1M, Cinebench R11.5
10. Overclocking Results and Conclusion