By: Jonathan Kwan
October 29, 2010
In the days where every person in the house has their own personal computer is no longer a luxury, and considering the fact that the term 'family computer' has long exited the minds of most people, it is interesting to see how much PC hardware has changed in the last decade -- both in continually lowering prices, and fundamentally increased performance breakthroughs. I often find it kind of funny when I talk to some middle school kids in my church, where half of them probably have better cell phones than I did when I was in high school (Not to make myself sound old or anything -- I'm only 20, haha). "I had a piece of crap Motorola when I was in high school. And way back when I was in elementary, cell phones were surely a luxury... and they did nothing more than call people. Not even text..." just as they glanced back at me, not exactly knowing how to respond. Meanwhile, at the mention of playing games like Need for Speed II on Windows 98 that did not seem all too long ago, these things were made even before they were born. Remember when Pentium II processors were considered state-of-the-art, and 8GB hard drives were the standard? Yeah, those were the days. If I said during that time period 8GB RAM kits would be readily available for less than $200 in ten years, most people would probably laugh out loud. It is just hard to imagine what we could possibly do with such magnitude of capacity, as if I am saying within the next ten years, 1000GB of RAM will be nothing out of the ordinary. But times have changed -- and 8GB of RAM, while plenty, is not really such a foreign concept to us anymore. With that in mind, we are no longer stuck at low performance, high capacity memory kits, either. G.SKILL's Ripjaws F3-12800CL7D-8GBRH 2x4GB dual channel set for Core i5/i7 processors runs at DDR3-1600 with CL7 latencies, promising high capacity and high performance all at the same time. How well does this product fare in our benchmarks today? Read on to find out!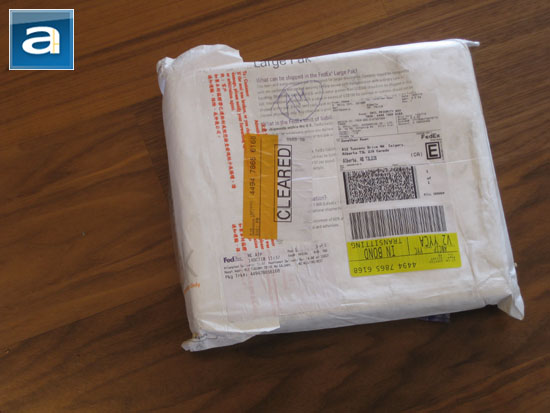 Our review unit of the G.SKILL Ripjaws F3-12800CL7D-8GBRH 2x4GB dual channel memory kit (Whew, that's a mouthful!) came in a small FedEx Priority Pak envelope from G.SKILL's offices in Taipei, Taiwan. Using FedEx International Priority, everything arrived in excellent condition for us to review. Modern day logistics has it -- I have always found it intriguing as to the way a package can move so efficiently and quickly from one side of the world to another, passing through multiple sorting facilities while making its trip through several different countries, crossing border customs, and still get into our doorstep all in less than two days. I wasn't available when it was delivered, so the FedEx driver kindly left it at my back door on my request. I came back, picked up the package, and prepared for our review today.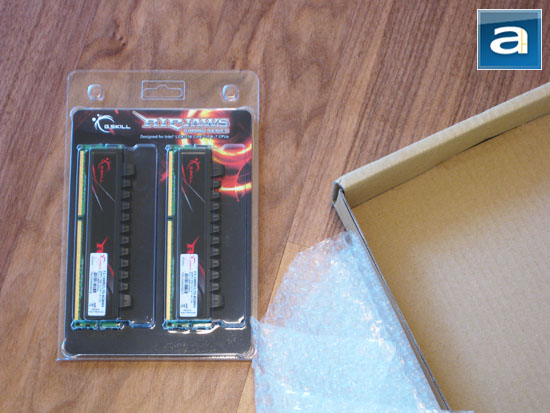 G.SKILL uses fairly standard retail packaging for their Ripjaws PC3-12800 2x4GB CL7 dual channel memory kit. The clamshell package is simple and held closed together at the top by two friction buttons; no blister pack techniques were used in this case -- which is, as usual, truly excellent in my opinion. A black colored insert with G.SKILL's logo and Ripjaws product line branding are placed at the top, with sharp orange streaks to highlight give it a more intense feel. Both memory modules can be seen through its clear plastic exterior placed vertically next to each other, where differentiating features of similar memory kits can be found on the warranty and specification label placed on each heatspreader. At the back are miscellaneous company, warranty, and specifications information.
Before we move on, let's take a look at G.SKILL's Ripjaws F3-12800CL7D-8GBRH 2x4GB RAM, as obtained from the manufacturer's website:
Specifications
Mainboard: Intel
System: Desktop
System Type: DDR3
M/B Chipset: Intel P55
CAS Latency: 7-8-7-24-2N
Capacity: 8GB (4GBx2)
Speed: DDR3-1600 (PC3 12800)
Test Voltage: 1.6 Volts
PCB:
Registered/Unbuffered: Unbuffered
Error Checking: Non-ECC
Type: 240-pin DIMM
Warranty: Lifetime
Qualified Motherboards List
ASUS Maximus III Formula
ASUS Maximus III Gene
ASUS P7P55D-E Premium
ASUS P7P55D-E Deluxe
ASUS P7P55D-E EVO
ASUS P7P55D-E Pro
ASUS P7P55D-E
ASUS P7P55D Premium
ASUS P7P55D Deluxe
ASUS P7P55D EVO
ASUS P7P55D Pro
ASUS P7P55D
EVGA P55 Classified 200
EVGA P55 FTW 200
EVGA P55 FTW
EVGA P55
EVGA P55 Micro
EVGA P55 LE
MSI P55M-GD45
MSI P55-GD65
MSI P55-GD80
MSI Big Bang-Trinergy
Gigabyte GA-P55A UD3
Gigabyte GA-P55A UD3P
Gigabyte GA-P55A UD3R
Gigabyte GA-P55A UD4
Gigabyte GA-P55A UD4P
Gigabyte GA-P55A UD5
Gigabyte GA-P55A UD6
Gigabyte GA-P55 UD3
Gigabyte GA-P55 UD3P
Gigabyte GA-P55 UD3R
Gigabyte GA-P55 UD4
Gigabyte GA-P55 UD4P
Gigabyte GA-P55 UD5
Gigabyte GA-P55 UD6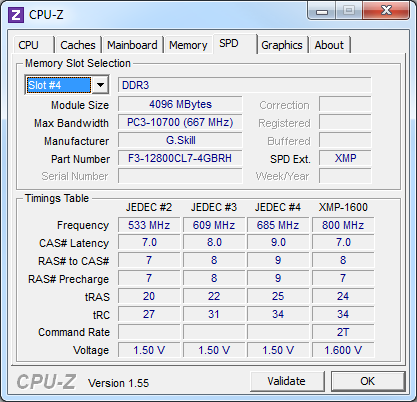 A screenshot of the memory tab in CPU-Z with G.SKILL's Ripjaws F3-12800CL7D-8GBRH installed. The SPD timings table in CPU-Z reads standard JEDEC specifications programmed into the memory, as well as Intel XMP data for running the memory at DDR3-1600. Using the latest BIOS revision, our Asus P7P55D-E Premium motherboard used for testing had no issues detecting and working with the G.SKILL RAM and its XMP settings. As you can see in our screenshot provided above, this G.SKILL dual channel kit runs at a relatively high frequency of 1600MHz (800MHz actual clock) in conjunction with 7-8-7-24 latencies at 2T command rate. These are pretty darn good specifications for an 8GB dual channel kit, especially considering that all this comes at only 1.60V stock voltage for LGA1156 Core i5 and i7 processors.
---
Page Index
1. Introduction and Specifications
2.
A Closer Look, Installation, Test System
3.
Benchmark: EVEREST CPU
4.
Benchmark: EVEREST FPU
5.
Benchmark: EVEREST Memory
6.
Benchmark: PCMark Vantage
7.
Benchmark: 3DMark06 Professional
8.
Benchmark: PassMark PerformanceTest 7.0
9.
Benchmark: SuperPI 1M, Cinebench R11.5
10.
Overclocking Results and Conclusion