By: Jonathan Kwan
May 13, 2011
When Stephen Harper won the 41st Canadian general election and became the Prime Minister for the third time in five years, political commentators on TV praised him for his very well presented victory speech. But why are we praising someone who didn't even write the speech in the first place? The answer to this question is actually quite simple, but requires some food for thought. So let's put it this way: Give the same speech to people like you or me. Unless your name happens to be Stephen J. Harper, just because we have the same draft on hand, does not mean we can present it as well as the next. In the same way, we all know there are a billion versions of the same video card in the market today. Whether it is ASUS or MSI or HIS or PowerColor or Gigabyte, they all have all have some kind of AMD or NVIDIA GPU in the middle, and none of the board manufacturers had any hand in the design of the GPU. So what makes you want to buy a Gigabyte video card over, say, an ASUS variant, even though they are both Radeon 6870s? Other than the usual price and warranty factors, stuff like the included cooler plays a role, too. The Gigabyte Radeon HD 6870 1GB SOC we are reviewing today is a great example of what makes a run-of-the-mill graphics card unique among the competition. Combined with high quality electronic components and a hardcore looking WindForce 3X triple fan heatsink, how well does this "super" overclock version of AMD's excellent Radeon 6870 GPU step up against its competitors? We took one in and fired up our test platform for some benchmarking fun. Read on to see why we like this card so much!
Gigabyte tossed the Gigabyte Radeon HD 6870 1GB SOC into a relatively large, brown corrugated cardboard box and sent it on its way to us here in Calgary, Alberta, Canada using FedEx International Economy. All contents arrived safely into our hands from Gigabyte's American offices two thousand kilometers away in California. We sliced open the shipping box, dug through a lot of packing peanuts, and got to work.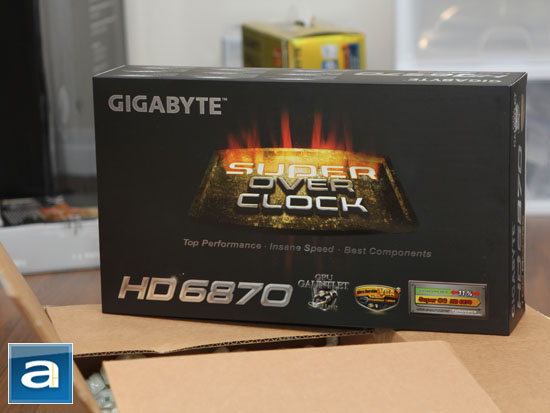 If you are sick and tired of graphics card retail boxes that would make an Apple designer want to jump off a bridge, Gigabyte would like a word with you. The Radeon HD 6870 1GB SOC's packaging still ensures you understand it is a video card inside the box when you are roaming your favorite local retail store, but the flat black background is clean and mysterious enough to captivate your attention against the competition. As you run your eyes across the center of the box, you know this is not just any 6870. It is the Super Overclock version -- with a firey glow around the word "super". And as anyone would know from elementary school, tacking words like "super" and "ultra" in front of anything simply makes it better. But how much better? Flip the box around, and tons of graphics with blocks of text will tell you why, but we are not here to review the box, right? So let's tiptoe around this, but before we move on, let's take a look at the specifications of Gigabyte's Radeon HD 6870 1GB SOC, as obtained from the manufacturer's website:
Chipset: Radeon HD 6870
Core Clock: 950 MHz
Shader Clock: N/A
Memory Clock: 4400 MHz
Process Technology: 40 nm
Memory Size: 1 GB
Memory Bus: 256 bit
Card Bus: PCI-E 2.1
Memory Type: GDDR5
DirectX: 11
OpenGL: 4.1
PCB Form: ATX
I/O: HDMI * 1, DVI-I * 1, DVI-D * 1, mini DisplayPort * 2
Digital max resolution: 2560 x 1600
Analog max resolution: 2048 x 1536
Multi-view: 4
Card size: H=38 mm, L=290 mm, W=126 mm
Power requirement: 500 W
Inside the outer packaging is a thick, black cardboard flap box to protect and accommodate the actual contents. Opening the box with a shiny "Super Overclock" logo in front, a large Styrofoam block can be found with a custom shaped pit accommodates the graphics card, along with a compartment on the side that holds the accessories. Everything is carefully packaged and ensured to be in the right order when the Gigabyte 6870 SOC arrives in the hands of the consumer. Out of the box, you will receive the following contents:
1x Gigabyte Radeon HD 6870 1GB SOC
1x DVI to VGA adapter
2x Molex to 6-pin PCIe adapter
1x HDMI cable
1x CrossFire bridge
1x User's Manual/Multilingual Installation Guide
1x Driver/Software CD
---
Page Index
1. Introduction, Specifications, Bundle
2.
AMD Radeon HD 6800 Series Architecture
3.
A Closer Look, Test System
4.
Benchmark: 3DMark 11
5.
Benchmark: Battlefield: Bad Company 2
6.
Benchmark: Call of Duty: Black Ops
7.
Benchmark: Colin McRae: DiRT 2
8.
Benchmark: Far Cry 2
9.
Benchmark: Just Cause 2
10.
Benchmark: Metro 2033
11.
Benchmark: Unigine: Heaven v2.5
12.
Power Usage, Temperature, Noise
13.
Overclocking and Conclusion