By: Jonathan Kwan
April 30, 2010
When we reviewed the Auzentech X-Fi HomeTheater HD a few weeks back, I was without a doubt extremely impressed by the overall performance of the card. Combining the best hardware (For the most part, anyway) for impressive sound quality across the board, the X-Fi HomeTheater HD is really a true audiophile's dream. But let's be realistic here -- unless you are really picky in audio and searching for the best of the best, the rest of the crowd may find it just a bit hard to justify the cost of a sound card that pretty much retails for more than most motherboards at press time. What if you are a casual audiophile looking for a sound card that delivers more than what integrated audio solutions offer, but at a more affordable price tag? Auzentech might just have the solution for you. The Auzentech X-Fi Bravura is a PCI Express based audio board that costs roughly half of what the X-Fi HomeTheater HD commands at the time of writing this review, yet retains some of the electronics found on its bigger brother such as the bi-polarized aluminum electrolytic Nichon MUSE ES audio grade capacitors, Cirrus Logic CS4382A 24-bit 192 kHz 8-channel DAC, and a handful of other things. It even has fully swappable operational amplifiers on all channels, which even the X-Fi HomeTheater HD does not have! Is the Auzentech X-Fi Bravura an appealing solution to the masses, or is it just riding on the brand, a cheaped-out version that you shouldn't bother with? We took the liberty to find all the answers for you in our review today!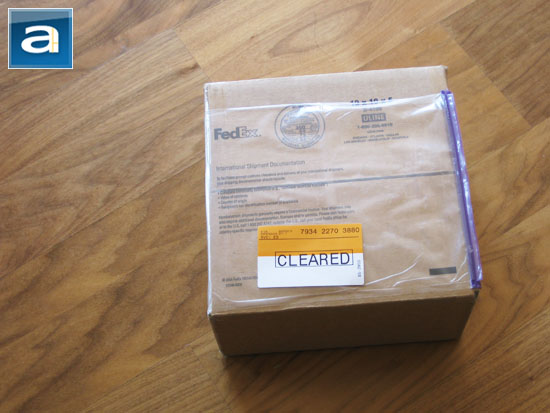 Our review unit of the Auzentech X-Fi Bravura came in a relatively small, brown corrugated cardboard box from Auzentech's offices in Santa Clara, California, USA. Using FedEx International Economy, everything arrived safely in excellent condition for our review today. We've been covering many multimedia products lately here at APH Networks, and I am especially excited to be getting my hands on the X-Fi Bravura like I did with the HomeTheater HD -- both cards have relatively limited supply in the market today, and having both cards at the same time is quite a challenge to attain. And we actually have both of them right now.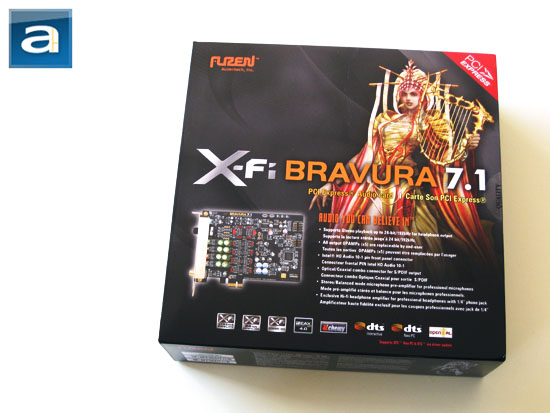 As an engineering student and writer for APH Networks for the past few years, I am fairly confident in my technical knowledge and overall English proficiency (The editing team may disagree for the latter, but I guess that's too bad haha! [Editor: I don't disagree; your Engrish is surprisingly good :P]), but when it comes to musical terminology, I am quite the noob. That said, once you pull out a dictionary, it gives interesting insight on why Auzentech named their sound card the Bravura. The word is of Italian origin, and is defined as "a florid passage or piece requiring great skill and spirit in the performer" and "a display of daring; brilliant performance". If my high school English IB courses ever came in handy, this is the time -- it is clear that the name X-Fi Bravura carries the connotation that this is more of an audiophile card than a do-it-all performance audio card; interestingly, this is exactly the market Auzentech is after. The retail box design of the Auzentech X-Fi Bravura involves an MMORPG-esque character as the dominant image in front holding a harp in order to allude to the name of the sound card, and then carefully rounding it off with a minor gaming overtone. Like the X-Fi HomeTheater HD's retail box, its contents are contained within a box inside the wrapper, and can be slid out on either the left or right side. The difference, of course, is that the Bravura has everything within one cardboard box, while the HomeTheater HD has the card and accessories separated into two different packages.
Feature highlights and specifications are printed on various sides of the box. Speaking of which, before we move on, let's take a look at the specifications of the Auzentech X-Fi Bravura sound card, as obtained from the manufacturer's website:
Interface Core
Audio Processor: Creative PCI Express audio processor
PC Interface PCI Express 1.1 Compliant Interface, Compatible with X1 PCI Express slot
Supported audio
- 16/24-bit / up to 192.0khz (Headphone playback)
- 16/24-bit / up to 96.0khz (Multi channel playback)
- 16/24-bit / up to 96kHz (Recording)
API Supports: WDM, EAX® 4.0, Direct Sound®, Direct Sound 3D®, Open AL, WASAPI
Supported Operating Systems: Microsoft® Windows® 7, Microsoft® Windows Vista®, Microsoft® Windows® XP
Analog Audio
Maximum Level
- 3.0 Vrms, +12.0dBu max, deviation +/- 0.1dB
Dynamic Range
- 115.0dB A-weighted (1kHz @ -60dBFS, 24-bit/48kHz) for Stereo output
- 110.0dB A-weighted (1kHz @ -60dBFS, 24-bit/48kHz) for Multichannel outputs
- 98.0dB A-weighted (1kHz @ -60dBFS, 24-bit/48kHz) for Analog Inputs
Total Harmonic Distortion + Noise:
- 0.001% A-weighted (@ -3dBFS) for Analog outputs , 0.003% A-weighted (@ -3dBFS) for Analog Inputs
Frequency Response
- 10Hz to 22kHz, +/- 0.02 dB @ 48kHz
- 10Hz to 42kHz, +/- 0.02 dB @ 96kHz
- 10Hz to 94kHz, +/- 3dB @ 192kHz(Headphone)
Impedance
- Headphone load
- impedance 16ohm ~ 600ohm Speaker output 150ohm
- Line Input 10Kohm
Microphone
- Supports Stereo and Balanced Mode
Connectivity
Line / Microphone
- Input: 1/8"(3.5mm) phone jack
- Selectable Microphone Pre-Amplifier Mode or Line Input Mode
Headphone Output: 1/4"(6.35mm) stereo phone jack
Speakers Output: 4 x 1/8"(3.5mm) stereo phone jacks (Front/Rear/Center-SW/Side)
Digital Output: RCA(Coaxial) / TOSLINK(Optical) Combo jack
Front Audio: Intel® HD Audio 10-1 Pin connector
- Extension: Multi S/PDIF I/O interface 8-1 pin connector
Dimensions
Board Length: 147.0mm (5.79 inches)
Board Height: 106.0mm (4.17 inches)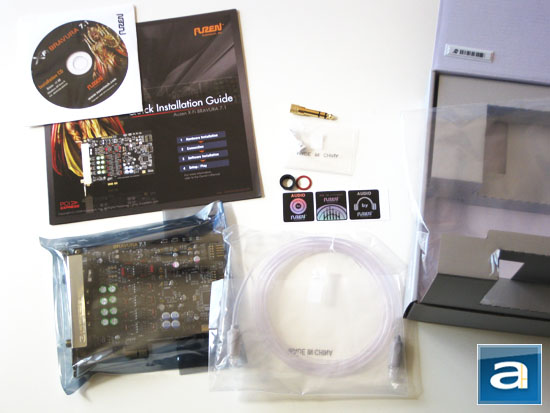 Out of the box, you will receive the following contents, as shown in our photo above:
- Auzentech X-Fi Bravura 7.1 Audio Card
- Installation CD
- Quick installation guide
- Optical TOSLINK to TOSLINK cable, (10 feet / 3 meter)
- Optical adapter - 1/4" (6.35mm) Stereo phone adapter plug
- Insulating washer, jack collar
- Case stickers
---
Page Index
1. Introduction, Specifications, Bundle
2.
A Closer Look - Hardware
3.
A Closer Look - Software
4.
16-bit/44.1 kHz Frequency Analysis
5.
16-bit/48 kHz Frequency Analysis
6.
16-bit/96 kHz Frequency Analysis
7.
16-bit/192 kHz Frequency Analysis
8.
24-bit/44.1 kHz Frequency Analysis
9.
24-bit/48 kHz Frequency Analysis
10.
24-bit/96 kHz Frequency Analysis
11.
24-bit/192 kHz Frequency Analysis
12.
Subjective Listening and Conclusion