By: Jonathan Kwan
June 3, 2011
Do you still remember the days when Intel's Pentium 4 was duking it out with AMD's Athlon 64, almost every enthusiast owned an ATI Radeon 9800 Pro, having 1GB of RAM was the gold standard, and 160GB hard drives were considered high end? As vivid as it could be in my mind, I still recall configuring my dream computer at my favorite online retailer -- clicking and adding things to the shopping cart, changing and subtracting components repeatedly -- on items I could only, well, dream of owning at the time. Those were also the days when there were only two brands of RAM you should consider if you wanted the best of the best: Kingston HyperX, and Corsair XMS. It wasn't until after that manufacturers like OCZ, G.SKILL, and Patriot took the enthusiast market by storm, and suddenly performance memory became everyone's object of desire. Fast forward to 2011, after owning dozens of kits from pretty much every major manufacturer you could name, somehow by chance no Kingston RAM has ever made it into any of my computers. But regardless of which, the HyperX brand has always held a special place in my heart as a signature of elite performance and quality. Is the original pioneer (Or at least, one of the first) of high performance enthusiast RAM really still the brand to buy? We plugged a Kingston HyperX Grey Series KHX1600C9D3X2K2/8GX 2x4GB dual channel kit into our labs, gave it a close look, and ran it through our standard series of tests to compose our review today. Read on to find out what we have found!
Our review unit of the Kingston HyperX KHX1600C9D3X2K2/8GX 2x4GB DDR3 dual channel kit came in a physically medium sized -- but actually named 'Large' -- package from Kingston's American headquarters at Fountain Valley, California. Using FedEx International Economy, we were happy to discover everything arrived in excellent condition. We ripped open the package after taking some photos, and got straight to work.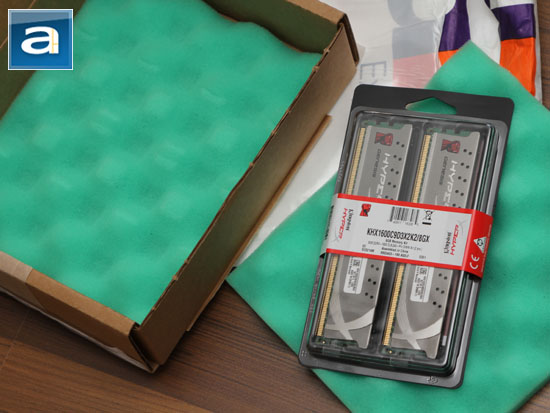 To ensure the Kingston HyperX Grey Series RAM experiences no bumps and bruises during transport, a small brown corrugated cardboard box with some green padding was placed inside the envelope for maximum protection. Upon looking at the real meat of the package, we were happy to discover the company uses relatively simple retail packaging that is easy to open. Unlike standard clamshell or blister packaging with inserts implemented by many other memory manufacturers, Kingston resorted to using the tried-and-true method of having a PET shell and clear plastic cover. You won't find any fancy inserts either; everything you need to know about this product is printed on the sticker that seals the package shut. Meanwhile, the two modules that make up the Kingston HyperX KHX1600C9D3X2K2/8GX 2x4GB are placed vertically next to each other behind the clear plastic cover, so we can enjoy looking at the fancy looking heatsink without opening even opening it.
Before we move on, let's take a look at the product description of the Kingston HyperX Grey Series DDR3-1600 2x4GB DDR3 RAM, as obtained from the manufacturer's website:
Kingston's KHX1600C9D3X2K2/8GX is a kit of two 512M x 64-bit (4GB) DDR3-1600MHz CL9 SDRAM (Synchronous DRAM) memory modules, based on sixteen 256M x 8-bit DDR3 FBGA components per module. Each module kit supports Intel® XMP (Extreme Memory Profiles). Total kit capacity is 8GB. Each module kit has been tested to run at DDR3-1600MHz at a low latency timing of 9-9-9-27 at 1.65V. The SPDs are programmed to JEDEC standard latency DDR3-1333MHz timing of 9-9-9 at 1.5V. Each 240-pin DIMM uses gold contact fingers and requires +1.5V.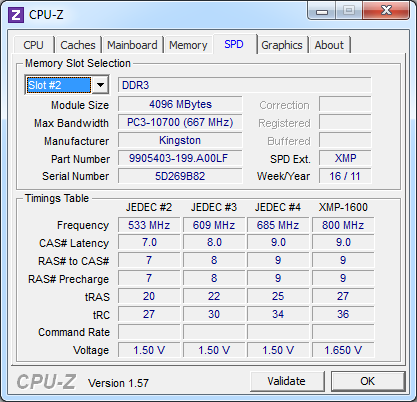 A screenshot of the memory tab in CPU-Z with Kingston's HyperX KHX1600C9D3X2K2/8GX installed. The SPD timings table in CPU-Z reads standard JEDEC specifications programmed into the memory, as well as Intel XMP data for running the memory at DDR3-1600. Using the latest BIOS revision, our ASUS P8P67-WS Revolution motherboard used for testing had no issues detecting and working with the Kingston RAM and its XMP settings. As you can see in our screenshot provided above, this dual channel kit runs at a frequency of 1600MHz (800MHz actual clock) in conjunction with modest 9-9-9-27 latencies at 2T command rate. The Kingston HyperX Grey Series KHX1600C9D3X2K2/8GX DDR3-1600 2x4GB retails for approximately $95 at press time.
---
Page Index
1. Introduction and Specifications
2.
A Closer Look, Installation, Test System
3.
Benchmark: AIDA64 CPU
4.
Benchmark: AIDA64 FPU
5.
Benchmark: AIDA64 Memory
6.
Benchmark: PCMark Vantage
7.
Benchmark: 3DMark 11
8.
Benchmark: PassMark PerformanceTest 7.0
9.
Benchmark: SuperPI 1M, Cinebench R11.5
10.
Overclocking and Conclusion