Page 2 - A Closer Look, Installation, Test System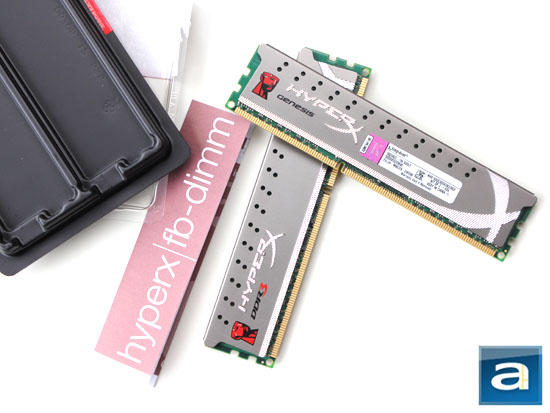 Kingston's HyperX Grey Series KHX1600C9D3X2K2/8GX 2x4GB RAM -- which I'll refer to as 'Kingston HyperX' for short from now on -- uses a low profile, grey/silver-colored heatspreader, as its name suggests. This means the heatsinks take up virtually no additional clearance room compared to a standard bare DDR3 module, and will fit nicely under any heatsink. This is especially important for giganormous units like the Noctua NH-D14 we have reviewed a while back. Aluminum is lightweight, and serves as a decent heat conductor. Whether you like to call it marketing gimmick or not, it is almost impossible nowadays to find performance memory without any form of a heatspreader attached, haha. They do undeniably serve a purpose in dissipating heat, but for most memory modules, unless run at a voltage significantly over design limits -- which you won't, special thanks to integrated memory controllers on Intel processors -- this feature is certainly not a requirement. But I will admit they look pretty cool in any windowed chassis.
The heatspreader design of the Kingston HyperX modules is symmetrical. This makes sense, because memory ICs reside on both sides of the PCB. Besides functional purposes, it also improves the look. Kingston's logo and HyperX branding can be found on the western edge; while a stylized, beveled and textured 'X' can be found extending from the eastern edge to the western edge, as shown in our image above. An organized matrix of ventilation holes can be found at the top. Meanwhile, a specification label is applied on one side of each module. It lists the brand (Kingston), kit name (KHX1600C9D3X2K2/8GX), voltage (1.65V), and assembly location (China). Occupying the rest of the space is not the usual stuff like frequency and capacity, however. Instead, we can see a whole lot of seemingly random characters and numbers, in which I would assume at least one of them corresponds to its serial number.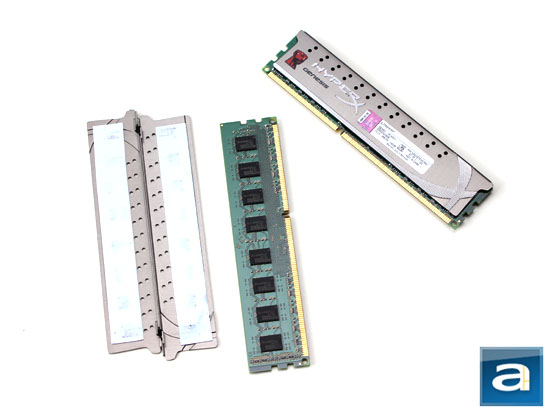 As you can see more clearly in our photo above, the Kingston HyperX uses a traditional green PCB (Although it is not likely you can see it after installation anyway). Its heatspreader is composed of two separate pieces, which are interlinked by two small interlocking clips at the top. The heatspreader is held to the module itself by a strip of thermally conductive adhesive, and each half part of the heatsink is aligned by the reciprocating locks aforementioned. The adhesive force between the heatspreader and memory ICs is not particularly strong, but I would still recommend you to heat it up a bit with your hair dryer before attempting to pull them apart. Other than that, the user can easily remove them with bare hands without risking any damage to their memory modules.
From our above photo, it should also be clearer on how the heatspreaders are designed. The conventionally shaped aluminum pieces are pretty much perfect rectangles, with some ventilation holes at the top to let some congested heat out. In the end, if you're going to be pushing your system to the limits with high memory voltages, the heatspreaders may be beneficial to improve system stability and overclocking potential (But you probably won't, thanks to Intel as aforementioned). Other than that, since these are low profile heatspreaders, I don't see any reason why you will need to take them off anytime soon anyway.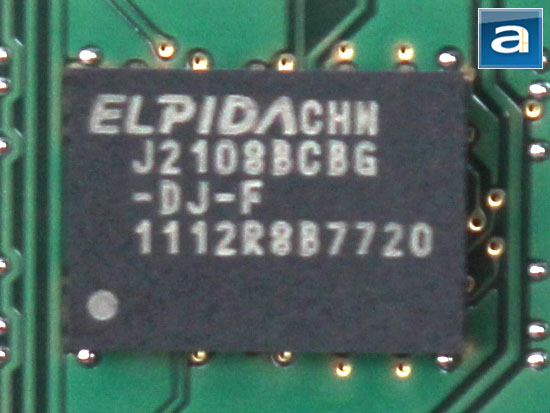 A closer look at the memory chips on the Kingston HyperX KHX1600C9D3X2K2/8GX 2x4GB dual channel memory kit. The photo above should be quite clear, excuse the shakiness -- it says "J2108BCBG-DJ-F" on each IC. These are Elpida manufactured chips, with eight 256MB chips on each side for a total of 4GB on each DIMM. As mentioned on the previous page, these RAM modules run at a frequency of DDR3-1600 with modest 9-9-9-27 latencies at 2T command rate. Since these RAM are designed for Core i5/i7 processors, they operate at a stock voltage of 1.65V.
Unfortunately, I cannot find any datasheet on Elpida's website that corresponds to part number "EDJ2108BCBG" directly. However, Kingston's published literature on the HyperX Grey Series DDR3 RAM seems to be exactly what we are after:
JEDEC standard 1.5V ± 0.075V Power Supply
VDDQ = 1.5V ± 0.075V
667MHz fCK for 1333Mb/sec/pin
8 independent internal bank
Programmable CAS Latency: 5,6,7,8,9,10
Posted CAS
Programmable Additive Latency: 0, CL - 2, or CL - 1 clock
Programmable CAS Write Latency(CWL) = 7 (DDR3-1333)
8-bit pre-fetch
Burst Length: 8 (Interleave without any limit, sequential with starting address "000" only), 4 with tCCD = 4
which does not allow seamless read or write [either on the fly using A12 or MRS]
Bi-directional Differential Data Strobe
Internal(self) calibration : Internal self calibration through ZQ pin (RZQ : 240 ohm ± 1%)
On Die Termination using ODT pin
Average Refresh Period 7.8us at lower than TCASE 85°C, 3.9us at 85°C < TCASE < 95°C
Asynchronous Reset
PCB : Height 1.180" (30.00mm), double sided component
PERFORMANCE:
CL(IDD) 9 cycles
Row Cycle Time (tRCmin) 49.5ns (min.)
Refresh to Active/Refresh Command Time (tRFCmin) 160ns
Row Active Time (tRASmin) 36ns (min.)
Power 2.225 W (operating per module)
UL Rating 94 V - 0
Operating Temperature 0o C to 85o C
Storage Temperature -55o C to +100o C
Our test configuration as follows:
CPU: Intel Core i5-2500K @ 4.50GHz (Overclocked, Turbo Boost disabled)
CPU Cooling: Noctua NH-D14
Motherboard: ASUS P8P67 WS Revolution
Graphics: Gigabyte Radeon HD 6870 1GB SOC
Chassis: Cooler Master 690 II Advanced NVIDIA Edition (Noctua NF-S12B FLX, NZXT Sleeved LED Kit)
Storage OCZ Vertex 2 160GB 25nm; Western Digital Caviar Blue AAKS 500GB
Power: NZXT HALE90 750W
Sound: Auzentech X-Fi HomeTheater HD
Optical Drive: LiteOn iHAS224-06 24X DVD Writer
Operating System: Microsoft Windows 7 Professional x64
Compared Hardware:
- Kingston HyperX KHX1600C9D3X2K2/8GX 2x4GB @ DDR3-1600 9-9-9-27 (Stock frequency @ stock latencies)
- G.SKILL Pi Series F3-17600CL7D-4GBPIS 2x2GB @ DDR3-2133 7-10-10-28 (Downclocked 66MHz @ stock latencies)
- G.SKILL Ripjaws F3-12800CL7D-8GBRH 2x4GB @ DDR3-1600 7-8-7-24 (Stock frequency @ stock latencies)
- G.SKILL Ripjaws-X F3-17000CL9D-8GBXLD 2x4GB @ DDR3-2133 9-11-9-28 (Stock frequency @ stock latencies)
- G.SKILL Sniper F3-12800CL9D-8GBSR2 2x4GB @ DDR3-1600 9-9-9-24 (Stock frequency @ stock latencies)
- OCZ Platinum XTE PC3-16000 2x2GB @ DDR3-1866 9-9-9-24 (Downclocked 133MHz @ stock latencies)
- Patriot Viper II Sector 5 PC3-12800 2x2GB @ DDR3-1600 8-8-8-24 (Stock frequency @ stock latencies)
---
Page Index
1.
Introduction and Specifications
2. A Closer Look, Installation, Test System
3.
Benchmark: AIDA64 CPU
4.
Benchmark: AIDA64 FPU
5.
Benchmark: AIDA64 Memory
6.
Benchmark: PCMark Vantage
7.
Benchmark: 3DMark 11
8.
Benchmark: PassMark PerformanceTest 7.0
9.
Benchmark: SuperPI 1M, Cinebench R11.5
10.
Overclocking and Conclusion