By: Jonathan Kwan
January 7, 2011
Here is a little confession I would like to make before I begin this review for the Cooler Master 690 II Advanced NVIDIA Edition ATX computer case today: The computer I use it with does not have an NVIDIA video card, an NVIDIA chipset, or any NVIDIA components, for that matter. In fact, my Asus P7P55D-E Premium has an Intel P55 chipset, and my graphics card happens to be -- you guessed it -- an AMD chipset based, factory overclocked Gigabyte Radeon 6850 1GB. This means the only NVIDIA related thing I have is the big NVIDIA logo Cooler Master slapped on the front panel of the 690 II Advanced chassis in lieu of the Cooler Master logo with the regular version of this case. So why an NVIDIA special edition case? If you remember my Thermaltake Armor A90 review back in July of 2010, I have pretty specific preferences and requirements in this area. The regular Cooler Master 690 II Advanced with the optional transparent side panel comes close to what I want, but I don't like the side fan opening on it. Therefore, when I first read about the Cooler Master 690 II Advanced NVIDIA Edition from the company's press release, I thought about it. It does not have a side fan opening, but now it comes with a rather unique transparent side panel -- and a lot of green. Half of you out there are probably thinking I have gone nuts and wondering why in the world I would pick up something so, well, frankly, ugly. But I trusted my instincts and guessed it probably appears better in real life execution than it does in photos. So how did it turn out? Read on to find out!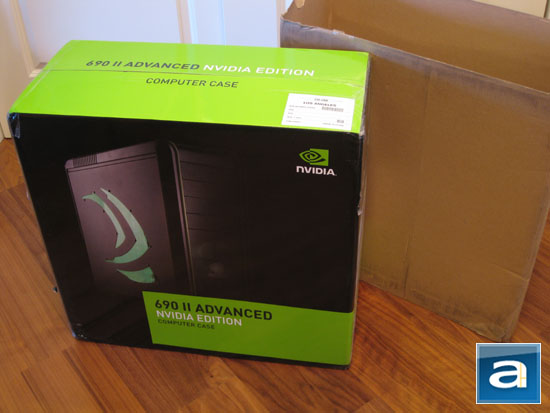 On the Friday morning of my Numerical Methods for Electrical Engineers final exam, both FedEx and UPS dropped by my door to deliver review samples quite literally minutes apart -- a relatively rare occurrence (It really did not help since I had not studied everything through yet for the exam at 12:00pm, haha). The first to arrive was the Cooler Master 690 II Advanced NVIDIA Edition chassis we are reviewing today. The other two products include Gigabyte's Aivia K8100 keyboard Preston is reviewing today, along with the same company's Radeon 6850 factory overclocked video card which I will cover next week. Using UPS Standard, the CM 690 II Advanced was handled well and arrived in excellent condition from Cooler Master's American offices at California, USA to APH Networks here in Calgary, Alberta, Canada.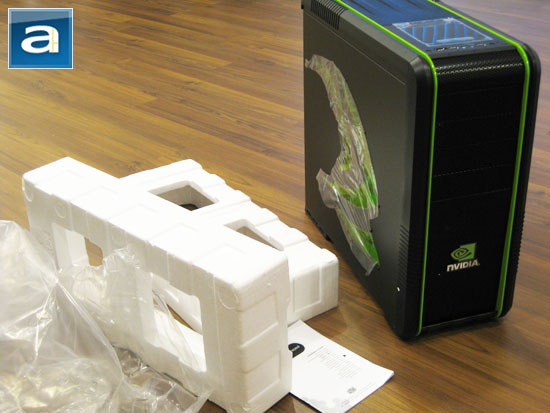 Consistent with its NVIDIA themed design, the company ships the 690 II Advanced NVIDIA Edition in a package consisting of a primarily black and green color scheme. Other than the usual specifications table printed on the side, the retail box lacks any obvious Cooler Master branding -- we have an NVIDIA logo at the top right corner, model information near the bottom, and a photo of the chassis at 3/4 angle covering most of the surface. Cracking open the box, we find the Cooler Master 690 II Advanced NVIDIA Edition itself wrapped in a large plastic bag clipped between two large Styrofoam brackets. Case accessories are secured inside the chassis along with its instruction manual, so we will worry about that in just a moment. Scratch-happy panels are protected by a thin self-adhesive film. Meanwhile, before we move on, let's take a look at the specifications of this mid-tower, as obtained from Cooler Master's website:
Model: NV-692A-KWN2
Available Color: Black / Green
Material: Steel and Plastic
Dimension: 8.4 x 19.5 x 20.8 inches
Weight: Net: 21.08 lbs ; Gross 25.49 lbs
Motherboards: Micro-ATX / ATX
5.25" Drive Bay: 4 (without use of exposed 3.5" drive bay)
3.5" Drive Bay: 6 Hidden / 1 Exposed (converted from one 5.25" drive bay)
I/O Panel: USB 2.0 x 2, ESATA x 1. mic x 1, Audio x 1 (supports HD / AC97 audio)
Cooling System: Front: 140 x 25 mm Green LED fan x 1 / 1200 RPM / 19 dBA; Top: 140 x 25 mm fan x 1 / 1200 RPM / 19 dBA (supports 120 / 140 mm fan x 2); Right Side Panel: 80 x 15mm x 1 (optional); Rear: 120mm included; VGA Holder: 80x15mm fan x1 (optional)
Power Supply: Standard ATX PS2 / EPS 12V (optional)
Warranty: 2 years
UPC Code: 884102010231
---
Page Index
1. Introduction, Packaging, Specifications
2.
Physical Look - Outside
3.
Physical Look - Inside
4.
Installation and Conclusion