Page 3 - Physical Look - Inside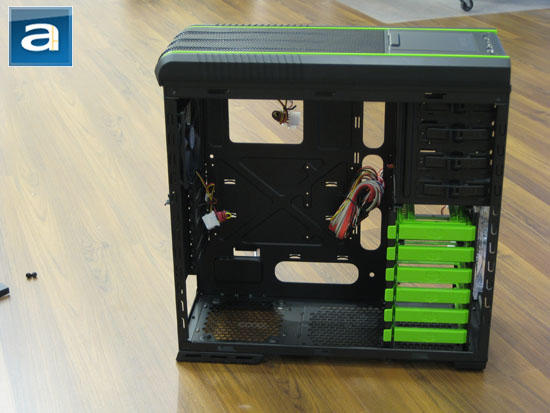 If this is your first time taking a peek into the Cooler Master 690 II Advanced NVIDIA Edition, then the designers sure know how to make a good first impression. It is even better than the latest Thermaltake interior found in most of the rival company's cases. The fully painted matte black interior is not only sleek to look at, but also constructed well for a solid feel and no noticeable sharp edges during use. From the quality motherboard tray to the sharp hard disk drive rack, Cooler Master has done it right here. Other than that, measuring in at 495mm in height, 213mm in width, and 528mm in length, it is slightly taller and wider than other cases in the same size category. The extra width comes in handy, since a good amount of space is left behind the motherboard tray with tons of openings for easy cable routing in this area. I will go over more of this later on in this review. It tips the scales at 21.8 lbs, which is slightly heavier than the competition.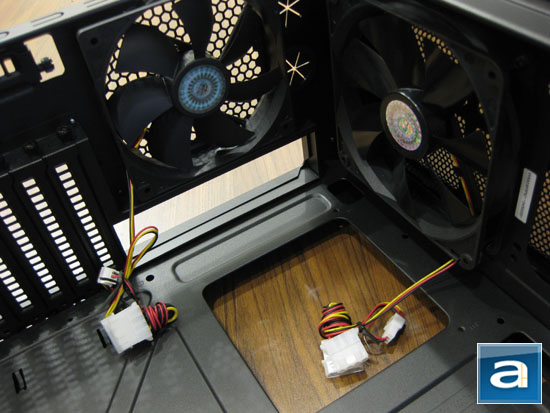 Two exhaust fans are situated around the CPU socket area of a standard ATX motherboard. At the back, we have a 120mm fan, whereas a larger 140mm fan is preinstalled at the top. Both fans have 3-pin motherboard headers with 4-pin Molex adapters. The rear fan does not have a fan filter, which is not necessary here anyway. The top fan does have a fan filter, again the same type used throughout the Cooler Master 690 II Advanced NVIDIA Edition. This means it can filter some dust, but fine particles will still make their way through.
We can find a large square opening on the motherboard tray for easy aftermarket heatsink backplate installation without removing the motherboard itself from the chassis. This can be very convenient; however if you have an LGA 1156 motherboard with a shift CPU socket location like the Asus P7P55D-E Premium, then you will still need to remove your motherboard to change your heatsink.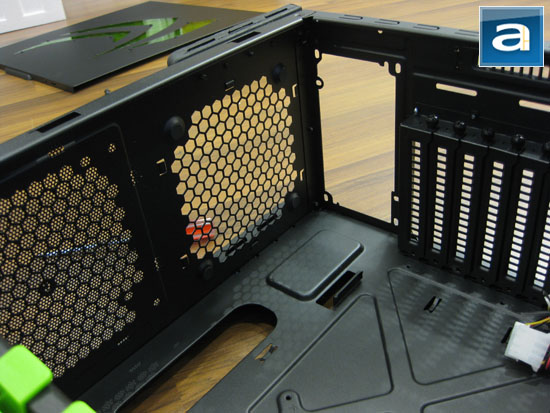 Because the Cooler Master 690 II Advanced NVIDIA Edition features a bottom mounted power supply bay, the chassis platform is raised about 2.5cm off the ground to accommodate units with fans at the bottom. The honeycomb grille has no dust filter pre-installed, but a look at the accessories box has just what we need. There is also a nice little gap between the air intake filter and the bottom of your power supply, raised by four rubber grommets.
All rear expansion slot covers are ventilated, and are held closed by thumbscrews, as shown in our photo above. Cooler Master also includes a 3-way SLI compatible VGA retention bracket with the 690 II Advanced NVIDIA Edition. The VGA retention bracket supports one optional 80mm fan to provide additional airflow over your sizzling performance video cards. The motherboard tray's pre-drilled mounting holes are labeled by letters of the alphabet, along with an engraved legend near the upper right corner indicating corresponding holes for different types of motherboards. All holes use included risers rather than bumps on the tray found in many computer cases.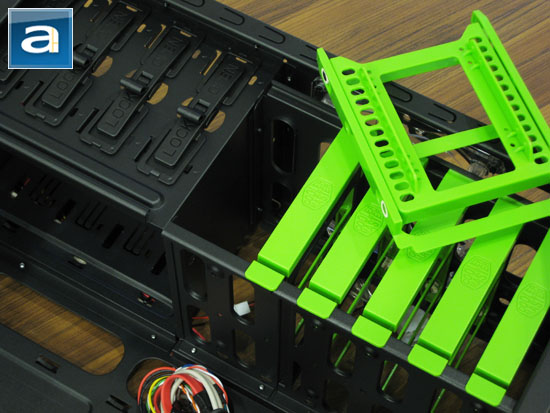 The Cooler Master 690 II Advanced NVIDIA Edition features six 3.5" drive trays to accommodate, well, up to six 3.5" drives (Place 'Master of the Obvious' picture here eh). A 4-pin Molex powered 140mm LED fan draws cool air over the hard drives and into the system. By default, the fan is installed in the higher position, but you can relocate it a notch down. Each removable drive tray is placed in perpendicular orientation to the chassis, with the connectors facing the back of the system. Speaking of which, the longest video card you can fit in the 690 II is 12", meaning the latest ATI and NVIDIA flagships will have no problems fitting in with room to spare.
All six 3.5" drive trays feature tool-free installation. The clips has two shallow screws that locks into the drive, but two center screw openings are present for those who want a more secure installation. I took advantage of that for my setup. Meanwhile, a specialized tray, as shown above, comes with the case to accommodate 2.5" drives -- most likely an SSD in today's context. All four 5.25" external drive bays feature tool-free installation as well. All you need to do is slide in your drive, flip the lever to the right, and it will be locked in place. It works surprisingly well in my opinion, so absolutely no complaints here.
---
Page Index
1.
Introduction, Packaging, Specifications
2.
Physical Look - Outside
3. Physical Look - Inside
4.
Installation and Conclusion