Page 2 - Physical Look - Outside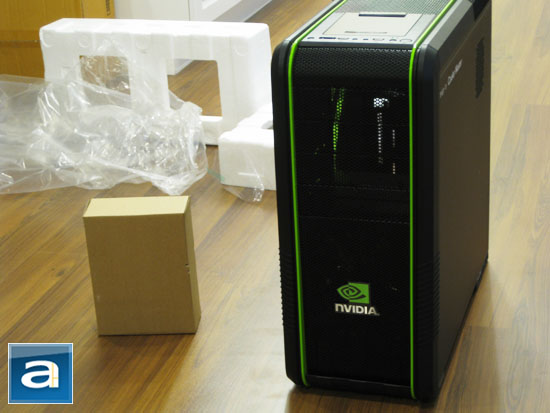 While the Cooler Master 690 II Advanced isn't what we normally consider a simple and clean implementation, the design is far from being overdone. The front of the chassis is modern and high tech; yet retains a level of simplicity for a very bold look. Sleek rounded corners wrap around the top and the bottom; with the front composed of almost entirely mesh. This is done for both practical and aesthetics purpose -- mesh openings allow for maximum ventilation, and it looks great in many cases. Now the question is, would that attract a lot of dust? No doubt about that -- but the good news is, Cooler Master implemented dust filters behind everything. The bad news is, the bug screen dust filters won't trap a lot of fine particles, so you will still need to deal with fine particles flowing inside your computer later on. That's not to say it is completely ineffective though, because from my experience it still catches some dust along the way.
Four 5.25" drive bays are found at the top to accommodate optical drives and fan controllers. If you have a 3.5" external drive, Cooler Master has a conversion bay included out of the box, so you are in good hands. The next panel under it is tilted slightly in with an extended plastic ledge piece at the bottom to give the ATX mid-tower a little more style. An NVIDIA logo goes in the center of the Cooler Master 690 II Advanced NVIDIA Edition as shown in our photo above, in place of the Cooler Master logo found in the regular version. A green LED 140mm fan preinstalled from the factory resides in the space behind.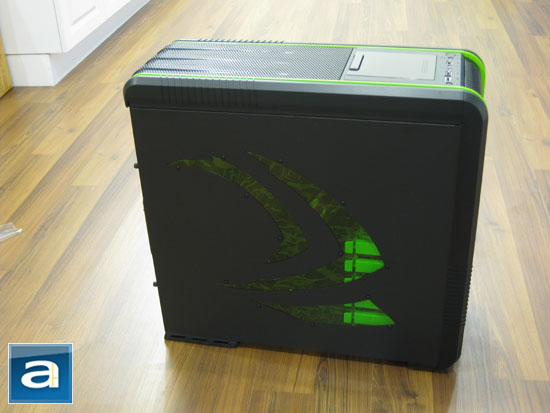 Two neon green strips that run parallel to each other extend all the way across the top to the back from the front panel. This is done to complement its NVIDIA themed design -- the regular CM 690 II has blue parallel strips instead. The top is divided into mainly two sections; one large mesh area is made to provide ventilation for up to two 120mm or 140mm fans. One 140mm fan is included out of the box, again with dust filters built into the panel. Integrated contoured columns recess slightly in at the back at varying grades to accentuate the looks of the Cooler Master 690 II Advanced NVIDIA Edition chassis. The usual system controls and ports can be found near the front, while a clear plastic panel covers a ramp to allow one hot swap Serial ATA hard disk drive to be used. We will take a look into these in detail in just a moment. Meanwhile, its left side panel is fanless just the way I want it, featuring a unique cutout in the shape of the right half of the NVIDIA logo. Unsurprisingly, it is tinted green as well. In my opinion, this windowed side panel design is a nice departure from the usual rectangle opening, but I would definitely appreciate it if it was about 20% larger.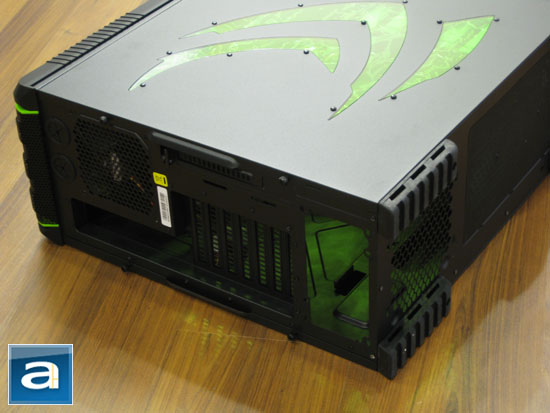 From this angle, you can see Cooler Master has taken excellent care in riveting the uniquely shaped NVIDIA logo shaped windowed side panel in place. They are installed in a way so the clear side panel will not come loose at any stage. Each rivet is color matched to the black side panel, too.
For a mid-tower that would run you less than $100 at press time, I am pleasantly surprised that Cooler Master did not cut corners to reduce costs here. Thumbscrews are used for both side panels. Even the entire 690 II's back panel is painted matte black (And so is the interior, which we will cover on the next page). I have seen cases that cost more than twice as much as the Cooler Master 690 II Advanced NVIDIA Edition with steel panels left in its natural color! There is nothing wrong with the latter in particular, but it is a great thing to see manufacturers perfecting their products even to areas people would not normally look. Even the ventilated plates enclosing the seven expansion card slots are painted black, as shown in our photo above.
Shifting our focus a little bit, we can expectantly spot an included 120mm fan placed adjacent to the motherboard I/O backplate, with two pre-drilled water cooling holes close to its upper perimeter. Both side panels have a protruding grip for easy removal. Large fixed rubber legs raise the system about 2.5cm off its residing surface for maximum ventilation. Internal water cooling radiators can be installed at the bottom of the CM 690 II Advanced if you remove the bottom hard drive rack, so dust filters are preinstalled for you here already. Furthermore, a honeycomb grille is situated at the adjacent to the aforementioned to accommodate power supplies with bottom mounted fans.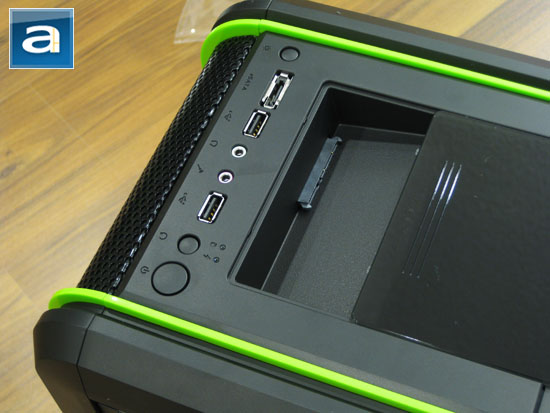 As discussed earlier, an array of case input/output controls can be found at the top near the front of the 690 II Advanced. From the left, we have the front intake fan LED on/off switch, eSATA, 3.5mm headphone jack, 3.5mm microphone jack, USB port, reset button, and power button. The power button is relatively large and easy to press, while the reset button is considerably smaller and recessed slightly below the surface to prevent easy accidental engagement. Sliding a darkly tinted plastic cover out reveals a ramp, where an internal 2.5" or 3.5" Serial ATA hard drive can slide in to be hot swapped. It is quite useful in my opinion -- and you can save money and skip on buying accessories like the Thermaltake BlacX or BlacX Duet. My only complaint is the plastic cover is a hardcore fingerprint magnet, so be prepared to wipe it down often if you use it a lot. On a side note, as you can see in our photo above, panel gaps are done quite well on the Cooler Master 690 II Advanced NVIDIA Edition. All other parts fit nicely together as well, and no part of the case rattles when turned on.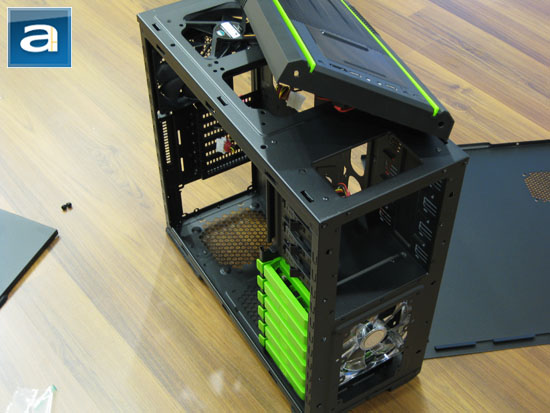 Both the top panel and front panel can be detached from the chassis' main frame. A tug on the front panel rips it right out, but six clips hold down the top piece -- so it can be a bit tricky at first (Not to mention the diagram in the manual is quite confusing, so that did not help). You can add, remove, and relocate system fans, where applicable. The front intake fan can be moved up or down a notch, whereas two independent fan openings are located at the top. Pre-drilled holes allow you to install either 120mm or 140mm fans in all locations. This is very beneficial, since performance/silent 120mm fans are much easier to find than its 140mm counterparts. Every bare metal surface on the Cooler Master 690 II Advanced NVIDIA Edition is painted black.
Overall, I found the external construction quality of Cooler Master's 690 II Advanced NVIDIA Edition ATX computer case to be top notch. It is by no means perfect, but it will meet and exceed all expectations given its price range and intended market.
---
Page Index
1.
Introduction, Packaging, Specifications
2. Physical Look - Outside
3.
Physical Look - Inside
4.
Installation and Conclusion