By: Jonathan Kwan
April 12, 2008
SATA may be an interface that supports hot swap, but in reality, how often is it truly taken advantage of and used for the purpose of hot swapping? More than often, it's no more than just an array of disks residing inside our computers that ends up rarely moved. For an external interface, eSATA is nice and all for its performance, but to an extent that's really an extension of an internal storage medium to external hard drives -- hot swap is necessary as what's that made USB so popular, but it doesn't really solve the problem of having a need to go through a bunch of internal SATA hard drives quickly. For example, some users need it for testing hard drives, while others want to quickly pull some data off a drive without installing it in another computer. As far as I'm concerned, there's one product in the market that has gained immense popularity and tons of internet hype that allows you to quickly swap internal SATA hard drives without ripping anything apart to get the job done. And that's the Thermaltake BlacX, an HDD docking station. Let's see how it gets its job done, and to what extent it has done well.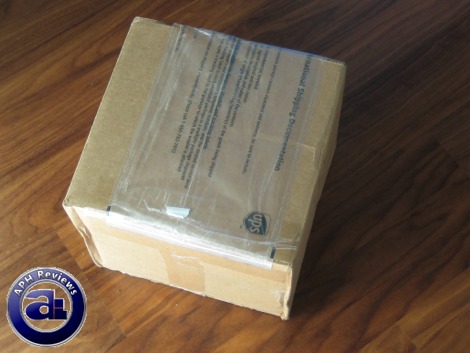 Our review unit of the Thermaltake BlacX arrived in a large, well constructed corrugated cardboard box from Thermaltake's offices in City of Industry, California via UPS Standard. To be honest, I wasn't really expecting this product to be heading our way, which was a nice surprise when UPS dropped it off at my door. Cutting the tape reveals a unit of the Thermaltake BlacX for use with our review today.
The box is saturated with an abundance of packing peanuts with the Thermaltake BlacX near the center of the box. Their shipping department has done everything they could to ensure that their content arrives in perfect condition; and unsurprisingly -- the retail box arrived without a scratch.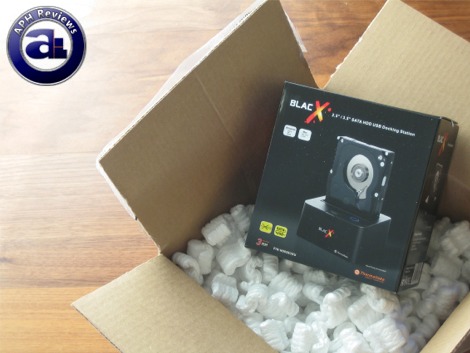 Our Thermaltake BlacX came packaged in a retail box, composed of a black gradient background throughout the box with a sharp photo of the Thermaltake BlacX hard disk docking station. The orange BlacX "X" logo is highlighted sharply from the rest of the design. On top of the photo of the Thermaltake BlacX on the front of the retail box is an unlabeled Western Digital Raptor X for demonstration (If that really matters to you, haha). Name and description along with Thermaltake's and the BlacX's logo are displayed on corresponding areas of the box. The same design scheme is repeated throughout the sides of the box; with the back displaying features and specifications in addition.
Before we move on, let's take a look at Thermaltake's BlacX specifications, as obtained from Thermaltake's website:
Model: N0028USU
Interface: SATA to USB 2.0
Transfer Rate: Up to 480 Mbps (Max)
SATA Compatible: SATA I & II
HDD Compatible: All 2.5" or 3.5" SATA HDD up to 1TB
OS Compatible: Windows Vista/XP/2003/2000/NT/98/95, Mac OS 10.3 and later
RoHS Compliance: Yes
Material: ABS Plastic
Power Input: 100-240V / 50-60Hz / 1A ; Output: 12V / 2A
Dimension: (L x W x H) 5.12" x 3.55" x 2.56" / 130 x 90 x 65 mm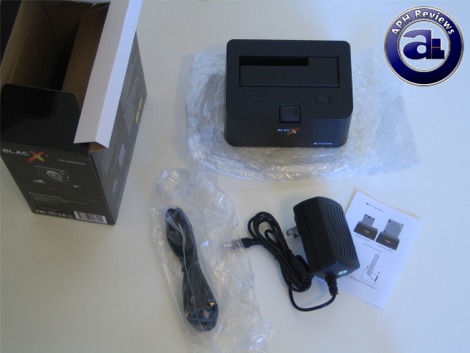 Thermaltake incorporated relatively simple packaging inside the Thermaltake BlacX retail box. A small piece of cardboard partitions the interior of the box; where the Thermaltake BlacX unit itself is in one section, while accessories are located at the bottom.
Out of the box, you will receive a unit of the Thermaltake BlacX HDD docking station itself, packaged in bubble wrap. Accessories included consist of an AC adapter, as well as a standard printer style USB cable. A brief, short manual is included as well just in case the user is having problems with the Thermaltake BlacX -- while the BlacX is a relatively simple and straightforward product, it never hurts to include a manual, and we definitely appreciate Thermaltake for including one inside.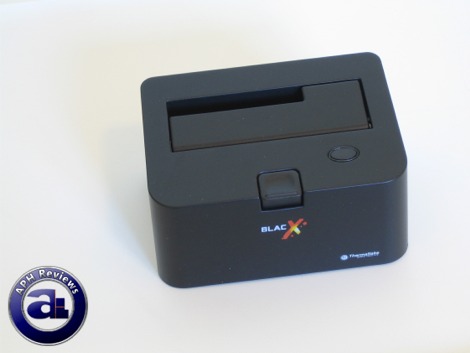 The Thermaltake BlacX, as the name alludes to, is completely black throughout with its plastic construction. While it's plastic, everything feels solid and well built; the block design that Thermaltake incorporates in its BlacX HDD docking station is finished with round edges. The clean design with fine lines are completed with a small 'BlacX' logo on front center, with the Thermaltake logo and slogan at the bottom right corner in front.
Along the top center edge in front is a finger-sized mechanical eject button, for ejecting the docked hard drive. Located at an angle to the right of the eject button is an oval, opaque center shape with seam openings on the side to accommodate LEDs on either side -- the blue power LED on the left, and a red blinking activity LED on the right.
A spring held push-down cover is at the top with a gap opening at the top left corner to securely accommodate 2.5" SATA HDD in a vertical position, while standard 3.5" desktop hard drives are inserted with the door pressed down. Quite an interesting design in my opinion to have the ability to accommodate hard disk drives of both sizes.
A possible drawback is that the Thermaltake BlacX does not have any cooling capabilities for the docked hard drive, which can run fairly warm under load or over extended periods of time.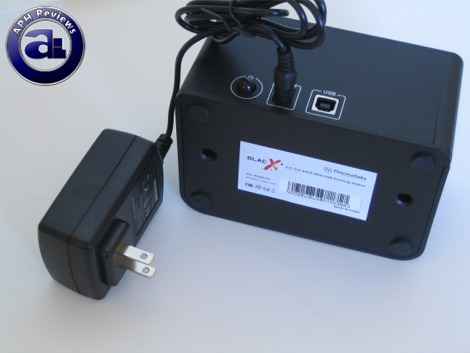 The back of the Thermaltake BlacX HDD docking station is relatively simple with only three things -- a power button, DC input, and USB connector to hook it up to your computer. I found that the power button located at the back to be quite odd, because for convenience purposes a well placed button in front would probably be more convenient and can be done without being easily pressed by accident.
I was actually quite surprised that Thermaltake didn't use eSATA in addition to the standard USB connection, since eSATA would provide much better drive performance compared to USB alone.
Four standoffs are placed at the bottom of the Thermaltake BlacX, along with two screws to allow easily disassembly of the product.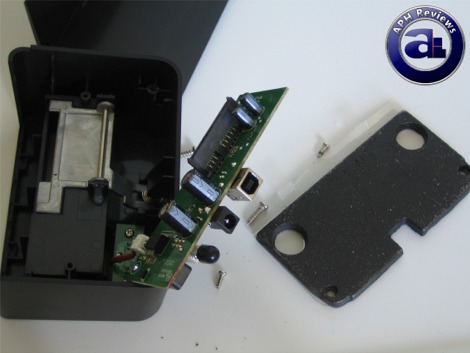 Removing the cover of the Thermaltake BlacX reveals two primary components inside the docking station -- of which one is a PCB, and the second is a large metal weight. The simple green PCB facilitates the necessary controllers and components such as the SATA to USB bridge, in which we'll look at in a second. Four wires connect to the PCB for two LEDs as previously described.
Although SATA is a hot swap interface and PATA is not, it would be excellent if Thermaltake somehow incorporates PATA compatibility into the BlacX as well. USB is a hot swap interface. There may be physical limitations, but the engineering and designers have their jobs, right?
eSATA interface would also be nice since the BlacX takes SATA hard drives only, and this would be simply a matter of adding a connector and that's pretty much it.
For the large black iron weight, it weighs down the Thermaltake BlacX for a lower center of gravity and prevents the vertically docked hard drive from falling over easily. Additionally, it keeps the Thermaltake BlacX securely on the desk -- we can see more than just a couple benefits for this implementation.
The black iron weight is held to the BlacX by two additional independent screws in addition to the main cover passthrough screws.
Thermaltake uses an Initio INIC-1606L SATA to USB bridge to support SATA hard drives over USB. We'll examine the performance of this chip in combination with our hard disk in just a moment.
---
The Tests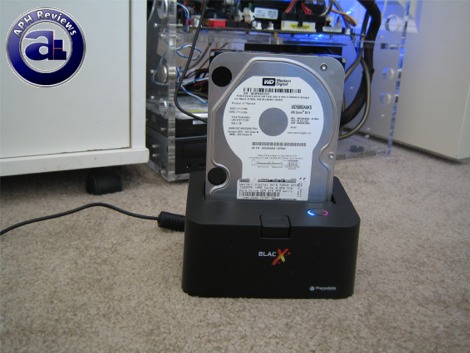 Our Thermaltake BlacX in action, with docked hard drive for our performance tests. Notice how the LEDs are placed.
CPU: Intel Core 2 Duo E6300 @ 2.80GHz (400MHz*7 - 1600MHz FSB QDR)
CPU Cooling: Asus Arctic Square
Motherboard: Asus P5K3-Deluxe/WiFi-AP
RAM: OCZ ReaperX PC3-10666 2x1GB
Chassis: Danger Den Torture Rack (1x Thermaltake 120mm LED Fan)
Power: Tagan TurboJet 1100W
Video: Gigabyte GeForce 8800GT TurboForce 512MB
Optical Drive: Liteon 16X DVD-ROM
Hard Drive: Western Digital Caviar 7200RPM 80GB 8MB Cache
Operating System: Microsoft Windows XP Professional SP2
The hard drive used for testing with the Thermaltake BlacX is a Western Digital AAKS 7200RPM 500GB SATA2 hard drive, one of the fastest 7200RPM hard drives available in the market and will not be a limitation to Thermaltake BlacX's performance. Our motherboard has Intel's ICH9R Southbridge controlling the USB ports, one of the best USB controllers currently available.
In our tests today, we won't get into performance analysis of multiple file writes and multiple file reads as we've done previously in our storage reviews. The reason behind this is the influence of USB is not quite relevant to drive I/O performance -- it is quite limited to the hard drive itself, and that the technology of USB is limiting the sustained transfer rate -- and we are not reviewing the hard drive itself today. Unless, of course, it has been recorded that the performance of the drive controllers on BlacX is poor, then we'll investigate further. Of course, it hasn't, so we aren't too worried.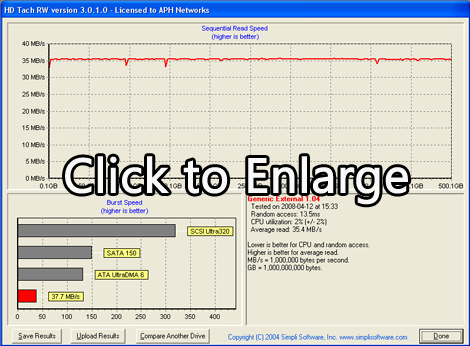 As you can see in our HDTach results above, the performance is held back by the limits of USB 2.0 only -- otherwise the Western Digital AAKS hard drive had a sustained transfer rate beyond maximum USB 2.0 throughout (As compared to maximum SATA performance). The Thermaltake BlacX's SATA to USB bridge performed very well, with an average sustained transfer rate of 37.7MB/s.
---
The Thermaltake BlacX is a very innovative product -- it fills in the market niche of providing enthusiasts or even someone at a computer shop a high level of convenience when the user needs to swap and go through multiple hard drives really quickly. The Thermaltake BlacX not only puts an excellent idea into action, but it also implements it very well. From its excellent design to great USB performance, there are things to look into that they can fix. Minor things include the placement of the power button, and maybe something to physically block the ejection of hard drives when it is turned on. Other aspects include possible support for PATA drives, and at press time -- Thermaltake just released an eSATA version of the BlacX to add the missing eSATA support in addition to USB. Whatever it may be, do yourself a favor and get the eSATA version -- the plain USB-only version is nice, but if the eSATA version is available, why not get it? Other than that, the Thermaltake BlacX is simple, well built, affordable, and readily available. Got lots of SATA drives lying around? Work at a computer shop? This is indispensable!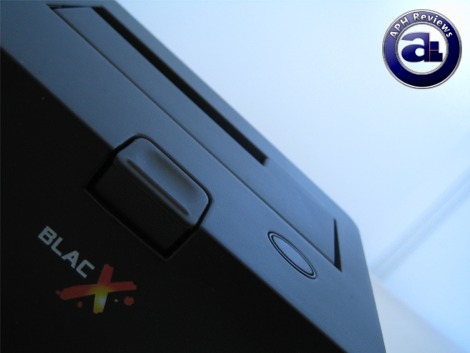 Special thanks to Ramsom over at Thermaltake for making this review possible.

APH equal.balance Award | APH Review Focus Summary:
7/10 means Great product with many advantages and certain insignificant drawbacks; but should be considered before purchasing.
8/10 means Definitely a very good product with drawbacks that aren't likely going to matter to the end user.
-- Final APH Numeric Rating is 7.3/10
Please note that the APH Numeric Rating system is based off our proprietary guidelines in the Review Focus, and should not be compared to other sites.
The Thermaltake BlacX incorporates a simple, yet excellent idea and puts it into action. eSATA edition is recommended, but other than that, if you are the kind that needs to go through a bunch of SATA drives daily for whatever reason, this product is for you.