By: Jonathan Kwan
November 28, 2009
When we reviewed the original Thermaltake BlacX back in April 2008, we commended Thermaltake for marketing such an innovative and convenient product, but we complained about its lack of essential features such as eSATA. The idea of allowing users to quickly swap internal hard drives on an external interface on-the-fly is undoubtedly excellent, but its execution could've definitely used some improvement. A few different variations of Thermaltake's BlacX were made since then -- a nearly identical station with added eSATA support, as well as the SE version that provides four USB ports in front. Sounds great, right? Well, how the heck do you make it better? Fear not. As far as Thermaltake is concerned, there is only one way to make the BlacX product line twice as good as it is already: Combine both of them into one unit, and then call it the 'BlacX Duet'. The end product? Thermaltake's latest hard drive docking station! As its name suggests, it is designed to combine elements of its excellent original 2.5" and 3.5" serial ATA hard drive compatibility, add eSATA support from the second iteration, as well as the tried and true USB support from the first edition for maximum compatibility -- the Duet now features bays for accommodation of up to two desktop and/or laptop hard disk drives too! How's that for a change? We cracked one open for you to see how it works out in real life.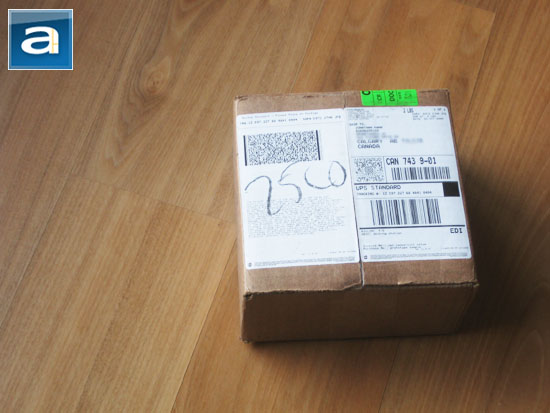 Our review unit of the Thermaltake BlacX Duet arrived in a small, brown corrugated cardboard box from Thermaltake's offices in California, USA. Using UPS Standard, the package appeared to be handled appropriately with no signs of shipping damage -- everything arrived in excellent condition into our hands here in Calgary.
The retail packaging of Thermaltake's BlacX Duet retains a similar basic exterior design to the rest of the BlacX product line, albeit with a little more text across the front thanks to the slightly larger cardboard box. The black gradient background remained intact; but several elements have been shuffled around in attempt to make use of the available space. Prominently shown proudly across the center of the box is a photo of Thermaltake's BlacX Duet docking station itself, now with two rather than one unmarked Western Digital Raptor X hard disks. A supporting slogan stating 'two times the convenience' is printed near the upper left hand side of the photo. A green badge promoting its eSATA and USB 2.0 support can also be seen from this angle. Other than that, Thermaltake's logo along with the BlacX logo (You know, the one with the cool looking, big firey X) as we have come to expect are placed at the top. Unfortunately, an array of pseudo-fancy fonts such as the one used at the bottom -- whatever it's called -- kind of ruin the otherwise clean design. Specifications are printed on the back of the box.
Before we move on, let's take a look at the specifications and features of the BlacX Duet, as obtained from Thermaltake's website:
Features
- Read & Write 2 Hard Drives simultaneously
- Supports All 2.5" & 3.5" SATA Hard Drives up to 2TB (per slot)
- Hot-Swap Capability for Rapid Multi HDDs Access & Exchange
* When utilizing eSATA interface, Port Multiplier feature is required on the host system's eSATA controller for two hard disk drives to be seen at the same time. All USB supports Port Multiplier function.
- Supports eSATA Transfer Speed up to 3.0 Gbps
- Supports USB 2.0 Transfer Speed up to 480 Mbps
- Windows & Mac OS Compatible
- Rapid Data Access & Exchange w/ Single eSATA or USB Cable Connection
- Open docking station design maximizes heat dissipation
- RoHS Compliance
- SSG (Solid State Grip) Technology: Anti-Slippery Grasp Base
Specifications
- Enclosure Interface: eSATA, USB 2.0
- Transfer Rate: eSATA: up to 3Gbps, USB 2.0: up to 480Mbps
- HDD Compatibility: SATA I, SATA II
- HDD Capacity: All 2.5" or 3.5" SATA HDD up to 2TB (per slot)
- OS Compatibility: Windows 7 / Vista / XP / 2003 / 2000; Mac 10.3 and later
- Material: ABS Plastic
- Power: Input: 100-240V / 50-60Hz; Output: 12V / 2A
- Dimensions: 140 (W) 120.82 (D) x 69.49 (H) mm; 5.51 (W) x 4.76 (D) x 2.74 (H) in
- Accessories: eSATA Cable, USB 2.0 Cable, Power Adapter
- Fan: N/A
- Weight: 3 lbs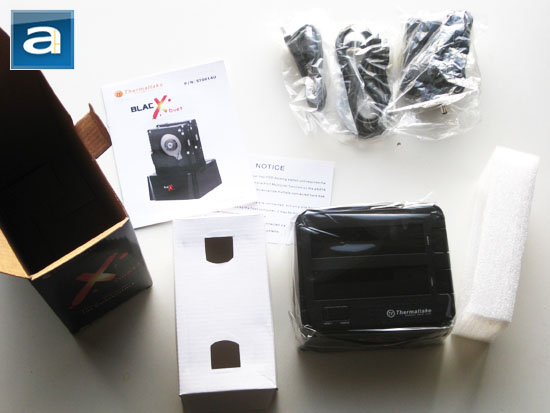 As far as packaging is concerned, Thermaltake took this approach in a practical and environmentally friendly fashion (Read: Simple and no-frills). There's not much excess room inside the box, to save on shipping and weight; yet it still provides adequate protection for its contents. A cardboard and small foam bracket are used as dividers inside to separate included accessories from the BlacX Duet itself, as well as providing protection to areas that may be exposed to immediate shock.
Out of the box, you will receive the following:
- 1x Thermaltake BlacX Duet
- 1x Power adapter
- 1x eSATA cable
- 1x USB 2.0 cable
A manual and notice card are placed inside the retail packaging as well. While the BlacX is intuitively a pretty straightforward and simple product, we still appreciate Thermaltake for providing adequate documentation to users that may not be as experienced in technology as the rest of us!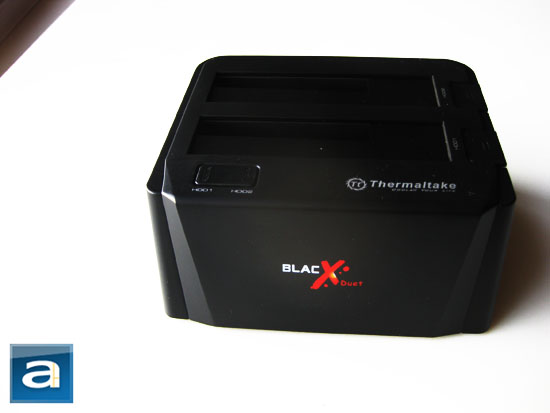 Despite being constructed entirely out of black ABS plastic, the Thermaltake BlacX Duet feels very solid -- we have no doubt about its construction quality. It features rounded off corners at each end, along with clean lines in front for a symmetrical and visually appealing design. Its new addition provides more sophistication than its predecessor, which actually appears rather bland next to it haha. A decal is placed nicely at the center of the docking station featuring the BlacX logo; a small addition underneath saying 'Duet' specifies the exact model for easy identification of its name.
A spring held push-down cover is at the top of each identical drive bay, with a gap opening at the top left corner to accommodate 2.5" SATA HDD in a vertical position. I found that there is a slight SATA connector alignment issue with my 2.5" hard drives, and the fit could be a little snugger -- so the hard drive won't wobble around when it's inserted. Standard 3.5" desktop hard drives are inserted with the door pressed down as you insert the hard drive into the slot. Quite an interesting design in my opinion to have the ability to accommodate hard disk drives of both sizes as its predecessor features. Rounded off in front -- which cleverly acts as a power button when pressed down -- is an array of two blue LEDs to indicate power and activity of the docked hard drives; each LED labeled accordingly. The blue LEDs blink when there's hard drive activity, and stays on when it's idling. It's a much better design than having the power button at the back seen in the original BlacX, but for some reason both LEDs light up regardless of you having a drive in the respective bay or not.
A possible drawback is that the Thermaltake BlacX and BlacX Duet do not have any cooling capabilities for the docked hard drives, which can run fairly warm under load or over extended periods of time. On the positive side, Thermaltake has designed the BlacX Duet with adequate clearance between two docked hard drives to reduce as much heat congestion as possible while maintaining a reasonable footprint.
By the way, what happened to the quad front USB ports offered in the Thermaltake BlacX SE? I personally would love to see four USB ports at the front of my BlacX Duet to combine all the features of previous BlacX docking stations into one.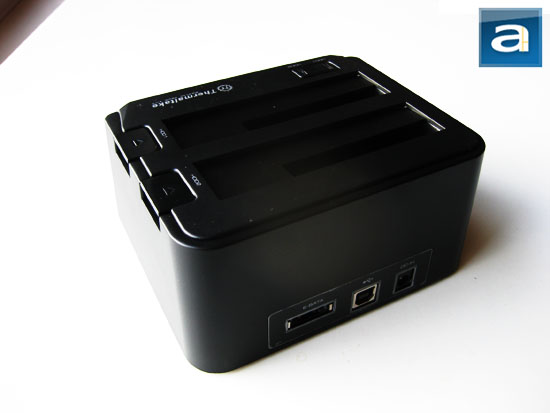 Adjacent to each hard drive bays are two finger-sized mechanical eject buttons, for ejecting the respective docked hard drive. Each button is appropriately labeled as well. The back of the Thermaltake BlacX Duet HDD docking station is relatively simple with only three things -- eSATA connector, USB connector, and DC power input, respectively. We complained about the odd placement of a power button at the back of the device in the original BlacX, it's now relocated to a more optimal location as aforementioned in the BlacX Duet.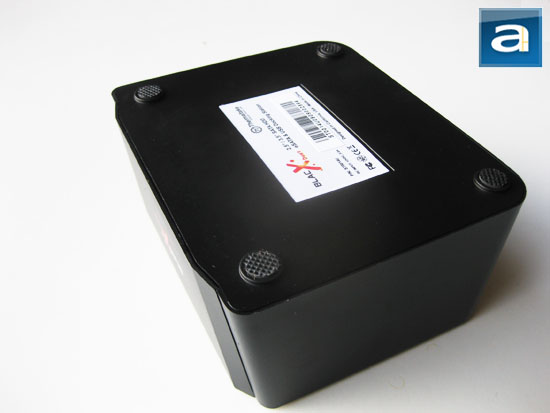 Ladies and gentlemen, this is Thermaltake's SSG (Solid State Grip) Technology implemented on the BlacX Duet! It features an 'anti-slippery grasp base', according to Thermaltake. This latest innovation in material engineering permits the implementation of four rubber grips, as shown above, so that the BlacX Duet does not easily slip or slide on your desk. The rubber also absorbs vibration to an extent in order to reduce vibrational noise. I had to admit this is some pretty high tech stuff that we've actually never seen before in our lives, so it definitely deserves a mention of its own!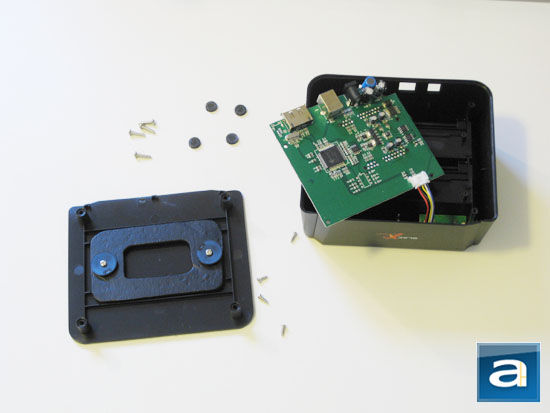 Removing the four 'Solid State Grip' modules held onto the base by adhesives reveals four screws. Unscrewing them disconnects the base from its shell, as shown in the photo above. A small piece of iron is attached to the base cover for physical stability; but the stability of the BlacX Duet is not as good as the original BlacX in this regard -- because they've decided to use a smaller piece of iron. A simple circuit board that provides all the necessary connections resides inside the Thermaltake hard drive docking station. The SATA to USB controller used on the BlacX Duet is a JMicron JMB352 High-Speed USB & SATA II Combo to Dual SATA II RAID Bridge. Specifications of the JMB352 are listed below, as obtained from the manufacturer's website:
- Compliance with Serial ATA International Organization: Serial ATA Revision 2.6
- Compliance with Gen1i, Gen1m, Gen2i and Gen2m of Serial ATA International Organization: Serial ATA Revision 2.6
- Support SATA 1.5G/3.0G Speed Negotiation
- Support SATA II Asynchronous Signal Recovery (Hot Plug) feature
- Support SATA Host/Device controller configuration
- Compliance with USB 2.0 electrical specification
- Support USB 2.0 High-Speed and Full-Speed Operation
- Support USB HID Interrupt Transfer
- Compliance with USB Mass Storage Class, Bulk-Only Transport Specification
- Support 3 LUN of USB Mass Storage Class
- Support ATA/ATAPI PACKET command feature set
- Support SATA 30MHz or 40MHz external crystal
- Integrated 60MIPS 8051 microprocessor with 64k-byte mask ROM
- Support one-button system backup operation
- Support one-button disk copy
- Support external NVRAM for customer VID/PID,Manufacture and Product String.
- Embedded 3.3V to 1.2V Voltage Regulator
-----------------------------------------
The Tests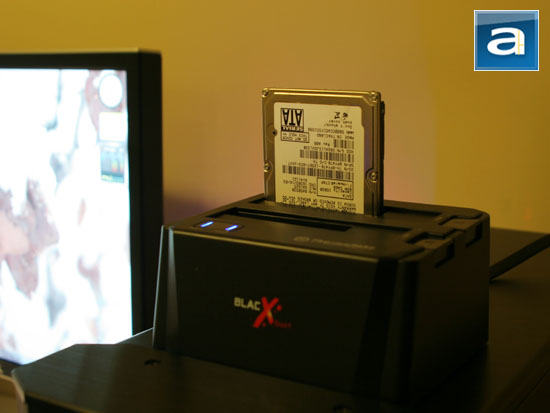 Test system as follows:
- Intel Core 2 Extreme QX9650 @ 3.50 (333*10.5, Yorkfield/12MB L2)
- Noctua NH-U12P w/Noctua NF-P12 + Arctic Cooling MX-2
- Asus Striker II NSE
- Super Talent Project X PC3-14400 2x1GB @ 6-6-6-18
- Western Digital 500GB AAKS 7200RPM 16MB PMR SATA2
- NEC AD-7170A 18X DVD+/-RW
- Gigabyte Radeon HD 4850 1GB Passive
- Auzentech X-Fi Prelude
- Silverstone KL-02; Noctua NF-P12 - Front (Asus Q-Fan), Noctua NF-S12-1200 - Back (Asus Q-Fan)
- Seasonic M12II 500W
- Microsoft Windows 7 Professional x64
- Hard drive used with benchmarking: Hitachi 2.5" 5400RPM 160GB SATA
In our tests today, we won't get into performance analysis of multiple file writes and multiple file reads as we've done previously in our storage reviews. The reason behind this is the influence of its interface, whether it is USB or eSATA, is not quite relevant to drive I/O performance -- it is quite limited to the hard drive itself, and that the technology of USB is limiting the sustained transfer rate. We are not reviewing the hard drive itself today. Unless, of course, it has been recorded that the performance of the drive controllers on BlacX Duet is poor, then we'll investigate further. Of course, it hasn't, so we aren't too worried. Therefore, we'll be comparing the ability of its USB controller against the maximum throughput of the hard drive over eSATA, which is affected by the motherboard itself and is not dependent on the BlacX Duet.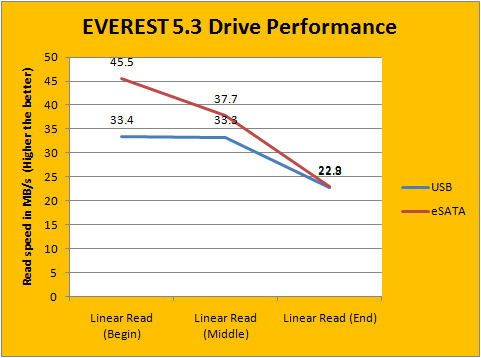 Running EVEREST 5.3's disk benchmark suite with eSATA (Limited to drive performance only) plotted against USB (Limited to drive or interface, whatever is lower), we can clearly see where USB performance hits a wall. Uncapped performance according to EVEREST 5.3 for our Hitachi 2.5" Serial ATA hard drive is 45.5MB/s, 37.7MB/s, and 22.9MB/s for beginning, middle, and end of the drive, respectively; while USB 2.0 in the same read order is 33.4MB/s, 33.3MB/s, and 22.8MB/s, respectively. It's clear where the USB interface limitations are on our graph above -- but 33.4MB/s isn't bad at all as far as the USB controller is concerned.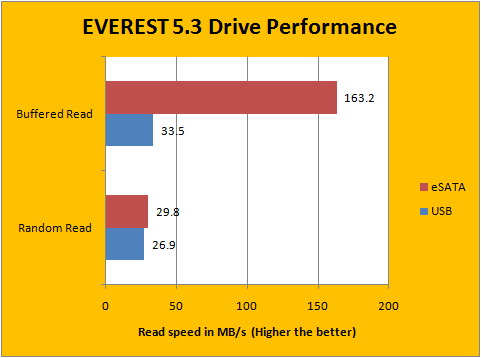 For our buffered read benchmark, again the uncapped eSATA performance is posted at 163.2MB/s -- while USB is again limited to 33.5MB/s, as described earlier. In the random read test, both USB and eSATA recorded similar performance at 26.9MB/s and 29.8MB/s, respectively.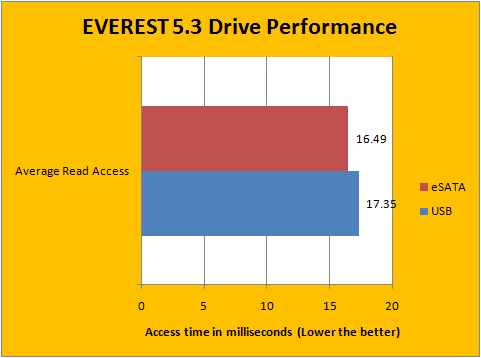 Access latency usually isn't quite interface dependent -- although still affects to a small extent -- and benchmarking the Thermaltake BlacX Duet with regards to the USB and eSATA interface is no exception. USB had a slightly higher access time of 17.35ms versus eSATA's 16.49ms; similar results are seen again in our HDTach run in just a short moment.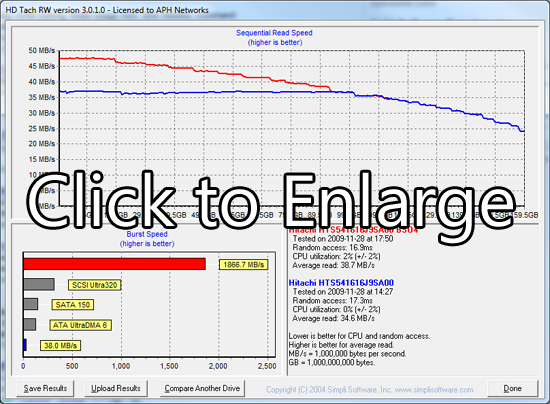 Running our standard HD Tach 3.0.1.0 full read test produced similar results as our EVEREST 5.3 numbers listed earlier. As shown in the graph produced by the software above, we can see that the performance wall of USB is limited to a little over 35MB/s (This is actually dependent on the accessed block size of the benchmarking software as well) with an average read speed of 34.6MB/s at 17.3ms latency. Meanwhile, eSATA's maximum read is approximately 47MB/s; again slightly higher than the EVEREST maximum read result. Average read speed is 38.7MB/s at 16.9ms latency uncapped to serve as a reference to its USB performance. External Serial ATA burst speed is 1866.7MB/s according to HD Tach -- unsurprisingly, burst speed recorded over USB is compared at 38.0MB/s due to interface limitations.
-----------------------------------------
The Thermaltake BlacX Duet hard drive docking station -- or should I say, hard drives docking station -- continues the tradition of the original Thermaltake BlacX of being an innovative device that provides incredible convenience for those who needs to quickly swap internal hard drives on the fly. But prominently adding to the feature list is its ability to accommodate two SATA 2.5" and/or 3.5" hard drives. Combined with its clean industrial design, excellent performance as far as inherent USB limitations are concerned, as well as providing eSATA for those who wants the highest throughput from their file transfers, it's hard to say that the BlacX Duet is not a notch up from its predecessors. I really don't have much to complain about other than the overall refinement of the product. It seems that they have reduced cost by using a smaller piece of iron weight inside, which affects the physical stability of the product in my opinion -- it's too light to stay planted on your desk. Another minor complaint questions why the 'independent' LEDs in front to indicate power and drive activity light up regardless of the user having a drive in the slot or not, which kind of defeats the purpose of having a power indicator LED. Other than a handful of things that may or may not matter to you, if you're a power user who has a constant need to access data from uninstalled internal hard drives, or often having the need to transfer data quickly between two disks, the Thermaltake BlacX Duet is for you! Plus, where else would you find something as advanced as the SSGs at the bottom of the product?
Special thanks to Ramsom over at Thermaltake for making this review possible.
APH Review Focus Summary:
7/10 means Great product with many advantages and certain insignificant drawbacks; but should be considered before purchasing.
8/10 means Definitely a very good product with drawbacks that aren't likely going to matter to the end user.
-- Final APH Numeric Rating is 7.8/10
Please note that the APH Numeric Rating system is based off our proprietary guidelines in the Review Focus, and should not be compared to other sites.
The Thermaltake BlacX Duet continues the tradition of the BlacX product line -- but now with the added ability to accommodate two hard drives simultaneously for added convenience.