By: Jonathan Kwan
June 28, 2008
I am not going to lie to you, but I am not the first one to say it -- time sure flies by at an alarming rate. The last time we reviewed a case was back in September 2007 of the popular Antec P182 -- and that's nearly ten months ago already. Prior to that, it was the NZXT Duet in May 2007, and Thermaltake's Aguila in December 2006. Oh boy, it's the second half of 2008 already, and it seems like I haven't really done much this year! Speaking of the Thermaltake Aguila, I've been using it with my ever-changing main computer that's gone though dozens upon dozens of upgrades and revisions since it was first built in November 2006 -- with pretty much no components resembling of the original build. That said, the case was still the same, and I felt that it was time for a change. I wanted something that was a midtower that can fit neatly on my desk, but spacious inside. I wanted a clean, sleek case that suited my tastes with a large window on the side so I can show off my components and well practiced cabling skills. I wanted a high quality case with excellent build quality from a reputable manufacturer. Well, long story short, either I was not looking hard enough, or that it was simply hard to find. Right off the top of my head, there are not many brands that has cases that fit within this category; of which SilverStone and Lian-Li are amongst the few. But it was not until SilverStone themselves brought my attention to their KL-02 case -- and at first glance, it seems that it's the case that fulfills all my requirements. Let's do a closer examination to see how it goes in real life.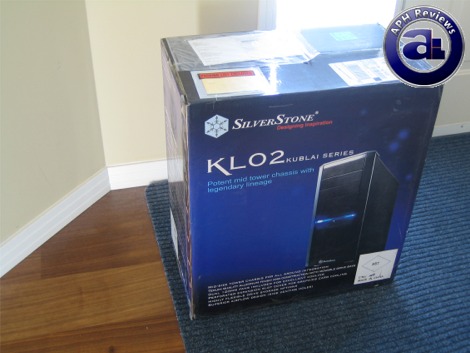 Our review unit of the SilverStone KL-02 came in mid-May using UPS Standard from SilverStone's California location. As expected from computer cases, the retail box doubles as the shipping box; as you would expect from any online retailer. The corrugated cardboard box arrived in excellent condition, with everything inside secured in its position.
The average sized mid-tower retail box utilizes a blue and black color gradient color scheme to compliment the case's color scheme -- a completely black case with bright blue LEDs in front. This evokes a sense of space-feel (Like the 8th-generation Honda Civic dashboard design) with a sense of simplicity and elegance on its own. Across the front is a picture of the case, along with SilverStone's logo in the top left corner and the model number under it. Miscellaneous information and pictures are printed on almost every surface of the corrugated cardboard retail box.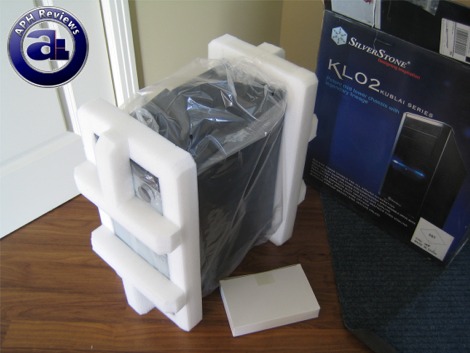 Clipped between two large Styrofoam brackets is the SilverStone KL-02 case itself, wrapped by a thin clear plastic bag. The Styrofoam brackets are used to ensure that the case stays still inside the box, and protecting it from side impacts -- while the clear plastic bag will help prevent scratches from occurring during shipping. Our SilverStone KL-02 is the windowed version, so both sides of the window is actually protected by thin adhesive plastic sheet in addition to everything else. The accessories box is included and placed separately. Generally speaking, the retail box's packaging is done decently, and should withstand normal shipping bumps-and-dumps without problems.
Before we move on, let's take a look at the specifications of the SilverStone KL-02, as obtained from the manufacturer's website:
- Mid-size tower chassis for all around integration
- Temjin quality aluminum finish and construction with removable drive bays
- Dual 120mm fans included for excellent cooling
- Perforated expansion slot cover for graphics card cooling
- Highly flexible drive storage options with hot-swappable SATA adapter
- High airflow design (via side venting holes)
- Includes SilverStone CP05 adapter to make any 3.5" SATA hard drive hot-swappable
Model Numbers: SST-KL02B (black); SST-KL02B-W (black, with window)
Material: Aluminum & mesh front panel, SECC body
Supported Motherboard Formats: ATX, Micro ATX
Drive Bays: External - 5.25" x 5 or 9 without HDD cage (removable), 3.5" x 1; Internal - 3.5" x 4 (vibration dampening)
Cooling System: Front - 1 x 120mm intake fan, 1200rpm; Rear - 1 x 120mm exhaust fan, 1200rpm; Side left side panel with vents, 2 x 120mm fan slot (SST-KL02B only)
Expansion Slots: 7
Front I/O Port: USB2.0 x 2; IEEE1394 x 1; audio jack x 1; MIC x 1
Power Supply: 1 x Optional standard PS2 (ATX)
Expansion Card: Full size long cards capable (12")
Net Weight: 8 kg
Dimensions: 203 mm (W) x 436 mm (H) x 474mm (D)
---
Page Index
1. Introduction, Packaging
2.
Physical Look - Outside
3.
Physical Look - Inside
4.
Installation and Conclusion