By: Jonathan Kwan
March 25, 2011
Just a quick glance at the calendar on my right, I noticed it was Valentine's Day when I wrote this introductory paragraph for this review. (Before you ask, yes I did write this paragraph a whole month and a half ahead of publication -- I ran into some problems during this review, causing such a massive delay.) How convenient. So allow me make a confession at this point: I love Sandy Bridge. No, it is not a girl named Sandy with last name Bridge. According to my Facebook profile, I don't even know anyone called Sandy. But inside my latest desktop build humming silently next to me sits something that is, according to any computer geek out there, even better than knowing Sandy in real life. And Sandy is very impressive. She is impeccably smart. She is matchless among her peers in every way. The moment you meet her, you know you don't want anyone else. And best of all, she is actually within reasonable reach. Of course, I am talking about none other than Intel's second generation Core processors code named Sandy Bridge, and from our review a couple months ago, you can see how it completely blew its predecessor away in posting truly impressive numbers across the board. And all this is before you start overclocking it. But let's not pretend a computer awesome is just because of the processor alone. To complement the latest Intel CPUs, G.SKILL is back in the game again with their latest line of memory products. The Ripjaws-X RAM, optimized for the Sandy Bridge platform, promises to deliver high performance with excellent value like the Lynnfield-optimized Ripjaws DDR3-1600 8GB CL7 set we have reviewed back in October last year. What we have here is one of their top of the heap, seriously fast DDR3-2133 Ripjaws-X F3-17000CL9D-8GBXLD 8GB dual channel kit sitting here at APH Networks right now -- but how well does it perform in our usual battery of benchmarks? We gave it a shot and have all the details for you in our review today.
As always, our review unit of the Whew! What a mouthful G.SKILL Ripjaws-X F3-17000CL9D-8GBXLD 2x4GB dual channel memory kit came in a bubble FedEx Priority Pak envelope from G.SKILL's offices in Taipei, Taiwan. Using FedEx International Priority, everything arrived in excellent condition for us to review. As always, this package moved efficiently and quickly from one side of the world to our end, passing through multiple sorting facilities while making its trip through several different countries, crossing border customs, and still get into our doorstep all in less than two days. That is not to mention I received it just before I left in the morning. Perfect timing for the win.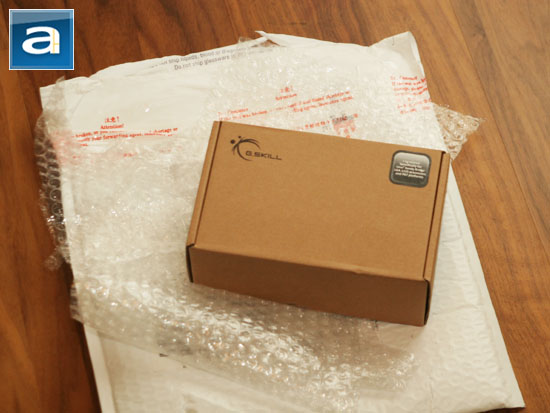 The retail packaging resembles the Pi Series we have reviewed in early 2010 than the Ripjaws evaluated half a year ago. In other words, the G.SKILL Ripjaws-X F3-17000CL9D-8GBXLD 8GB DDR3 RAM kit comes in some extraordinarily simple retail packaging. The retail packaging in question for our review unit is actually a small, brown corrugated cardboard box that opens via a flap on top. Surprisingly, there's nothing else in particular on the surface of the box either, other than G.SKILL's logo printed in black, company contact information, some specification stickers, as well as an "Engineered specifically for Intel Sandy Bridge LGA 1155 processors and P67 platforms" sticker at the corner.
Opening the box reveals each stick of G.SKILL's Ripjaws-X F3-17000CL9D-8GBXLD 2x4GB dual channel kit on each side of the folded partition board (Which is also made out of brown corrugated cardboard, haha), with the included Turbulence II fan placed underneath the flap in the middle. The same specification labels that are placed outside the box as aforementioned are also located on each module's heatspreader for the user's convenience. Speaking of specifications, before we move on, let's take a look at the provided data, as obtained from the manufacturer's website:
Specifications
Main Board: Intel
System: Desktop
System Type: DDR3
M/B Chipset: Intel P67
CAS Latency: 9-11-9-28-2N
Capacity: 8GB (4GB x2)
Speed: DDR3-2133 (PC3 17000)
Test Voltage: 1.65 Volts
Registered/Unbuffered: Unbuffered
Error Checking: Non-ECC
Type: 240-pin DIMM
Warranty: Lifetime
Qualified Motherboards List
ASUS: Maximus IV Extreme
ASUS: P8P67 DELUXE
ASUS: P8P67 EVO
ASUS: P8P67 PRO
Gigabyte: GA-P67A-UD7
Gigabyte: GA-P67A-UD5
ASRock: Fatal1ty P67 Professional
ASRock: P67 Extreme 6
ASRock: P67 Extreme 4
Biostar: TP67XE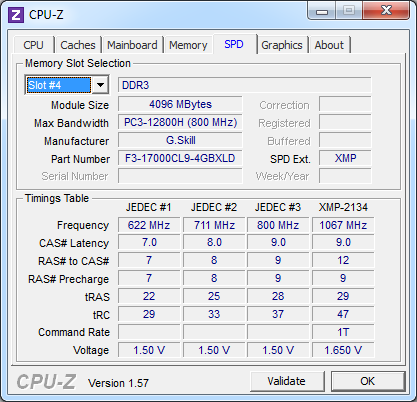 A screenshot of the memory tab in CPU-Z with G.SKILL's Ripjaws-X F3-17000CL9D-8GBXLD installed. The SPD timings table in CPU-Z reads standard JEDEC specifications programmed into the memory, as well as Intel XMP data for running the memory at DDR3-2133. Using the latest BIOS revision, our ASUS P8P67-WS Revolution motherboard used for testing had no issues detecting and working with the G.SKILL RAM and its XMP settings. There seems to be a little difference in the XMP programming compared to manufacturer specifications of 9-11-9-28 latencies at 2T command rate, but that's not a huge issue. The G.SKILL Ripjaws-X F3-17000CL9D-8GBXLD 2x4GB retails for approximately $200 at press time.
---
Page Index
1. Introduction and Specifications
2.
A Closer Look, Installation, Test System
3.
Benchmark: AIDA64 CPU
4.
Benchmark: AIDA64 FPU
5.
Benchmark: AIDA64 Memory
6.
Benchmark: PCMark Vantage
7.
Benchmark: 3DMark 11
8.
Benchmark: PassMark PerformanceTest 7.0
9.
Benchmark: SuperPI 1M, Cinebench R11.5
10.
Conclusion