By: Jonathan Kwan
February 4, 2010
Here's a very little known fact around APH Networks: Unless you work for the Publications Department here, you wouldn't know that article introductions are probably one of the most challenging part of each editorial. The reason why I say this -- and I've actually been the Editor-in-Chief since 2005 -- is because each and every introductory paragraph involves a distinct level of creativity, style, technical knowledge, and appropriate lead-in to the topic. Often times, members of the team would come in and ask me for some inspiration to start their latest review, report, or lounge article. And most of the time, I would just turn them away, and get them to try to come up with their own creations. At this point, you may be wondering what all this has to do with our G.SKILL F3-17600CL7D-4GBPIS 2x2GB dual channel RAM kit in which we are reviewing today. Well, to be honest with you, it has nothing to do with it. The reason I am writing this is because, for once, I am also pretty uninspired about how to begin this review. Therefore I just wrote that wad of text just to fill up some room in meeting the challenge of writing the introduction. That said, without looking back -- what is the model of the G.SKILL RAM we are reviewing today? If you don't remember, repeat after me out loud: Gee-skill-eff-three-one-hundred-and-seventy-six-hundred-see-ell-seven-dee-four-gee-bee-pee-eye-ess-two-times-two-gigabyte. Yep. I won't waste anymore of your time -- let's get started.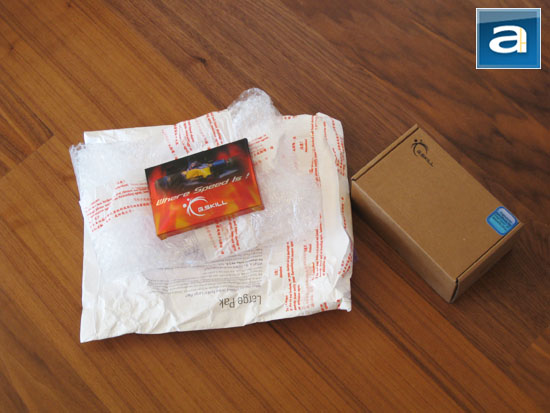 Our review unit of the G.SKILL F3-17600CL7D-4GBPIS 2x2GB dual channel memory kit (Whew, that's a mouthful!) came in a small FedEx Priority Pak envelope from G.SKILL's offices in Taipei, Taiwan. Using FedEx International Priority, everything arrived in excellent condition for us to review. I've always been intrigued by modern day logistics, as to how they can get the product from one side of the world to another, passing through multiple sorting facilities while making its trip through several different countries, crossing border customs, and still get into our doorstep all in less than 2 days. And that's only because the package was received after cutoff time on the first day!
Shipped along with our F3-17600CL7D-4GBPIS 4GB DDR3 desktop memory kit is the F3-8500CL7D-8GBSQ laptop memory kit, which we have recently reviewed. We'll be looking at the desktop memory today, and the notebook set as shown in the fire-themed package in the photo above was reviewed previously, as referenced by the above link.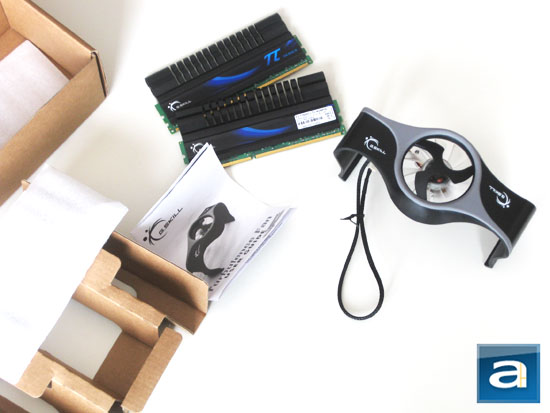 The G.SKILL F3-17600CL7D-4GBPIS 4GB DDR3 RAM kit comes in some extraordinarily simple retail packaging. The retail packaging in question for our review unit is actually a small, brown corrugated cardboard box that opens via a flap on top. Surprisingly, there's nothing else in particular on the surface of the box either, other than G.SKILL's logo printed in black, company contact information, some specification stickers, as well as a "Designed for Core i7 860/870" sticker at the corner.
Opening the box reveals each stick of G.SKILL's F3-17600CL7D-4GBPIS 2x2GB dual channel kit on each side of the folded partition board (Which is also made out of brown corrugated cardboard, haha), with the included Turbulence Fan placed underneath the flap in the middle. The same specification labels that are placed outside the box as aforementioned are also located on each module's heatspreader for the user's convenience. Speaking of specifications, before we move on, let's take a look at the provided data, as obtained from the manufacturer's website. We have edited certain elements have been edited for clarification purposes:
Motherboard: Intel
System: Desktop
System Type: DDR3
M/B Chipset: Intel P55
CAS Latency: 7-10-10-28-2N
Capacity: 4GB (2GB x2)
Speed: DDR3-2200 (PC3 17600)
Test Voltage: 1.65 Volts
Registered/Unbuffered: Unbuffered
Error Checking: Non-ECC
Type: 240-pin DIMM
Warranty: Lifetime
Qualified Motherboards List
ASUS: Maximus III Formula
ASUS: Maximus III Gene
ASUS: SABERTOOTH 55i
ASUS: P7P55D-E Premium
ASUS: P7P55D-E Deluxe
ASUS: P7P55D Premium
ASUS: P7P55D Deluxe
EVGA: P55 Classified 200
EVGA: P55 FTW 200
Gigabyte: P55 UD6
Gigabyte: P55A UD5
Gigabyte: P55A UD6
MSI: P55-GD80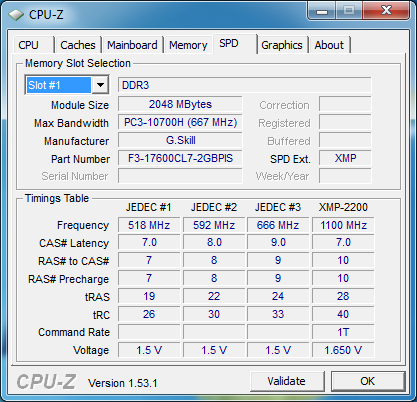 A screenshot of the memory tab in CPU-Z with the G.SKILL's F3-17600CL7D-4GBPIS installed. The SPD timings table in CPU-Z reads standard JEDEC specifications programmed into the memory, as well as Intel XMP data for running the memory at DDR3-2200. Using the latest BIOS revision, our Gigabyte GA-P55A-DQ6 motherboard used for testing had no issues detecting and working with the F3-17600CL7D RAM and its XMP settings. As you can see in our screenshot provided above, this G.SKILL set can run at a screaming speed of DDR3-2200 (1100MHz actual clock) in conjunction with incredible 7-10-10-28 latencies at 1T command rate. These are some serious specifications for PC3-17600 memory, especially considering that all this comes at only 1.65V stock voltage.
---
Page Index
1. Introduction and Specifications
2.
A Closer Look, Installation, Test System
3.
Benchmark: EVEREST CPU
4.
Benchmark: EVEREST FPU
5.
Benchmark: EVEREST Memory
6.
Benchmark: PCMark Vantage
7.
Benchmark: 3DMark06 Professional
8.
Benchmark: SuperPI 1M, Cinebench R10
9.
Overclocking Results and Conclusion