By: Jonathan Kwan
September 9, 2011
Whew, another desktop memory product evaluation. If you have been following our recent articles, you can probably see how big of a challenge it is even for me to write a good introduction for a RAM review. While the opening paragraph for the Patriot Viper Xtreme Division 2 PC3-15000 2x4GB review did not bring about something applicably inspiring by a long shot, let's talk about some facts that came in handy as presented in my Kinsgton HyperX PnP DDR3-1600 2x4GB SODIMM review about a month ago. Recently, my colleague Preston was having a house party, and I was invited over to trash his place. After the party was over, one of the girls did not have her car with her, and since I needed to drive a friend who lives in the same area anyway, I gave her a lift home as well. Upon exiting Preston's neighborhood on the main road, I asked her for directions on how to get to her place -- and much (un)surprisingly, she gave all the wrong instructions; such as telling me to turn left when I was clearly supposed to turn right. Although my friend's claims about how girls are bad at giving directions was quickly disregarded as a stereotype, I presented to the girl some facts about the female brain -- as in, the inferior parietal lobule in the cortex of the brain, responsible for perception of space, time and speed, is significantly smaller in females than males. So while she was not particularly impressed by the facts of life, different people are impressed by different things, right? Well, there are some facts about the G.SKILL Ripjaws-X F3-14900CL9D-8GBXL 2x4GB we are reviewing today that will get people like me impressed. I will agree with the fact that its DDR3-1866 9-10-9-28 specification is not particularly impressive. But what is impressive is the G.SKILL achieved these numbers with only 1.5V. Ahh, facts. Let's waste no time, and keep the rest of them rolling!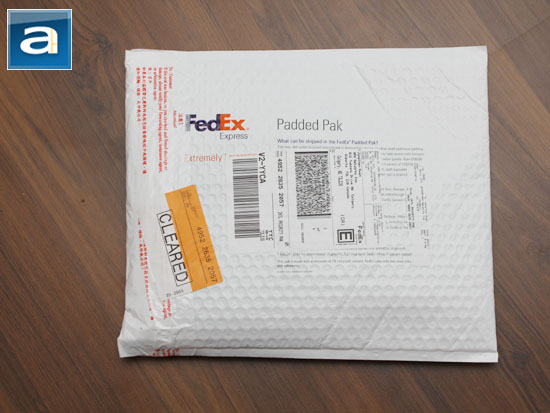 Our review unit of the G.SKILL Ripjaws-X F3-14900CL9D-8GBXL 2x4GB DDR3 dual channel kit came in a nice bubble envelope from the company's headquarters at Taipei, Taiwan, as usual. We are still hoping G.SKILL would come up with a more creative model naming scheme, because even as a seasoned enthusiast like yours truly, because the string of numbers mean little to me -- all I can tell is I have DDR3-1866 Ripjaws-X running at CL9 1.5V in casual language. That said, using International Economy, we were happy to discover everything arrived in excellent condition. We ripped open the package after taking some photos, and got straight to work.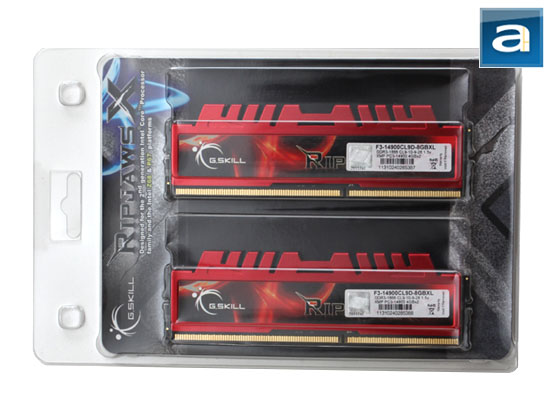 G.SKILL uses fairly standard retail packaging for their Ripjaws-X PC3-14900 2x4GB CL7 dual channel memory kit. The clamshell package is simple and held closed together at the top by two friction buttons; no blister pack techniques were used in this case -- which is, as usual, truly excellent in my opinion. I've tried opening a clamshell package last week, and yep, they are terrible as it has always been. A black colored insert with G.SKILL's logo and Ripjaws-X product line branding are placed at the top, with sharp grey and teal streaks to highlight give it a more intense feel, as shown in our photo above. Both memory modules can be seen through its clear plastic exterior placed vertically next to each other, where differentiating features of similar memory kits can be found on the warranty and specification label placed on each heatspreader. At the back are miscellaneous company, warranty, and specifications information.
Before we move on, let's take a look at G.SKILL Ripjaws-X F3-14900CL9D-8GBXL 2x4GB RAM, as obtained from the manufacturer's website:
System: Desktop
System Type: DDR3
M/B Chipset: Intel P67,Intel Z68
CAS Latency: 9-10-9-28-2N
Capacity: 8GB (4GB x2)
Speed: DDR3-1866 (PC3 14900)
Test Voltage: 1.5 Volts
Height: 40 mm / 1.58 inch
Registered/Unbuffered: Unbuffered
Error Checking: Non-ECC
Type: 240-pin DIMM
Warranty: Lifetime
Features: Intel XMP (Extreme Memory Profile) Certified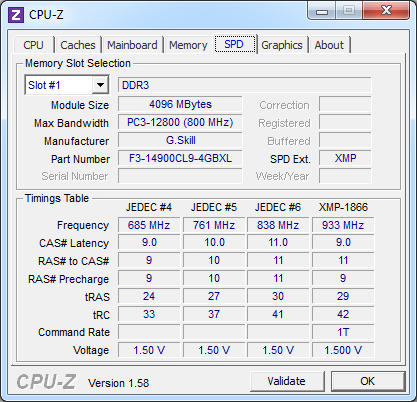 A screenshot of the memory tab in CPU-Z with G.SKILL's Ripjaws-X F3-14900CL9D-8GBXL 2x4GB installed. The SPD timings table in CPU-Z reads standard JEDEC specifications programmed into the memory, as well as Intel XMP data for running the memory at DDR3-1866. Using the latest BIOS revision, our ASUS P8P67 PRO motherboard used for testing had no issues detecting and working with the G.SKILL RAM, but it seems the programmed XMP settings are a bit off. In our screenshot provided above, this dual channel kit runs at a frequency of 1866MHz (933MHz actual clock), which is correct; but the manufacturer specifies it to run at 9-10-9-28 rather than the detected 9-11-9-29. However, manually setting it to 9-10-9-28 in the BIOS posed absolutely no problem for us. The G.SKILL Ripjaws-X F3-14900CL9D-8GBXL 2x4GB retails for approximately $80 at press time.
---
Page Index
1. Introduction, Packaging, Specifications
2.
A Closer Look, Installation, Test System
3.
Benchmark: AIDA64 CPU
4.
Benchmark: AIDA64 FPU
5.
Benchmark: AIDA64 Memory
6.
Benchmark: PCMark 7
7.
Benchmark: 3DMark 11
8.
Benchmark: PassMark PerformanceTest 7.0
9.
Benchmark: SuperPI 1M, Cinebench R11.5
10.
Overclocking and Conclusion