By: Jonathan Kwan
July 22, 2011
Updated August 23, 2011
You know what I don't like about hot weather? Well, it has got to be the heat. (No kidding, right?) And with all the heat, sometimes it is just a bit hard to get my brain working correctly, and a working brain is very important if I want to write a good review introduction. The good thing is, by talking about the negative effects of heat alone, it already used up a few lines of the standard article opening length, and this really saved me some thinking in writing about stuff I really should have. Anyways, after wasting a good half a minute of your life you will never get back, what I want to talk about this afternoon is back to the topic of how awesome it is to own the ultimate sleeper laptop. This was first discussed in my G.SKILL F3-8500CL7D-8GBSQ 2x4GB review back in the nice and cool December of 2009. Fast forward a year and a half, what I have here on the table is something that looks practically identical to what I had in the past, at least to the average consumer. To be specific, I am talking about no other than my new Lenovo ThinkPad T420 laptop. Sure, it may look like something from the 1990s, but with a Sandy Bridge processor, dedicated NVIDIA graphics with Optimus, 8GB of Kingston HyperX DDR3-1600 RAM, and an OCZ Agility 3 240GB solid state drive, who is laughing now? The OCZ Agility 3 240GB is all about impressive speed, low power consumption, no moving parts, and decent storage space at a price that is still relatively affordable. Move aside, laptops that looks faster than what it actually is with 30 minute battery life: This is the real deal. Is the OCZ Agility 3 240GB the SSD to get for both hardcore mobile enthusiasts and performance desktop users? We got all the perspectives with benchmarks that are objective in our review today.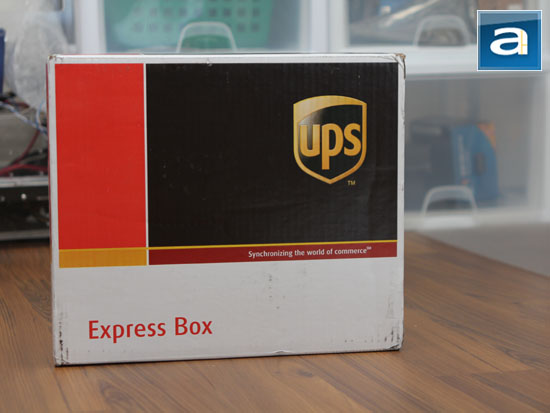 As usual, our OCZ Agility 3 240GB came in a medium sized, UPS branded corrugated cardboard box from OCZ's headquarters at Sunnyvale, California, USA. Using UPS Saver, the solid state drive came in excellent condition in less than twenty four hours. I excitedly cracked open the package, took out my dSLR camera, and got straight to work.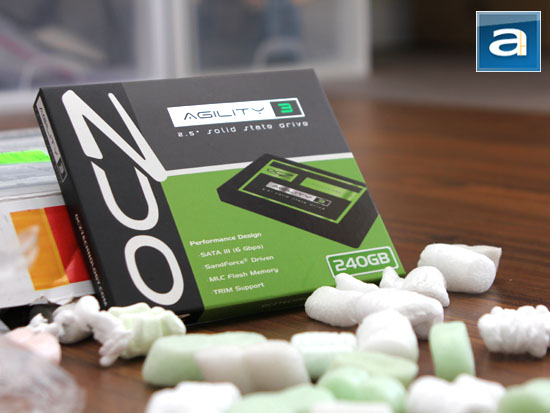 Hollowing up the packing material from inside the shipping package is the retail box of OCZ's Agility 3 240GB SSD. It comes in a compact and lightweight box, with a design that clearly has family resemblance with the OCZ Vertex 3 Max IOPS 240GB. The company incorporates a sleek and attractive design composed mainly of a black, gray, white, and green color scheme with elements of shiny silver where it says "Agility 3" across the front. Asymmetrically tiled into three sections, OCZ's logo is very prominently featured on the left hand side, while a photo of the SSD itself at 3/4 angle can be noticed on the bottom tile. A short list of feature highlights is printed at the bottom, along with its capacity on the right hand side.
If you turn the box around, you will find a product description paragraph as well as a specifications table. Speaking of which, before we move on, let's take a look at the specifications of the OCZ Agility 3 240GB, as obtained from the manufacturer's website:
Max Read: up to 525MB/s
Max Write: up to 500MB/s
Random Write 4KB: 45,000 IOPS
Maximum 4K Random Write: 85,000 IOPS
MLC NAND Flash
Interface: SATA 6Gbps / Backwards Compatible 3Gbps
Native TRIM support
Seek Time: .1ms
Slim 2.5" Design
99.8 x 69.63 x 9.3mm
Lightweight: 77g
Operating Temp: 0°C ~ 70°C
Ambient Temp: 0°C ~ 55°C
Storage Temp: -45°C ~ 85°C
Low Power Consumption: 2.7W Active, 1.5W Idle
Shock Resistant up to 1500G
RAID Support
Compatible with Windows 7, Vista, XP 32-bit/64-bit, Mac OSX, Linux
MTBF: 2 million hours
3-Year Warranty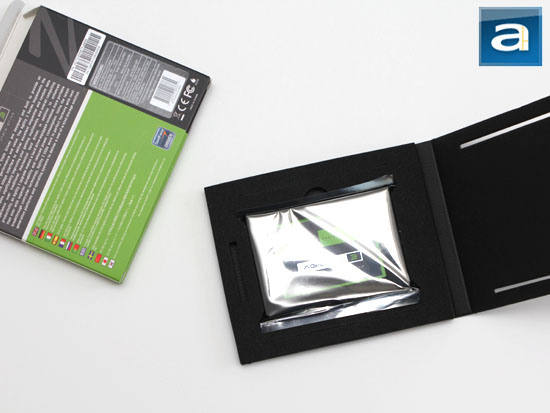 Inside the retail box is familiar black package, consisting of a foam bracket sandwiched between a cardboard flap to house its internal contents. Despite the natural ability of SSDs to withstand high impact forces, OCZ made sure everything will end up safe and sound for the end user. After all, despite the fact we have said it is "relatively affordable" earlier, it is still $450 worth of equipment inside. Out of the box, you will receive an OCZ Agility 3 SSD inside an anti-static bag, and... that is about it. You will not get the usual 3.5" adapter bracket, or the not-so-modest "My SSD is faster than your HDD" sticker like you would with the Vertex line of SSDs. However, I have never used the adapter bracket anyway (Pretty much all modern cases can accept 2.5" drives out of the box), so this no-frills approach is appreciated, as long as the savings are passed down to the consumer.
---
Page Index
1. Introduction and Specifications
2.
A Closer Look, Installation, Test System
3.
Benchmark: ATTO Disk Benchmark
4.
Benchmark: Crystal Disk Mark 3.0
5.
Benchmark: AIDA64 Disk Benchmark
6.
Benchmark: HD Tach 3.0.1.0
7.
Benchmark: HD Tune Pro 4.60
8.
Benchmark: PassMark PerformanceTest 7.0
9.
Benchmark: PCMark Vantage
10.
Laptop Usage and Conclusion