Page 10 - Laptop Usage and Conclusion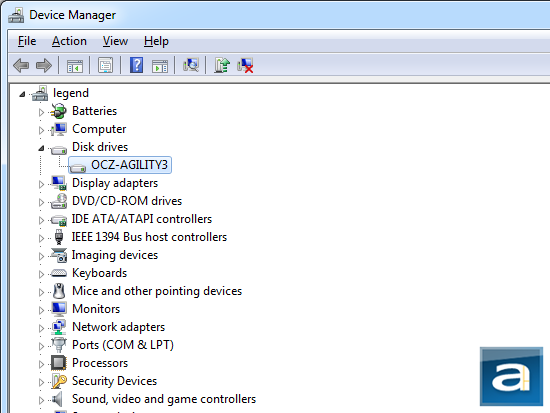 At this time, I would just like to shift our focus a bit, and go over what I believe is crucial when I took in an OCZ Agility 3 240GB for evaluation. Normally, we don't really care about size of the SSD we are getting for review -- if it plugs in and pulls out the same numbers as the rest of the product line, and so accurately represent the product's performance across the board, then we will be happy. However, for the purpose of this article, I specifically wanted the 240GB for one very important reason: It is my intention to install this SSD in my laptop. We have tested the SSD in our desktop for consistency reasons, but if you have a laptop with a SATA 6Gb/s port -- all new Sandy Bridge based laptops will have this -- then the performance should be pretty much identical to what you see in our charts.
Now let me make it clear to you that the OCZ Agility 3 is just as suitable in a desktop environment as it is in a laptop environment. This SSD performs absolutely wonderfully across the board. It is obviously no OCZ Vertex 3 Max IOPS, as evident in some benchmarks, but you are probably going to notice a lot more difference on your credit card bill than real life performance. With that in mind, there is nothing stopping me from installing the OCZ Vertex 3 Max IOPS 240GB into my laptop. In my opinion, however, there is actually one attribute of the OCZ Agility 3 that is superior to its more expensive sibling even if price is not a concern, and that is power consumption. The OCZ Vertex 3 Max IOPS 240GB uses significantly more power than the OCZ Agility 3 240GB, and in my personal opinion, the decrease in battery life is probably much more noticeable than small performance gains in most real life usage situations. From my tests, my Lenovo ThinkPad T420 uses a hair under 12W idle with screen brightness maxed out and WiFi on. With the OCZ Agility 3 240GB installed, this figure dropped to just below 11W -- a savings of approximately 1W. 1W is not a lot in magnitude, but from a percentage perspective, that is almost 10%. 10% power savings is very significant.
Additionally, while there are many ways to improve the performance of a laptop's storage performance, in my opinion, there is nothing like having one large SF-2281 based SSD plugged into my Sandy Bridge based Lenovo ThinkPad T420's SATA 6Gb/s port instead. Sure, I can install an Intel 310-series mSATA SSD, or convert my optical drive bay into a hard drive bay, get a low capacity SATA SSD for Windows 7, and retain my current Western Digital Scorpio Blue 500GB hard drive for all my documents. But the problem with either solution is it increases performance at the expense of power consumption. With the OCZ Agility 3 240GB, it not only dramatically increases performance, but also decreases power consumption for improved battery life. Yes, the OCZ Agility 3 240GB is not exactly cheap (After all, a 500GB 2.5" hard drive is only fifty bucks nowadays), but it not priced to astronomical levels that are out of reach of most people either. For about $430 after rebate at press time, the Agility 3 is less than $2 per gigabyte, and should serve with sufficient capacity to most people on the go.
Sliding out my Western Digital Scorpio Blue 500GB, I then detached the 2.5" drive bracket from my hard drive, and attached it to the OCZ Agility 3 240GB. The Agility 3 is about a millimeter wider than my hard drive at the base, so the bracket had to be bent a bit for a forced fit. Nevertheless, I tightened the screws around anyway, and replaced the rubber strips from Lenovo to around the SSD. Good thing there are some tolerances in my T420's drive bay, and I am happy to say my OCZ Agility 3 240GB actually fits very nicely inside. For those who know what I am up to, if you are all about creating the ultimate mobile experience, look out for all the awesome plug and play modifications I have made to my very subtle looking ThinkPad under the hood. There is nothing like the Kingston HyperX DDR3-1600 2x4GB RAM (With all the heatspreaders too, haha) and an uber-fast OCZ Agility 3 240GB inside that you cannot buy from the factory. And there is nothing like the satisfaction of owning the best sleeper laptop which no one is interested in stealing, until they get the surprise of their life when your laptop simply whoops their fast (looking) laptops in pretty much every measurable benchmark. This, my friend, is what I call epic win.
At the end of the day, I am very pleased with the performance of the OCZ Agility 3 240GB in my Lenovo ThinkPad T420. Realistically, the OCZ Agility 3 is probably going to find its home in more desktops than laptops, but in my opinion, it is just a perfect match for the latter. It is relatively affordable, it helps increase the battery life of your laptop, and it is insanely fast. If you want solid proof, just go through our last seven pages of benchmarks. That is not to mention it is a bit eerie to use a literally completely silent, vibration free laptop at first -- but after a while, you would be hard pressed to have it any other way. However, there are a couple things I would like to see in the near future from the OCZ Agility 3 240GB. Firstly, I have been experiencing random stuttering issues with Firmware 2.08 on my T420. The laptop will stall for about a minute, and resume normal operation for no apparent reason. Firmware 2.09 fixed that issue, and I have experienced zero stability problems from my last three weeks of daily usage on my ThinkPad. However, you will have to take a small hit in performance until something more than a band-aid fix can be found. Secondly, I would like to see something from OCZ that can enable a custom encryption key that takes advantage of SandForce SF-2281's excellent 256-bit AES encryption for pre-boot authentication in preventing unauthorized access. It is not just a business thing. Consumers will want this, too. But to reiterate what I have said earlier, whether you are a desktop or laptop user, if you are looking that is fast, relatively affordable, has low power consumption, and instantly gives you a big e-peen, then the OCZ Agility 3 240GB is really the SSD to buy. Because even though OCZ didn't say it this time, my SSD is not just faster than your HDD -- it is actually ten times faster than your HDD.
Update August 23, 2011: The latest firmware update from OCZ, version 2.11, replaces 2.09 with no performance penalty. All our OCZ SF-2281 based drives exhibited perfect stability with the latest firmware, including the OCZ Agility 3 240GB in this review.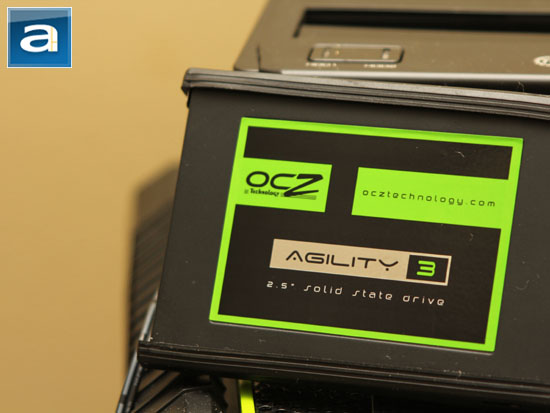 OCZ provided this product to APH Networks for the purpose of evaluation.

APH:Renewal Award
Since April 30, 2007, Number Ratings have been dropped for all CPUs, motherboards, RAM, SSD/HDDs, and graphics cards. This is to ensure the most appropriate ratings are reflected without the inherent limits of using numbers. Everything else will continue using the Number Rating System.
More information in our Review Focus.
My Sandy Bridge based laptop equipped with OCZ's Agility 3 240GB is so fast, I don't even need to say 'brb' if I needed to reboot in the middle of a instant messaging conversation.
Do you have any comments or questions about the OCZ Agility 3 240GB? Drop by our Forums. Registration is free, and it only takes a minute!
---
Page Index
1.
Introduction and Specifications
2.
A Closer Look, Installation, Test System
3.
Benchmark: ATTO Disk Benchmark
4.
Benchmark: Crystal Disk Mark 3.0
5.
Benchmark: AIDA64 Disk Benchmark
6.
Benchmark: HD Tach 3.0.1.0
7.
Benchmark: HD Tune Pro 4.60
8.
Benchmark: PassMark PerformanceTest 7.0
9.
Benchmark: PCMark Vantage
10. Laptop Usage and Conclusion