By: Jonathan Kwan
December 2, 2011
There are some hobbies you should never get into. Ever since I got my first digital camera in Grade 6 that cost me a life savings to buy, I was hooked on photography ever since. (That was back when film cameras were still the standard, and if you owned a 1.3 megapixel digital camera, that was quite the baller thing to have.) Many years have passed, and many more life savings later, it is interesting to see how far we have come. I am not talking about me having a flash that costs more than several compact point-and-zooms combined, and lenses that are worth more than my friends' cars, but simply the performance and amazing amount of features found on modern dSLRs. If you told someone ten years ago that a digital camera can produce photo-quality prints at over 18" x 12", and make better videos than a high end consumer camcorder, you probably would have been laughed at for more than a few minutes. Nowadays, it is just how things are. Unfortunately, with all the big megapixels and 1080p videos -- not saying sensor resolution and image quality are directly related or anything -- your once massive 8GB SDHC card from 2008 is no longer as massive as you have once thought. That's not to mention shooting in 1080p will require not only a big card, but also a fast card. So if 8GB is no longer considered uber, and anything less than Class 6 won't do the job, what should aspiring videographers and RAW shooters look into? Try a 64GB -- yes, sixty four gigabytes -- SDXC Class 10 card from Patriot Memory.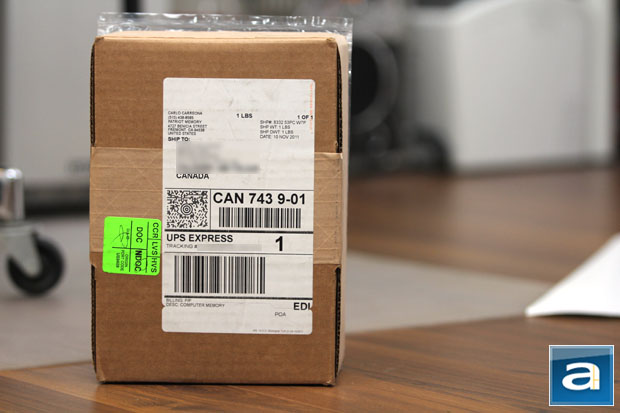 Our review unit of the Patriot LX Series SDXC 64GB card came in a in a relatively compact, brown corrugated cardboard box from Patriot's American headquarters in California, USA. This shipping package should be quite familiar to those who have been following our Patriot product reviews in the last few months; it is no different than the one the Patriot Pyro 120GB, Patriot Supersonic Magnum 64GB, and Patriot Viper Xtreme Division 2 PC3-15000 2x4GB came in. Using UPS Express, everything arrived in excellent condition for our review today. On a somewhat related note, I was rather surprised UPS actually made deliveries on November 11th, which is a public holiday here in Canada.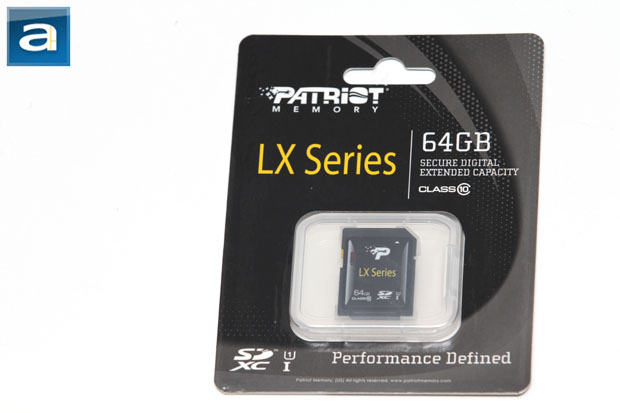 As always, our Patriot LX Series SDXC 64GB arrived in retail packaging. Although there is nothing exquisitely special about it, I found it entirely appropriate for what it is intended for. The overall concept is extremely simple, but it gets the job done. Consistent with the rest of Patriot's flash memory line -- it is stylistically identical to the retail packaging design of the Supersonic Magnum USB drive we have covered back in June -- it combines a clean black-and-grey textured gradient background, and a clear plastic shell that encases the card itself. This is the same kind of packaging where you can hang it on a store shelf rail, but for something that costs as much as this (About $115 at press time), chances are that it will be locked up in the glass cabinet behind a counter. Patriot's logo and model name is prominently displayed on the left, along with its capacity and rated performance class on the right, as demonstrated in our photo above.
Although I am not entirely sure what is the right way to crack open the package, I am particular thankful that it is not a blister pack, so there is really little risk in cutting myself regardless of how I execute this task. With all the safety risks out of the way, I went for the good old "rip it apart like a kid on Christmas morning" approach, which as you can see has worked out pretty well, haha. Out of the box, you will get a clear plastic box that holds your Patriot LX Series 64GB SDXC card, and the SDXC card itself inside. Yep, that's it. With regards to the Patriot LX Series 64GB SDXC card, I can spend all day talking about the sticker design, but what good does that do if you can just look at our photo that came right before this paragraph? Other than that, it is just a normal looking, black colored flash memory card that carries the size and shape of any other member in the Secure Digital family, with a write protection switch on the left, and prints on the back indicating that it is made in Japan.
Before we move on to our series of benchmarks (Wow, that is fast!), let's take a look at the specifications of this product, as obtained from the manufacturer's website:
- Complies with SDA 3.0 specifications (host device must support SDXC)
- Bus Interface Mode: Version 1, SDR50, up to 50MB/sec
- UHS-I (Ultra High Speed) Compliant
- Class Speed 10
- Write protection switch to avoid accidental data deletion
- Voltage Range: 2.7 - 3.6V
-----------------------------------------
The Tests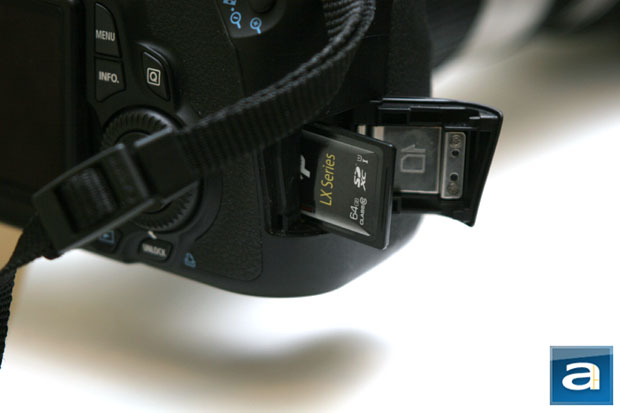 For real life testing, the Patriot LX Series SDXC 64GB is used with a Canon EOS 60D dSLR camera. To ensure that the benchmarking performance is not interface bottlenecked, we used a system equipped with a PCI Express based Ricoh media card reader, and is configured as follows:
Laptop Model: Lenovo ThinkPad T420 (BIOS Revision 1.22)
CPU: Intel Core i5-2520M (Sandy Bridge 2.50GHz, Turbo Boost 3.00GHz, 3MB L3, 1333MHz FSB)
Chipset: Intel QM67
Memory: Kingston HyperX PnP DDR3-1600 2x4GB
Display: 14" AUO LED backlit LCD @ 1600x900
Graphics: NVIDIA Quadro NVS 4200M 1GB with Optimus
Primary Storage: OCZ Agility 3 240GB
Wireless: Intel Centrino Ultimate-N 6300 AGN
Operating System: Microsoft Windows 7 Professional x64 SP1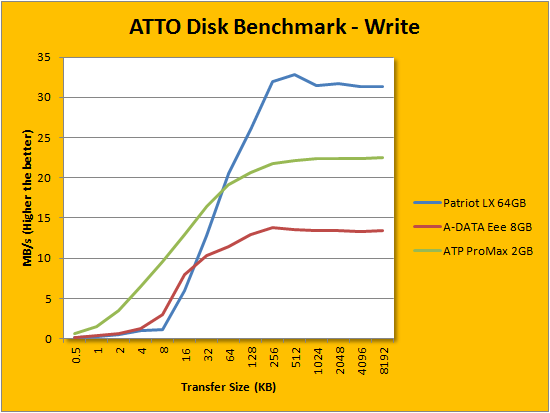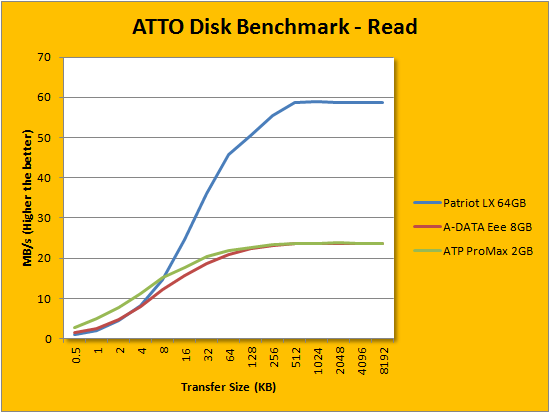 At first, I tested the Patriot LX Series 64GB SDXC card on my Dell UltraSharp 2408WFP monitor's card reader over USB 2.0, but it did not perform nearly as well as I have hoped -- so I quickly switched to my laptop, and thanks to the PCI Express based Ricoh card reader as aforementioned, the results turned out to be very impressive. Also, back on the comparison list are a couple of oldies; namely the ATP ProMax II SD Class 6 2GB and A-DATA SDHC Class 6 Eee PC Edition 8GB I have reviewed back in 2008. As you can see in our graphs above, the Patriot SDXC card didn't perform too well initially in small transfer sizes -- but it quickly regained prominence after 64KB in the write benchmark, and 8KB in the read benchmark. This lead continued well after that, and flattens out at an impressive 32MB/s write and 59MB/s read. Normally, if this was a USB flash drive, I would have criticized it for its low small file I/O performance. However, since you are going to be dealing with primarily large files anyway, the Patriot LX Series SDXC 64GB is simply going to smoke everything in its way in real world usage. Based on my real life experiences using my Canon EOS 60D dSLR camera, shooting videos in 1080p, or firing off a burst of shots is not going to be a problem at all -- the Patriot LX Series SDXC 64GB is simply not going to be your bottleneck.
-----------------------------------------
If you have been paying attention to SDXC card prices, it goes up and down faster than the Euro as of late. Last month, the Patriot LX Series 64GB is one of the most competitively priced SDXC cards around. At the time of review, it carries one of highest price tags at about $115. What gives? The only thing I can honestly tell you is none of the other manufacturers spec their flash memory cards' read and write speed nearly as high as what we were able to obtain in our benchmarks, and this is where it counts. The Patriot LX Series SDXC 64GB is one seriously fast card for people who like to shoot photos in RAW, and occasionally produces 1080p high definition videos on their dSLR cameras. Combined with an excellent 5-year warranty and Patriot's reputation for excellent reliability, if you are looking for looking for one of the biggest and fastest cards available in the market today, this is one product you do not want to miss out. Where do I see room for improvement? Well, I remember the ATP ProMax II card I had promised and lived up to its claims of being "waterproof, dust proof, ESD proof" and capable of withstanding "extreme temperatures" (Yes, we actually tested it in our review back then). I would like the Patriot LX Series SDXC to be the same as well. I am not saying the LX SDXC would definitely not survive any of the above, but some assurance from the manufacturer is definitely something we would all like. After all, it is 64GB this time.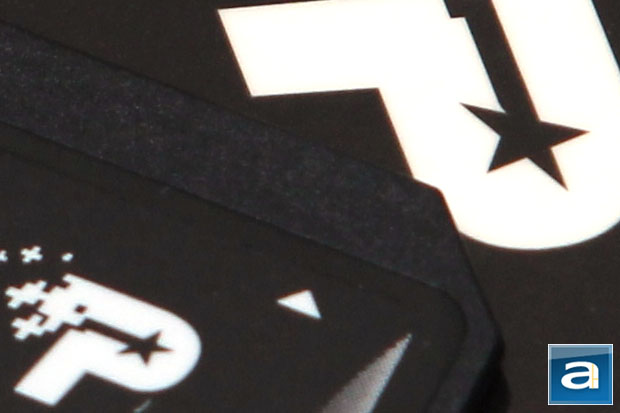 Patriot Memory provided this product to APH Networks for the purpose of evaluation.

APH:Renewal Award | APH Review Focus Summary:
8/10 means Definitely a very good product with drawbacks that aren't likely going to matter to the end user.
7/10 means Great product with many advantages and certain insignificant drawbacks; but should be considered before purchasing.
-- Final APH Numeric Rating is 7.8/10
Please note that the APH Numeric Rating system is based off our proprietary guidelines in the Review Focus, and should not be compared to other sites.
It's seriously fast, it's seriously big, and it starts with a P. Patriot LX Series 64GB SDXC card, that is.
Do you have any comments or questions about the Patriot LX Series SDXC 64GB? Drop by our Forums. Registration is free, and it only takes a minute!