By: Jonathan Kwan
July 5, 2008
So here's the deal, guys: You bought an Asus Eee PC, and you got all the 'oohs' and 'ahhs' from your non-geek friends who've never seen such a thing you ever wanted. What now? One of the biggest 'problems' faced by majority of Eee PC users with regards to current generation Asus Eee PCs comes down to storage capacity limitations of the subnotebook's flash SSD -- with configurations starting at 2GB and the higher end (Read: More expensive) models consisting of a 4GB Silicon Motion solid state disk, it's not hard to imagine that you're running low on disk space even after an nLited installation of Windows XP, plus a few programs to boot. I have an Asus Eee PC 4G; and with a somewhat slimmed down version of Windows XP Professional, Microsoft Office 2000 (Word, Excel, PowerPoint) with minimal features, Foxit Reader, Firefox, Windows Live Messenger, Wavelab Lite -- just to name a few off my head -- already used up 2.5GB. How about some multimedia files such as music, videos, and pictures? Good luck with that. Well, thankfully, Asus had considered that already with the Eee PC and incorporated a SD/SDHC card slot that's can accommodate a card fully engaged into the unit with no edges left sticking out. It's very convenient, and solves the storage problem fairly well. But what card are you going to use? A-DATA presents to you their solution. The A-DATA SDHC Class 6 Eee PC edition cards are designed for this very purpose. My Eee PC is white in color, and these white colored cards will fit the scheme just perfectly -- along with a performance of excellent read and write performance, how will it step up to its task? Let's jump right into our A-DATA SDHC Class 6 Eee PC Edition 8GB flash memory card review.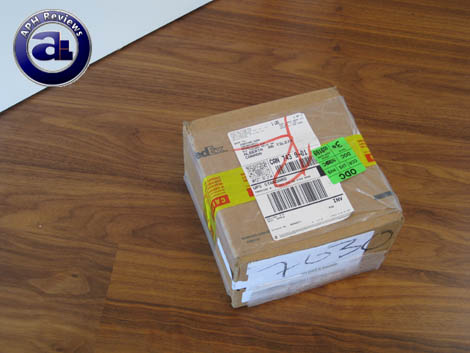 Our review unit of the A-DATA SDHC Class 6 Eee PC Edition 8GB came in a small corrugated cardboard box using UPS Standard (Yeah I know it says FedEx on the bag, but that's just the bag). Everything came safely and on time from A-DATA's California offices. Interestingly, A-DATA threw in a few brand new UPS envelopes as bubble protection, but that's beyond the point. So back on topic...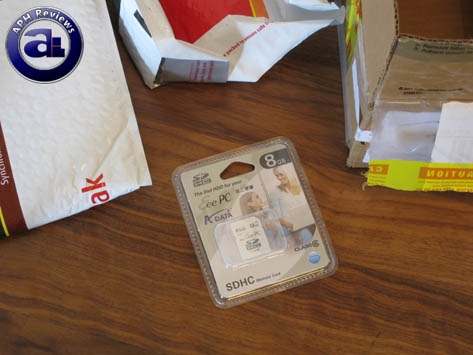 A-DATA sent us a retail package of the 8GB Eee PC Editon SDHC card; which arrives in the form of a blister pack. The design of the package borrows many color scheme elements from Asus' Eee PC packaging -- with predominantly a white background and light olive green curve across the top. However, the A-DATA design is a little more complex with photos and a considerable quantity of text both in front and behind. And then caption "The 2nd HDD for your Eee PC". I think they are right to an extent.
Before we move on, let's take a look at the specifications of the A-DATA SDHC Class 6 Eee PC Edition 8GB, as obtained from A-DATA's website:
- Full function SDHC™ (Secure Digital High Capacity) memory card for modern consumer electronic devices (Camera/Handset/PDA/MP3 Players) use.
- Support CPRM Digital Rights Management (DRM) for SDIO digital media players.
- Write Protect Tab to protect data overwritten
- File System: FAT32
- Enhanced DSC function & flawlessly video recording
- Compatible for all devices with SD 2.0/SDHC capability
- Special design for Eee PC users
- Officially approved by ASUS
- Lifetime Warranty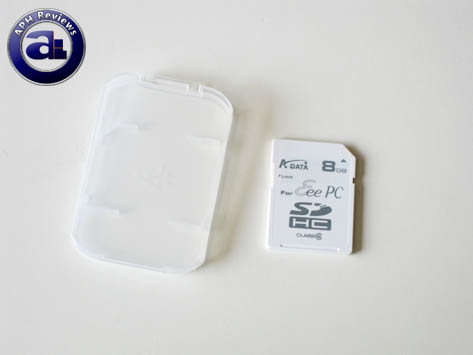 You won't get much out of the box; after all, all you're buying is an SDHC card -- I don't think you are expecting a free gas card or anything (Although that would be nice heh. If you're complaining about $4.50 an US Gallon, we are paying over $5.50 in some places in Canada). That aside, you will get an A-DATA SDHC Class 6 Eee PC Edition card, along with a clear plastic case.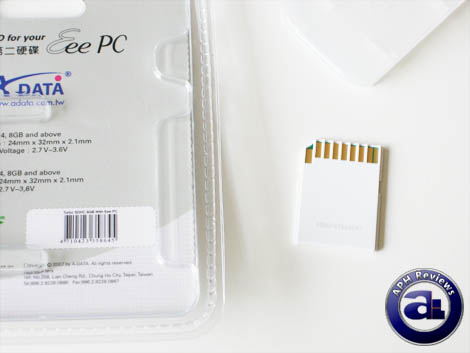 The A-DATA SDHC Class 6 Eee PC Edition 8GB card incorporates quite a simple design. Since it's probably harder to buy white SDHC cards to compliment white Eee PCs, the A-DATA SDHC Class 6 Eee PC Edition card we have is white to go with my pearl white Asus Eee PC 4G. The front of the card, as seen in the previous photo, shows the A-DATA and Eee PC logo, along with an SDHC Class 6 label to indicate its minimum write speed. The card capacity is printed on the top right corner, where ours is 8GB. Larger and smaller capacities are available as well. The back is almost completely blank other than a line of numbers and letters (Something like a part number or serial number), and of course, the electrical contacts across the top as per every SD/SDHC card.
---
The Tests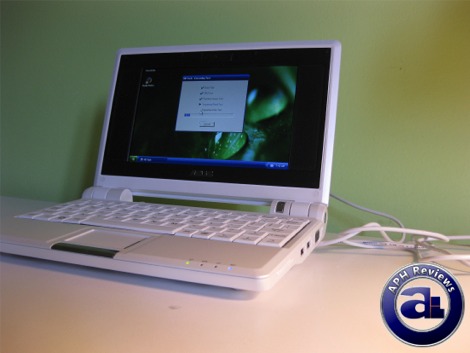 Since the A-DATA SDHC Class 6 Eee PC Edition 8GB flash memory card is marketed for the Asus Eee PC, we used a standard Asus Eee PC 4G for our tests. The card reader under Windows XP's Device Manager is set to "Optimize for performance" for running the benchmarks.
The specifications of the Asus Eee PC 4G as follows:
- Intel Celeron-M ULV 353 @ 630MHz
- Asus motherboard (Intel i910GML Northbridge and ICH6 Southbridge)
- 1x512MB Samsung DDR2 RAM
- 4GB Silicon Motion SM223A flash SSD
As mentioned earlier, the white A-DATA SDHC card matched perfectly in color with my Pearl White Eee PC -- the almost fully flushed Panasonic SD/SDHC card reader is an added plus.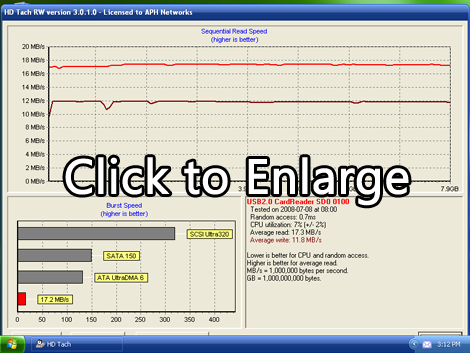 We benchmarked the A-DATA SDHC Class 6 Eee PC Edition 8GB using HDTach with our Asus Eee PC 4G. Performance is very consistent across the board in both read and write; however when we tested the same card using our Dell Inspiron laptop yielded better results. This means that the Eee PC's card reader (And generally, USB interface) limited the performance of the card. That said, it's still very good throughout the card. Our HDTach results indicate that the A-DATA SDHC Class 6 Eee PC Edition 8GB has an average read speed of 17.3MB/s read and 11.8MB/s write on the Eee PC. Since the Eee PC itself is limiting performance (Not to mention that the SSD's random access and file performance is not that well by itself either) using APH's proprietary benchmarks on the Eee PC will pull inaccurate results simply due to the fact that the Eee PC itself is probably incapable to do so, and act as a bottleneck instead. Therefore, we'll conclude based on what we have above.
---
Generally speaking, the performance of the A-DATA SDHC Class 6 Eee PC Edition 8GB as per our HDTach results is very good at 17.3MB/s read and 11.8MB/s write on the Asus Eee PC. This SDHC card is definitely a very convenient method to add storage to your Eee PC -- not to mention one that offers great bang for your buck. At less than $30 online at major e-tailers, it's definitely a steal for an 8GB SDHC card -- especially for its performance. My only concern is that it's only available in white; and while white Eee PCs are very common, other colors are also available and it would be nice if A-DATA had other color variations of this card to go with the rest of the Eee PCs. Besides that, you can use the A-DATA SDHC Class 6 Eee PC Edition 8GB for quite a variety of purposes -- camera, certain digital audio players, you name it. Oh, and the Asus Eee PC.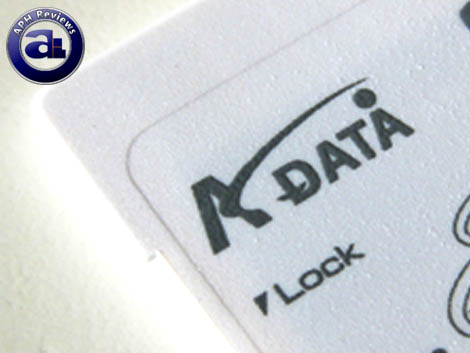 Special thanks to Vince over at A-DATA for making this review possible.

APH equal.balance Award | APH Review Focus Summary:
8/10 means Definitely a very good product with drawbacks that aren't likely going to matter to the end user.
7/10 means Great product with many advantages and certain insignificant drawbacks; but should be considered before purchasing.
-- Final APH Numeric Rating is 7.8/10
Please note that the APH Numeric Rating system is based off our proprietary guidelines in the Review Focus, and should not be compared to other sites.
Great performing SDHC card at a bargain price -- it's only available in white; it would be nice if other colors are available to better go with Eee PCs of different colors.