By: Jonathan Kwan
May 10, 2008
You can call it a fad, but the latest craze is not about the latest quad core laptop with a 8800 series graphics accelerator, several hard drives in RAID, or a 20" screen and whatever. Ever since the announcement of the Asus Eee PC, and its official launch just a few months prior to Christmas 2007, hardcore enthusiasts and general consumers alike have expressed immense interest in this piece of low cost, ultra portable laptop. Do a Google search. Read a tech blog. Log in to your latest forum. Engage in a conversation with a few friends. To be honest, being a reviewer for quite a few years now, there's not many products which have made me sit there just to eagerly anticipate. The Asus Eee PC is one of those rare products -- and after using it since March and showing it off to quite a number of friends, I can see where all the excitement lays. That is, a few months after its release, I finally managed to get a hold of a unit of the Asus Eee PC 4G; previously known as the Eee PC 701. Using it almost daily for a month and a half, we now present to you our detailed long-ish term test of the popular fully loaded Asus Eee PC.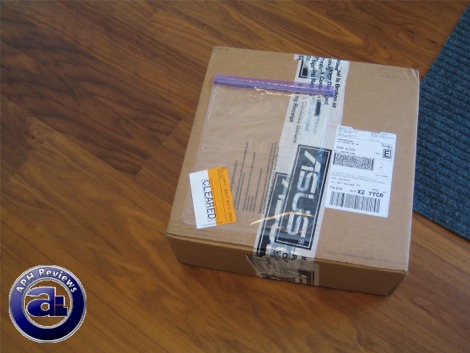 Our review unit of the Asus Eee PC 4G came in a brown corrugated cardboard box with tons of Asus tape over it, as we've grown accustomed to with our Asus shipments. Using FedEx International Priority, it arrived in less than 24 hours. Filled with packing peanuts inside, everything arrived in excellent condition. It took me some time to brush aside the packing material to reveal the glory and mystery of the Eee PC.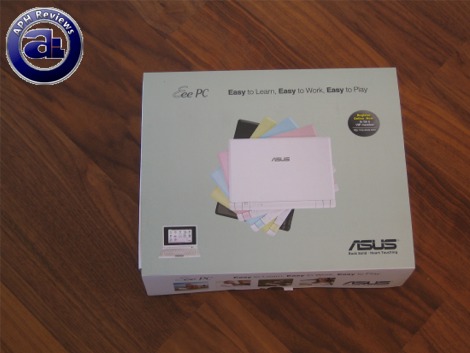 Our review unit of the Asus Eee PC 4G arrived in retail packaging. The box incorporates a relatively simple design across the front; with a light green background showing all the colors of the Eee PC in front and a small photo of an opened Eee PC at the bottom left corner. Similar design scheme implementations are used on all the sides; with the left side showing six color variations of the Eee PC side by side and a bullet underneath to indicate which color is the Eee PC inside the box. The bottom of the box continues to incorporate this simple design with a small listing of general specifications of the Eee PC. Generally speaking, the same box can be used for all models of the Eee PC besides the new Eee PC 900 -- the only distinguishing factor is a small label on the right side and the color bullet on the left.
Before we move on, let's take a look at the specifications of the Asus Eee PC 4G, as obtained from Asus' website:
- Model Name: Eee PC 4G
- Display: 7"
- Intel CPU & Chipset
- Operating System: Linux; Windows XP compatible
- Colors Available: Pearl White / Blush Pink / Sky Blue / Lush Green / Galaxy Black
- Ethernet Communication and WLAN
- Memory Installed: 512 MB (DDR2)
- SSD Storage (Solid-State Disk) - 4GB
- Camera
- Audio: Hi-definition audio, stereo speaker, microphone
- Battery: 4 Cells, estimated 2.8-3.5 hours depending on usage
- Weight: 0.92 kg

To move the story ahead a bit, yes we installed Windows XP Professional on our Asus Eee PC haha. That aside, we took a few CPU-Z screenshots -- the Celeron-M ULV Dothan processor is actually downclocked to 630MHz from 900MHz by reducing the FSB, but many Eee PC users used programs to restore its stock speed from Intel. Intel's i910GML with Intel Graphics Media Accelerator 900 integrated graphics is paired with the ICH6 Southbridge. A single module of DDR2 RAM is installed in one of the two slots; again downclocked to 70MHz to run 1:1 with the CPU at 3-3-3-8.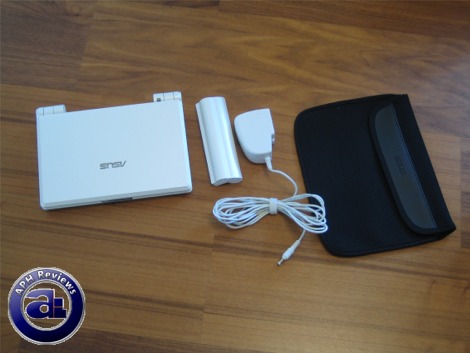 Our Asus Eee PC 4G review unit obviously wasn't a new one; evidence includes the box specifications don't match its contents (The box wasn't new, not to mention it says "Galaxy Black" when our Eee PC is obviously Pearl White... unless I'm colorblind haha), most of the packaging was missing, and the Eee PC's RAM cover seal was broken, and a screw was missing at the bottom too. My point is what we got out of the box were only the barely essentials -- the Asus Eee PC 4G itself, the 4-cell 5200mAh battery, a black case for protecting and carrying the Eee PC around, an an AC adapter. I believe that in a new retail package, there should be a manual and some software disc for Windows drivers, factory OS recovery, and the such.
That aside, the AC adapter is actually pretty sweet -- this wall adapter unit has foldable prongs that flushes into the rest of the adapter, and a Velcro strap to hold the cables together when you're travelling with it. Great design in my opinion.
---
Page Index
1. Introduction, Specifications, Bundle
2.
A Closer Look - External
3.
A Closer Look - Internal
4.
A Closer Look - Software
5.
Benchmarks: EVEREST 4.50, HD Tach 3.0.1.0
6.
Onboard Sound (RMAA 6.06) Analyzation
7.
Battery Life and Conclusion