Page 3 - A Closer Look - Internal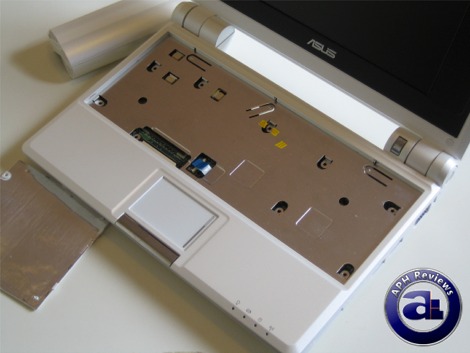 Opening the Asus Eee PC is quite easy -- after removing six screws at the bottom of the unit, and unlatching three metal clips at the top of the keyboard provides full access to the Eee PC. More screws are located on a metal board, where one is covered by a warranty seal -- if you want to get inside the Eee PC, you will have to void the warranty. We didn't mind doing that though, for your viewing pleasure.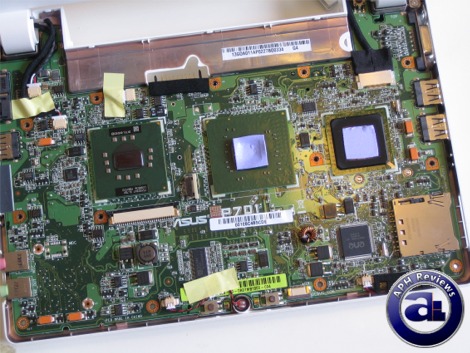 After removing the keyboard and disconnecting the touchpad, the Asus Eee PC mainboard is revealed. It is actually really packed inside the Asus Eee PC -- almost every centimeter of room is used. Thermal pads are placed between three chips (CPU, Northbridge, and Southbridge) and the metal sheet we just removed for some really simple cooling -- basically a lot of the heat dissipation is done from below the keyboard, although we did not find the keyboard of the Eee PC particularly too hot to touch after hours of use. It does get kind of warm though -- same goes with the palm rests. For this reason, the fan does come on after a while to draw some congested heat out of the packed interior of the Asus Eee PC. It's not loud, but it is definitely audible in quiet places.
\
The Wi-Fi antenna and multimedia connections to the mainboard from the lid.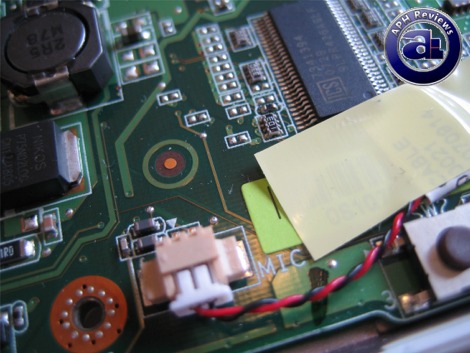 Internal condensed mic connection.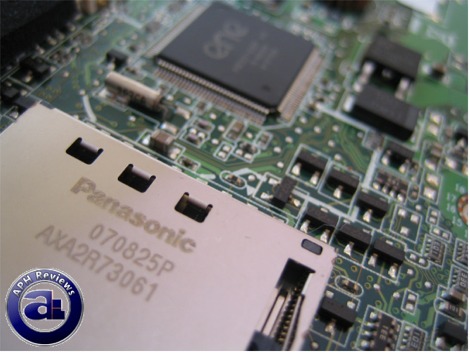 The Asus Eee PC uses a Panasonic SD/SDHC/MMC card reader.
The video connection from the screen to the mainboard of the Asus Eee PC, powered by an Intel Graphics Media Accelerator 900 IGP.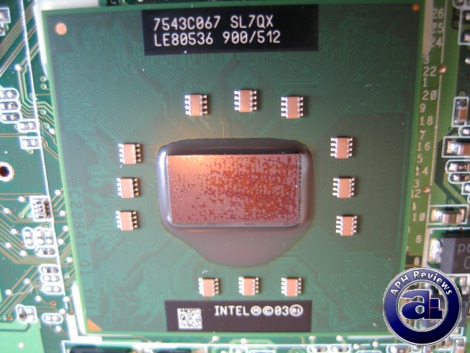 The Intel Celeron-M ULV CPU. By specifications, it operates at 900MHz with 512K L2 cache, but Asus downclocked it to 630MHz at 70MHz FSB from 100MHz FSB to improve battery life and lower heat production -- since this processor does not support Intel SpeedStep for dynamic frequency adjustment.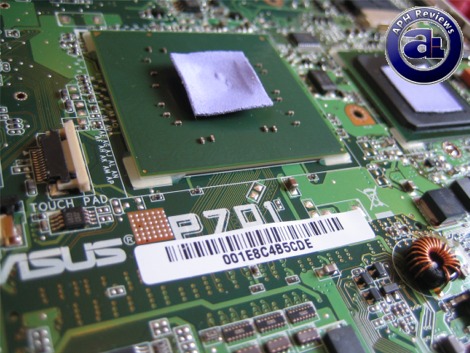 The Intel i910GML Northbridge and ICH6 Southbridge.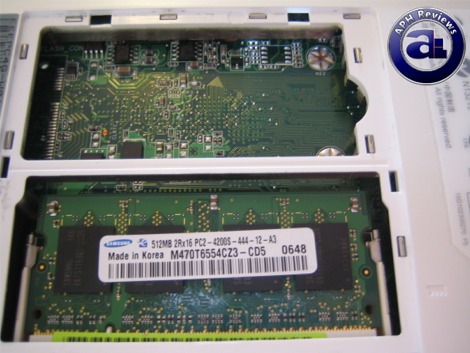 Removing the RAM cover are two RAM slots are located on our Asus Eee PC 4G -- by default, one Samsung 512MB module is installed and can be expanded with standard 200-pin DDR2 SODIMMs.
Generally speaking, while it's quite tightly packed inside the Eee PC, many users still found enough room for modifications -- whether it'd be taking advantage of the extra RAM slot or unused space clearing between the metal sheet and the mainboard, the Asus Eee PC is a fun unit to play with -- at the risk of your warranty, of course.
---
Page Index
1.
Introduction, Specifications, Bundle
2.
A Closer Look - External
3. A Closer Look - Internal
4.
A Closer Look - Software
5.
Benchmarks: EVEREST 4.50, HD Tach 3.0.1.0
6.
Onboard Sound (RMAA 6.06) Analyzation
7.
Battery Life and Conclusion