Page 2 - A Closer Look, Test System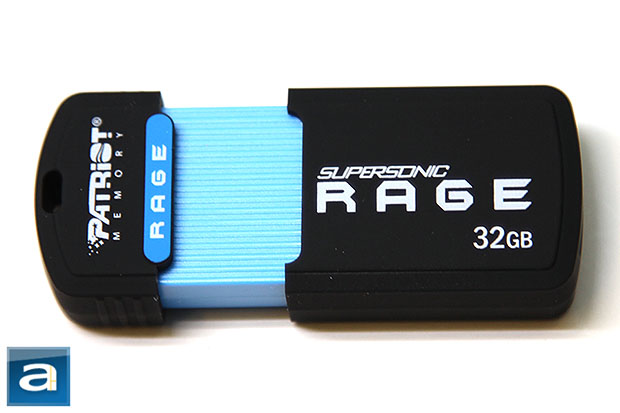 Whew, how time flew by. A quick check showed that the last USB flash drive review I have done is the Kingston DataTraveler HyperX 3.0 64GB on December 30, 2011 -- meaning none was published in the entire 2012. But that is okay, because we will have at least two coming in the next few weeks, haha. As far as the Patriot Supersonic Rage XT 32GB is concerned, a quick glance at the specifications table pits this portable storage device at 53mm long, 21.8mm wide, and 11mm thick. This is quite a bit smaller than the Patriot Supersonic Magnum 64GB at 78mm long and 27mm wide, but considerably thicker than its bigger brother's 7mm specification. Its plastic construction allows it to tip the scale at a featherlight 11g figure, but obviously, the Magnum's aluminum finish feels much better to hold in your hand. The Patriot Supersonic Rage XT 32GB will still fit nicely on your keychain or pocket without complaints, but it is a bit fat if you want to slide that into your wallet. Generally speaking, this USB flash drive is quite compact, and most people will not have any issues about its size.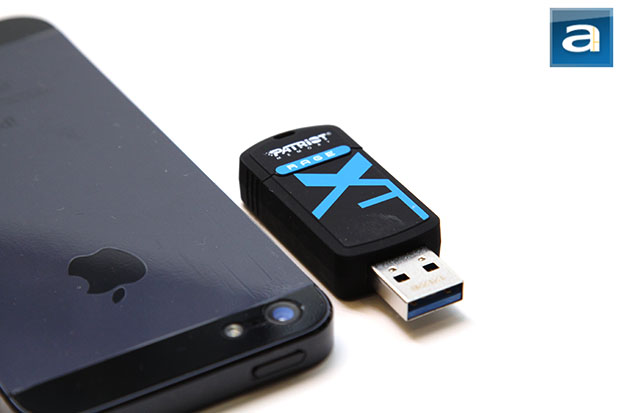 Flipping the Patriot Supersonic Rage XT 32GB around, we are now greeted with a different design printed onto the black rubber-like grip surface of the drive. While the unit itself is physically symmetrical, what is printed on it is not. The opposite side shows Patriot's Supersonic Rage branding with its 32GB capacity labeled and the company's logo, shown on the first photo of this page -- whereas this side, half the drive is the same; the rest is filled in with a large 'XT' text styling displayed in our image above. Interestingly, both branding elements are upside-down relative to each other, kind of like Canada and Australia, so you can keep rotating the drive, and the logo will always be the right side up to you.
In the center is a series of parallel beveled blue lines, where the enclosure of the Supersonic Rage XT slides along to reveal its USB 3.0 header. I am a big fan of capless flash drives, since you will not need to worry about losing its cover during usage. Although the Supersonic Rage XT has a rugged look, Patriot makes no claim that it is water resistant, so my advice to you is, do not experiment, haha. The USB connector is also blue with gold contact pins to signify its SuperSpeed compatibility. Unlike the Patriot Supersonic Magnum, this little guy actually has a drive activity LED. It flashes red behind the Patriot logo on the XT side, and remains off when it is idling. Unfortunately, it is extremely dim. It actually took me a while to actually notice that this drive is actually equipped with such a feature.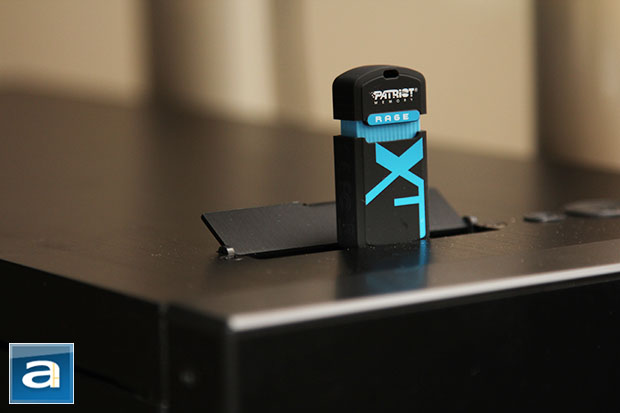 Our test configuration as follows:
CPU: Intel Core i5-2500K @ 4.50GHz
CPU Cooling: Thermaltake WATER2.0 Pro (Noctua NF-F12)
Motherboard: ASUS P8P67 WS Revolution
RAM: G.Skill Ripjaws-X F3-14900CL9D-8GBXL 4x4GB
Graphics: Gigabyte Radeon HD 7870 2GB OC
Chassis: Lian Li PC-B12
Storage: OCZ Vertex 3 Max IOPS 240GB; Western Digital Caviar Blue AAKS 500GB
Power: PC Power & Cooling Silencer Mk III 1200W
Sound: Auzentech X-Fi Bravura
Operating System: Microsoft Windows 7 Professional x64 SP1
Compared Hardware:
- Patriot Supersonic Rage XT 32GB (USB 3.0)
- Kingston DataTraveler Locker+ G2 32GB (USB 2.0)
- Kingston DataTraveler HyperX 3.0 64GB (USB 3.0)
- Kingston DataTraveler Ultimate 3.0 G2 32GB (USB 3.0)
- Kingston DataTraveler Ultimate 3.0 G3 32GB (USB 3.0)
- OCZ Rally2 Turbo 4GB (USB 2.0)
- OCZ Vertex 2 60GB 34nm (SATA 3Gb/s)
- Patriot Supersonic Magnum 64GB (USB 3.0)
---
Page Index
1.
Introduction and Specifications
2. A Closer Look, Test System
3.
Benchmark: AIDA64 Disk Benchmark
4.
Benchmark: ATTO Disk Benchmark
5.
Benchmark: Crystal Disk Mark 3.0
6.
Benchmark: HD Tach 3.0.1.0
7.
Benchmark: HD Tune Pro 4.60
8.
Conclusion