By: Jonathan Kwan
December 30, 2011
I don't know about you, but more often than not, when I hear a person's name before seeing them, my brain would generate a mental image of them of what they might look like. To make sure I am not crazy or anything, I went around and asked a few of my friends, and it turns out I am not the only one. For example, if you mention the name "Jonathan Kwan", a picture of an intelligent, sharp, and good looking young man comes to mind. Jokes aside, let's imagine for a moment that, right after you have heard a person's name, you meet him or her, and they look nothing like you have visualized. Awkward. As you can see, a product's name is very important, just like a person's name. It does not matter whether it is good or not in practice -- what it is called already leaves a strong first impression. Earlier this year, we have reviewed the Patriot Supersonic Magnum 64GB USB 3.0 flash drive. It sounds really fast, because, well, it is. Today, we have a new challenger to the ring. It is called the Kingston DataTraveler HyperX 3.0. DataTraveler is Kingston's brand for their USB flash drives, and for me, it leaves an impression of an honestly reliable, business type product that is not very fast. HyperX is Kingston's brand originally developed for their RAM, but has recently expanded to other products like solid state drives. My impression of the HyperX brand has always been a signature of elite performance and quality, as mentioned in my HyperX Grey DDR3-1600 review back in June. So what makes the Kingston DataTraveler HyperX 3.0 64GB USB 3.0 flash drive? Is it a combination of the best of both worlds, fusing together cutting edge performance and honest-to-earth reliability? Read on to find out!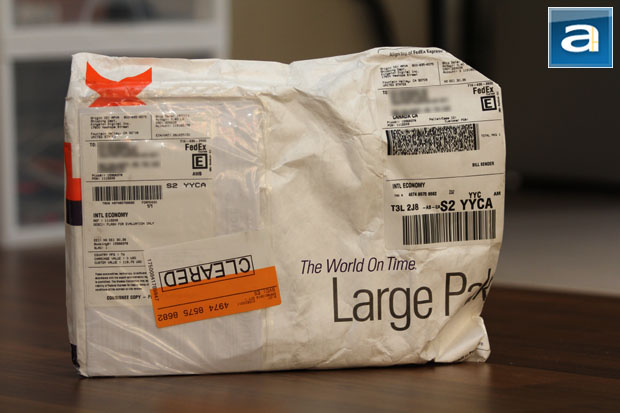 On a nice winter afternoon, right after I have finished my last Electrical Engineering final exam for the semester, the good people at FedEx dropped by and handed us an envelope containing our latest product for review. Arriving in a self-branded package via the company's International Economy service, everything came quickly and in excellent condition; nothing short of what we would expect from the company with the slogan "The World on Time". I took out a knife, made my own opening, and got straight to work.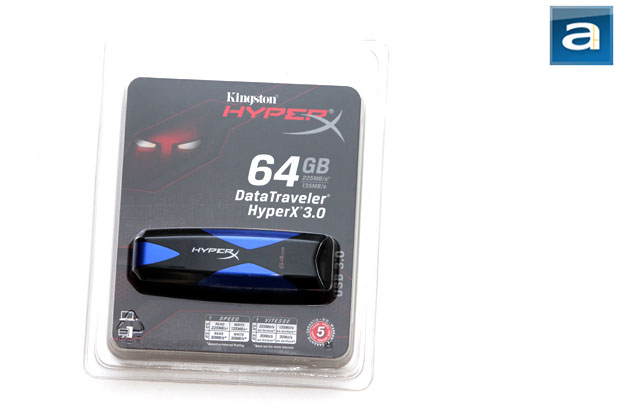 As with the past, Kingston's shipping department ensured everything arrived in excellent condition by putting an extra corrugated cardboard box inside the envelope for protection. Sandwiched between two large pieces of foam is the DataTraveler HyperX 3.0 64GB USB 3.0 flash drive itself. The retail packaging, as shown in our photo above, is not dissimilar in design theme compared to the HyperX 120GB SSD reviewed back in November. Sharp CGI graphics with a dark selection of color is used to appeal to the enthusiast crowd -- wholly consistent of Kingston's HyperX brand market. While I am certainly not a big fan of blister packs, it is hard to argue against the company's choice of packaging, because it is quite fitting. The most interesting part I want to point out is that they have rated the DataTraveler HyperX 3.0 at 225MB/s read and 135MB/s write. In other words, Kingston thinks it is faster than the uber fast Patriot Supersonic Magnum 64GB. Excellent. But before we move on, let's take a look at the specifications of this product, as obtained from the manufacturer's website:
Supports Windows® 7, Vista®, XP & Mac
USB 3.0
8-channel architecture
Available Capacities: 64GB, 128GB, 256GB
Dimensions: 2.952" x 0.916" x 0.626" (74.99mm x 23.29mm x 15.9mm)
---
Page Index
1. Introduction and Specifications
2.
A Closer Look, Test System
3.
Benchmark: AIDA64 Disk Benchmark
4.
Benchmark: ATTO Disk Benchmark
5.
Benchmark: Crystal Disk Mark 3.0
6.
Benchmark: HD Tach 3.0.1.0
7.
Benchmark: HD Tune Pro 4.60
8.
Conclusion