By: Jonathan Kwan
November 25, 2011
"If you can't beat them, join them." Some call that team stacking, others call it cowardly, but let me ask you a question: When has being the last one standing ever brought anyone victory? Indeed, in the business world, we just call this -- for a lack of better terms -- getting with the times. After all, being in business is just about making money, and it is important to make a product that sells well. In the past, Kingston has been stubbornly reluctant to slap on a SandForce controller in their SSDs, and by doing so, their drives never really made a significant impact in the enthusiast market. Well, this is all about to change. With the company's latest Kingston HyperX solid state drive now equipped with the renowned SF-2281 SATA 6Gb/s controller, Intel NAND flash chips, and an extremely sleek exterior design, does it live up to the HyperX brand's long legacy of cutting edge performance? To find out, we took in the moderately priced 120GB version in the upgrade kit form (Which includes an Acronis cloning program and an external USB enclosure for a price premium of $5-10 at press time), and slapped it through our usual battery of benchmarks. Let's waste no time.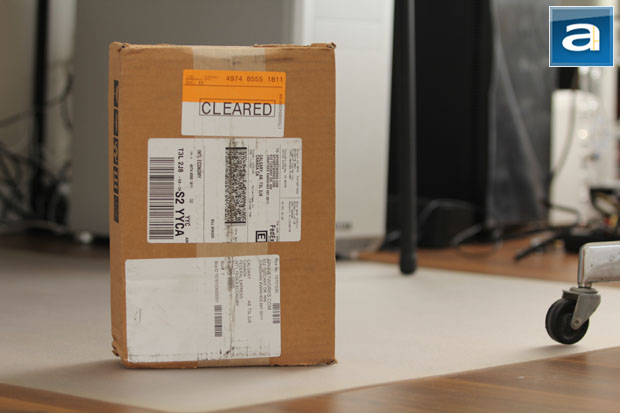 Did trick-or-treating come early? Apparently not, because right at noontime on Halloween, it was the FedEx man that rang the doorbell to deliver the Kingston HyperX 120GB solid state drive for our review today. (And that's not to mention all Electrical/Computer/Software Engineers, such as yours truly, know that Halloween and Christmas really occurs at the same time -- as in, Oct 31 = Dec 25.) Arriving in a nice, compact corrugated cardboard box via FedEx International Economy from California to us here in Calgary, everything came in excellent condition for our review today. I cracked open the package, and got straight to work.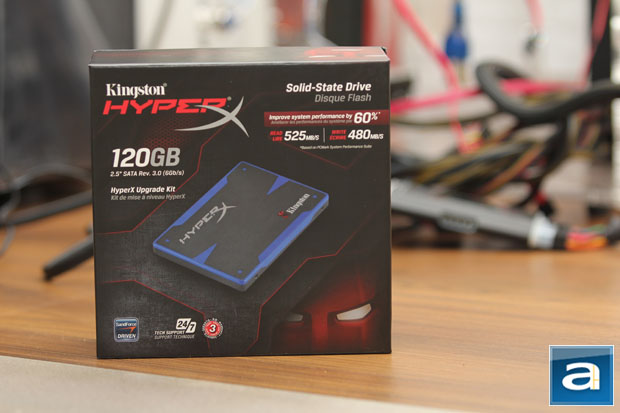 Kingston takes on an unconventional approach when designing the retail packaging for the Kingston HyperX 120GB SSD upgrade kit. We have reviewed many solid state drives in the past, and this is the first time we have seen a telescope box used for this purpose. If you don't know what a telescope box is, I am no box expert either; I just found the matching description on Wikipedia, haha. With that in mind, sharp CGI graphics with a dark color scheme is used to appeal to the enthusiast crowd; consistent of Kingston's HyperX brand market. Placed prominently across the center is an image of the SSD itself at 3/4 view, while "the usual stuff" is found all around it. One thing I would like to point out is the rated read and write speed does not match what is presented on their website. It says 525MB/s read and 480MB/s write on the box, but the website claims 555MB/s read and 510MB/s write. Here are the rest of the specifications for your interest:
Features:
- SandForce controller technology
- High-speed SATA Rev 3.0 (6 Gb/s) transfer speeds
- Performance — incredible speeds for advanced gaming, multitasking, and multimedia computing power
- Reliable — much less likely to fail than a standard hard drive
- Shock-Proof — dropping your notebook no longer means losing your data
- Cool & Quiet — runs silent and with no moving mechanical parts to generate heat
- Innovative — uses NAND Flash memory components
- Supports S.M.A.R.T., TRIM, and Garbage Collection
- Guaranteed — three-year Kingston® warranty, 24/7 tech support
Specifications:
- Form factor — 2.5"
- Controller — 2nd Generation SandForce® Controller SF-2281
- Components — Intel® 25nm Compute-Quality MLC NAND (5k P/E Cycles)
- Interface: — SATA Rev 3.0 (6Gb/s), SATA Rev 2.0 (3Gb/s)
- Capacities2 — 120 GB, 240 GB
- Sequential reads 6Gb/s3 — 555MB/s for all capacities
- Sequential writes 6Gb/s — 510MB/s for all capacities
- Sustained Random 4k Read/Write —
- - 120GB - 20,000/60,000 IOPS
- - 240GB - 40,000/60,000 IOPS
- Max Random 4K R/W4 —
- - 120GB - 95,000/70,000 IOPS
- - 240GB - 95,000/60,000 IOPS
- PCMARK® Vantage HDD Suite Score5 —
- - 120GB - 81,196
- - 240GB - 81,394
- Supports S.M.A.R.T., TRIM, and Garbage Collection
- Warranty/support: — Three-year warranty with free 24/7 support
- Power Consumption —
- - 120GB: 0.455 W (TYP) Idle / 1.6 W (TYP) Read / 2.0 W (TYP) Write
- - 240GB: 0.455 W (TYP) Idle / 1.5 W (TYP) Read / 2.05 W (TYP) Write
- Dimensions — 69.85 x 100 x 9.5mm
- Weight — 94g
- Operating Temperatures — 0°C ~ 70°C
- Storage Temperatures — -40°C ~ 85°C
- Shock Resistance — 1500G
- Vibration Operating — 2.17G
- Vibration Non-Operating — 20G
- MTBF — 1,000,000 Hrs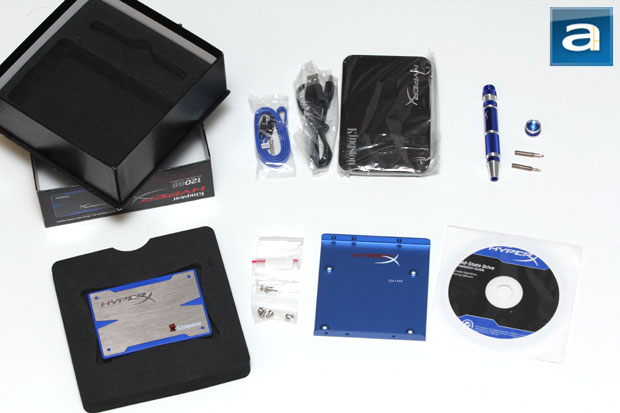 The packaging inside is just as impressive as the packaging outside. I think Kingston really took the time to get the details right for their flagship product, because it really shows through, and it leaves a very positive impression. Right from the start, we are presented with the Kingston HyperX 120GB solid state drive in the middle of a black foam tray. The black foam tray has a cutout in the middle that resembles the 'X' in the HyperX logo. A 2.5" to 3.5" bracket is slotted on the other side to clip in two bags of screws for installation. On the bottom tray, we are presented with the rest of the bundle exclusive to the upgrade kit. This includes a 2.5" drive enclosure, USB cable, SATA cable, and a Philips head screwdriver with multiple sized tips. For that extra $5-10 you are paying, I think you are getting a good deal here.
---
Page Index
1. Introduction and Specifications
2.
A Closer Look, Installation, Test System
3.
Benchmark: AIDA64 Disk Benchmark
4.
Benchmark: ATTO Disk Benchmark
5.
Benchmark: Crystal Disk Mark 3.0
6.
Benchmark: HD Tach 3.0.1.0
7.
Benchmark: HD Tune Pro 4.60
8.
Benchmark: PassMark PerformanceTest 7.0
9.
Benchmark: PCMark Vantage
10.
Conclusion