By: Jonathan Kwan
September 28, 2012
I've always had a lot of luck with water -- and especially getting hit by it when I am not looking. In the water gun station at our church stampede lunch back in July, I got shot at the back numerous times by the same person. Mind you, the water guns were not meant for shooting people, so that was totally uncalled for. (I ended up getting revenge by requesting the largest water gun they had to get her back, haha.) Just recently, I was invited to help out in the high school fellowship camp as a counselor. On the first night we were there, we were playing Steal the Bacon, except instead of tagging to eliminate the other team, we had water balloons instead. To enhance the intensity of the game, the 'bacon' and the water balloon is hidden underneath different buckets in the middle, and are placed when we were turned around, so no one knows which one is which until the bucket is flipped over. While we were all turned around waiting for the next number to be called, one of the girls from the other team walked up to me and threw a water balloon at my back. Not only that; immediately after the game, she and one her friends thought it was funny to unload the remaining stock on me. (What they were not aware of, however, was that we had a separate collection of water balloons on the side, so I got them back with a little bit of help from Preston.) I have more stories to tell, but that would take all day. My point is, with all my luck with water lately, why not try out a closed loop water cooling system in my computer? Word on the street is the Asetek-built Thermaltake WATER2.0 Pro is actually better than the renowned Noctua NH-D14. Will this cooler be a water balloon hit that the NH-D14 have not called for, and as such, blow it out of the water? Okay, enough puns for the day, let's pour down dig into the details.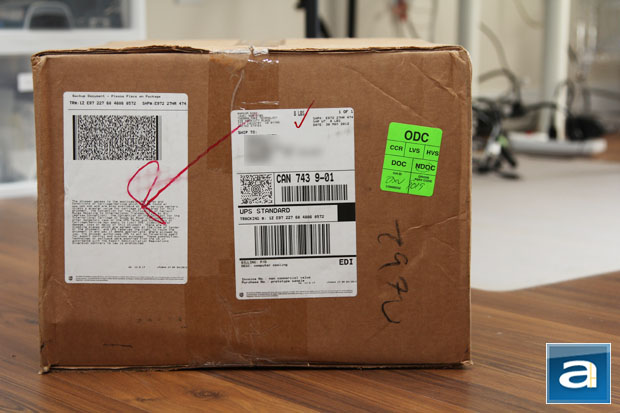 Our review unit of the Thermaltake WATER2.0 Pro came in a brown corrugated cardboard box that is a bit bigger and heavier than the one containing the Theron and Ladon reviewed by my colleague Preston recently. With the scales tipped at eight pounds, one may be reasonably suspicious that its contents are a little more than just this all in one water cooling kit we are covering today -- and you are exactly right. Our WATER2.0 Pro came in with its little brother, the WATER2.0 Performer, in which we will be covering very shortly. As usual, using UPS Standard, the stuff made it across the border in pristine condition for the purposes of evaluation.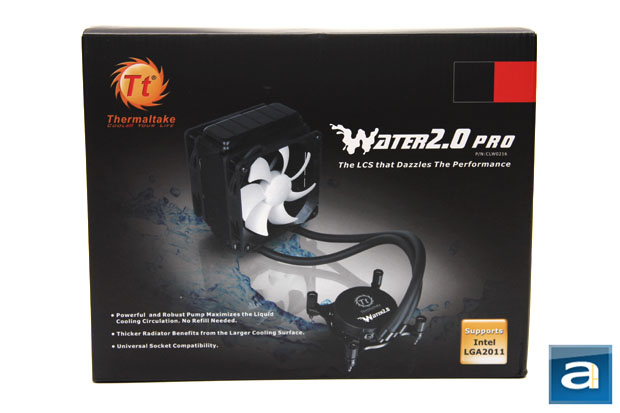 Admittedly, the retail packaging is quite a looker. Although there is not always a fine line between 'clean' or just a sore lack of information, I think Thermaltake has done an excellent job at striking a good balance between the two. Carrying forward the black background seen in so many of Thermaltake's latest products, the company's logo and WATER2.0 Pro branding can be clearly seen in prominent locations of the box. The 'water' theme is accentuated by none other than some water at the back -- cool. With a photo of the water cooling system placed front and center in the foreground, you are not going to mistake it for anything else; further doubt is completely extinguished by the trio of bullet points at the bottom highlighting its features. Miscellaneous information and specifications can be found on other sides of the box as well, but since I am not about to take a photo of all that, I grabbed the same set of data off Thermaltake's website for your convenience:
Water Block
Material: Copper
Pump
Motor speed: 2800±150 RPM
Rated Voltage: 12V
Rated Current: 220mA
Fan
Dimension: 120 x 120 x 25mm
Speed: 1200~2000RPM
Noise Level: 27.36dBA(Max)
Rated Voltage: 12V
Rated Current: 0.5A
Max. Air Flow: 81.32CFM
Connector: 4 Pin
Radiator
Dimension: 149.9 x119.9 x 48.8mm
Material: Aluminum
Cooling Surface Area: 3730 cm2
Tube
Length: 326mm
Material: Rubber
Weight: 1,060g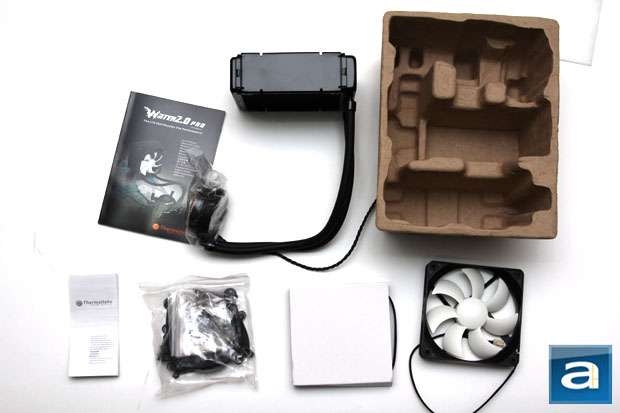 Upon opening the retail box, I am quite pleased to see Thermaltake has resorted to an environmentally friendly approach in their choice of packaging material. Admittedly, I am no environmentalist; I just have a strong dislike for Styrofoam and excess waste, haha. Everything is organized in very neatly on the paper tray. Out of the box, you will receive the Thermaltake WATER2.0 Pro all in one cooler itself (The pump, hoses, and radiator is already pre-assembled), two 120mm PWM fans, mounting accessories, and the usual documentations. The mounting accessories are neatly organized into separate bags, but they are not labeled for the user to easily differentiate between items for Intel and AMD sockets. Labeling them would be very beneficial for first time users in my opinion, but this is not a huge deal.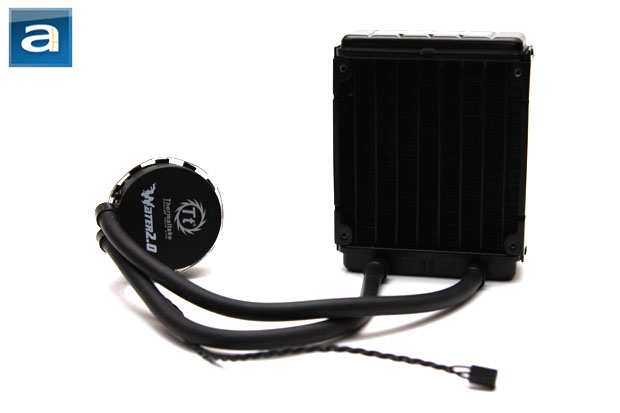 The Thermaltake WATER2.0 Pro does not look anything special, and this is exactly why I like it. I think a lot of so-called 'enthusiast' products end up looking plain juvenile in the name of gaming, and honestly, a lot of enthusiasts are much more mature than the designers think. In my personal opinion, the clean black-with-white-highlights design utilized on the Thermaltake WATER2.0 Pro is subtle yet elegant in its own way, and will go well in any windowed chassis. At first touch, everything from the liquid tubing to the fins on the radiator gives the user a strong sense of a quality build; this Asetek OEM kit is very refined upon closer inspection. The CPU block is marked with Thermaltake's branding and model name, as shown in our photo above. Two included fans with a black frame and white impeller complements the radiator very nicely, designed to be mounted in a push/pull configuration.
The Thermaltake WATER2.0 Pro incorporates a dense array of aluminum fins on the radiator for a total surface area of 0.373 square meters according to Thermaltake. The dimensions of the radiator is a 149.9 x 119.9 x 48.8mm, which is quite compact. If you want something with a lower profile, do take a look at the Thermaltake WATER2.0 Performer reviewed by my colleague Preston. Although the surface area of the Pro is relatively small in comparison to the giganormous Noctua NH-D14 or even the Thermaltake Frio OCK heatsink, the nature of the design is different, so it will be interesting to see how this works out. The fin edges are not completely flat either, and looks pretty well optimized for good aerodynamics. It is designed for mounting two fans for a push-pull configuration, and it is fully symmetrical.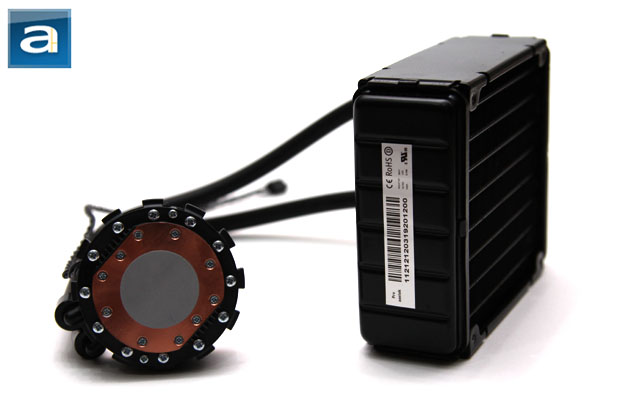 Two 326mm long rubber tubes in a permanently sealed closed loop configuration that leads heat away from the water block to the radiator. These tubes should be more than long enough for virtually all case configurations; the black tubes are quite flexible and easy to work with, too. Since the Thermaltake WATER2.0 Pro is completely sealed, no maintenance is required down the road, as coolant evaporation is negligible. The water block features a relatively flat contact base, and should exert reasonably good contact with your processor, although I think the finish can be a little smoother for better performance. Thermal paste is pre-applied for you already, as shown in our photo above.
Rated at 220mA at 12V (This means 2.64W), the pump is designed to spin at 2800rpm with power supplied from your motherboard's 3-pin header. Copper is a good choice as the material for the contact base, as good heat transfer capabilities is extremely crucial. Copper has a thermal conductivity of 401 W/mK, and since we don't need to worry too much about weight here due to limited size of the pump, it is definitely the right material choice in my opinion. Meanwhile, the radiator is made out of aluminum. Aluminum has a thermal conductivity of 237 W/mK, which is not as optimal for heat transfer, as it retains more thermal energy. It is much lighter, however; for applications such as a radiator, I would hate to imagine how heavy it would be if it was made out of pure copper. The only thing I would like to see is a nickel plated contact base on the pump. Nickel and nickel-base alloys generally have desirable properties that can withstand corrosive environments and high temperatures, which are especially beneficial for a heat dissipation device.
All in all, I found the Thermaltake WATER2.0 Pro's build quality to be excellent. In fact, it is even better than having a system soldered together. The entire heatsink is created from a single block of material using a special manufacturing process called Skived Fin technology. The lack of soldered joints will increase thermal conductivity performance along with significantly reduced performance degradation over time. The whole system combined is pegged at 1060g, which is actually lighter than some large after heatsinks that go directly over your processor.
-----------------------------------------
Installation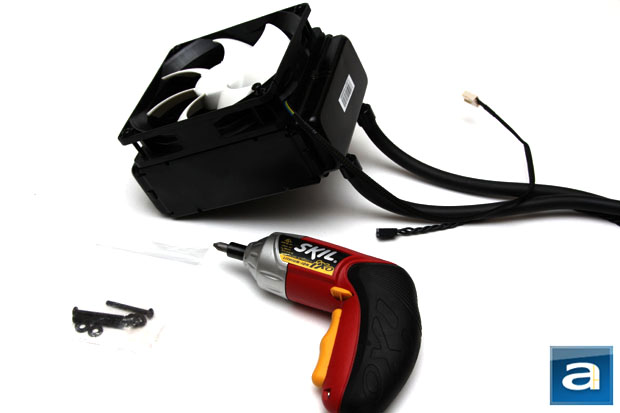 Installation is pretty straightforward if you know what you are doing, otherwise, it can be pretty confusing initially. When I first got opened up my Thermaltake WATER2.0 Pro, my colleague Preston and I took over an hour to figure out which installation accessory did what. After flipping through the included manual and finally got through the with the details, subsequent installation attempts took no longer than fifteen minutes. If the Intel and AMD installation accessories were appropriately labeled and separated into different bags, I think the time taken to complete this process could have been easily reduced by fifty percent.
To begin, I will start off with the radiator, even though it is probably wise to attach the water block to your CPU first. In some applications, your radiator may extend over your water block, making the reverse of this process impossible in practice anyway. However, it is a good idea to attach the intake fan before you do anything. Our photo above shows the fan installed the wrong way, but it is a pretty good photo I am not willing to delete, haha. After you have completed this step, it is now time to move on to the water block.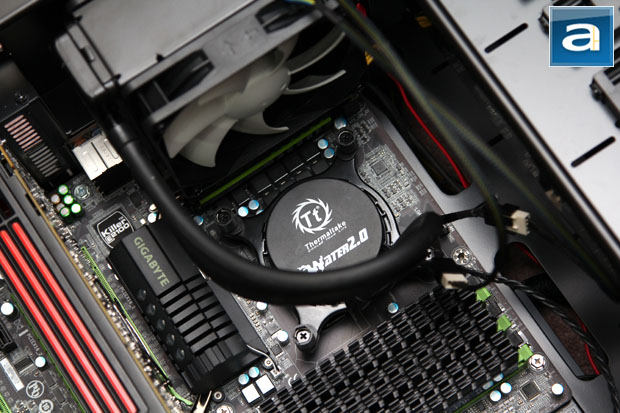 I will demonstrate installation only on the Intel platform, as frankly, I haven't owned anything from AMD for years. The first step is to take the plastic Intel backplate, and insert the metal grommet into the right hole for your socket. Next, attach the top and bottom plastic components onto the socket ring. There are two ways to insert the plastic components. In order to determine whether you are doing this correctly or not, the compatible socket designator can be seen on the outside edge -- clever. Finally, clip the retention ring onto the pump, and engage the socket ring prepared earlier. Once they are secured together, use the thumbscrews to tighten the water block to the backplate. Here is a word of advice: Whatever you do, do not over tighten these screws. The plastic backplate can withstand very little torque, if at all; and is extremely poor for holding the metal grommets in place. After one or two installations, it will no longer be able to prevent the metal grommets from spinning as you try to turn the thumbscrews. This is an extremely poor design in my personal opinion, and probably the lone major fault with the Thermaltake WATER2.0 series.
To install the radiator, find a location on your chassis you wish to install it to. It must be a 120mm fan exhaust opening, otherwise it won't work. Using the included long screws, it will have to go through the rear fan onto the radiator screw holes. We attached the radiator to the top of our test system, as shown in our photo above. Yes, the orientation is correct, because the SilverStone Raven RV03 has a rotated motherboard. It is designed to go into your chassis' rear opening as well, which is the normal configuration.
-----------------------------------------
The Tests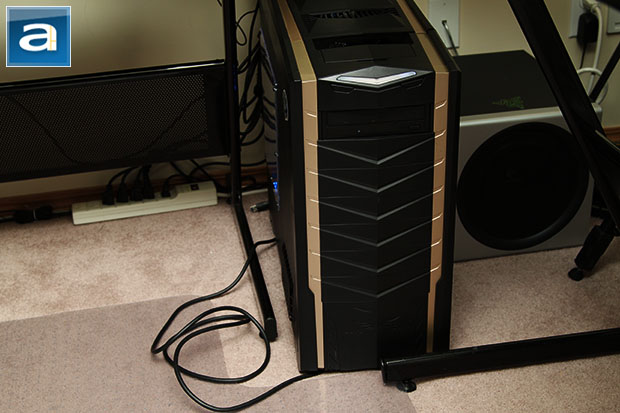 Our test configuration is as follows:
CPU: Intel Core i7-930 (Stock settings)
Motherboard: Gigabyte G1.Sniper
RAM: Patriot Extreme Performance Viper II Sector 7 Series PC3-12800 6x2GB
Graphics: HIS Radeon HD 6870 1GB
Chassis: Silverstone Raven RV03
Power: Cooler Master Silent Pro Gold 1000W
Optical Drive: Asus DRW-24B1ST 24x DVD-RW
Hard Drive: OCZ Agility 3 240GB, Seagate Barracuda 7200.11 1TB
Operating System: Microsoft Windows 7 Professional x64 SP1
Compared Hardware:
- Thermaltake WATER2.0 Pro
- Arctic Cooling Freezer 13
- Arctic Cooling Freezer 13 Pro
- Cooler Master TPC 812
- Intel Stock
- Noctua NH-C14
- Noctua NH-L12
- SilenX Effizio EFZ-120HA5
- Thermaltake WATER2.0 Performer
All tests were run in our custom built computer to best reflect real life performance. The computer remained in the same location in the same room throughout all tests. The room temperature in our testing lab is around 21c. Stock thermal paste respective to both coolers were used to rate its performance; all pastes were given a proper amount of time for them to fully settle. The fans on all heatsinks were directly connected to the motherboard's 4-pin connector. Computer was turned on and idling for at least one hour for the idling tests. High CPU load results were obtained using the Prime95 in-place large FFTs test with eight worker threads for a minimum of ten minutes or until the temperature is deemed stable.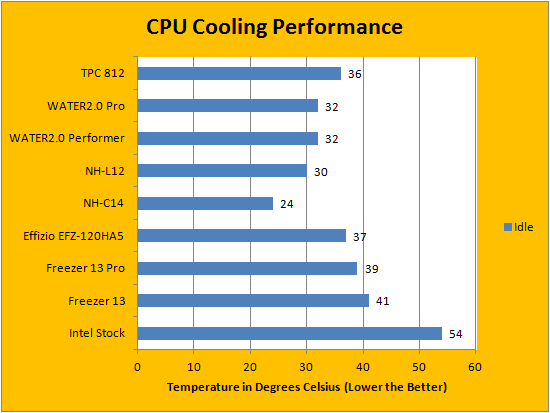 Our temperatures shown above were obtained using data collected by the CPU's integrated digital thermal sensor for maximum accuracy. After idling the computer for an adequate amount of time as aforementioned, we made sure these idle results can actually be obtained after a full load cycle. From our results graph above, the Thermaltake WATER2.0 Pro posted pretty decent results; cooling the CPU to 32 degrees Celsius in this state. Interestingly, its little brother -- the Thermaltake WATER2.0 Performer, which has a considerably smaller radiator -- posted the same figures. Granted, having a processor in idle conditions does not put a lot of stress on the cooler, nor does it exploit the maximum potential of the system. To see where it all matters, we fired up the Core i7 with eight worker threads in Prime95 to see if the coolers live up to its promises. Results are next.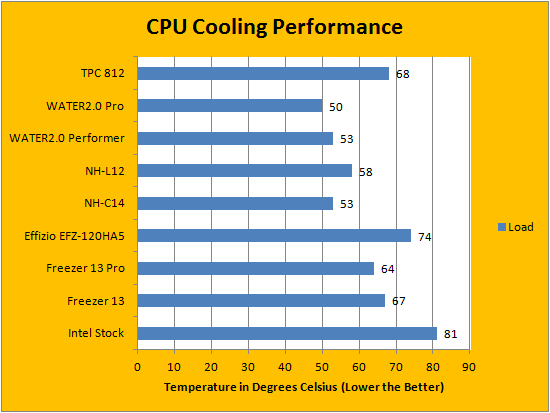 The Thermaltake WATER2.0 Pro's performance really shone through as our Intel processor is put under load. Taking the highest CPU core reading in AIDA64 Extreme Engineer, while the stock cooler is not capable of keeping the Core i7-930 under 80 degrees Celsius, the WATER2.0 Pro kept it at a cool 50 degrees at full throttle. Yes, Hyper Threading is enabled. Considering how quiet the Thermaltake WATER2.0 Pro is under load relative to traditional air coolers, this is definitely a very impressive figure. While this is very subjective, I am quite a picky person on noise, and the loudest component in my entire system is my Western Digital Caviar Blue hard disk. On a scale from 0-10 where 0 is silent and 10 is the loudest, I would rate the Thermaltake WATER2.0 Pro to be at 4.0/10 acoustically with fans running at full speed. However, when your computer is idling or under nominal loads -- where it is probably going to spend most of the doing -- the PWM fans slowed down is almost inaudible. If you are picky enough, you can definitely distinguish the lower frequency hum generated by the pump, but it is no louder than my Western Digital Caviar Blue's motor. In this case, I would rate it at 2.0/10. Overall, in terms of sound emissions, the Thermaltake WATER2.0 Pro should be generally acceptable to most quiet PC enthusiasts. By the way, I have replaced my stock fans with Noctua units, and it is awesome haha.
-----------------------------------------
Have I had a lot of luck with water lately? Why, of course I do -- all thanks to the Thermaltake WATER2.0 Pro. And this time, nothing ended up busting in my face or on my shirt, which is awesome. Combining the performance characteristics of a water cooler and the simple, maintenance free virtues of a traditional air cooler, there is a lot to like about the company's latest foray into the integrated closed loop liquid cooling system market. Or should I say, it blows the competition out of the water, haha. Its relatively low noise operation and proven performance on our charts simply speaks for itself. This is not to mention the WATER2.0's handsome, subtle looks that will blend in to any computer build. I am also a big fan of Asetek's refined build quality as the OEM, which will probably deliver reliable and consistent performance for years to come. The only issue I have with the Thermaltake WATER2.0 Pro is its installation system. Not only is it very confusing to use at first (But you will eventually get used to it), the quality of the plastic backplate is simply unacceptable. The least they could do is use metal reinforcements around the metal grommet sockets. I am quite surprised they did not notice any issues when this product was designed; it does not take a mechanical engineer to realize soft plastic simply cannot handle the torque stress generated when the pump screw is attached. Other than that, once you have it installed, the Thermaltake WATER2.0 Pro is, without doubt, a brilliant choice for high performance, maintenance-free CPU cooling.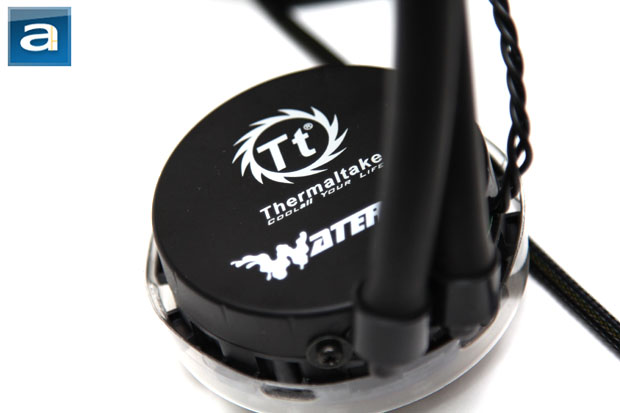 Thermaltake provided this product to APH Networks for the purpose of evaluation.
APH Review Focus Summary:
8/10 means Definitely a very good product with drawbacks that aren't likely going to matter to the end user.
7/10 means Great product with many advantages and certain insignificant drawbacks; but should be considered before purchasing.
-- Final APH Numeric Rating is 7.2/10
Please note that the APH Numeric Rating system is based off our proprietary guidelines in the Review Focus, and should not be compared to other sites.
The Thermaltake WATER2.0 Pro is a high performance, maintenance free closed-loop liquid cooling system.
Do you have any comments or questions about the Thermaltake WATER2.0 Pro? Drop by our Forums. Registration is free, and it only takes a minute!