By: Preston Yuen
April 13, 2012
"It's like the stock market," explains one of my friends. "Sometimes it's up, and sometimes it's down. Sometimes, it even goes into a recession." In life, there are always certain features of various types of goods and products that stand out as what one considers good or bad. But before we decide or even get into our review today, let's take a quick example to put things into perspective. One time, I walked into a conversation between two friends, in which they were talking about durians. To one of them, from his cultural background, durians are one of the tastiest fruits on the face of this earth. No matter what horrible things other people say about the durian, it is still the best. My other friend, however, detests durians with his life. Now, imagine a hedgehog -- you know, that cute animal with spikes on its back? For whatever reason, I've always associated objects looking like other objects, and the image of a hedgehog looking like a durian somehow pops into my mind. As some may see it, hedgehogs are one of the cutest animals around. Its face and how it puffs its spikes into a ball just makes it adorable. On the flip side, others are disgusted by its spikes, because it pokes whatever that comes near it. Whether you like the hedgehog for its looks or the durian for its tastes is really up to you, but the fact is that both of these objects are pointy and are good at being what they are. When I was asked to do another review on a heatsink -- specifically speaking, the SilenX Effizio EFZ-120HA5 -- many thoughts ran through my head. At first glance, its appearance looks quite decent, but getting down to its cooling ability while living up to its 'SilenX' name is another story. Is it good at being what it is? Read on to find out!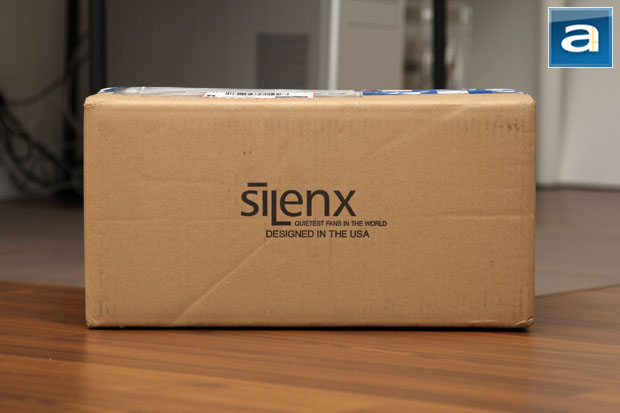 The SilenX Effizio EFZ-120HA5 arrived here at our Calgary, Alberta office a couple of months ago from California via USPS with a Canada Post transfer along the way. It came with another heatsink and some case fans reviewed by my colleague Devin a short while back. Suffering almost no damage to the packaging box at all, you would almost assume it never even traveled in the first place. Without wasting too much of your precious reading time, we got right down to opening the box, and pulling our product out for our review today.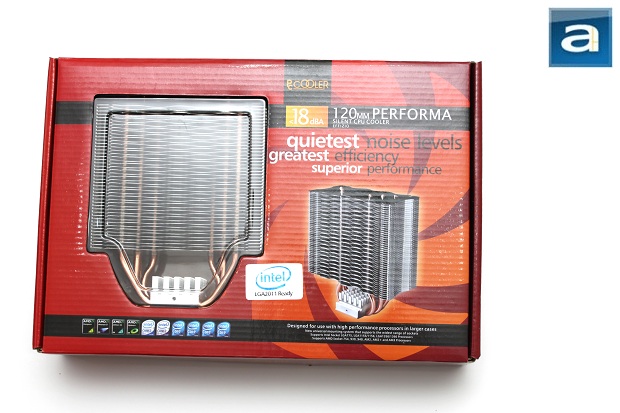 The packaging for the SilenX Effizio EFZ-12HA5 was rather quite simple, and it keeps a consistent color scheme throughout its packaging for SilenX's product line, as seen in the packaging for the EFX-12-15 fans. Its background consists mainly of different shades of red and orange, with an image of the cooler printed on the right, while the actual cooler itself is seen through the clear plastic cover on the left. Many of its features are printed boldly around the box to emphasize what it is capable of. However, I would like to point out that it states it is capable of supporting Intel Core i9 processors. Although no such type of processor exists, I would imagine that it would be epic to have such a processor, haha. Without further adieu, let's take a look at the specifications of this cooler, as obtained from the manufacturer's website:
Specifications
- SKU: EFZ-120HA5
- Rated DBA: 8-24
- Dimensions: 125x85x153mm
- Materials: copper heatpipes, anodized aluminum fins
- Weight: 648g
- RPM: 1600
- CFM: 32-86
- Operating Voltage: 5-12v
- Current Draw: 0.16A
- Power Consumption: 1.92w
- Bearings: 3rd generation fluid dynamic bearings
- Intel CPU Compatibility: LGA775, LGA1155/1156, LGA1366, LGA2011
- AMD CPU Compatibility: socket 754, 939, 940, AM2, AM2+, AM3, FM1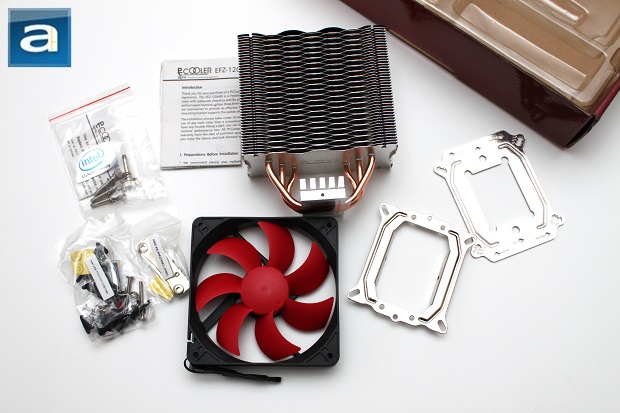 Opening the box via the flap at the bottom gives you access to your cooler and all necessary accessories of course. You will receive the EFZ-120HA5 cooler itself, a 120mm fan, support brackets and mounts for Intel and AMD processors, and the universal plates that mount the cooler onto your motherboard. As well, a miniature instruction sheet is also provided for your convenience if you get lost along the way.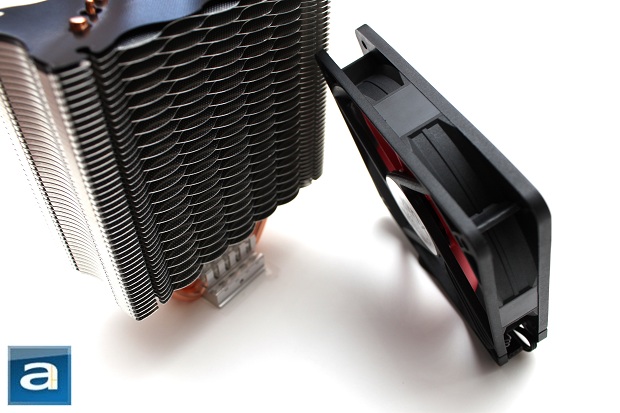 From the looks of it, the SilenX Effizio EFZ-120HA5 is basically asymmetrical, but don't get confused as to which way to install it. Like most coolers on the market these days, the 120mm fan that comes with the Effizio EFZ-120HA5 pushes air through the cooler, so if you need a reference point, well, this should be pretty obvious which way your cooler should face. As you can see from before, the fan itself isn't initially mounted on your heatsink, so you will have to manually attach the provided rubber mounts on the fan, then slide the other end of the mounts onto the grooves in the fins. I'm glad SilenX provided these rubber mounts, as these act as additional vibration dampeners for the fan. However, the fan itself can only be connected to the motherboard with a 3-pin connector, and so it will only spin at a constant 1600 RPM if your motherboard doesn't know how to control the CPU fan speed (That's not likely though). As far as each of the 45 fins are concerned, the edges are cut in a wavy pattern and are fitted onto the heatsink where the so called "peaks" of the waves alternate. On top of its wavy features, you will notice that there are very tiny holes in each of the fins. Having both these features helps dissipate heat better while decreasing air turbulence by improved aerodynamics.
As well, it is fitted with approximately 0.675 square meters of surface area, according to my rough calculations based on the given dimensions. For your reference, the Effizio EFZ-120HA5 measures to 125mm in length, 60mm in width (Without the fan), and 153mm in height. Most modern chassis should be able to support its size, but if you are considering sticking a heatsink into a smaller case, you may be better off finding a new heatsink entirely. Its total weight comes down to a mere 305g, which is very light compared to many of the heatsinks that I've seen on the market.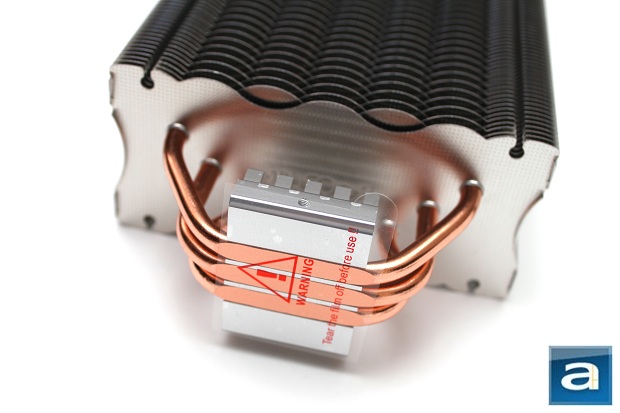 Taking a look at the underside of the heatsink, we can see that the heatpipes run across the base. The U-shaped copper heatpipes is flattened out at the base, as seen in the photo above, which makes direct contact with the CPU. In theory, there should be better heat transfer and dissipation compared to having heat transferred through a separate base, as the thermal conductivity of copper is 401 W/mK opposed to aluminum's 237 W/mK. Also, one thing to note here is that the fins are pressed onto the heatpipes rather than being permanently welded. This results high in initial performance, but as time progresses, your Effizio EFZ-120HA5 will inevitably degrade in performance to a certain extent due to the heat induced expansion and contraption cycles.
-----------------------------------------
Installation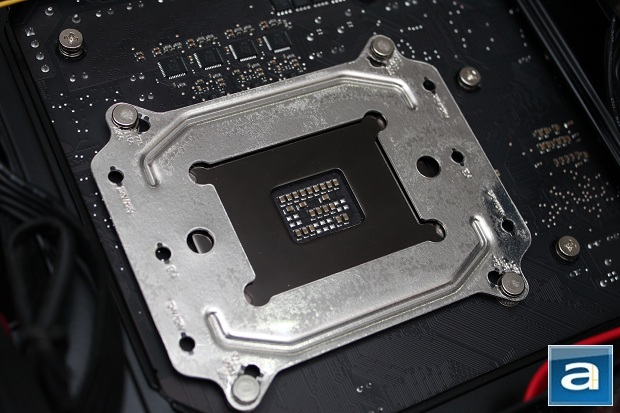 The installation process of the Effizio EFZ-120HA5 is rather quite simple. The plates are universal for both Intel and AMD boards, so there shouldn't be any confusion. The backplate features appropriate holes in which four screws go through, and is held in place by their respective nuts after they are in place. This should fit onto the back of your motherboard snugly. Just be sure you have the screws in the appropriate holes, and that the more shiny side is facing the motherboard.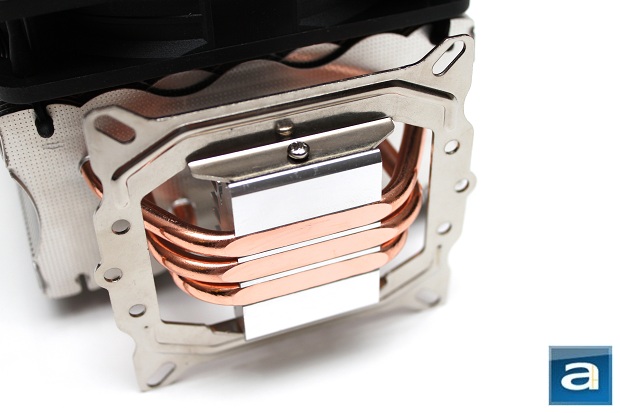 The second plate fits right onto the base of the heatsink, and is held in by two Philips head screws, so be sure to have a screwdriver handy. Once in place, all you need to do now is to align the screws with the holes on the heatsink plate. Your heatsink will then be held in place via the screw caps with the springs fastened onto the screws themselves. I found that the process could be done much quicker before the fan is installed already. The process of tightening the screw caps could hastened by using an electric screwdriver with a flat head bit, but unless you are very experienced, lay off the power tools if you want to play it safe.
-----------------------------------------
The Tests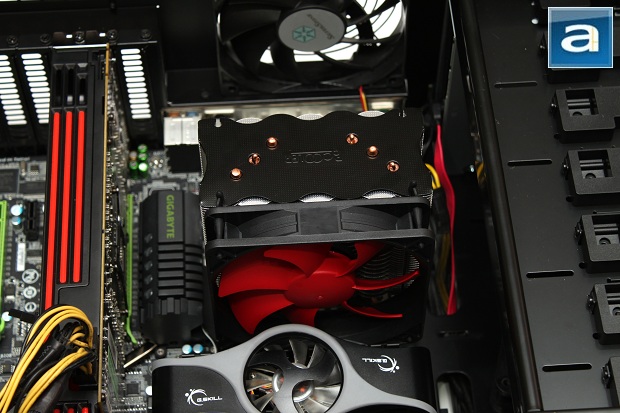 Like what I have said before, at first glance, it may be somewhat confusing as to which way the Effizio EFZ-120HA5 should be facing when installed, and I myself have made that mistake when taking this photo. I soon realized it after taking this photo, and made a quick fix. Let's just say I got a little bit lazy in retaking this photo, haha. But I can assure you the results were obtained with the heatsink in the correct orientation.
Our test setup are as follows:
CPU: Intel Core i7-930 @ 4.01GHz (Overclocked, hyper-threading disabled)
Motherboard: Gigabyte G1.Sniper
Graphics: HIS Radeon HD 6870 1GB
Memory: Patriot Extreme Performance Viper II Sector 7 PC3-12800 6x2GB
Chassis: SilverStone Raven RV03
Power: Cooler Master Silent Pro Gold 1000W
Sound: Integrated Creative X-Fi
Optical Drive: Asus DRW-24B1ST 24x DVD-RW
Hard Drive: Seagate Barracuda 7200.11 1.5TB
Operating System: Microsoft Windows 7 Professional x64 SP1
Compared Hardware:
- SilenX Effizio EFZ-120HA5 (Approximately $35 at press time)
- Arctic Cooling Freezer 13 Pro (Approximately $40 at press time)
- Arctic Cooling Freezer 13 (Approximately $30 at press time)
- Noctua NH-C14 (Approximately $80 at press time)
- Intel Stock
All tests were run on a custom built test platform. The computer remained in the same location for all of the tests, with a room temperature at approximately 21c. Stock thermal paste respective to the SilenX's Effizio EFZ-120HA5, Noctua's NH-C14, Arctic Cooling's Freezer 13, and Intel's stock cooler were used to rate their individual performances, and were given sufficient time to fully settle. SilenX's thermal compound was applied to the Effizio EFZ-120HA5. The fans on all heatsinks were directly connected to the motherboard's 4-pin connector running at full speed. Our computer was turned on and idling for a minimum of one hour before the idling tests. High CPU load results were obtained using the Prime95 in-place large FFTs test with four worker threads running for a minimum of ten minutes until the temperatures were deemed stable.
We have spent a lot of time, to our fullest ability, to create a very similar environment to ensure accurate temperature measurement when comparing the SilenX Effizio EFZ-120HA5, the Noctua NH-C14, the Arctic Cooling Freezer 13, and Intel's stock cooler.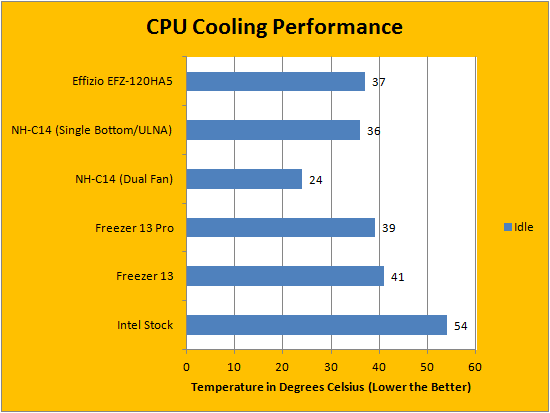 The readings displayed on our graph above were the temperatures readings of the processor taken from Core Temp using data provided by the CPU's Digital Thermal Sensor. The temperature of the highest core was recorded. I have also cross-checked the temperature readings with Real Temp to ensure correct temperature readings throughout. I also made sure that the heatsink itself is heated properly beforehand to verify the idle state after a full load cycle.
Well, it doesn't take much explaining to figure out what's going on in the graphs. As compared to Arctic Cooling's Freezer 13 and Freezer 13 Pro, we can see that the SilenX Effizio EFZ-120HA5 is doing a pretty decent job at staying on par at 37 degrees Celsius during idle conditions. Noctua's NH-C14 in its low profile ULNA does marginally better by a single degree. I would have to say the SilenX has done a good job at keeping things quiet while showing some good competition for its market niche in the idle tests. After all, it is a quiet heatsink.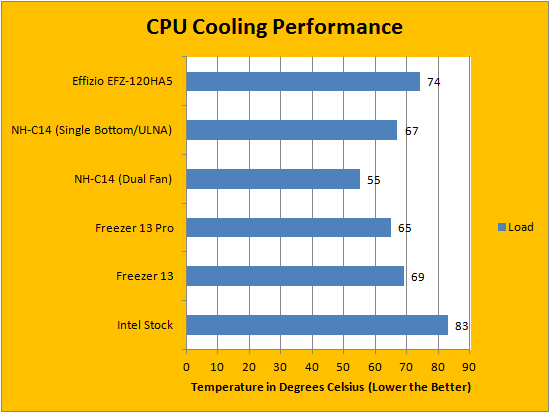 When it comes down to a full load, it seems like the Effizio EFZ-120HA5 has fallen behind a bit. To be honest with you, I was expecting the Effizio EFZ-120HA5 to perform better than the two Arctic Cooling heatsinks due to its sheer size, but it seems like even the Freezer 13 beats it by 5c. This appears to be a rather disappointing result, but think twice: The SilenX heatsink is significantly quieter than the competition, so we can't take off too much here.
The topic of noise is quite interesting in my opinion. I am quite a picky person when it comes to noise emission from my computer, so on a subjective scale from 0-10, where 0 is silent and 10 is the loudest, I would rate the noise level to be approximately 2.0/10 at full speed. I would expect it to be as such, as the rubber vibration dampeners did do that they were intended to do in keeping silent enthusiasts happy while under operation. The fan itself is also very quiet, as my colleague Devin has discussed in his Effizio EFX-12-15 review a few weeks ago with the same noise rating.
-----------------------------------------
Selling on the market for approximately $35 at press time, I find the SilenX Effizio EFZ-120HA5 to be decently priced against its competition in the given market niche for a quiet heatsink. Compared to the Arctic Cooling Freezer 13 and Freezer 13 Pro, its idling results seem to be slightly better, but under load conditions, it missed the mark by 5c, which is quite significant. But whether the slight difference in temperature in conjunction for the small difference in price really worth it is up to you, the SilenX Effizio EFZ-120HA5 is definitely a heatsink optimized for silence -- and you will have to sacrifice some performance for that. Its simple looks certainly quite eye catching, and having a window in your case will definitely make this heatsink look nice. Unfortunately, good looks does not always mean great performance over time. Due to the way this heatsink is constructed, it will lose some performance as time progresses; this occurs when its components loosen up after many heating and cooling cycles. Installing the heatsink onto the mounting plate was quite simple, but keep in mind that this process is only optimal when the fan is removed. Generally speaking, the SilenX Effizio EFZ-120HA5 is quite a decent product for the silent PC market it resides in. In the long run, if SilenX were to brush up on the details -- such as improving overall long term quality, which in turn would lead to better performance -- then we will have an undeniable winner in our hands for people looking for a quiet cooler on a budget.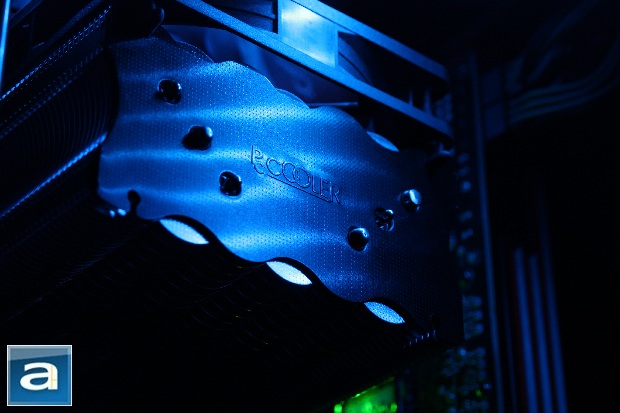 SilenX provided this product to APH Networks for the purpose of evaluation.
APH Review Focus Summary:
7/10 means Great product with many advantages and certain insignificant drawbacks; but should be considered before purchasing.
-- Final APH Numeric Rating is 7.0/10
Please note that the APH Numeric Rating system is based off our proprietary guidelines in the Review Focus, and should not be compared to other sites.
The SilenX Effizio EFZ-120HA5 is a sound optimized cooler that delivers pretty good performance long with decent looks for approximately $35 at press time.
Do you have any comments or questions about the SilenX Effizio EFZ-120HA5? Drop by our Forums. Registration is free, and it only takes a minute!