By: Preston Yuen
July 8, 2011
July 1, 2011: Canada turns 144. July 4, 2011: USA turns 235. But what about me? July 3, 2011: That's one year and month anniversary since I have started here at APH Networks. It is also exactly five years and one month ago on this day, that I was given a special present after fully completing karate. What else is special about this day? Another computer here at APH Networks is successfully benchmarked by yours truly. Today, I have been asked to review a blissfully challenging and intriguing product, and this is no other than Gigabyte's high-end desktop gaming motherboard known as the G1.Sniper. "Sniper? Where!?" Incorporating Intel's X58 chipset designed mainly for the first generation Core i7 line of processors, the G1.Sniper is branded under Gigabyte's G1-Killer series, featuring a dedicated high-end X-Fi audio chip from Creative, heatsinks designed to look like the rails seen on rifles, and many other hardware and aesthetically pleasing features. The one we are reviewing today is the "midrange" unit priced about $430 at press time. Before you get too excited, let me briefly inform you that this is a "one shot, one kill" deal. You snooze, you lose; you skip benchmarking results, you miss out on seeing how well this motherboard performs. Or should I really be asking: Are the G1.Sniper's features really worth its $430 price tag? You will have to stay alert to find out!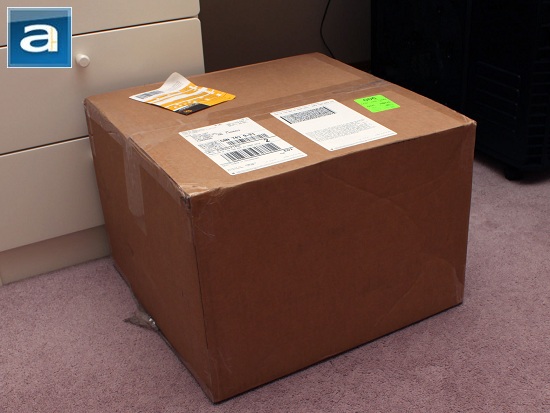 Our review unit of the Gigabyte G1.Sniper motherboard for LGA 1366 processors came in a large, brown corrugated cardboard box from our good ol' neighbors down south in California, USA. Traveling 2000km across the border, it came all the way to our APH Networks offices here in Calgary, Alberta, Canada via UPS Saver. This large package is accompanied by another smaller packaging that came later in the day, which is also from Gigabyte and shipped via UPS Saver. When I got home, the only question I have for Gigabyte was, "Why in the world would you ship two packages and have it arrive at the same destination on the same day?" I don't have the answer for you to that question, but if you ask Gigabyte, I'm sure they will gladly answer that question for you, haha. (I can answer that. The packages are from different departments within the company. -- Jonathan Kwan, Editor-in-Chief) I was quite surprised as to why the motherboard box was so huge, because I am used to seeing motherboard boxes that are half the size. But you will see soon enough why that is.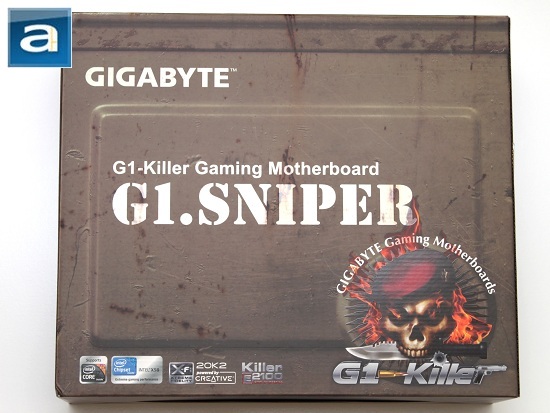 Here is a box that I thought was quite unique and different from most motherboard packaging I have seen so far. Of course, consistent with its name, Gigabyte incorporated a military grade enclosure in the background as part of the design, with some battlefield scars and other graphics around the box. Emphasizing on this military theme, our motherboard's name is printed boldly in an army font across the center. It is then placed under Gigabyte's G1-Killer Gaming Motherboard series branding, and stamped with a very distinct skull logo at the bottom right corner. I am sure Gigabyte has a very special meaning for this, but I can assure you that just a simple logo can turn up many meanings in the minds of the consumer. Also presented are a few icons along the bottom to highlight the G1.Sniper's Creative X-Fi CA20K2 dedicated sound chip, the Bigfoot Killer E2000 network processing unit, and its Core i7 compatibility with Intel's X58 chipset. Flipping the box over will give you further detail on the features of the Gigabyte G1.Sniper.
As usual, let's take a quick look at the lengthy specifications list, as obtained from the manufacturer's website, before moving on: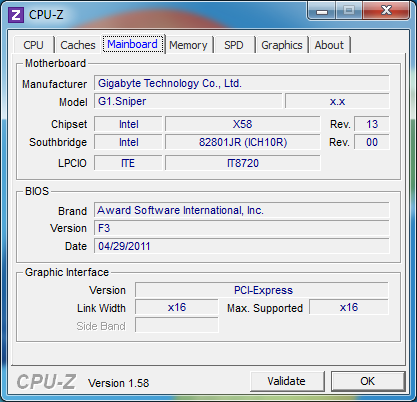 Above is a CPU-Z screenshot of the motherboard tab running Gigabyte's G1.Sniper in Windows 7 Professional x64 SP1. At press time, we were using Gigabyte's F3 BIOS revision. This is the latest BIOS revision at the time of writing this review.
---
Page Index
1. Introduction, Features, and Specifications
2.
Bundle, Chipset, BIOS
3.
A Closer Look, Board Layout, Test System
4.
Benchmark: AIDA64 CPU
5.
Benchmark: AIDA64 FPU
6.
Benchmark: AIDA64 Memory
7.
Benchmark: PCMark 7
8.
Benchmark: 3DMark 11
9.
Benchmark: PassMark PerformanceTest 7.0
10.
Benchmark: SuperPI 1M, Cinebench R11.5
11.
Onboard Sound (RMAA 6.2.3) Analyzation
12.
Overclocking and Conclusion