By: Jonathan Kwan
November 16, 2012
Many people think I am the kind of guy who drives too fast. Their argument is I get to places quicker than most people, therefore I must be constantly moving at extra-legal speeds. This simple logic sounds workable, but the fact is, it is fundamentally flawed. Actually, I stay well within the speed limit 95% of the time. The reason why I get to places in a reduced amount of time is not because of my right foot, but because of my left brain. With a little bit of planning ahead, such as choosing a route that balances speed limit, number of lights, amount of traffic, and distance already accounts for a good chunk of time. While on the road, it is important that I strategically choose the best flowing lane, with timed traffic lights to reduce significant acceleration and deceleration counts. What this means is I not only get to places quicker, but I also save fuel along the way. This can be proven by my real world fuel economy figures; my government driving record will tell the rest of the story. This, my friend, is compromise-free efficient driving. In the same way, some people thinks if you want good cooling, you must have the biggest heatsink, since it has the largest surface area. This is just simple physics, right? Once again, not necessarily. The Cooler Master TPC 812 heatsink approaches CPU cooling with new innovation rather than the going by the classic "bigger is better" principle. Featuring two Vertical Vapor Chambers in conjunction with six heatpipes, do we finally have replacement for displacement? Read on to find out!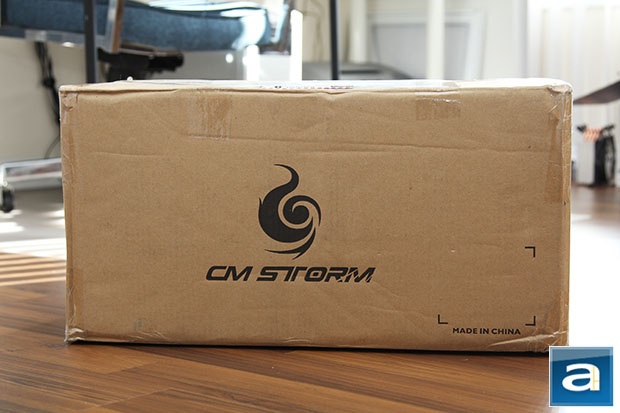 Our review unit of the Cooler Master TPC 812 came in a large, brown corrugated cardboard box; tagging along with several other products for evaluation, such as the Cooler Master Storm QuickFire Pro covered by guest writer Aaron Lai a few weeks ago. In between a plethora of packing material is a Cooler Master Silent Pro M2 1500W power supply and a Ceres 400 gaming headset. We will cover those products over the course of the next few weeks. Shipped via USPS with a transfer to Canada Post over the border, the transit time is definitely not as quick as FedEx or UPS, but we were glad to see everything arriving in perfect condition when I picked it up from the local postal office.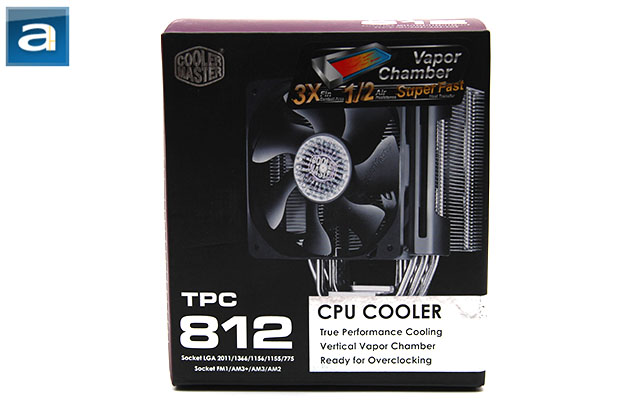 The TPC 812's retail packaging is classic Cooler Master in a rather unsurprising way. The family resemblance is accentuated by the company's signature purple shade at the top of the box; complemented by a rather standard layout with a black background across the front. As you can see in our photo above, the majority of the box is covered by an image of the Cooler Master TPC 812 heatsink/fan. The company's logo can be found in the top left corner, while its model name resides at the bottom left corner. Moving to the right, a banner highlights its vapor chamber technology and anticipated performance benefits. The silver strip in the last corner contains a list of benefits in terms normal people can understand. Turning the box around, more detailed and technical information can be seen. So before we move on, let's take a look at the features and specifications of this product, as obtained from the manufacturer's website:
CPU Socket: Intel Socket - LGA 2011 / 1366 / 1156 / 1155 / 775; AMD Socket - FM1 / AM3+ / AM3 / AM2+ / AM2
CPU Support: Intel - Core™ i7 Extreme / Core™ i7 / Core™ i5 / Core™ i3 / Core™2 Extreme / Core™2 Quad / Core™2 Duo / Pentium / Celeron; AMD - FX-Series / A-Series / Phenom™ II X4 / Phenom™ II X3 / Phenom™ II X2 / Phenom™ X4 / Phenom™ X3 / Athlon™ II X4 / Athlon™ II X3 / Athlon™ II X2 / Athlon™ X2 / Athlon™ / Sempron™
Dimension: 138 x 103 x 163mm (5.4 x 4.1 x 6.4 in)
Heat Sink Dimensions: 134 x 74 x 158 mm (5.3 x 2.9 x 6.2 in)
Heat Sink Material: Copper Base / 2 Vapor Chambers; 6 Heatpipes / Aluminum Fins
Heat Sink Weight: 826g (1.83 lb)
Heat Pipes Dimensions: ø6mm
Fan Dimension: 120 x 120 x 25mm (4.7 x 4.7 x 1 in)
Fan Speed: 600 – 2,400 RPM (PWM) ± 10% (1,600 RPM with Silent Mode Adapter)
Fan Airflow: 19.17 - 86.15 CFM ± 10% (59.54 CFM @ 1600RPM)
Fan Air Pressure: 0.31 – 4.16 mm H2O ± 10% (1.99mm H2O @ 1600RPM)
Fan Life Expectancy: 40,000 hrs
Fan Noise Level (dB-A): 19 - 40 dBA
Bearing Type: Long Life Sleeve Bearing
Connector: 4-Pin
Fan Rated Voltage: 12 VDC
Fan Rated Current: 0.2A
Power Consumption: 2.4W
Fan Weight: 152g (0.34 lb)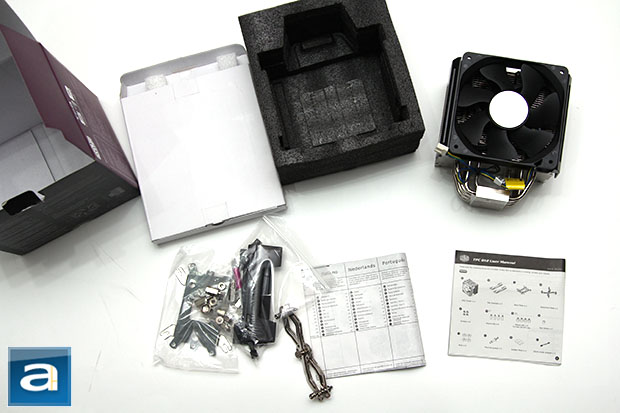 Everything is packaged neatly inside the Cooler Master TPC 812's retail box. A foam bracket holds the heatsink itself in place, so it won't slide around during transport. The included cooling fan is already pre-installed for you out of the box, but you will need to detach it during installation. Thankfully, it is a very simple procedure; we will go over the details in just a moment. Two installation manuals -- one in English and one in multi-language -- is provided for people living in different countries. Inside two resealable plastic bags are the installation accessories. At first, I was going to trash Cooler Master for not separating the Intel and AMD bits, but a quick glance at the user manual makes it quite clear to us that the accessories are designed for universal fit. The company also includes a tube of thermal paste and a resistor cable for capping your fan speed.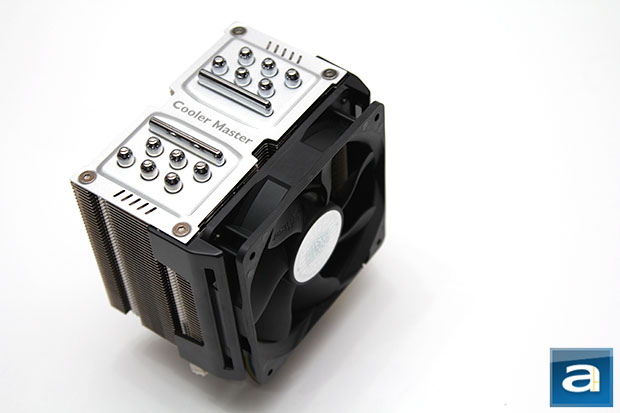 While it would be a bit of a stretch to call the Cooler Master TPC 812 'exciting' in terms of aesthetics, there is evidence that the designers did pay attention to the way the heatsink looks. After all, form follows function, but that does not mean form has no value. By retaining a degree of symmetry between the top and the bottom, as well as taking advantage of using shapes to enhance its appearance on the three dimensional plane, Cooler Master's TPC 812 is interesting yet sedate. No fancy colors -- just plain, flat silver. Keeping the traditions of a classic tower heatsink, it is capable of accommodating two 120mm fans for a performance push/pull configuration. Only the front fan is included out of the box, and is already preinstalled for you out of the box.
The Cooler Master TPC 812 incorporates a total of 45 aluminum fins for a total surface area of a bit less than 0.9 square meters according to my measurements and calculations (0.134m * 0.074m * 45 fins * 2 sides/fin). Note that this is just an approximation, because it assumes each fin is a perfect rectangle. Anywho, it should be close enough, and this sounds about right for a heatsink of this size. While the fin density is quite high, Cooler Master made the effort to optimized the fin array in order to improve its aerodynamic characteristics. Reducing air turbulence noise during operation is definitely a priority, but adding to its cooling performance is also important, because you will want cool air to be directed to where you need it.
Cooler Master specifies the TPC 812 at 826g with no fans installed. With the stock fan attached, it will tip the scale at 978g. This is pretty good, considering it is still under a kilogram. A heatsink that is too heavy may stress the motherboard physically. Generally speaking, the material composition of the heatsink is crucial to this property -- we will take a closer look at the construction of the TPC 812 in just a short moment.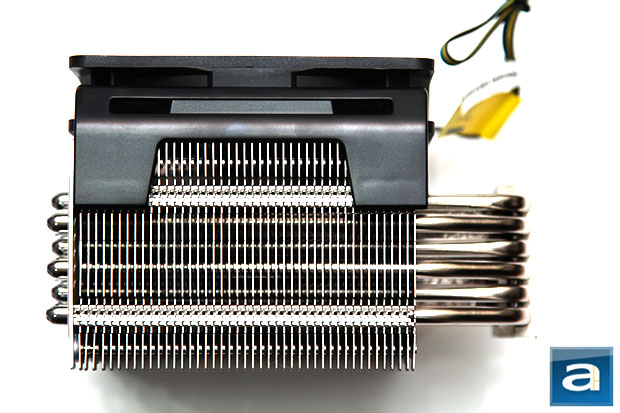 One of the biggest highlights of Cooler Master's TPC 812 processor cooler comes down to its use of what the company calls the Vertical Vapor Chamber Technology. From what I can see, it is basically a heatpipe in a different form; its internal design consisting of a condenser section on the side, and a large evaporator in the middle. Cooler Master claims it exhibits three times the contact area compared to conventional designs. There are two of these Vertical Vapor Chambers leading heat away from the CPU contact base in a L-shaped fashion, and travels through the center of the fin array in two different directions. Featuring six 6mm standard diameter U-shaped heatpipes leading away from the contact base, they too travel in two opposing directions for twelve effective heatpipes. This works with the Vertical Vapor Chambers for two concurrent thermal transfer systems. These heatpipes are also staggered for better heat distribution between the inner and outer parts of the heatsink fins for maximum effectiveness. Heatpipes are very commonly used because they can efficiently lead heat away from its source due to the low heat of vaporization (Phase change energy) of alcohol. In the case of the TPC 812, we have two different heatpipe designs working together, which is pretty cool.
As aforementioned, the Cooler Master TPC 812 is capable of accommodating two 120mm fans for a push/pull configuration; where the front fan pushes air into the heatsink fins, and the rear fan mounted in the same direction pulls air away from the heatsink for faster heat dissipation. The photo above should give a clearer picture of the TPC 812's fully symmetrical design and fan mount implementation. Meanwhile, measuring in at 134mm across and 158mm in height, these dimensions are fairly standard for a 120mm tower style cooler. Its 74mm front-to-back specification is taken with no fans installed, so basically add 29mm to that number each time you add one fan. Generally speaking, the dimensions of the Cooler Master TPC 812 are within average as far as a 120mm tower heatsink is concerned, and should not interfere with nearby components such as memory modules, as long as they are not high profile. There is a bit of clearance room under the cooler for even medium profile RAM heatspreaders.
Cooler Master includes one 120mm fan out of the box, and it is already pre-installed for you already. The fan runs from 600rpm to 2400rpm; a 1600rpm cap will be enforced with the low noise adapter. This sleeve bearing PWM fan is rated at 19 to 40dBA and 19.17 to 86.15 CFM, with a life expectancy of 40,000 hours. My only complaint is Cooler Master does not include any 4-pin Y-split connector out of the box, should you add an optional second fan, to connect both of them to the same motherboard CPU fan header.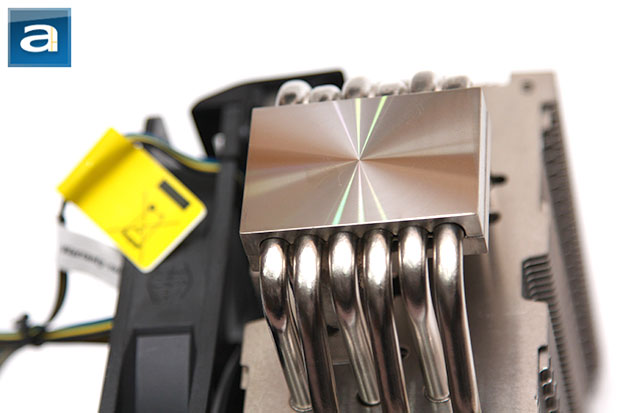 The TPC 812 features a relatively flat base, and should exert reasonably good contact with your processor. As discussed earlier, six 6mm heatpipes lead away from the contact base, along with two L-shaped Vertical Vapor Chambers. Like many modern performance heatsinks, the Cooler Master TPC 812 is a copper/aluminum hybrid heatsink electroplated with nickel. The vital parts such as the base and heatpipes are built using mainly copper for best heat transfer ability with a thermal conductivity of 401 W/mK, and some mix of aluminum to reduce weight. The heatsink fins utilizes only aluminum as its material due to its lightweight properties as juxtaposed to copper -- this is to allow the construction of larger heatsinks without stressing too much on the motherboard due to weight. Aluminum has a thermal conductivity of 237 W/mK which is not as optimal for heat transfer as it retains more thermal energy.
While this is all quite interesting information, visually speaking, the TPC 812 from Cooler Master has none of the copper color with its copper heatpipes and base. I am not sure why Cooler Master claims it has a "100% pure polished copper base", because visual inspection will tell you it is not. From what I can see, the Cooler Master TPC 812 is electroplated with nickel on top of its copper; which has a thermal conductivity of 90.9 W/mK. While nickel has a lower thermal conductivity than copper which may limit heat transfer, the electroplated layer is very thin and should not directly affect performance to a significant degree -- but it is likely related to the corrosion allowance factor. Nickel and nickel-base alloys generally have desirable properties that can withstand corrosive environments and high temperatures -- which are especially beneficial for a heat dissipation device.
The reason why nickel has such a property is because of nickel's ductility and toughness all the way up to the melting point of 1455°c measured at non-standard pressure. Nickel's face-centered cube crystal structure is virtually unaltered all the way up to that temperature. Nickel, like titanium, is highly resistant to corrosion therefore corroded material won't build up on the surface in the long run. It is surely a good sign because the Cooler Master will be less prone to losing its cooling performance over time as juxtaposed to a corroded copper surface.
Additionally, all the joints are cleanly soldered at the base, as well as the fact that the heatpipes are soldered to the fins so that it does not lose contact over time. Lower quality heatsinks offer high initial performance, but degrades over time as contact between metals decreases due to thermal expansion and contraption. Overall, the Cooler Master TPC 812 appears to be built very well.
-----------------------------------------
Installation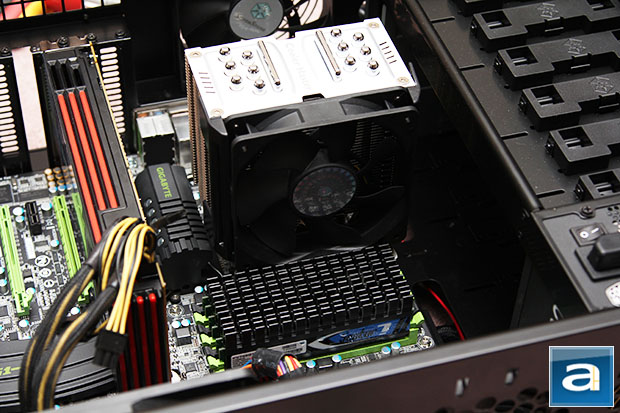 I will demonstrate installation only on the Intel platform, as frankly, I haven't owned anything from AMD for years, haha. Installation could not have been more straightforward, which I will give Cooler Master credit for. First, start off with four standoffs around the CPU socket. Next, attach the backplate, then tighten up all the nuts with the included Philips head screwdriver adapter. While this method is not completely ideal in my personal opinion, it is definitely not worth making a complaint about. Finally, slide the X-shaped retention bracket between the heatpipes, put down four screws, and tightened them in a diagonal pattern. This is it. The TPC 812 is installed.
For the fan, it clips on to the side of your heatsink. If you wish to do a fan swap, or you have a second one to install, the plastic brackets are to be attached by a series of screws. Really, there is not much we can talk about here -- the Cooler Master TPC 812 has one of the simplest installation procedures around that actually works with little hiccups in real life. Best of all, the mounting is quite secure, too. Cool -- so let's move on.
-----------------------------------------
The Tests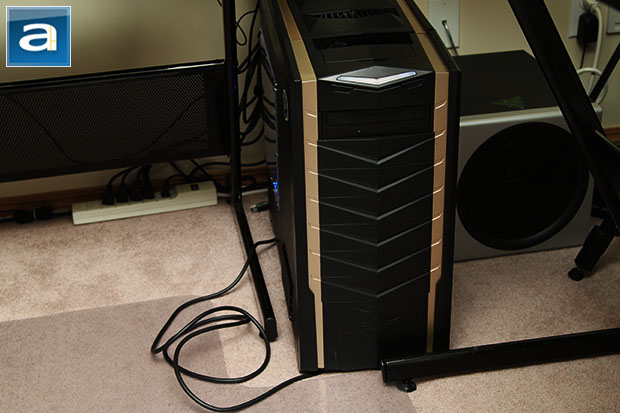 Our test configuration is as follows:
CPU: Intel Core i7-930 (Stock settings)
Motherboard: Gigabyte G1.Sniper
RAM: Patriot Extreme Performance Viper II Sector 7 Series PC3-12800 6x2GB
Graphics: HIS Radeon HD 6870 1GB
Chassis: Silverstone Raven RV03
Power: Cooler Master Silent Pro Gold 1000W
Optical Drive: Asus DRW-24B1ST 24x DVD-RW
Hard Drive: OCZ Agility 3 240GB, Seagate Barracuda 7200.11 1TB
Operating System: Microsoft Windows 7 Professional x64 SP1
Compared Hardware:
- Cooler Master TPC 812
- Arctic Cooling Freezer 13
- Arctic Cooling Freezer 13 Pro
- Intel Stock
- Noctua NH-C14
- Noctua NH-L12
- SilenX Effizio EFZ-120HA5
- Thermaltake WATER2.0 Performer
- Thermaltake WATER2.0 Pro
All tests were run in our custom built computer to best reflect real life performance. The computer remained in the same location in the same room throughout all tests. The room temperature in our testing lab is around 21c. Stock thermal paste respective to both coolers were used to rate its performance; all pastes were given a proper amount of time for them to fully settle. The fans on all heatsinks were directly connected to the motherboard's 4-pin connector. Computer was turned on and idling for at least one hour for the idling tests. High CPU load results were obtained using the Prime95 in-place large FFTs test with eight worker threads for a minimum of ten minutes or until the temperature is deemed stable.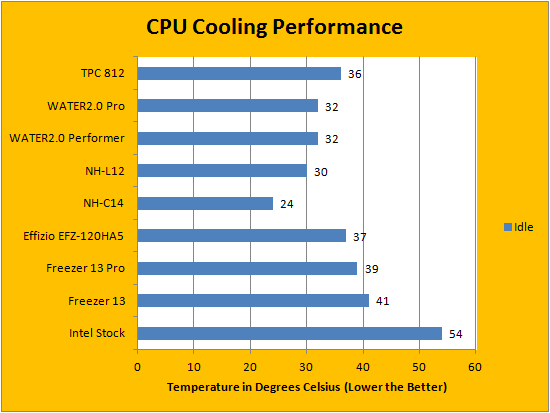 Our temperatures shown above were obtained using data collected by the CPU's integrated digital thermal sensor for maximum accuracy. After idling the computer for an adequate amount of time as aforementioned, we made sure these idle results can actually be obtained after a full load cycle. From our results graph above, the Cooler Master TPC 812 posted generally acceptable results; cooling the CPU to 36 degrees Celsius in this state. This is certainly not the best result we have seen, but it is far from being terrible. Granted, having a processor in idle conditions does not put a lot of stress on the cooler, nor does it exploit the maximum potential of the system. To see where it all matters, we fired up the Core i7 with eight worker threads in Prime95 to see if the coolers live up to its promises. Results are next.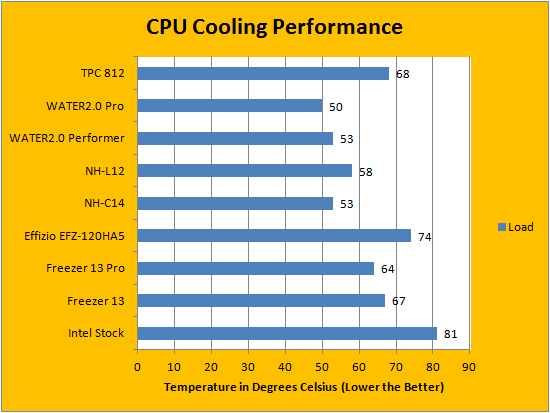 The Cooler Master TPC 812's performance was pretty disappointing when our Intel processor is put under load. Taking the highest CPU core reading in AIDA64 Extreme Engineer, the TPC 812 ended up third from last place -- barely edging out the stock cooler and the silence oriented SilenX Effizio EFZ-120HA5. Yes, Hyper Threading is enabled. How can something with so many heatpipes -- along with the heavily advertised Vertical Vapor Chamber -- perform so poorly in real life? To investigate this problem, I swapped out the intake fan with a Noctua NF-F12 PWM, and added a NF-P12 PWM at the back. From here, the performance is significantly improved. While the Cooler Master TPC 812 is very capable of transferring heat from the CPU to the fins, the single fan configuration is not capable of exhausting the air quick enough. A push-pull configuration will easily propel the TPC 812 near the top.
While this is very subjective, I am quite a picky person on noise, and the loudest component in my entire system are my noise optimized Noctua fans. On a scale from 0-10 where 0 is silent and 10 is the loudest, I would rate the Cooler Master TPC 812 to be at 4.0/10 acoustically with fan running at full speed. However, when your computer is idling or under nominal loads -- where it is probably going to spend most of the doing -- the PWM fan slowed down is almost inaudible. There is no noticeable turbulence noise associated with this cooler, indicating a well optimized fin array design. Overall, in terms of sound emissions, the Cooler Master TPC 812 is a good choice for quiet PC enthusiasts. By the way, I have replaced my stock fans with Noctua units, and it is simply awesome, haha. That said, the stock fan is still pretty darn good.
-----------------------------------------
As we come upon the conclusion of this review, one question remains half-answered: Have we found the replacement for displacement with Cooler Master's TPC 812 heatsink? The answer is both yes and no. Firstly, we must understand heatsinks work on the principle that as surface area increases, thermal energy dissipation effectiveness also increases. Cooler Master attempts to increase this effectiveness by not necessarily increasing surface area, but rather, speed and efficiency. After all, the heat has to move from your processor's integrated heatspreader onto the contact base, through the heatpipes, then to the fins. If the process between the contact base and the large fin array can be optimized, then you should get a better cooling performance, right? Unfortunately, the company missed out on the last part of this equation. While it does get heat away from the processor to its aluminum fins with sufficient speed and efficiency thanks to two Vertical Vapor Chambers and six heatpipes, the stock fan is not sufficient in getting the heat out of the fins into the surrounding environment -- and this is very crucial. From my experience, simply slapping on a second fan for a push-pull configuration will make the TPC 812 a much better performer. Adding to its excellent aerodynamic characteristics and sleek looks, there is a lot to like about this product. In my personal opinion, the Cooler Master TPC 812 is a great heatsink inhibited by a lacking bundle. If they include an extra fan out of the box, we will be in a different territory today. After all, they got the important bits right already. Why limit the potential of such excellent cooling hardware?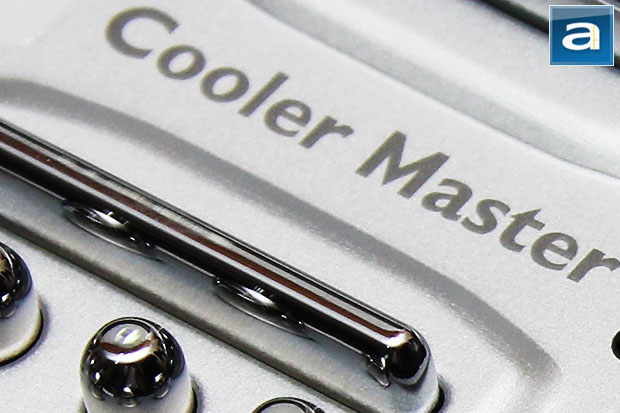 Cooler Master provided this product to APH Networks for the purpose of evaluation.
APH Review Focus Summary:
6/10 means A product with its advantages, but drawbacks should not be ignored before purchasing.
7/10 means Great product with many advantages and certain insignificant drawbacks; but should be considered before purchasing.
-- Final APH Numeric Rating is 6.7/10
Please note that the APH Numeric Rating system is based off our proprietary guidelines in the Review Focus, and should not be compared to other sites.
The Cooler Master TPC 812 is a very well designed heatsink that can deliver good (But not necessarily revolutionary) performance -- if it came with a second fan.
Do you have any comments or questions about the Cooler Master TPC 812? Drop by our Forums. Registration is free, and it only takes a minute!