By: Aaron Lai
October 19, 2012
I remember the first computer I have ever used. It was a Windows 3.1 machine powered by an Intel 386 processor and fully equipped with 16KB of RAM (Woohoo!). That was my "gaming" machine -- I spent hours on it playing pinball, Raptor: Call of the Shadows, and Lemmings. Even using Paint on it was a blast. That computer was also the first computer that I learned to type on. My parents would throw a blanket over my hands, and I would have to type endless lines of random stories, phrases, and words. This was when I used my first mechanical keyboard. At the time, I didn't really care much for the clicky sounds it made, or the amount of push I had to give before a keystroke was registered. Sooner or later, my parents decided it was time to move on, and I said goodbye to the good old 80386. As computers came and went, nothing felt quite the same as the original. The last full keyboard I used was a generic Dell keyboard, which was very quiet, but it was also like any other keyboard. Currently, I have been running off of my Lenovo IdeaPad Y470, and while others may mock me for having an IdeaPad rather than the 'APH standard' ThinkPad, I must say that the keyboard on this laptop is actually pretty good as far as typing feel is concerned. My real main issue is the ghosting problems when I play games such as NHL '09. However, when I was given the chance to review the Cooler Master QuickFire Pro, a mechanical keyboard with "full NKRO mode in USB", waves of nostalgia came back. How much have mechanical keyboards changed in the past fifteen years? While I knew it would not bring back pinball or Lemmings, I decided to give it a shot to see what fifteen years of progress have brought us.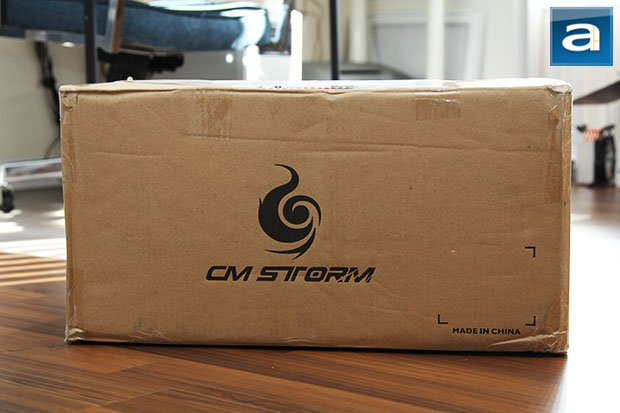 The Cooler Master CM Storm Quick Fire Pro mechanical gaming keyboard arrived with other CM Storm products to us here at APH Networks, courtesy of USPS. It was then transferred to Canada Post, and then to our Calgary location in great condition. Of course, there were the minor bumps and bruises, as well as some tears on the boxes. However, upon opening the package, everything was in tip-top shape. Other Cooler Master products, as seen above, will be reviewed in the upcoming weeks.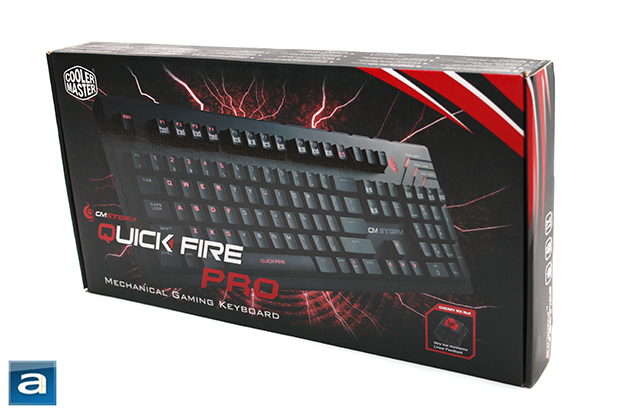 Being part of the CM Storm lineup, Cooler Master took a unified approach in their packaging and design. In my opinion, it's a great looking box, with images of sound waves and lightning emerging from behind the keyboard. It would have been nice for them to actually put something somewhat related to the name of "QuickFire", because having a red flame behind would not be that hard either. However, I do like the absence of words on the front of the box. As they always say, "A picture is worth a thousand words", and this is no exception. At the bottom right corner is the "Cherry MX Red" sticker. At press time, other key switches available include Cherry Black, Blue, and Brown. Turning the box to the side reveals a side note saying, "Storm Tactics: Strength, Security, Control". Finally, a glance at the back reveals light specifications in a bevy of languages -- nine to be exact. Luckily, all the pictures on the back have English subtitles, so I do not need to pull up Google Translate. Cooler Master utilizes the conventional flap tray retail box, so opening it up is not an issue. After opening and removing a plastic cover, the QuickFire Pro mechanical keyboard is revealed in its pride and glory.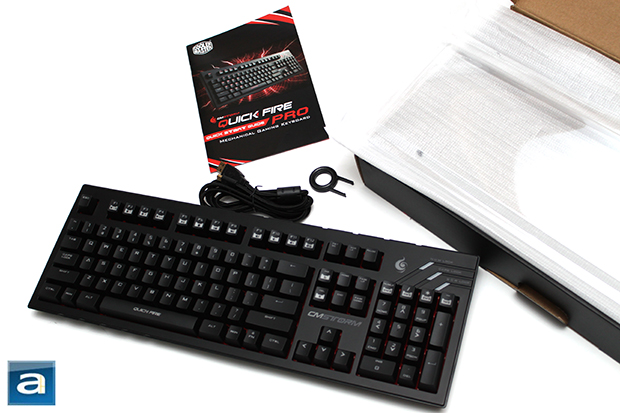 Cooler Master has kept the insides of the box relatively clean, with an area to hold the keyboard, USB cable, and key remover. This keyboard was held snugly in a foam bag. It has been packaged quite well, and Cooler Master has done a decent job in providing adequate internal packaging. In the box is the Cooler Master CM Storm Quick Fire Pro mechanical keyboard itself, plastic bag containing a braided USB cable, another plastic bag containing a key remover, and a user manual in the same nine different languages. Enough with the extras; it is now time to dig into the details of the keyboard.
Before we continue the review, let's pull up the technical specifications, as taken from the manufacturer's website:
- Mechanical CHERRY MX switches
- USB 2.0 full speed
- NKRO in USB mode
- Multimedia shortcuts
- Windows key disabled in game mode
- Partial Red LED backlight
- Removable braided USB cable with cable routing
- 1000Hz / 1 ms Polling Rate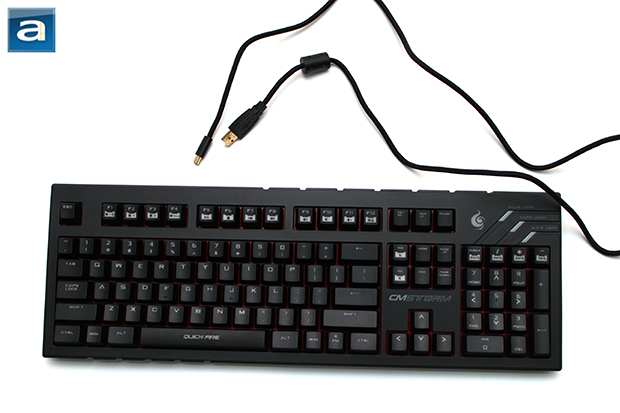 The first thing I wondered as I opened up the box was if a palm rest came with the keyboard. Judging by the contents, it was not. The lack of a palm rest is noticeable, as many mechanical keyboards are elevated slightly higher than regular keyboards. It would be nice if Cooler Master would throw in the palm rest that attaches to the keyboard itself. The missing palm rest is not a killer factor, as anyone can purchase an additional palm rest, but it is duly noted.
At first glance, the Cooler Master CM Storm Quick Fire Pro is not one of those keyboards that will catch your eye. It does not scream wildly in terms of design, but there are several small aesthetic choices Cooler Master has taken to bring the QuickFire Pro to the next step. One is the bright red tray under all of the keys. This made me take a second glance at the keyboard, even after a few weeks of usage. Another design feature I enjoy is the semi-translucent letters in all the keys. This is probably due to the fact that this keyboard is partially backlit, and they wanted to keep the design uniform. As well, rather than using the traditional Windows logo for accessing the Start Menu, CM Storm has put the words "WIN" on the keys. This is definitely "for the win"; pun fully intended. Taking a look at the top row, all function keys double as various media keys, plus some extra options. However, any avid reader will notice one thing is missing on this keyboard: Macro buttons. Many gamers love the usage of macro keys, as it reduces the combinations of keys required to press for that special combo or specific function, and I am surprised to not find them on this keyboard.
Other than that, the build quality of this keyboard is exceptional. Even the back feels tough and durable to withstand the raging gamer flipping the keyboard in the air out of frustration (I am not saying you should try this though). Keys are rated for surviving 50 million keystrokes, and I can see why they are able to give such a rating. The keyboard utilizes the same QWERTY layout that we have grown to know and love, and unless the Dvorak or Colemak become widely used, QWERTY will not be gone anytime soon.
The QuickFire Pro measures in at 454mm length, 155mm depth, and 31mm height. To be honest, the actual thing that surprised me about this keyboard (Or mechanical keyboards in general) was the sheer mass. Specified at 1300g, or 1.3kg, this keyboard is definitely not a lightweight. Considering the other keyboard I have is a generic Dell keyboard, I'm not fully surprised at the empirical heft of this thing. It does mean that the keyboard will not shift around as much, since there is greater friction where the keyboard rests on the table.
Before continuing on, one of the best parts of the QuickFire Pro is its mechanical keyswitches. This section has been taken from Jonathan's Meka G-Unit review earlier this year, of course under the authorization of our Editor-in-Chief. There are three main types of keyboards in the market today. The cheapest is the membrane keyboard, which is the easiest to make, but also has poor typing feel and response due to squishy keys. A scissor switch keyboard has its own independent keyswitch mechanism for each key, which delivers improved tactile response and typing experience. Modern scissor switch keyboards can be very good for everyday office use. Mechanical keyboards such as the QuickFire Pro costs the most, because each keyswitch is an independent part. The CM Storm QuickFire Pro features Cherry MX Red mechanical switches, which are actually quite rare in mechanical keyboards for gaming. The QuickFire Pro will feel very different than other keyboards, as they feature relatively low resistance to typing. To be honest, in comparison to the Cherry MX Black (Located in the Meka G-Unit and the Meka G1), preference really comes down to consumer opinion. Some users find more typographical errors while typing with the Cherry MX Red, due to the ease of activating pressed keys. Personally, I think this keyboard is an absolute pleasure to type on, as typing becomes rather effortless. I myself have witnessed the many typographical errors, especially when resting my fingers on the keys. On the other hand, I am using the CM Storm QuickFire Pro to type this review, so I still do enjoy it!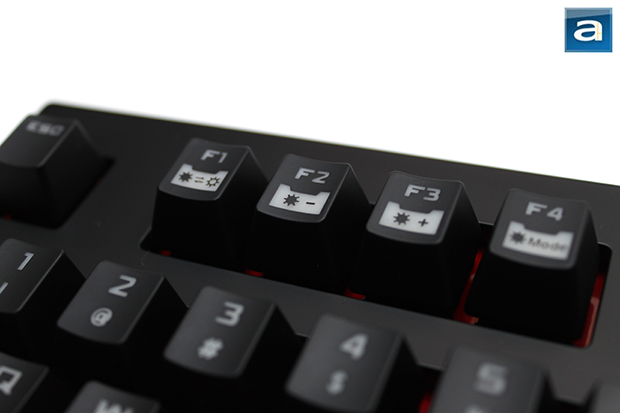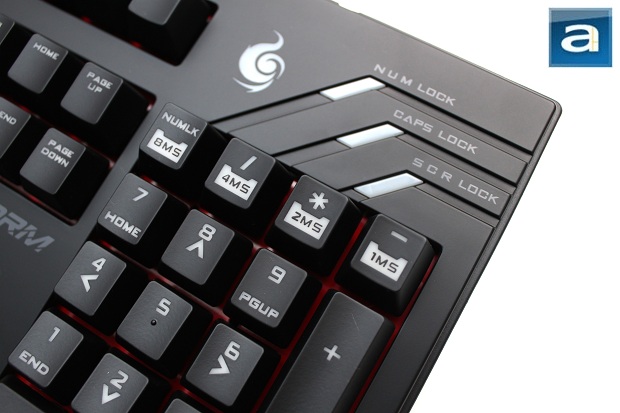 As seen in the picture above, all the function keys have different purposes, which can be activated by pressing the FN key. Once pressed, the FN key will light up and stay locked, unleashing the secondary function of the F1-F12 array. The CM Storm QuickFire Pro features a partial red backlight rather than full backlighting. By using F1 to F4, the user can turn on and off the partial backlight, adjust its brightness, and cycle through three illumination modes. The three modes of the backlight include Gaming Cluster, Extended Gaming Cluster, and Extended Gaming Cluster (breathing). The "Gaming Cluster" mode turns on the backlight of the WASD and the arrow keys. "Extended Gaming Cluster" adds even more commonly used keys, such as the Esc buttons, buttons around WASD, and the spacebar. Finally, the breathing mode of the extended gaming cluster allows the keyboard to "breathe" by fading in and out. In addition to all this, the CM Storm logo on the top right of the keyboard glows bright red when any backlight mode is activated. While almost useless, this looks awesome while typing in a room of darkness. I would prefer a full backlight for everyday users, even though this keyboard is geared towards gamers. Speaking of lights, in the top right corner are three dedicated LEDs allowing for the user to know when Num, Caps, and Scroll Lock is activated. From F5 to F11, the secondary function keys allow for adjustment of media options. This includes the standard Play/Pause, Stop, Previous, Next, Mute, and Volume Down/Up. Upon testing the media keys, I found all of them to be quite responsive, and worked perfectly with Windows Media Player. Adjusting Volume Up and Down adjusts the output in increments of two. Finally, the secondary function of F12 is "Windows Key Lock" mode, which disables the Windows key so that there will be no tears or anger due to a death by minimize.
Finally, the FN lock also serves several more important functions, including activating NKRO mode, and adjusting the polling rate. To give a bit of background, NKRO is abbreviated for n-key rollover. This means each key is independently scanned by the hardware, so all key presses are detected regardless of other keys being pressed at the same time. In essence, this fixes ghosting issues that can happen with cheaper and/or laptop keyboards. The QuickFire Pro comes with two modes of NKRO: 6N and Full N. 6N refers to six keys being pressed at the same time and still being recognized, while Full N allows for (Ideally) full keyboard to press while still recording every single keystroke. When first plugged in, the QuickFire Pro automatically enters 6N key rollover mode, as the everyday user will not notice the difference. When the FN key is pressed and lit, users can press N+Del (Which is marked with a secondary function label of "N") to switch to full NKRO mode. One of the main features of the QuickFire Pro is the proud statement that full NKRO mode is offered in USB mode. Traditionally, full n-key rollover modes only appear over a PS/2 connection. When all was said and done, the only way we could prove this was with a practical test. Microsoft has kindly posted a keyboard ghosting demonstration online, can be found by a simple online search. While on my laptop, I could only press seven keys maximum, while pressing keys in the same column (such as Q, A and Z) rendered the rest of my keyboard completely useless. Using the QuickFire Pro quickly showed me the importance of an NKRO mode. I was practically able to press down all of the letters with both my hands, as well as all the numbers in the keypad. For any gamer, casual or hardcore, I have seen the ramifications of this. While most keyboards offer a solution to ghosting issues, not all can actually register full keyboard combinations, which again can affect gamers. Another quick test I did was to hold both left and right shift keys down, while typing "The quick brown fox jumps over the lazy dog". My laptop keyboard ended up cutting out many letters, but I was able to type the full phrase without any unregistered keystrokes on the QuickFire Pro. The polling rate however is generally more of a marketing hype than anything else, however. While keyboards can feature a 1000 Hz or 1ms polling rate, the fastest typist will not recognize any difference in key strokes. This keyboard features four different polling rates: 125Hz (8ms), 250Hz (4ms), 500Hz (2ms), and 1000Hz (1ms).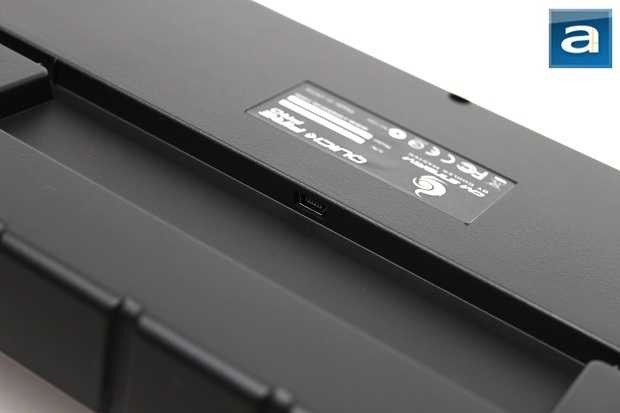 The keyboard utilizes a single Mini-USB input to allow for connection from the keyboard to the computer. The plug in is buried in a valley, which leads out the sides and the back for easy wire management and placement. While this could be seen as quite a questionable choice for USB placement, and can be quite difficult to initially plug the detachable USB cable into, there is a valid reason for it. Since the USB cable is detachable, it can be quite easy to accidently yank at the keyboard and lose connection. However, with this design, the pull stress is not located at the keyboard plug, but rather where the cord runs out on the side of the keyboard. As well, this allows the user to choose where to lead the USB cable out of; either from the sides or the back. At first glance, I questioned why any keyboard manufacturer would choose such an unconventional design choice. But I myself took full advantage of this by leading the USB cable through the right side rather than the back, since it is easier to connect to my laptop.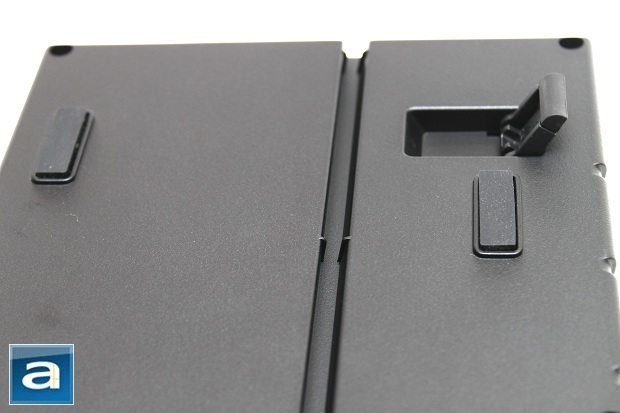 Flipping the keyboard over reveals that there is nothing to take due note of. You get four rubber grips placed on the bottom of the keyboard. Two rubberized grips on the flip-out risers are used to tilt the keyboard. Both of these keep the keyboard in place. As well, the mass of the keyboard itself holds the whole thing down, so it doesn't shift around while playing all of your favorite games. Other than that, everything seems quite in place.
The CM Storm QuickFire Pro features a detachable USB cable, as mentioned in the previous section. This allows for portability convenience since the cord does not need to be packaged with the keyboard. A 2m braided cable comes included with gold-plated connectors, which is definitely long enough for any computer setup. When we bring about the question of whether gold plated connectors are actually useful or not, let's just say if it was the actual pins, then possibly -- since gold offers better conductivity than other metals. This theoretically establishes a better connection with your computer, but on a digital signal level, we must understand it is either a discrete one or zero; so if anyone tells you they can tell the difference, you can definitely defeat their theory with a double blinded test. Additionally, if you are referring to the gold part of the connector you see on the plug, I would like to point out it actually does not make any physical contact electrically with your computer. In other words, it is nice to have, and it is pretty to look at, but it is not anything significant on a practical level.
--------------------------------------------------------------------------
My first experience with a new mechanical keyboard is finished, and what have I learned? I still love mechanical keyboards. The pure tactile feedback from each keystroke itself is enough to turn any user into a mechanical lover. I have grown fully accustomed to the Cherry MX Red keys, and the ease of typing has made working with a computer more enjoyable. The CM Storm QuickFire Pro simply does not disappoint in reintroducing me to the mechanical world. Its secondary function keys are very useful, and allow for more functionality without increasing the size of the keyboard itself. Full n-key rollover mode in USB is also a great feature that any gamer can take advantage of. The conservative design of the keyboard hits all the right notes, with no real flaws; at least aesthetically speaking. Of course, there are shortfalls, as with every product. Including a palm rest would be the first change I would recommend. Getting a full backlit keyboard in addition to partial backlighting would be nice. Adding an inch or two for macro keys would also be a bonus. But truthfully speaking, even without all those mentioned, the CM Storm QuickFire Pro is one of the most solidly built, designed, and executed keyboards out there on the market for those who are looking for something with MX Red switches.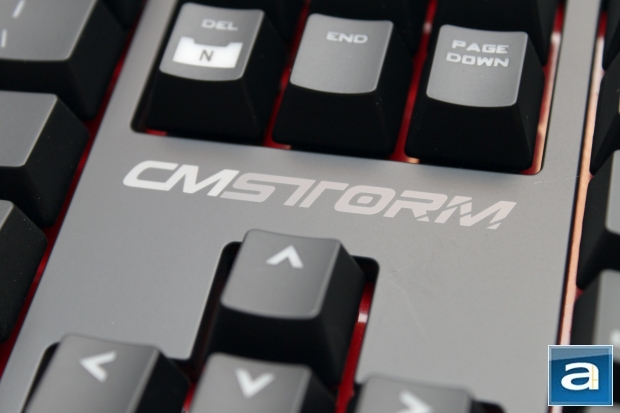 Cooler Master provided this product to APH Networks for the purpose of evaluation.
APH Review Focus Summary:
8/10 means Definitely a very good product with drawbacks that aren't likely going to matter to the end user.
7/10 means Great product with many advantages and certain insignificant drawbacks; but should be considered before purchasing.
-- Final APH Numeric Rating is 7.4/10
Please note that the APH Numeric Rating system is based off our proprietary guidelines in the Review Focus, and should not be compared to other sites.
With an approximate $90 price tag at press time, the CM Storm QuickFire Pro is one mechanical keyboard that shouldn't be missed.
Do you have any comments or questions about the Cooler Master Storm QuickFire Pro? Drop by our Forums. Registration is free, and it only takes a minute!