By: Jonathan Kwan
October 28, 2011
Now I told ya'll from the map's buy zone I am a pro
Betta than so-so, the game's in the deagle
Diss me is a no-no, I perfected the pwn show
In de_dust, we bomb, go go go
In Office, we're goin' to get hostile
G-Unit on the desk, oh no
You ain't ready it's heavy
Mechanical keys
Cherry MX, I'm typin'
White backlit keys flashin' from the beginnin' we seein'
Getting' his KD ratio movin' we're not losin'
Game mode option ready for the drama
Keyboards' one-g hertz polling ready with the power
Non stop click click click, fifty mil' keystrokes
You can be the hardest
We'll just be the smartest
I warn you not to start us
This is not your average keyboard
64K memory
You don't wanna miss this
Cause stroke after stroke, same response it evokes, haha!
It has features where they don't
Made by Tt when they won't
G-Unit, G-G-G-G, G-Unit!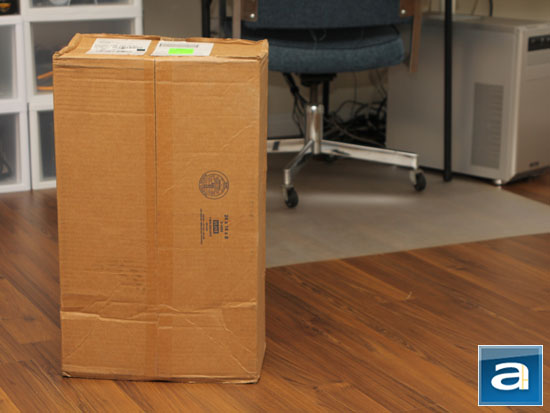 Now that we have briefly went over some feature highlights of the Tt eSPORTS Meka G-Unit with a little help from our old friend 50 Cent, the usual deal comes along with our unboxing process here at APH Networks. Our review unit of the latest addition to Thermaltake's Meka line of keyboard arrived in a large, brown corrugated cardboard box from the company's American offices in California, USA. Using UPS Standard, everything arrived in excellent condition, and I excitedly cracked open the package to see what was waiting for us inside. After all, you don't get a product called the "G-Unit" every day, and so the fun begins.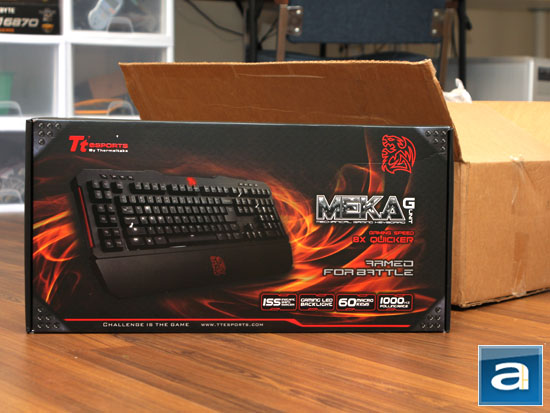 Continuing the design scheme of the Thermaltake eSPORTS line, the Meka G-Unit's retail packaging won't have you confused for any other brand. What you see across the front of the box is not significantly different than the Meka G1, except with a much hotter appearance -- literally. In reality, it is probably right to say that the G-Unit edition is, in fact, the hotter version of its predecessor. With an image of the keyboard at 3/4 angle occupying majority of the room, a metallic-like studded metal sheet pattern can be seen at all four corners of the box. The model name is displayed prominently center-right, as shown in our photo above. Along the bottom is an array of icons that highlight some of the features, which includes its Instant Shift System, gaming LED backlight, 60 macro keys, and 1000Hz polling rate. Notably missing are any references to 50 Cent, but what the heck -- here are the features and specifications from the manufacturer's website, in case you have missed it in the introduction:
- Tt. Breakaway Gold-Plated USB Connection Cable(2 Meters in Length)
- Audio/Microphone Jacks Onboard
- 7 Easy Access Multimedia Keys
- 60 Macro Keys across 3 Profiles
- Tt Game Mode Option (Disables Windows Key)
- Authentic Cherry Black Mechanical Key Switches
- Selective Backlighting
- Cable Management Slots Located on the Bottom of the Keyboard
- 64KB Onboard Memory
- 1000 Hz Polling Rate Limit
- Detachable Wrist Rest for Maximum Comfort
- 50 Million Keystroke Lifespan
- 2 Onboard USB Hubs
- USB to PS2 Adapter included
- Body dimensions (LxWxH): 430x160x40mm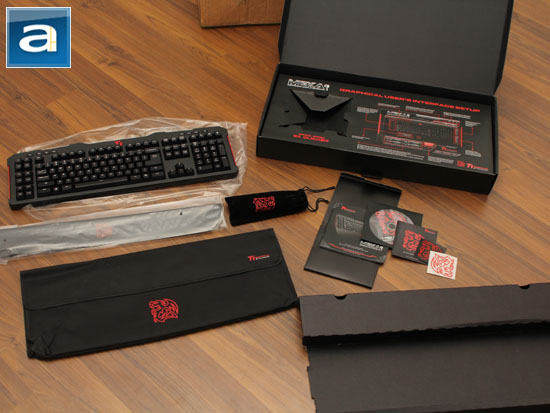 Flip open the flap top box, and you will be greeted by a cover going over the graphical user interface of the included software. But before we get into that later on in this review, I would just like to say Thermaltake has done a great job in packing the Tt eSPORTS Meka G-Unit; making sure everything arrives in excellent condition. Wrapped inside a thin plastic bag is the mechanical keyboard itself, followed by its palm rest in a separate package. You will also get a large travel bag sealed off by a long Velcro strip, drawstring bag with a USB cable inside, user manual, driver CD, warranty guide, and two stickers. Needless to say, it is ready for the LAN party, and a little bit more.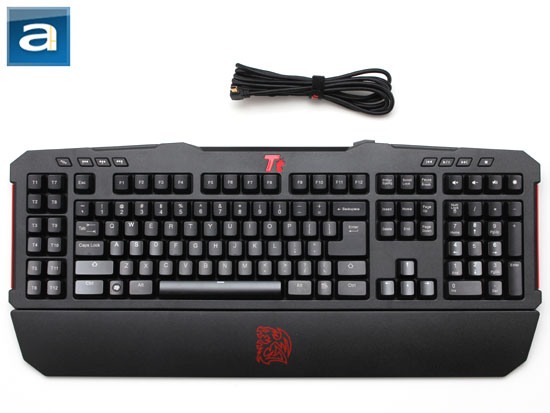 With essentially the same hardware under the hood, the Tt eSPORTS Meka G-Unit is certainly not as traditional looking as the Meka G1, although its symmetrical base shape makes it only one step ahead of what we have seen in the past. However, in my personal opinion, these changes are quite fundamental; while the Meka G1 is a downright keyboard-and-nothing-else kind of deal, the G-Unit adds on a few features under its belt to ensure it is more desirable than the guy just under it. This includes some macro keys, media control keys, and a sectional keyboard backlight that we will examine up close in just a moment. The Tt logo at the top also glows in a pulse manner. Actually, there are some key layout issues that I don't really like as well, but again, we will cover all the juicy details in just a short moment. At the end of the day, it is still a good old QWERTY keyboard, and to be honest, I don't know how to use anything else, haha.
Specified at 430mm width, 160mm depth, and 40mm height, I have no idea where these numbers came from, so let me get this straight -- if you are still in school right now, please complete it, because being on the "streets" and in the "hood" for too long like 50 Cent can really affect your ability to use a ruler. Unfortunately for most people, you won't even be able to afford to G-G-G-G G-Unit around even with a mechanical keyboard, never mind rolling on 22's in an Escalade. According to my measurements, the Meka G-Unit is 520mm wide, 165mm deep, and 25mm tall (All taken at its largest points). The detachable wrist rest adds 65mm to the depth, and my numbers are to be taken as correct. Speaking of the plastic wrist rest, I am particular happy that Thermaltake included one, because a lot of competing mechanical keyboards lack it -- and that's a deal breaker for me.
Before we move on, one of the highlights of the Meka G-Unit are its mechanical keyswitches. This section has been convenient yanked from Preston's Meka G1 review earlier this year, because I actually wrote this, haha. There are three main types of keyboards in the market today. The cheapest is the membrane keyboard, which is the easiest to make, but also has poor typing feel and response due to squishy keys. A scissor switch keyboard has its own independent keyswitch mechanism for each key, which delivers improved tactile response and typing experience. Modern scissor switch keyboards can be very good for everyday office use. Mechanical keyboards such as the Meka G-Unit costs the most, because each keyswitch is an independent part. The Tt eSPORTS Meka G-Unit features Cherry MX Black mechanical switches, which are currently considered as some of the best keyswitches in the realm of mechanical keyboards for gaming. The maximum key travel distance is 4mm, with actuation at 2mm. With an actuation force of 60g in a completely linear fashion, the Meka G-Unit will feel very different than other keyboards. This keyswitch is desirable for gaming, because you will be bottoming out all the keys anyway, but the lack of the "bump" and high typing resistance of the Cherry MX Black may not appeal to everyone. Personally, I think this keyboard is an absolute pleasure to type on, regardless of what other people like to say. After all, I am writing this review with the Meka G-Unit right now, and I better like it in order to do this!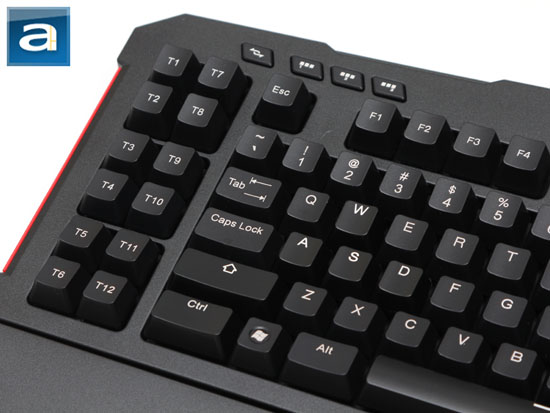 As you can see in our image above, twelve macro keys in groups of four resides on the very left, with a game mode switcher and three profile preset buttons located just above the top row. The placement of the T macro keys are well placed; making them quite convenient to access both in every day usage and during the most intense gaming sessions. Thermaltake did not cheap out on the keys either; they are all backed with Cherry MX Black keyswitches underneath for the best actuation response. As far as the mode switcher is concerned, all it does is disable the "Window" key when game mode is activated. Well okay, I admit it -- it is important. How many times have you tried to duck in your favorite FPS while engaging an enemy, only to be killed instantly, because you missed the "Ctrl" key and your game was minimized? Yeah, it is a legitimate issue. The profile preset buttons allow you to select between one of three sets of macro key configurations. These are stuff you would expect from a featured gaming keyboard, and the Tt eSPORTS Meka G-Unit does not disappoint.
Rather than implementing a full backlight, Thermaltake resorted to partial illumination of crucial keys for the hardcore gamer. On the left side, the WASD, Shift, Ctrl, and Spacebar are the one that can glow, thanks to a white backlight that also illuminates not only the outline in the background, but also the keys itself as well. Personally, I would prefer a full backlight with the option of partial backlighting, just to appeal to mainstream users as well. A dedicated white LED on the Caps Lock button lets the user know whether it is turned on or not.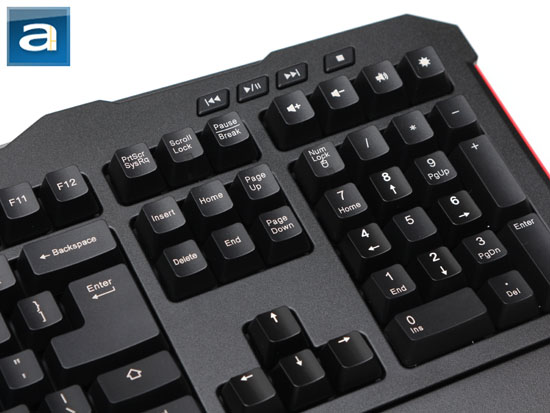 Corresponding to the ones on the left are four media control keys on the right for a nice overall symmetrical design. Specifically, we have Previous, Play/Pause, Skip, and Stop buttons for all your favorite c-rap music from 50 Cent, Lloyd Banks, and Tony Yayo. I am not going to go over their functions in detail, since it is rather self-explanatory. Right above the numeric keypad are four additional control keys with Cherry MX Black keyswitches. This includes a volume up, volume down, mute, and backlight brightness control. I am not exactly sure why the volume up is on the left and volume down is on the right, since it is usually the other way around -- unless you live in Australia, of course. The backlight brightness control allows you to increment the illumination intensity along three discrete levels; with the last option of putting the white LED into pulse mode.
Speaking of backlight, the keys that can be lit includes 2468 on the numeric keypad, as well as the arrow keys. A dedicated white LED is placed on the Num Lock button to let the user know whether it is turned on or not, just like the Caps Lock button as discussed earlier.
Fundamentally, everything is quite standard here in terms of layout. Even the arrangement of production keys is in classical formation -- users who are used to the Logitech arrangement will need to switch back. However, I do have one complaint. Because the Meka G-Unit has a full sized Enter key, the "\" button is moved to the left side of the right "Shift" key; reducing the size of the latter. I am more used to having a full width Shift on the right, and a half height Enter (Heck, even the Tt eSPORTS Meka G1 has it), and I would much prefer that as well. It is beyond me why Thermaltake changed it on the Meka G-Unit, since I am sure most people are used to the other layout too.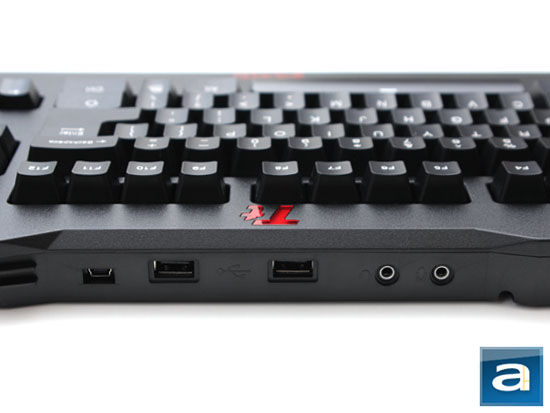 At the back of the Tt eSPORTS Meka G-Unit is an array of connectors. From the left, we have a USB mini-B port to connect the keyboard to your computer, two USB Type A ports to act as a USB hub, and two 3.5mm jacks for headphone and mic, respectively. The company does not say how much power is available on the USB ports, but based on what we have seen in the past, I don't think you will get more than 100mA, since the G-Unit is not self-powered. I think it is particular convenient to have a built-in USB sound card on a keyboard, especially considering how convenient it is to hook up your audio peripherals. Now you can keep all your G-Unit music to yourself while playing Counter-Strike, and your family members will thank you, rather than begging for your mercy.
As with all Tt eSPORTS keyboards we have used in the past, the Meka G-Unit has a detachable USB cable. This is not only convenient for you to pack up and go somewhere with it, but sometimes, when I need to move it out of the way temporarily for something else on my desk, it is almost as convenient as having a wireless keyboard instead. An included 2m braided cable with gold plated connectors is long enough for most setups. When we bring about the question of whether gold plated connectors are actually useful or not, let's just say if it was the actual pins, then possibly -- since gold offers better conductivity than other metals. This theoretically establishes a better connection with your computer, but on a digital signal level, we must understand it is a discrete one or zero; so if anyone tells you they can tell the difference, you can definitely defeat their theory with a double blinded test. Additionally, if you are referring to the gold part of the connector you see on the plug, I would like to point out it actually does not make any physical contact electrically with your computer. In other words, it is nice to have, and it is pretty to look at, but it is not anything significant on a practical level.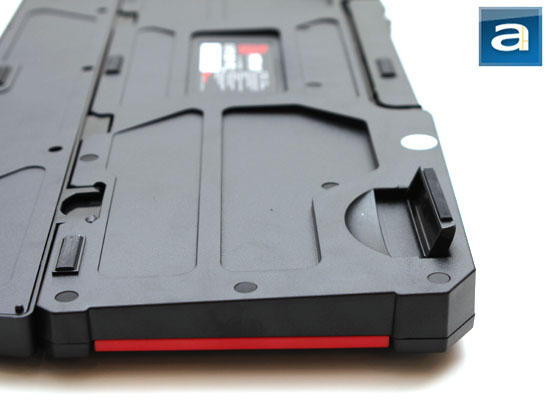 Flip the keyboard around, and you will not see anything particular special here -- not that we would expect a Desert Eagle and a black MAC-10 hidden as Young Buck would have preferred. What you do get are six rubber strips to ensure the Meka G-Unit stays in place; with an additional three on the palm rest in case you add it in. Two flip-out risers at the back tilts the keyboard up for those who prefer it. The edge of the flip-out risers are laid with a strip of rubber as well, so you won't need to sacrifice any desk traction to have it enabled. With a 1000Hz polling rate and 46 anti-ghosting keys, your intense gaming sessions will be kept going with not only capable electronics, but also with a capable physical design.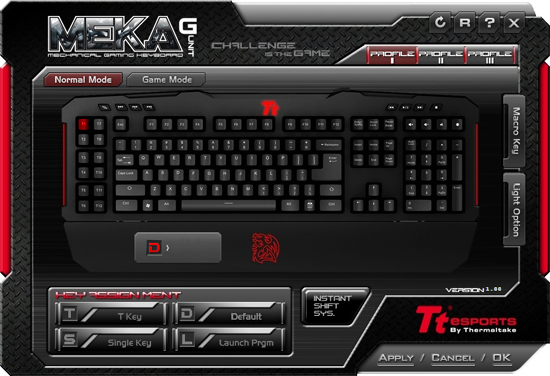 The software is almost identical to the one that comes with the Tt eSPORTS Challenger Pro in look. Yes, it does look a bit tacky, but hey, it is all for the gamer look, right? Here, you can record macros and assign it to the keys you want, and configure lighting options. There are three groups of keys. WASD, left Shift, left CTRL, and Spacebar is one group; arrow and 2468 on the numeric keypad are the two other groups. You can turn on and off each group independently at your preference, and your profile configuration will be saved onto the built-in 64K memory on the Meka G-Unit.
-----------------------------------------
When I first saw the Tt eSPORTS Meka G-Unit gaming keyboard, the first thing I told myself was this: I got to get it. I mean, where else can you get a mechanical gaming keyboard with so many macro keys, dedicated multimedia controls, and such an awesomely funny name to boot? Really, there is none like Thermaltake's latest foray into the computer peripherals market. Cherry MX Black keyswitches. Included palm rest (Yes, many mechanical keyboards don't have it, for some reason). 64K memory to store your custom configuration profiles. USB hub and audio. Partially backlit keys. With all this combined into a solidly constructed keyboard that screams quality at every corner, there are just a few minor things I would like to see changed in future revisions. Firstly, a full backlight would be nice. Let it switch to partial illumination mode in game mode only, but for the rest of the time, light them all up. A user-configurable color setting depending on the selected profile like the Logitech G19 is also something I would like to see. Secondly, revert back to the key layout of the Meka G1. Specifically, retain the half height Enter key and move the "\" back up, instead of having it next to the right shift button. Lastly, just a minor complaint, put the Volume Up on the right side of Volume Down, and not the other way around. Oh yeah, a similar keyboard with Cherry MX Blue for those who don't like Black for typing will definitely gain Thermaltake some extra market share. Other than that? The Tt eSPORTS Meka G-Unit is probably one of the most fully featured mechanical gaming keyboards you can buy today, and man, it is awesome.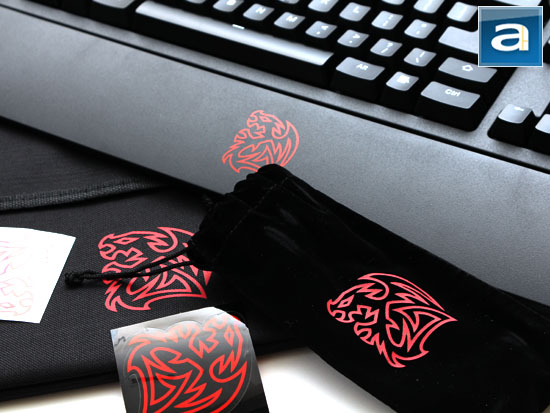 Thermaltake provided this product to APH Networks for the purpose of evaluation.

APH:Renewal Award | APH Review Focus Summary:
8/10 means Definitely a very good product with drawbacks that aren't likely going to matter to the end user.
7/10 means Great product with many advantages and certain insignificant drawbacks; but should be considered before purchasing.
-- Final APH Numeric Rating is 7.8/10
Please note that the APH Numeric Rating system is based off our proprietary guidelines in the Review Focus, and should not be compared to other sites.
Guess who's back, Cherry MX and more keys
Ready to type up on this keyboard with backlight to see
Only thing I'd change is one that lights it all up for me
Fix the Enter, Shift and Backslash, we'll line up with the cash
It has features where they don't
Made by Tt when they won't
G-Unit, G-G-G-G, G-Unit!
Do you have any comments or questions about the Tt eSPORTS Meka G-Unit? Drop by our Forums. Registration is free, and it only takes a minute!