By: Jonathan Kwan
August 15, 2009
The original Logitech G15 keyboard (And its 2007 mid-model change) proved to be a very popular and successful keyboard for gamers and professionals alike. Featuring a convenient and openly customizable screen, a huge array of programmable keys for different macro functions, and miscellaneous enhancements such as backlit keys -- all of this while retaining all the basics of what a regular keyboard should be -- there's no reason why it's not as widely embraced as we've seen it. Almost four years after its initial debut, Logitech understands that it is time to produce its successor, and tingle the hearts of every enthusiast as well as gamers once again. Often times, it is quite a challenge for product designers to improve upon what already is an excellent product. This is especially true when the team and Logitech had to perfect the G15 gaming keyboard with a product refresh just not too long ago. Fast forward to 2009. What could they add? What could they change? What could they keep? To find out what they actually did, we took the dive for you. Recently, we received Logitech's latest iteration of their high end G-series gaming keyboard for review: the Logitech G19. Will it just be another G15 refresh with a different name, or a significantly improvement that would send you driving recklessly to your nearby electronics retailer to make the purchase? Read on to find out. By the way, here's an interesting feature: a color LCD screen that has a hardware accelerator, so you can even watch videos on it. Let me be the first one to say this: Welcome to the world of Logitech's G19.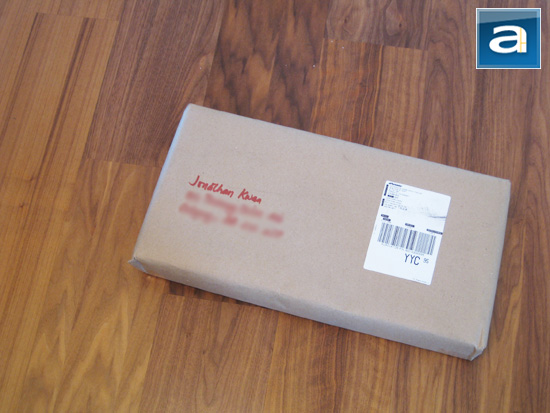 Our review unit of Logitech's G19 gaming keyboard arrived from Logitech's representing PR company located in Toronto, Ontario, Canada. Using Purolator Air, it's the third time the same delivery person dropped by our doorstep that week haha. The package was neatly hand-wrapped in brown shipping paper; which is quite a difference from what we're used to seeing with what Logitech's USA headquarters used to do -- the most recent example being our Logitech MX5500 review in March 2008. (Whew, that's quite a while ago!) Everything arrived safely and securely; there's no doubt Purolator did a good job in handling the product and getting it safely to our hands!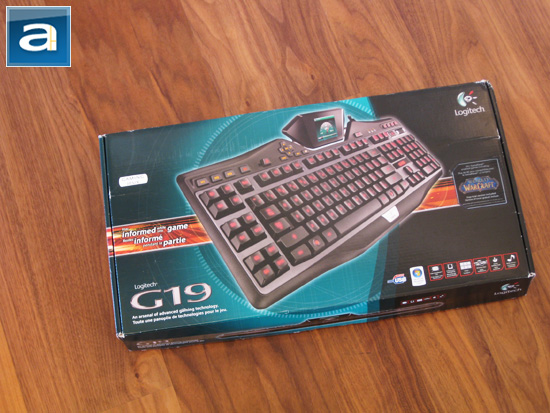 The Logitech G19 provided to us came in a retail box, albeit being pretty beat up, and it's unsealed -- it's obvious it has gone through quite a bit of things in its life. The reason is because they somehow decided not to send us a brand new sample as the have in the past. Anyway, the retail packaging design is thematically consistent to the rest of the Logitech line of products. Consumers will have no problems recognizing this is a Logitech keyboard right off the shelf.
The retail package carries Logitech's standard color scheme of green, teal, black; adding onto that is a fire-orange colored strip that lays across the front for its gaming focused G-series product line like the Logitech G5 V2 we reviewed a little over two years ago. A large circular dial fades into the teal background of the box in addition to a multitude of smaller ones on the fire-orange colored strip. A series of techno lines and binary numbers are used simultaneously to enhance its enthusiast thematic effect. Most logically prominent is a full photo view of Logitech's G19 keyboard itself, viewed at a 45 degree angle across the front center of the box -- showing off its 2.5" color LCD screen at the top, and the a full battery of colored, backlit keyboard keys. To promote its Color GamePanel LCD screen is the statement boldly printed on the fire orange strip that says, "Stay informed while you game". Meanwhile, its model name is printed at the bottom left corner, along with its product slogan - "An arsenal of advanced gaming technology." Sounds pretty hardcore to me!
At the bottom right corner of the box is an array of eight icons neatly aligned horizontally. Of which six of them are Logitech's icons in addition to a USB and Windows Vista certification; which highlights the Logitech G19's features in the following order: Color GamePanel LCD, Customizable Backlighting, G-keys, Multi-key Input, Game/Desktop Mode, and Media Controls. Its series of six Logitech icons without the labels I've just mentioned repeats on three other sides of the box. At the bottom of the box is a full keyboard view, along with some enlarged and numbered thumbnails to further iterate these features in detail. System requirements and package contents are then listed at the back in three different languages.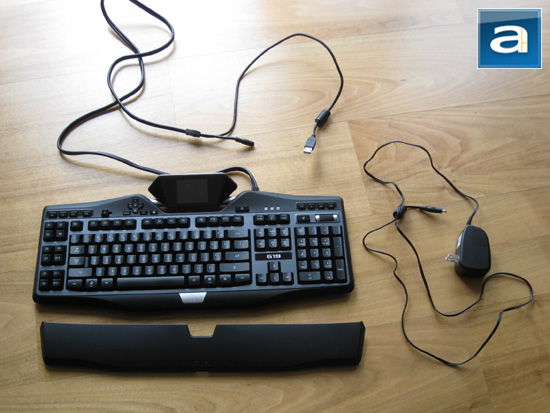 Logitech G19's retail box appears to incorporate a pretty simple design. It features an integrated flap tray to lift the keyboard, which leads to two additional folded flaps to act as virtual boxes to accommodate its AC adapter and the attached keyboard cord, respectively. From my experience, Logitech usually has a plastic bag for each component listed above, a sheet of thin foam wrapping for the keyboard itself, and every shiny plastic surfaces to have clear removable adhesive film over it. This is done to ensure their retail packaged products arrive from the factory, to the store, and ultimately, to the consumer's hands, in absolutely perfect condition. Unfortunately, all we cannot properly comment on the Logitech G19 in this regard, since we are inhibited by the lack of such information in our case. As aforementioned, we have an opened and used package that includes none of what I have just described. And since it appears to have been around the block quite a bit, even from looking at the box, I hate to see it this way -- but my keyboard features a severely scratched LCD screen and a dented palmrest right out of the box. The keys are also exceptionally dirty and dusty, which took me quite a while to clean before it can even appear in our photos for this review.
Regardless of what the condition of our review product is, out of the box, you will receive the following contents as seen in the photo above:
- Logitech G19 Keyboard for gaming
- AC power adapter
- Software CD-ROM
- User documentation
- 1-year limited hardware warranty
Fortunately, none of which are missing from our package! (Well actually, the documentary and software CD somehow made its way out of the photo above, but I can assure you that I have them on me. It was not necessary for me to use them, however.) The AC adapter connects to the main USB cable attached to the Logitech G19 keyboard to supply additional power for features such as the dedicated LCD screen, backlit keys, and its two powered USB ports.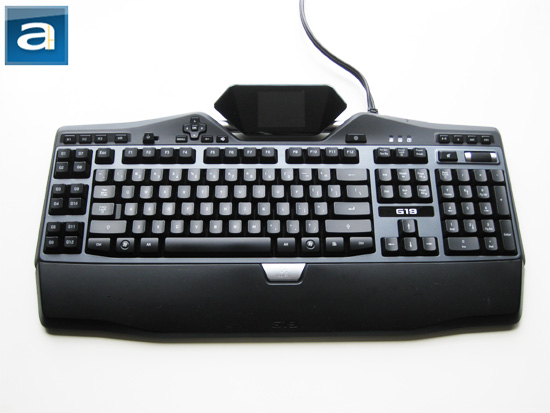 Like the previous G-series keyboards from Logitech, the G19 retains what mostly is a standard familiar keyboard layout for the most part; plus macro and media controls all around -- basically the stuff that makes a Logitech G-series gaming keyboard, a G-series gaming keyboard. Dedicated GamePanel LCD buttons are affixed on the keyboard near the screen itself for accessibility and control; which we'll cover in detail in just a short moment.
The back of the keyboard doesn't have anything particularly exciting, so I won't make an entire section on it. There are two keyboard risers that rotate outwards -- Logitech style -- and a bunch of keyboard drain holes. The reason why there are so many keyboard drain holes, is because there's one equipped for every independent group of keys. Let's put it this way: You're playing Counter-Strike at 2:00AM. You just got shot in the face by your opponent with a shotgun half-way across the map. You yell "BS" vainly at your computer monitor, with a bunch of random hand gestures no one is able to see. Meanwhile, you accidentally knock over your can of Mountain Dew sitting next to your Logitech G19 keyboard. The Mountain Dew splashes and pours over every key on your $200 keyboard. Rest assured -- the reason why the keyboard drains are there, so that when you get owned, your G19 would not, lol.
Anyways, a detachable palmrest resides at the bottom of the keyboard. It's the regular hard-touch plastic attached to the main unit by two plastic clips. I would have thought that we're done with these types of clips already by now, because if you're not careful, they're pretty easy to break. A little cutout on the palmrest accommodates the shape of Logitech's badge engraved into the middle of the G19.
With a footprint measured at approximately 50cm wide and 24cm deep (Including the detachable palmrest, but excluding the LCD screen) at its largest dimensions, the Logitech G19 is certainly larger than a conventional keyboard; but it's not so big like the original G15 that occupies an entire keyboard tray. The original G15 had a plethora of macro keys -- unfortunately it's also quite the North American way of using space: Take up lots of room with everything spaced far and wide apart. Upon the release of the second iteration of Logitech's G15, empty space was reduced as well as the amount of physical macro keys. Other controls were compacted or modified to create a smaller footprint. Both had its advantages, but with these advantages, the function was also compromised.
Therefore, Logitech decided they are going to be different with their G19. It is clearly they wanted to take the best of both worlds, and improve upon what they've already had on the table. A whole column of macro keys are now back. Media controls are improved. And perhaps the most outstanding of all, a powerful hardware accelerated, relatively high resolution, color LCD screen -- which they call the Color GamePanel.
Hold your breath though -- we'll get to that, in detail as aforementioned for its own section, in just a moment haha.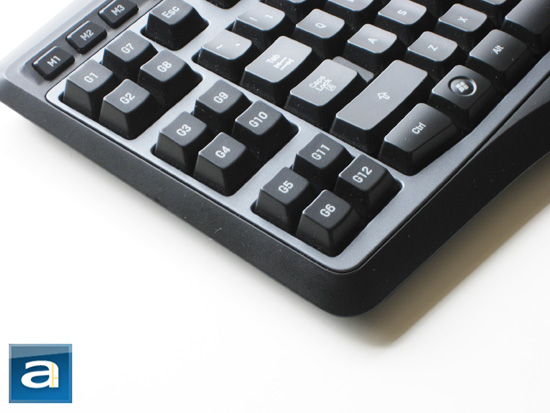 The Logitech G19 keyboard makes use of a relatively conservative color scheme. It consists of mainly black for its keys and borders, elements of white for its key labels when the backlight is turned off, and blue-silver coverage for its main surface, as seen in the photo above. It seems to me that the Logitech G19 is designed for someone that clearly had a ruler -- with its distinct straight shapes such as the angled off 'Control' key, as seen in the photo above. Of course, combining all these elements as described makes the G19 almost seem military-ish; this isn't necessarily a bad thing for a gaming keyboard! Some companies try way too hard to make something look "gaming" and return a disastrous looking product. Logitech actually came up with something that carries a level of sophistication and refinement, yet retains a clean and conservative look with the G19.
Like its predecessor, an array of G macro keys is placed on the left side of the keyboard. The original G15 had three sets of six for a total of eighteen keys. Now, that's quite a bit of programmable keys that clearly occupied too much room. The revised G15 had three sets of two for a total of six macro keys, but for most people that's not enough. With the Logitech G19, they've decided to take the middle ground for optimal space usage as well as a satisfactory amount of keys for three sets of four for a total of twelve G keys.
Each of the G macro keys are backlit like the rest of the keyboard, and each set has its own independent keyboard drains as aforementioned. These programmable keys are slightly smaller than the standard keyboard keys, and resemble more of the F keys in size. Fortunately, its spacing and travel are consistent with the rest of the keyboard for optimal feel. Four "M" keys at the top, labeled "M1", "M2", "M3", and "MR" (Where the latter somehow got cut off in the photo haha), works with the Logitech G keys for various different functions. The numbered M keys allows up to three separate macro profiles for each G key; meaning that switching between profiles M1, M2, and M3 will result in its respective user programmed functions for each of the G keys. For example, you can get your G12 key to stroke 'asdf' under profile M1, 'Ctrl+Alt+Del' under M2, and 'Alt+Tab' under M3.
I was actually a bit confused by what the "MR" key was in the beginning, especially if you've used your calculator enough like engineering students such as yours truly. The MR key is actually activates a quick macro programming function. It works in conjunction with the G19's onboard color LCD screen to quickly assign the keystrokes you want to a particular G key. Switching between different profile presets also allows a different keyboard backlit color, in which we'll get into more detail shortly. It is important to note that the M1, M2, and M3 keys always glow orange and the MR key always glow red, and this cannot be changed by the user.
Don't you just love it when I say that at the end of each section? It does keep you reading though!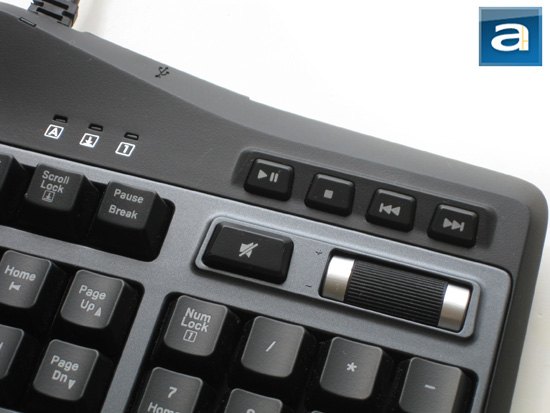 Before you faint out -- since I said hold your breath earlier -- let's cover the features on the top right corner of the Logitech G19. Above its standard number pad is a simple series of media controls, namely the Play/Pause, Stop, Skip Back, and Skip Forward buttons. The backlit color of these buttons can also be changed, just like the rest of the keyboard, albeit with a few minor exceptions. Sitting between the number pad and media control keys is a mute button, and a large volume control wheel. The volume control wheel is actually very smooth, exercises great grip on the user's fingers thanks to the rubber textured surface, and looks pretty cool, too.
Towards the left of the media control keys are three standard LED indicator lights for capslock, scroll lock, and numlock, respectively. These glow orange by default, and cannot be programmed into other colors by the user.
At the back are two powered USB ports placed adjacent to each other, with a visible USB logo on top as seen in the photo above. Unlike many other keyboards that feature USB connectors, these are actually fully powered USB 2.0 ports, thanks to the AC adapter that supplies power to both USB ports, key backlighting LEDs, as well as the LCD screen. This is especially convenient if you want to quickly connect a USB flash drive, or heck, even an USB mouse. An orange LED that sits subtly at the crease of the keyboard curve near its data/power cable to indicate availability of external power source. By the way, let me make it clear that the Logitech G19 functions properly without external power; you just won't get the LCD screen, backlit keys, and powered USB ports.
Keys with distinct double functions has their symbols labeled at a 45 degree angle from each other for maximum distance separation, while common keys such as Enter, Shift, and Backspace aren't even text labeled for simplicity. Meanwhile, Logitech did not go with the 'Logitech stack' with regards to the productivity keys -- now it's the standard 3x2 set for Insert, Home, Page Up for the first row, and Delete, End, Page Down for the second row. Usually, Logitech's consumer keyboards go 2x3 for Home and a double sized Delete key in the first column, and End, Page Up, and Page Down in the second column. Personally, I don't have a problem with the Logitech stack, but the G19 adheres almost entirely to the industry standard design for all of its main keys.
A bold, large, and shiny G19 logo situates between the arrow keys and productivity keys. The 'G19' text is also backlit, and its glow color can be set in uniform to the rest of the customizable backlit keys. Its reflective finish will make it a fingerprint magnet though, especially in that particular location. Either way, it is quite a nice touch in my opinion, not to mention that it doesn't use up additional room for where when implemented, as compared to the G15 -- a definite plus.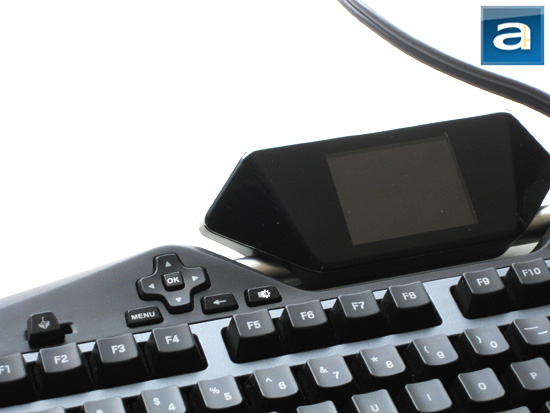 Here's the part we've all been waiting for: The Logitech G19's Color GamePanel LCD display. The Color GamePanel LCD is a relatively high resolution 320x240 screen that measures 2.5" on the diagonal. It even has a hardware graphics accelerator, so you can watch videos on it, and enjoy fluid fade effects throughout the user interface that Logitech implemented. Yes, we're talking about a keyboard here.
The LCD display is attached to the main keyboard unit by a wide crossbar. The screen is capable of tilting forward and backward to accommodate the user's optimal viewing angle. Again, the polygonal shaped screen looks like it's designed by someone with a ruler as with the rest of the keyboard; its lines are consistent the Logitech G19 stylistically overall. Accentuating the GamePanel is a nice reflective coating for its entire surface. While it is certainly fingerprint prone, it is not a significant issue for its location -- the real problem is that it's pretty prone to scratches as evident here.
A series of controls are placed on the left side of the LCD screen. A D-pad with an "OK" button in the middle allows easy navigation of menus, as well as miscellaneous features like adjusting volume with its left/right keys while watching a video. The "Menu" button usually opens a configuration menu when a keyboard application is opened. The separate back arrow key is used to navigate within an application, but cannot exit an application -- for example, if you want to close the video you're watching to go back to the main video selection menu, you hit this button. To return to the application selection menu, hit the button next to it with a little gear/block icon. It may seem a bit confusing at first, but most users should get it after five minutes or so of trial-and-error.
Logitech's popular Game Mode switch that is first introduced in the G15 keyboard is certainly not missing with the G19 we are reviewing today. Keeping it on the left disables Game Mode to let all keys function properly. Flicking it to the right enables Game Mode, which disables potentially interfering keys such as the "Windows" button. It's especially useful, but I'm not even going to elaborate too much haha. If you really need explanation, try firing up a full screen application, and then hit the Windows key on your keyboard.
My only complaint is that the switch positions are unlabeled. For first time users, it's hard to tell which one is on and which one is off without experimenting whether the Windows key is working or not. Theoretically, the backlight on the switch turns on when Game Mode is activated and turns off when Game Mode is deactivated, but that's almost impossible to see during daylight hours.
The Logitech G19 may be a bit excess even for the most hardcore enthusiast, but it no doubt features a brilliant LCD screen that displays sharp, smooth images, and every key is beautifully lit as seen in the photo above. Even the color selection is almost limitless -- you can choose the color of your choice based on a full palette, and not the usual "white, blue, and green, make your choice" kind of thing. Of course, the light doesn't necessarily reflect the chosen color fully, but it's pretty darn close. Up to three different color profiles can be chosen, which corresponds to the three macro key profiles.
Hitting the large gear button on the right side of its LCD screen toggles the display and key backlight on and off. I found it a bit counter-intuitive that you'll either have the screen and key backlight on or off at the same time; they cannot function independently of each other.
An issue worth noting is that the keys are slightly unevenly lit -- this is especially evident when the upper third of the keys are noticeably darker, where applicable. I can definitely see some improvement in this area, especially for a keyboard that costs roughly $200 USD. It's not a significant issue, but it's certainly there.
Overall, I found the Logitech G19 to be a pleasure to use both for gaming and everyday use. The macro keys are very convenient, and the backlit keys are not only useful, but are also very stylish. Key size and key grouping are also very decent, and I rarely hit the wrong keys -- even when I'm new to the keyboard and not used to the macro keys on the side just yet. Typing position is great like pretty much every Logitech keyboard I've used. The keys are relatively quiet, too. Key travel and response is about average for key design of this type. It's decent and very good, but it's nothing too exceptional in terms of pure typing in my opinion.
The Logitech GamePanel display integrates flawlessly with the computer. Missing default video folder for the video application? Hit the configure button and a dialog screen shows up on your computer monitor. Playing a video? The GamePanel will show the video, and your computer speakers will play its corresponding sound. This comes at the expense of adding a whopping ten processes to your system, since almost each keyboard app requires a process to be ran on your computer. Speaking of which, the following applications or features are included right from the factory:
- Logitech LCD Countdown Timer
- Logitech Media Display
- Logitech LCD POP3 Monitor
- Logitech LCD RSS Reader
- Logitech LCD Clock
- Logitech Performance Monitor
- Logitech LCD Picture Viewer
- Logitech LCD Movie Viewer
- Logitech LCD Video Player for Youtube
- Logitech G-Series Key Profile
- Logitech G-Series Scripting Display
I won't go into detail on each application, but I'm sure you should be able to guess which one is does what by its name. Overall, I found the LCD screen to be very bright, have great viewing angles, and surprisingly sharp. The latter is somewhat evident in the photo above as I'm playing a video for demonstration. The videos are also smooth and lag-free. Its user interface is pretty basic, but small elements like the video volume indicator that pops up when you adjust it looks surprisingly Apple iPod touch/iPhone-ish -- along with its smooth animations to take advantage of its hardware accelerated display. While most people won't be watching videos seriously on this screen, it's definitely a very cool feature. As expected, videos are decoded on your computer first, so you won't have any problems playing videos in different formats as long as you have the right decoders installed -- such as my all-time favorite K-Lite Codec Pack. If they could make the screen larger and 16:10, it shouldn't cost much more and would dramatically improve the viewing experience.
The Youtube application seems to be the only lacking program out of the box. You can't find specific videos on it, the only option is to select videos based on various feeds. This renders the application almost useless in my opinion. On the other hand, game integration is pretty much flawless -- it just activates automatically without further configuration. If the game is not supported, chances are that there's a plugin for it. A list of supported games can be seen on Wikipedia.
Memory usage is about 10MB average for each running application, and for watching videos, CPU usage is about a third to twice as high as I would be running it in Windows Media Player.
-----------------------------------------
Now I understand that the Logitech G19 is a very expensive keyboard, and it's very easy for us reviewers to simply pick that out as a con. As I've just said, I'm not going to complain particularly on its price for the same reason why people don't complain directly as a con of why Ferraris are too expensive, as compared to, say, a high priced Ford. They're simply not the same class of products, and the Logitech G19 proved itself well in this regard. What you're looking at is a luxury full featured (Actually, saying 'full featured' is merely an understatement -- the Logitech G19 is overloaded with features), no compromise, enthusiast oriented keyboard. It offers a brilliant LCD display that not only shows information, but also does it above and beyond your usual "keyboard with a monochrome low resolution LCD". Heck, it even plays videos! The keys on this keyboard are not only backlit, but the lighting color is customizable to your heart's desire. It does all of the following while doing what a 'normal' keyboard is supposed to do, and retains the ideologies and values of what makes a G-series keyboard a G-series keyboard. Of course, there are always flaws; but it's not too significant. Firstly, the key backlights are slightly uneven. The GamePanel can be bigger. The Game Mode switch is pretty confusing at first. You cannot turn the LCD screen and key backlight on and off independently. The Youtube app doesn't work that well. And it really shouldn't dump ten processes into memory. But these certainly won't stop the Logitech G19 from being the ultimate enthusiast keyboard that's not only good for gaming, but it's equally as impressive for productivity and entertainment. I even typed up this review with the Logitech G19, haha. It's no doubt better than its predecessors. Say goodbye to the G15. Say hello to the G19!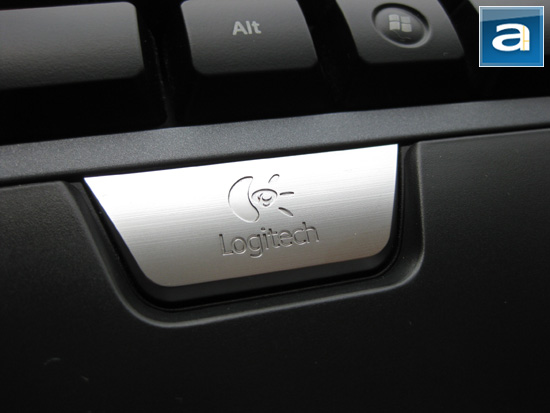 Special thanks to Briana representing Logitech for making this review possible.

APH:Renewal Award | APH Review Focus Summary:
7/10 means Great product with many advantages and certain insignificant drawbacks; but should be considered before purchasing.
8/10 means Definitely a very good product with drawbacks that aren't likely going to matter to the end user.
-- Final APH Numeric Rating is 7.8/10
Please note that the APH Numeric Rating system is based off our proprietary guidelines in the Review Focus, and should not be compared to other sites.
At the end of the day, this is what you ask your friends, 'But can your keyboard play videos?' This is the Logitech G19, and it's one heck of a keyboard.