By: Preston Yuen
September 28, 2012
In a North American culture, many of us tend to cheer for a favorite sports team, whether it is for football, hockey, basketball, soccer, or golf. Okay, maybe not golf, but you get the idea. This is especially true when teams are sent to the Summer or Winter Olympics. Whenever a team scores a touchdown, a goal, or gets the gold medal, there would be loud roars of voices over a victory. It really doesn't matter if it's a victory for a city or a victory for a nation; it simply feels good for achieving new heights. I remember my first sports event with a large crowd was sitting at a NHL game. It didn't matter whether the opposing team or the team you were cheering for scored a goal; it was either a loud "boo", a loud "yeah", or a loud groan for a near miss. What we have in stock today is a total opposite of that, although it will still give you that good feeling inside of you when you get to the results. Although it still has the letters "N", "H", and "L" in it, it has nothing to do with the National Hockey League, or any other sport, for that matter. Noctua presents the new NH-L12 -- a heatsink that keeps things cool while aiming to remain silent at the same time. "Great things come in small packages", and I think the Noctua NH-L12 delivers just that in a very subtle manner. Keep reading to see what this little beast can deliver!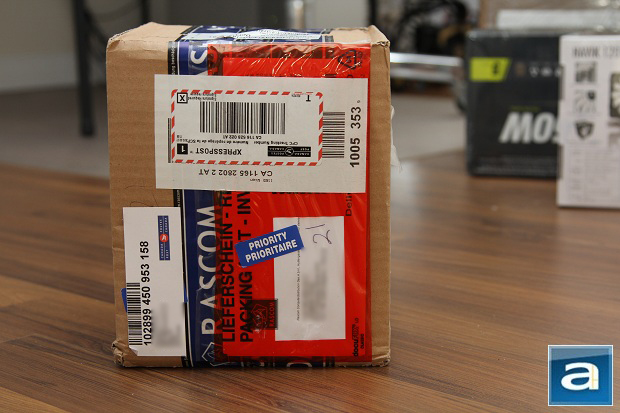 As with almost all our packages that we get from the Austrian company, we have received the Noctua NH-L12 in a medium-sized corrugated cardboard box via a transfer to Canada Post with little to no bumps or bruises on the surface. Even if it did have some bumps, I am sure the packaging guys have enough peanuts inside to keep our product safe. As you can see in our photo above, there are too many stickers on this box, so using my handy knife would get it open in the quickest manner. Without further adieu, let's get into reviewing the actual NH-L12 right away.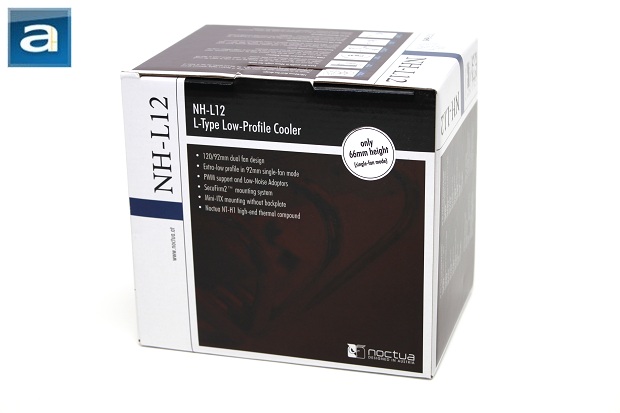 Having a Windows Phone based device, and with Windows 8 soon to be released, the color scheme and pattern on the packaging of the Noctua NH-L12 looks equally modern. Noctua uses the burgundy color to fill in square tiles in different sections of the box. These sections come with descriptions and other text to tell you all about the NH-L12, which you can see from the photo above. However, Noctua keeps this to a minimum to have everything looking clean and simple. Without wasting more of your time, I'm sure you want to know all the details, so here it is, as obtained from the manufacturer's website:
Heatsink Specifications
- Dimensions (HxWxD): 93 x 150 x 128 mm
- Weight: 415g; 680g w/ fans
- Socket compatibility: Intel LGA2011, LGA1366, LGA115x, LGA775 & AMD, AM2(+), AM3(+), FM1
NF-B9 Fan Specifications
- Maximum Rotational Speed (+/- 10%): 1600 RPM
- Maximum Rotational Speed w/ L.N.A. (+/- 10%): 1300 RPM
- Max Airflow: 64.3 m³/h
- Max Airflow w/ L.N.A.: 52.6 m³/h
- Max Acoustical Noise: 17.6 dB/A
- Max Acoustical Noise w/ L.N.A.: 13.1 dB/A
- Max Input Power: 0.96 W
- MTBF: > 150.000 h
NF-F12 Fan Specifications
- Maximum Rotational Speed (+/- 10%): 1500 RPM
- Maximum Rotational Speed w/ L.N.A. (+/- 10%): 1200 RPM
- Max Airflow: 93.4 m³/h
- Max Airflow w/ L.N.A.: 74.3 m³/h
- Max Acoustical Noise: 22.4 dB/A
- Max Acoustical Noise w/ L.N.A.: 18.6 dB/A
- Max Input Power: 0.6 W
- MTBF: > 150.000 h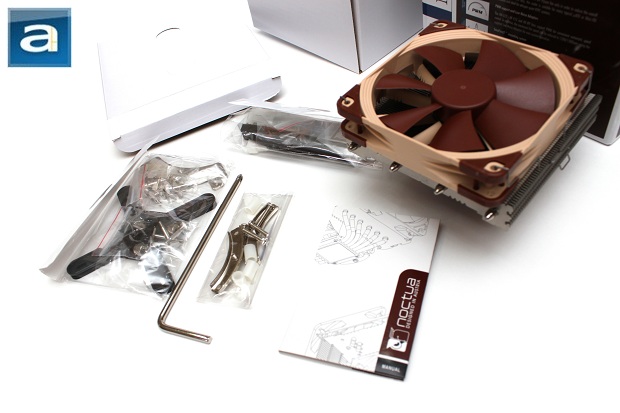 Out of the box, you will obtain the Noctua NH-L12 itself, Intel and AMD mounting set, backplate, 4-pin fan cable extension , Y-split cable, and two L.N.A. adapters if you want the quiet fans to be even quieter. Like the Noctua NH-C14, there is also a long Philips-head screwdriver to reach through those fins for turning screws, as well as some instructions if you get lost. You will notice that the two fans can be unmounted from the heatsink itself. If you are planning to go for an ultra compact case, it's nice to know that the NH-L14 can have the top fan unmounted for extra clearance room.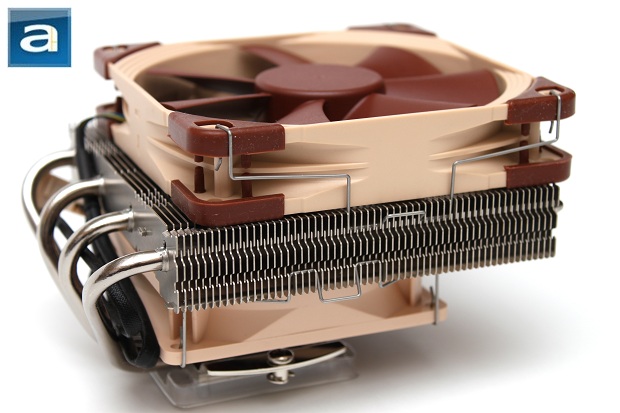 From an angled side view of the Noctua NH-L12, you can see both the top NF-F12 PWM and bottom NF-B9 PWM fan. The NF-F12 fan measures to 120mm in diameter, while the NF-B9 measures to 92mm. Each fan is attached to the fins via the wire clips. The clips themselves may seem very flimsy, but in fact, they are both durable and flexible at the same time. This will allow you to take off and put on the fans to and from the heatsink with little effort. On the NF-F12 fan, you can see that there are rubber vibration dampeners at all four corners. I am especially pleased to find these here, as it will dampen the sound when the fan spins at higher RPMs. According to my elite inspection skills, there are 60 fins in total, spaced at 2mm apart and calculated to approximately 0.63 square meters in net surface area. Aesthetically speaking, I find the NH-L12 to have a very clean and simple look to it, with a touch of elegance. Heatpipe caps would have been nice for aesthetics, but recently, I've grown to appreciate Noctua designs without the caps, so it's not a big issue for me. In terms of size, the Noctua NH-L12 comes out to a mere 93mm in height, 150mm in width, and 128mm in depth. Taking off the top fan reduces the height even further to its low profile mode. On a side note, depending on what kind of heatspreaders you have on your memory modules, you may be able to get by in terms of space between the memory modules and the bottom of the fins. This is due to the fact that the NF-B9 fan on the bottom does not cover the entire bottom footprint.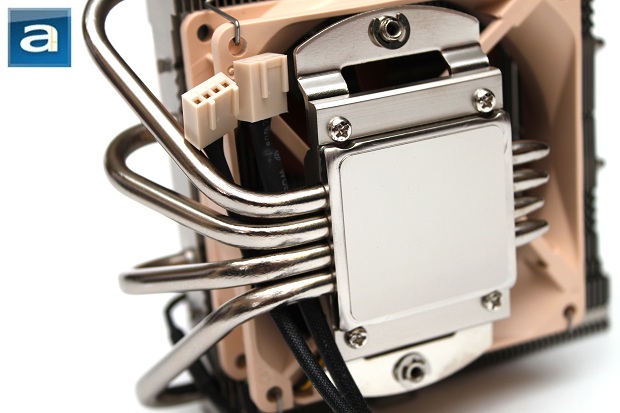 Here is a shot of the underside of the NH-L12 with the heatpipes leading away from the base, and curves into the fins. As opposed to the NH-C14, there are four heatpipes instead of six. When comparing its weight to the NH-L12, even with both fans attached, it is still lighter than its bigger brother without the fans -- 680g to be exact. However, like the NH-C14 and the Noctua NH-U12P, the NH-L12 is a hybrid cross of copper and aluminum electroplated with nickel. The heatpipes and the base are made out of copper for best heat transfer characteristics, with a thermal conductivity of 401W/mK. The fins are made of aluminum due to its lightweight properties as opposed to copper, which relieves the motherboard of extra stress due to its weight. Aluminum has a thermal conductivity of 237 W/mK, which is not as great for heat transfer, since it retains more thermal energy.
Speaking on the topic of copper, it is pretty obvious that we do not see any sort of copper color on its heatpipes and base. According to the specifications, the copper is electroplated with nickel -- which has a thermal conductivity of only 90.9 W/mK. Although nickel may seem limit the heat transfer, the electroplated layer is thin enough that it should not have too much effect on performance to a significant degree. Nickel is more of a corrosion prevention measure. Generally speaking, nickel and similar alloys can withstand corrosive environments due to its high resistance to heat, as corrosion will occur on metals with the presence of oxygen, and heat tends to accelerate the corrosion factor. The NH-L12's electroplated nickel on copper design is especially beneficial on such devices to prevent such natural phenomenon from occurring, and thus, leads to the most optimal and long-lasting performance. We have had many Noctua heatsinks at APH Networks for years, and they certainly held well over time.
Taking a closer look at the base, we can see Noctua has cleanly soldered the joints. The fins are also soldered to the heatpipes. This prevents loss of contract over time. If you have taken a look at lower quality heatsinks in the past, they tend to not solder the fins to the heatpipes. This offers great initial performance, but degrades over time as contact is lost between the fins and the heatpipes due to thermal expansion and contraption. Overall, the Noctua NH-L12 appears to be a solid build, as it had been in the past.
-----------------------------------------
Installation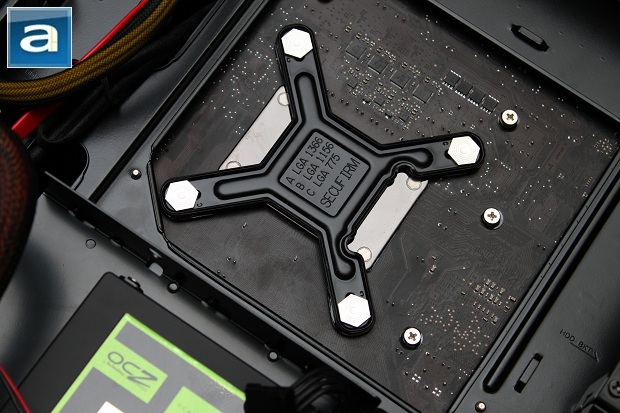 The installation process was actually quite simple. The packaged installation instructions, as well as the accessories, were very organized and easy to follow, which made the process go by within minutes. I installed the Noctua NH-L12 onto my Gigabyte G1.Sniper motherboard with an Intel Core i7-930 processor. The Securfirm 2 mounting system for the Intel platform uses a backplate that resides over the stock plate for better weight distribution, which is very important for the heatsink, as it may cause unnecessary high stress on the motherboard due to its weight. However, I'm not too concerned about the NH-L12, because it seems to be quite light, The backplate can easily be installed by aligning the two cuts with the screws of the motherboard's stock backplate. In this case, the Gigabyte G1.Sniper does not have backplate screws sticking out, so technically, you can place it in any orientation, as long as it is mounted correctly. Next, place the four bolts -- one in each corner -- through the appropriate A, B, or C openings for LGA1366, LGA1156, and LGA775, respectively, and corresponding motherboard mounting hole openings. Hold these in place, because they are not totally fixed at the moment. If you need help, it is a good idea to ask someone to hold it. If not, place the back of your motherboard on something without static (Preferably, an anti-static mat would be optimal, but I doubt most people would use one anyway). Moving on to the top side of your motherboard, this will be the next step part in the following section.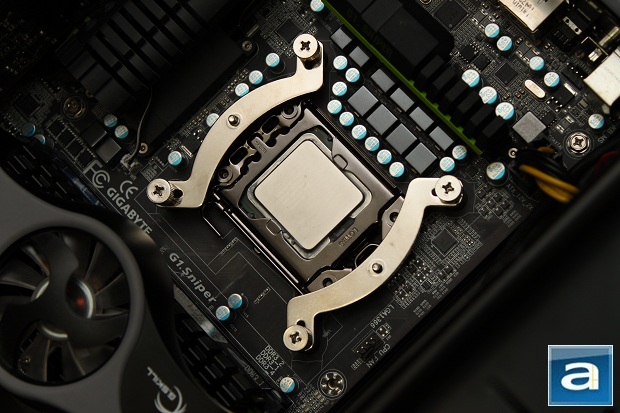 Two mounting bars are included for attaching the heatsink to the motherboard. Before installing these, however, first place the plastic spacers on to each of the bolts. Since the heatsink is designed in a C-shape, the user then has the choice of either mounting the heatsink with the memory modules at its mouth, or have the memory modules on either one of the heatsink's sides. It would be inadvisable that you mount your heatsink with the back of the heatpipes directly facing your memory modules, because that will not give you enough clearance room. Once you have decided the orientation of your heatsink (As long as it is not upside-down), the bars must be fastened to your motherboard via the screw caps. Make sure the bends in the mounting bars are facing outward, then tighten the screw caps over the bolts.
In order to fasten the heatsink over the CPU, you will need to reach two screws located on the bottom of the heatsink itself. Make sure you have a long enough screwdriver, and if not, Noctua kindly provides you with an extra one. Ensure that you do not forget to apply the thermal paste over your CPU before installing the heatsink. To gain access to these screws, you will have to carefully stick your screwdriver through the holes that are pre-made in the fins. Be careful not to damage anything in the process. I found it much easier to install by unmounting the fans first to install the heatsink, and then reinstall the fans after installation. Removing your memory modules also makes this process easier. Again, as mentioned earlier, if you have memory modules that require more clearance, it is most advisable that you only use the top fan, unless. of course, you want to remove the heatspreaders on your RAM.
-----------------------------------------
The Tests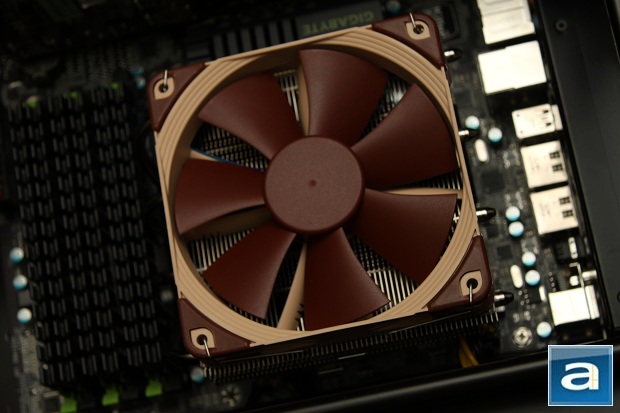 Our test setup is as follows:
CPU: Intel Core i7-930 (stock settings)
Motherboard: Gigabyte G1.Sniper
RAM: Patriot Extreme Performance Viper II Sector 7 Series PC3-12800 6x2GB
Graphics: HIS Radeon HD 6870 1GB
Chassis: Silverstone Raven RV03
Power: Cooler Master Silent Pro Gold 1000W
Optical Drive: Asus DRW-24B1ST 24x DVD-RW
Hard Drive: OCZ Agility 3 240GB, Seagate Barracuda 7200.11 1TB
Operating System: Microsoft Windows 7 Professional x64 SP1
Compared Hardware:
- Noctua NH-L12
- Arctic Cooling Freezer 13
- Arctic Cooling Freezer 13 Pro
- Intel Stock
- Noctua NH-C14
- SilenX Effizio EFZ-120HA5
- Thermaltake WATER2.0 Pro
- Thermaltake WATER2.0 Performer
All tests were run on a custom built test platform. The computer remained in the same location for all of the tests, with a room temperature at approximately 21c. Stock thermal paste respective to the heatsink were used to rate their individual performances, and were given sufficient time to fully settle. Noctua's NT-H1 thermal compound was applied to the NH-L12. The fans on all heatsinks were directly connected to the motherboard's 4-pin connector running at full speed. Our computer was turned on and idling for a minimum of one hour before the idling tests. High CPU load results were obtained using the Prime95 in-place large FFTs test with eight worker threads running for a minimum of ten minutes or until the temperatures were deemed stable.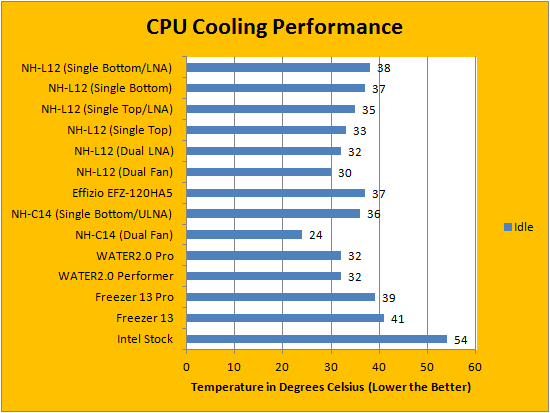 The readings displayed on our graph above were the temperatures readings of the processor taken from AIDA64 and verified with Core Temp using data provided by the CPU's Digital Thermal Sensor. The temperature of the lowest core was recorded. I have also cross-checked the temperature readings with Real Temp to ensure correct temperature readings throughout. I also made sure that the heatsink itself is heated properly beforehand to verify the idle state after a full load cycle.
Before we get too far into our results, allow me to mention that the Thermaltake WATER2.0 Performer and WATER2.0 Pro results are included here as well, but the reviews aren't out yet. At full speeds with both fans, we can see the Noctua NH-L12 cooled my Intel Core i7-930 to a very decent 30 degrees Celsius. This wasn't too far off from the NH-C14's 24 degrees Celsius, but is still a considerable 6 degrees difference. Keeping it at full speed in High Clearance Mode bumps the temperature readings up to 32 degrees Celsius. Using Low Profile Mode at full speed further increases the temperature to 34 degrees Celsius. For reference, using Low Profile Mode in conjunction with the L.N.A. resistor, the Noctua NH-L12 still holds a respectable 38 degrees Celsius with the fan spinning at 1300 RPM. All the idling tests, as well as the load tests coming up next, were done in my Silverstone Raven RV03 chassis. With the dual fans running at full speed, the CPU temperature readings show it is a full 24 degrees Celsius lower than with the stock Intel heatsink.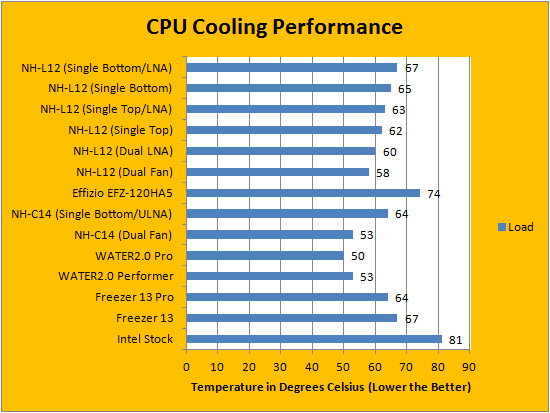 The results under load are equally as impressive as it is in idle conditions, and these values should definitely be taken into account. There should be no further need to question, as we already have seen such impressive idle results. Even when running with a single bottom mounted fan, I could not get any core to go over 67 degrees Celsius. There is a 9 degrees Celsius difference between having a single bottom mounted fan at its lowest speed and the dual fans at full speeds. For reference, the Intel Core i7-930 configured with an Intel stock heatsink was running at an unacceptable 81 degrees Celsius in the same testing conditions.
The topic of noise is quite interesting in my opinion. I am quite a picky person when it comes to noise emission from my computer, so on a subjective scale from 0-10, where 0 is silent and 10 is the loudest, I would rate the noise level of the NF-F12 by itself to be approximately 4.0/10 at full speed and 2.5/10 at LNA speed, while the NF-B9 sits at approximately 3.5/10 and 2.5/10 at full and LNA speeds, respectively. When both fans are mounted and tested for acoustical noise, I would rate the noise level to be approximately 5.0/10 at full speed, and 4.0/10 at LNA speed. I have to admit, the fans are very impressive, especially for their performance to noise ratio.
-----------------------------------------
Some say the Noctua NH-L12 is a legendary NHL hockey player that hypes the crowd to a roar. Others say it is a quiet night owl keeping watch at night. All we know is that the Noctua NH-12 is a very compact and quiet heatsink delivering very impressive cooling results. Noctua comes out with yet another heatsink that many would say many good things about, but there is really almost nothing to complain about. Simple and clean are my first impressions, while keeping the originality of the design from previous models. However, even with simple designs, the Noctua NH-L12 is solidly built with noise reduction in mind. As well, an excellent tube of NT-H1 thermal paste is provided to ensure heat is transferred efficiently between the heatsink and your processor. Those that have high clearance heatspreaders on their memory modules do not have to worry either. The small NF-B9 fan doesn't take up the whole underside of the heatsink, which allows for more space if the heatsink ever covers over the memory modules. If you are still complaining about space, Noctua gives you the option to take a fan off. With all these great features, I don't think most people would be able to find something bad about it. For approximately $70 MSRP, I think the Noctua NH-L12 is worth the price to performance ratio with a lower profile touch to the equation.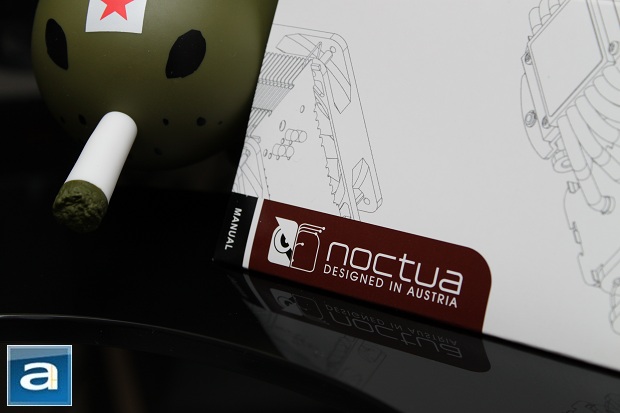 Noctua provided this product to APH Networks for the purpose of evaluation.
APH Review Focus Summary:
8/10 means Definitely a very good product with drawbacks that aren't likely going to matter to the end user.
-- Final APH Numeric Rating is 8.0/10
Please note that the APH Numeric Rating system is based off our proprietary guidelines in the Review Focus, and should not be compared to other sites.
The Noctua NH-L12 is a great compact heatsink that delivers high performance with noise optimizations in mind.
Do you have any comments or questions about the Noctua NH-L12? Drop by our Forums. Registration is free, and it only takes a minute!