By: Devin Chollak
August 26, 2011
The Lich King was the master and lord of the Scourge, and he ruled over them telepathically from the Frozen Throne on top of Icecrown. Well, I guess until I killed him about a year ago, but that is beside the point. The Thermaltake Frio OCK, a strange name for a product, literally means Cold Over-clocker King (sic). So what does an undead lord have to do with CPU cooling? Absolutely nothing; however, I couldn't help but notice the similarities between the two of them. Anyone who has played Warcraft 3 or World of Warcraft would certainly know what gave me the idea of putting them together. The real question is whether or not the Lich King can keep my Core i7-2600K pleasantly chilled? With Thermaltake boasting a title of king, it leaves for some very high expectations. As I'm sure many of the readers know, practical overclocking is not just about speed. It is a balance between performance, heat dissipation, stability, and to some extent, sound. This means for an air cooler to be considered king, it would need to do exceptionally well in at least three of categories listed. Obviously, the Noctua NH-D14 CPU cooler, reviewed by my colleague Jonathan back in January 2010, comes to mind as the challenger to the Thermaltake Frio OCK. As it turns out, in Jonathan's other review, the "regular" Frio was only a few degrees warmer than the NH-D14. I'm curious to see if the "OCK version" can prove to the NH-D14 who is really the master of the undead when it comes to cooling, so read on to find out!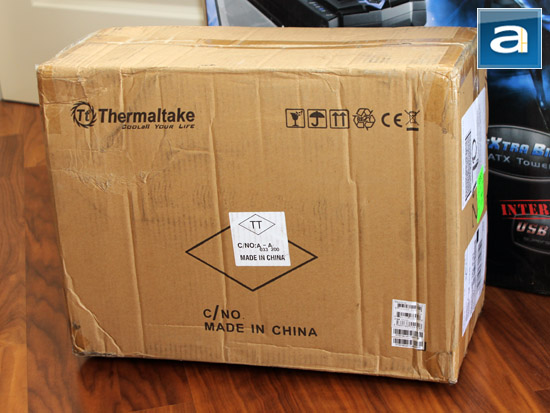 The Thermaltake Frio OCK arrived at our Calgary office in a brown corrugated cardboard shipping box from California. Thankfully, we know the Lich King is encased with ice to prevent any sort of damage, so the shipping box is almost unnecessary. Heatsinks are typically well protected inside the retail box; however, the dents and warps were absorbed by the shipping box, so I cannot really complain about the extra material. Looking at the shipping box is not going to tell us much about this noble product, so let us take a look at the retail package.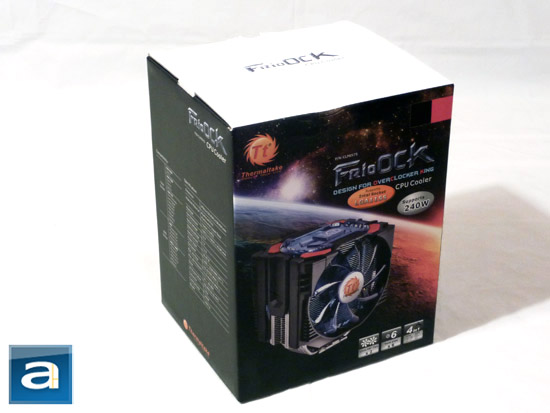 The deceptively cube-like box makes this CPU cooler look smaller than it really is. I am confused at the choice of background for the front of the box. I mean, I have nothing against earth and space, but when you are advertising a king, I have a hard time drawing the connection. It would have made far more sense in my mind to see a castle in a snowy mountain range. However, the Frio OCK has a very advanced look about it from the image on the front, so giving it a space age theme also works. Like many Thermaltake heatsink retail boxes, it indicates the basic features with an array of icons at the bottom right corner. These icons indicate it has two 130mm fans, six 6mm heat pipes, and supports Intel sockets LGA 1366, LGA 1156, LGA 775; as well as AMD sockets AM2, AM2+ and AM3. I'm curious as to why they didn't bother updating the last icon, so that it also states support for Intel socket LGA 1155. On the other hand, I have seen a number of other CPU coolers also pull the same trick up their sleeves, and simply add it as a sticker to the box. I will admit the retail box is aesthetically pleasing to a reasonable extent, and certainly presents the product in a royal fashion. Well, why we don't look at the boss strategies features and stats specifications of the Lich King Frio OCK on Wowhead Thermaltake's website?
Features
Ultimate Overclocking Thermal Structure Design, support up to 240W.
- Dual tower heat-sink with 0.4mm aluminum fins provide large surface for heat dissipation.
- 6 x 6 mm-U-shape copper heat pipes for accelerated heat conduction.
- Tower side flow design efficiently optimizes cooling performance.
- Premium thermal grease maximizes heat transfer from the CPU into the cooler copper base for rapid dissipation
Integrated Module for Dual 130mm VR™ OC Fan and the dazzling Cover.
- Single VR control knob adjusts fan speed from 1200~2100rpm.
- Overclocking efficiency with Starcraft II design.
- Convenient and Tool-less design for dismantle and install the fan module.
Universal Socket Compatibility & Accessory Package.
- All-in-one back-plate design, support all Intel and AMD platform
- Universal socket support :
Intel: LGA1366, LGA1155, LGA1156, LGA775
AMD: AM3, AM2+, AM2
Specifications
Compatibility:
Intel® Latest Sandy Bridge & 6-Core Processors
Intel® Core i7 Extreme (Socket LGA1366)
Intel® Core i7 (Socket LGA1366 & LGA1155/1156)
Intel® Core i5 / i3 (Socket LGA1155/1156)
Intel® Core 2 Extreme / Quad / Duo (Socket LGA775)
Intel® Pentium & D / 4 (Socket LGA775)
Intel® Celeron & D (Socket LGA775)
AMD® Latest Llano & 6-Core Processors
AMD® Llano Processors (Socket FM1)
AMD® Phenom II X6 / X4 / X3 / X2 (Socket AM3/AM2+)
AMD® Phenom X4 / X3 (Socket AM3/AM2+)
AMD® Athlon II X4 / X3 / X2 (Socket AM3)
AMD® Athlon 64 & FX / X2 (Socket AM2/939)
AMD® Sempron (Socket AM2/939/754)
* Supports All CPUs up to 240W TDP
Heatsink Dimension: 143(L) x 136.8(W) x 158.4(H) mm (with 2 Fans)
Heatsink Material: Aluminum Fins; Aluminum & Copper Base
Heatpipe: 6mm (x6)
Fan Dimension: 130(L) x 130(H) x 25(W) mm
Fan Speed: 1,200 ~ 2,100 RPM
Bearing Type: ----
Noise Level: 21 ~ 48 dBA
Max. Air Flow: 121 CFM
Max. Air Pressure: 3.12 mmH2O
LED Fan: ----
Power Connector: 3 Pin
Rated Voltage: 12 V
Started Voltage: 7 V
Rated Current: 1.2 A
Power Input: 14.4 W
MTBF: 50,000 Hrs @ 40℃
Weight: 1093 g (with 2 Fans)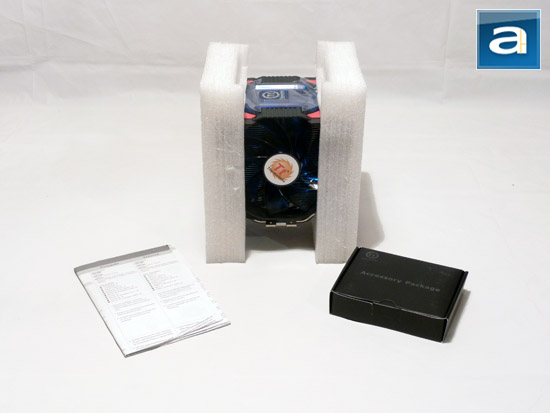 The Thermaltake Frio OCK's retail box opens from the top with a flap, which ensures the box keeps closed, but can be easily opened by a consumer. Peering inside, you can see the Lich King is a three part boss fight. First, you will find the instruction manual, followed by the accessories package directly below it. After taking out the accessories, you will face Frio OCK directly; clipped between two large Styrofoam brackets on either side. Anything compared to the Noctua NH-D14 looks small; however, the Frio OCK is actually pretty darn big. Pulling it out of the box required a bit more effort than I had anticipated, as the cooler has a reasonable amount of weight to it. The instructions came in two variants -- one for Intel, and the other for AMD. Each one offers a flavorful selection of languages, as well as a number of small images to help assist with the installation. I have a minor issue of the instructions not being updated to indicate anything to do with LGA 1155, but this is only a minor issue, as it has no effect on the actual installation process. The accessories package is organized inside with foam padding. This allows it to separate the pieces into individual compartments. To top it off, they even have a plastic cover on top of the foam; this is to ensure no parts can escape until you decide to release them. Overall, the packaging of the Frio OCK is clean, efficient, and simple -- giving you exactly what you need, and no unnecessary parts.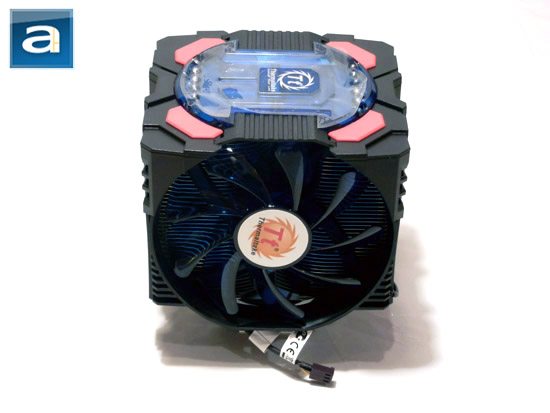 At first glance, the Thermaltake Frio OCK is basically a cube. For the most part, the color choice is good, but I'm not a fan of the red they just happened to mix in. I am very impressed with the blue fans, not so much because they work quite well, but they look very cool when turned on. The fans look like a blue liquid swirling around as they spin, which is totally awesome. The only unfortunate part of this design is the fans aren't removable, as they are built right into the plastic cover. This means you can't use any aftermarket fans on the Frio OCK. The cover itself is basically like the chain mail armor for the heatsink. It covers the entire height of the heatsink, and clamps down on both sides with levers. The heatsink itself consists of forty-five 0.4mm aluminum fins; according to my calculationsm it comes out to just over 0.8 square meters of surface area. That is certainly a large surface to chill, and I suspect it will do a pretty good job because of its sheer size.
The Thermaltake Frio OCK does sport the large surface area for its cooling fins, which you would expect for an "Over-clocker King". However, the relatively flat edges of the heatsink's fins increases air resistance through the fins. Essentially, even though the inward curve is an improvement over the completely flat and perpendicular design in the original Frio, I think this design still has some room for improvement. If they changed the edge to not be so flat, lower air resistance is definitely an asset. The Frio OCK utilizes two 130mm fans, which are pretty intense for a CPU cooler. I have seen slightly bigger fans on a CPU cooler, but only slightly. When combining both of the fans with the heatsink, you will find the Lich King drops 1093g in loot -- a number which will certainly make you question how strong your motherboard really is.
The most impressive feature for this CPU cooler is how easy it is to remove the fans from the heatsink. It is basically an effortless task of lifting the tabs on both sides, and sliding it up. The fans themselves are not very heavy, making it pretty clear the cover is made out of just plastic. Just like removing it, putting the king's armor back on is simple; line it up and slide it down till you get the reassuring click when it locks into place. It is always so nice to hear a click when pushing something in, as it gives you a good indicator of when everything is set properly, eliminating the uncertainty of it being improperly installed. The two fans on the Frio OCK have a speed range of 1200 to 2100 rpm, and this can be controlled by a wonderful little knob attached to the fan's power cable. A word of caution, I tested the highest fan speed in the middle of the night, and it sounded pretty dang loud. In fact, my mother came to my room and asked me, while still half asleep, why was I vacuuming in the middle of the night. I assured her it was just my computer.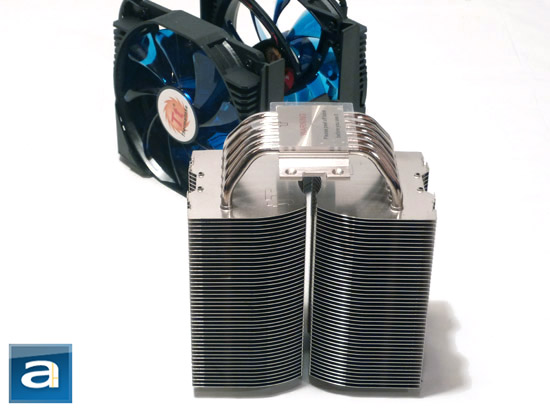 Heatpipes, as well all know, is a critical aspect to any CPU cooler. The Thermaltake Frio OCK proves this point with six 6mm diameter U-shaped heatpipes. Each heatpipe travels up to both arrays of aluminum fins, which provides effectively twelve heatpipes for thermal dissipation. I will admit that Thermaltake did a very good job here with the heatpipes and CPU contact. All of the heatpipes are attached to the copper base of the cooler. Copper provides significantly higher thermal conductivity than other materials, but unfortunately, due to the weight and corrosion, an entire heatsink made of the copper would be impractical.
Since the base is made of copper, it will be able to easy transfer heat from the CPU to the heatpipes. The base is also electroplated with nickel, which not only hides the appearance of the copper, but more importantly, prevents corrosion at high temperatures. The heatpipes are soldered to the fins, which allows for the cooling performance to not degrade after many heating and cooling cycles. All of it together makes the Frio OCK an exceptionally well constructed CPU cooler, something which you would expect for the price you pay. Just like its predecessor, the Thermaltake Frio, the Thermaltake Frio OCK is built very solidly.
-----------------------------------------
Installation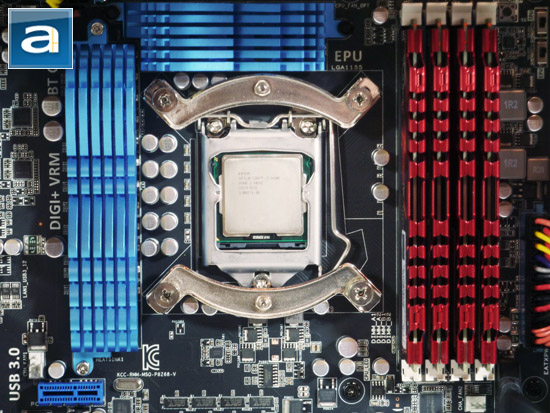 Installation was relatively simple. I had to refer to the installation guide only once during the whole installation process. The fact Thermaltake labeled the mounting brackets, so when you see Intel, you are installing it correctly for Intel processors, eliminated the need to even look at which parts were meant for AMD. Had I been installing for an AMD build, I would just have to check that I was installing the parts labeled with AMD. This is an absolutely brilliant design, and almost removed the need for an installation guide. However, I did encounter a bit of difficulty attaching the backplate with screws, simply because plastic spacers have to be screwed in by hand. I've just become so accustomed to sliding the spacers on that screwing them in felt unusual. The mounting bars didn't have any grooves to ensure even spacing. This meant that I had to be extra careful when screwing them in, just to make sure I was able to achieve a proper fit with the LGA 1155 holes. It was like being asked to build a delicate tiny model ship, but they only give you a sledgehammer to put it together.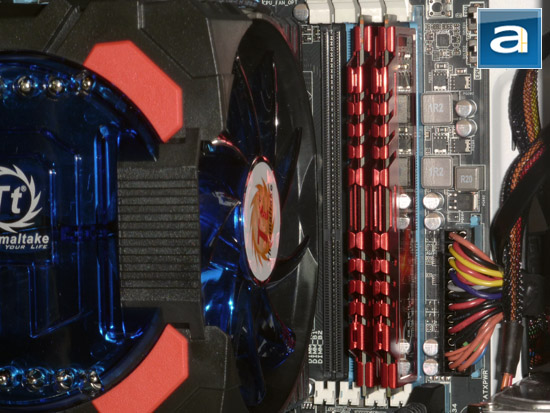 The next stage of the installation process wasn't as smooth as you would have anticipated. Having to manually attach the screws which thread into mounting bracket just felt like an unnecessary pain, especially for a product in this price range. However, the real frustration was the plastic fan cover. In stage two of this boss fight, I discovered the medium profile heatspreaders on my G.SKILL Ripjaws-X were too tall for the Frio OCK. I had to remove the RAM in the first two slots in order to fit in the cooler, effectively cutting the system memory in half. The good news is RAM without heatspreaders, or RAM with low profile heatspreaders will be able to sneak in under the CPU cooler fan. A word of caution here with this cooler, you cannot have medium profile or taller heatspreaders on your RAM. Once the offending hardware was removed, the rest of the installation was just a matter of screwing down the heatsink and putting the fan cover on top. One excellent feature here with the top cover is that both cooler fans uses the same power cable for fewer cables to plug in, which is always a nice little touch. The counter to this, the fact the fan speed adjustment must be done for both fans concurrently, and you cannot specify individual settings for each one. Not overly a major issue, but this cooler is designed for overclockers, and overclockers typically want to be able to control every setting to the perfect level. Well, now that we have completed the first two stages of this boss fight, it's time to go to the final stage and see how powerful the Lich King really is.
-----------------------------------------
The Tests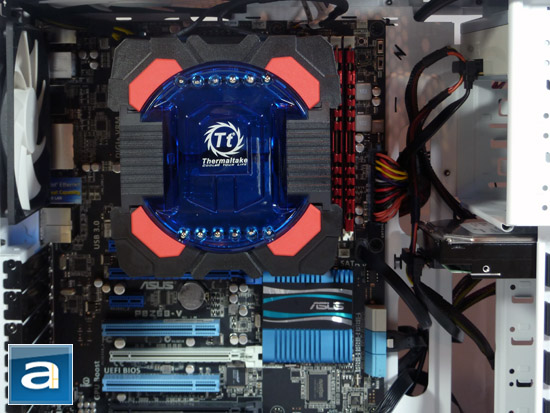 Our test setup as follows:
CPU: Intel Core i7-2600K (Stock settings; Hyper Threading enabled)
Motherboard: ASUS P8Z68-V
Graphics: Intel HD Graphics 3000
Memory: G.SKILL Ripjaws-X DDR3-1600 4x4GB
Chassis: NZXT Source 210 Elite
Power: Antec High Current Gamer 400W
Sound: Integrated
Hard Drive: Seagate Barracuda 7200.10 320GB
Optical Drive: Sony DVD-RW DRU-880S
Operating System: Microsoft Windows 7 Professional SP1 x64
Compared Hardware:
- Thermaltake Frio OCK
- Intel Stock
- Noctua NH-D14
For all the tests, the computer was in the same location, with the room temperature set at approximately 20c. For the tests, there were a total of four setups. The first setup was using the Intel stock cooler with the stock thermal paste. For the second setup, the Noctua NH-D14 was used with both fans, using the thermal paste that came with the Noctua cooler. Finally, for the third and fourth setup, the Thermaltake Frio OCK was used with the thermal paste provided by Thermaltake. The difference between the third and fourth test was having the Frio OCK running at minimum speed, followed by running it at full speed. Each setup was given sufficient time to allow for proper setting of the thermal interface material.
For the idle tests, the system was turned on and idling for at least 30 minutes. For the load tests, Prime95's in-place large FFTs test with eight work threads was run for 30 minutes. The results of the tests were taken from Core Temp using data provided by the CPU's thermal sensor. The highest temperature among the cores was recorded, and the results were cross-checked with Real Temp for verification of the readings for all results.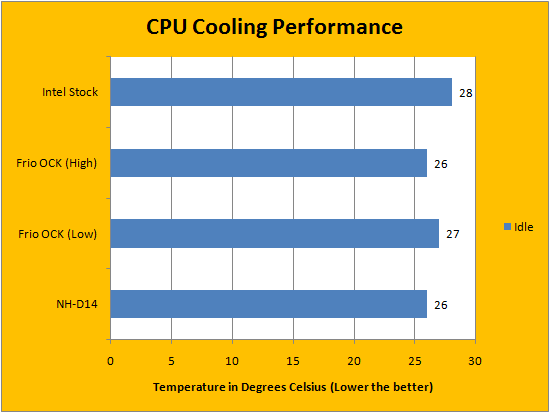 As can be seen in the above graph, there was very little variance in the temperature between each cooler. The Thermaltake Frio OCK running with fans at full speed was equally as cold as the NH-D14, at 26 degrees. However, the Frio OCK was significantly louder at the full fan speed of 2100rpm; I was even able to hear it through my noise cancelling headphones. I'm very certain this level of noise would not be something anyone would want coming from their computer. I consider myself usually unconcerned with the computer noise, because of my noise cancelling headphones. However, even for me, this level of noise is way higher than practically acceptable. As it can be seen running, the Frio OCK on the lowest setting still provided improved cooling over stock and was running fairly quiet. Well, idle tests are probably not what you are concerned about, so let us look at load tests.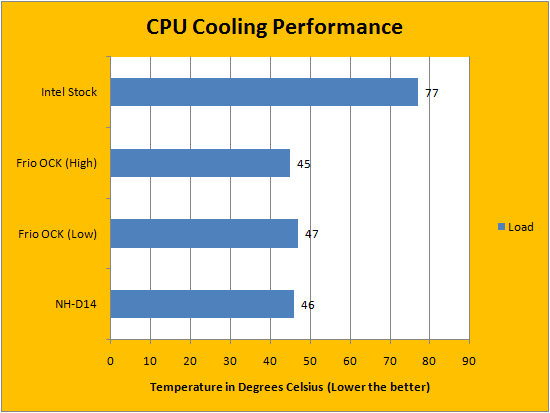 I guess it is easy to tell which one is stock, and running at 77 degrees isn't exactly something I'd be comfortable with. Then again, it is expected with the stock fan running on stock settings. The Thermaltake Frio OCK offered a temperature delta of only 2 degrees over a range of 900rpm. With the fan speed set to 2100rpm, we got a reading of 45c, and with the fan speed set to 1200rpm, we got a reading of 47c. The best way to put this, running the Frio OCK on full speed isn't very practical, and offers only marginal gains from tests. The NH-D14 sat right in the middle of the two Frio OCK tests at 46 degrees, giving it almost equivalent performance to the Frio OCK at full speed.
From the temperature perspective, the Frio OCK did a very good job, but how about from the noise perspective? As we all know, loudness is subjective, and varies to the individual -- but let's rank the Frio OCK on the standardized APH perception scale. Let 0.0 be silent and 10.0 be the sound of a tornado blowing up a girls skirt, err, I mean be the loudest sound possible (Not this again... - Editor). I would rate the Frio OCK on lowest fan speed at a reasonable 3.5. For the Thermaltake Frio OCK on the highest fan speed, I will quote my colleague Jonathan, "Thermaltake recently got some real talent in their engineering department. Clearly, someone from GE's jet engine department moved into the company, and developed the fans for the Frio OCK." I couldn't have said it any better. I won't even bother putting it on the scale, since it is simply too loud.
-----------------------------------------
Unless you are trying to achieve world records, overclocking is not just about clock speed -- it is a balance between performance, heat dissipation, stability, and to some extent, sound. The Thermaltake Frio OCK obliterates at least one area with Frostmourne. However, the Lich King's weakness is sound; thankfully the cooler provides an exceptional level of thermal dissipation even at low fan speeds. When looking at the Frio OCK, it certainly looks very impressive, and for $80 USD at press time, it does exactly what you would expect. This is a high end cooler that offers high end cooling to keep your CPU cool, so when you chill with friends, things won't get too hot. I particularly enjoyed the looks of the fans. They certainly provide an intriguing visual aspect with a liquid like vortex as they spin. The only thing I didn't like about it is if you ever want to swap out for quieter aftermarket units, you are out of luck. Installation, for the most part, was the most intuitive design I've seen in a long time, with clear and effective use of parts labeling. The number of components and lack of grooves for the screw holes did provide a bit of a challenge to ensure even alignment; however, the end results show that even this difficulty does not affect the performance of the product. If you are willing to tolerate a bit more noise, and happen to have low profile heat spreaders on your RAM (Or you don't mind taking off the heatspreaders), the Frio OCK is certainly a worthy match for the Noctua NH-D14 other than silence. The real question here is, did the Lich King live up to its name? In summary, yes it certainly is worthy of a king status.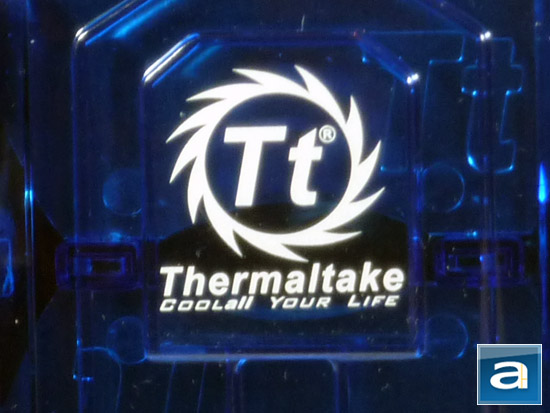 Thermaltake provided this product to APH Networks for the purpose of evaluation.
APH Review Focus Summary:
8/10 means Definitely a very good product with drawbacks that aren't likely going to matter to the end user.
7/10 means Great product with many advantages and certain insignificant drawbacks; but should be considered before purchasing.
-- Final APH Numeric Rating is 7.1/10
Please note that the APH Numeric Rating system is based off our proprietary guidelines in the Review Focus, and should not be compared to other sites.
The Thermaltake Frio OCK is a king when it comes to CPU cooling. As in, it's not exactly the quietest cooler around, but dang, it's good.
Do you have any comments or questions about the Thermaltake Frio OCK? Drop by our Forums. Registration is free, and it only takes a minute!