By: Devin Chollak
August 12, 2011
The NZXT Source 210 Elite reminds me of November 15, 2001. Why? Well, that was the day that the word "elite" would have more than one meaning. The fact Halo was released almost ten years ago is starting to make me feel old, and I'm not even that old yet. With the anniversary version of the game coming out on November 15 this year, I have a feeling Microsoft just wants to rub it in I'm not a kid anymore. Halo was a video game I have poured endless hours into with my friends. Halo was the first game I have played in LAN parties with that has meaningful experiences. Halo means more than just shooting aliens and battling up against friends -- oh good old nostalgia. Halo was a social activity for me during my youth, and has been a huge inspiration for my adulthood. For those who don't know what a Covenant Elite is, allow me to explain. Elites are the high ranking military officers in a collective alien armada known as the Covenant. They stand at over eight feet tall, have mandibles instead of lower jaws, and look reptilian. Essentially, they were the common, yet challenging, enemy that you would fight during the campaign. The NZXT Source 210 Elite just happens to feature the same color scheme as the white elites in the game. For those that don't know, white elites were one kind of elite you feared the most, because when you came across one, it meant serious business. The real question here is, does the Source 210 Elite mean serious business, or is it just another face-roller? Read on to find out!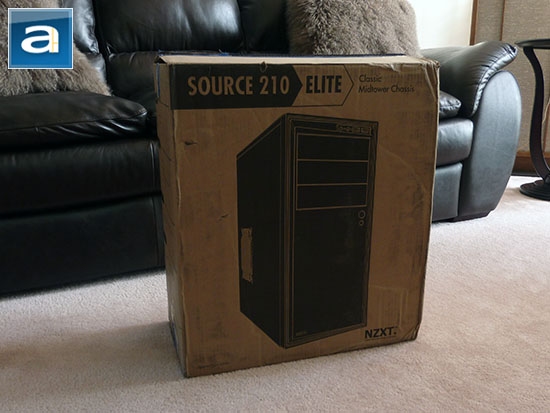 After seeing so many Cooler Master boxes lately, it was a nice change to see a box not sporting the Covenant violet on it. The alien NZXT Source 210 Elite arrived here in Calgary, Alberta, Canada only to have to make a few more slip-space jumps before reaching its final destination, my hands. As expected, UPS Standard was able to make the delivery with only minor visible damage. You know, the kind you would expect from traveling in outer space. Well, enough space travel, it is time to pull out the camera, and see what California has given us today.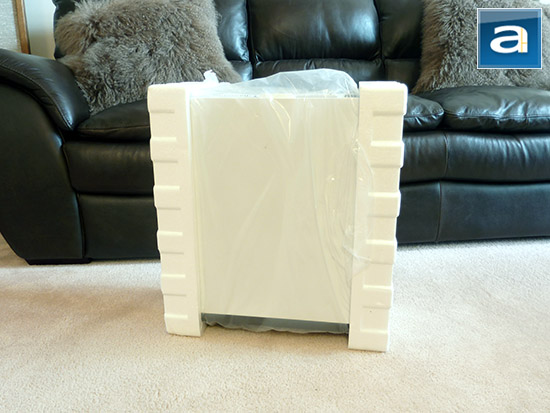 The Source 210 Elite was shipped here only in its retail box, as we all know white elites have really tough armor, and don't need the extra protection. Inside of the box the chassis is held in place by two Styrofoam brackets, and covered by your typical plastic bag. I was expecting to find removable plastic tape as so many other computer cases seem to have these days, but to my surprise, there was none. I always think it is a bit redundant to put plastic tape on something you are going to put inside of a plastic bag; however, we all know it's done to ensure there are no scratches and to preserve the shine. Nothing out of the ordinary here, so instead of me day dreaming about wielding an energy sword, let's take a look over the features and specifications, as obtained from the manufacturer's website:
Features
5.25" and 3.5" Screwless Design – Allows easy setup or removal of optical and hard drives.
USB 3.0 – Provides the most up to date high speed data transfer.
2 x 120/140mm fan (1x140mm included) – Maximizes cooling potential.
Bottom Mounted PSU – Positioned for the most effective PSU ventilation
Wire Management Support – 20mm space for a neat and easy build
Aluminum Textured Panel – Accents the chassis for a clean, modern look and feel
Dual 120mm Front Intake – Takes advantage of front facing HDD bays for excellent airflow
Maximum Cooling Potential – Eliminate heat by installing up to seven 120mm fans
Specifications
MODEL: Source 210 Elite
CASE TYPE: Mid Tower
FRONT PANEL MATERIAL: Plastic / Aluminum-like finish
DIMENSIONS (W x H x D): 195mm x 440mm x 495.5mm
VGA Clearance Maximum: 230mm w/ hard drive, 330mm w/o hard drive
CPU Heatsink Support: 160mm
Wiring Space: 20mm
COOLING SYSTEM:
- FRONT, 2 X 120mm
- REAR, 1 X 120mm @ 1200rpm (included)
- TOP, 1 X 140mm (included)
- BOTTOM, 1 x 120mm
DRIVE BAYS:
- 3 Tool-less EXTERNAL 5.25" DRIVE BAYS
- 8 Tool-less INTERNAL 3.5" HDD Drives
MATERIAL(S): Steel with painted interior
EXPANSION SLOTS: 7
WEIGHT: 6.5kg
MOTHERBOARD SUPPORT: ATX, MICRO-ATX
External Connections: 1 x Standard Audio/Mic, 1 x USB 3.0,1 x USB 2.0
---
Page Index
1. Introduction, Packaging, Specifications
2.
Physical Look - Outside
3.
Physical Look - Inside
4.
Installation and Conclusion