Page 4 - Installation and Conclusion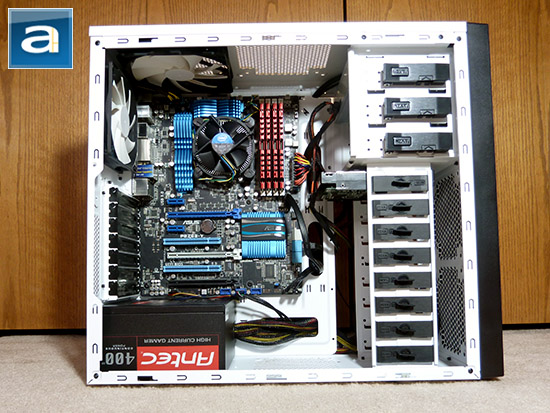 The whole installation process was relatively easy, and I only had the minor hassle of running the ATX 4-pin/EPS 8-pin power cable near the top rear corner fans. The power supply fits into the case with ease, and was easy to secure into place. As you can see in the photo above, I have installed the hard drive clamp upside-down in honor of my Australian colleague Paul. I found that to be a very amusing feature, so I couldn't resist, haha. My ASUS P8Z68-V used for testing fits in perfectly, and the two side holes in the chassis allowed for the cables to be attached perfectly with the motherboard. The USB 3.0 cable from the front panel was easy to route and plug in, as the case already came with basic wire management. I found the order of installation makes very little difference for the NZXT Source 210 Elite, as there is plenty of working room, and everything was painless to install.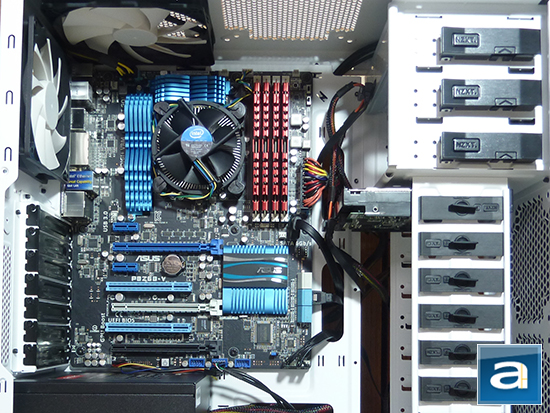 It was a bit tough to disengage the lever for the top 5.25" drive bay, but nothing was too difficult. The drive slid in, and I pushed the lever back down with ease. 3.5" drives were even easier; as you just need to turn a knob and pull, put in the drive, push, and turn the knob back. I could have easily mounted eight drives in under two minutes or less. Overall, the tool-free design was quite good. While I have seen better, this definitely works. Now, I'm sure you have noticed the lack of a graphics card in the images above. Well, the simple truth is that this is build is for a server, and it doesn't have a dedicated graphics card. The graphics is already provided by my Intel Core i7-2600K. Now, before you all go and laugh at me, it actually works perfectly fine for this build. I did put in my ATI Radeon HD 4870 X2 just to see how a large of a card it would fit. It turned out it fits in perfectly with lots of room to spare. I wouldn't suspect any issues for majority of the graphics cards on the market.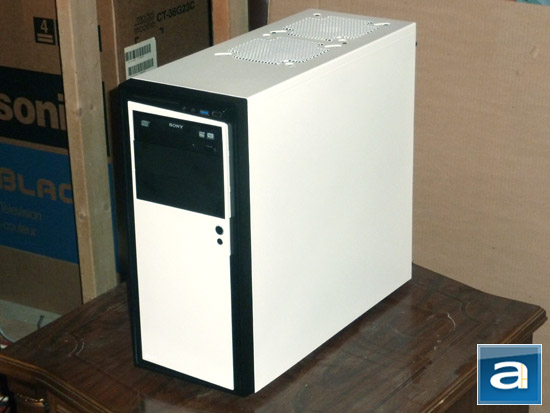 With everything in, I closed the case and set it up for usage. I have a feeling a number of people is going to wonder where my keyboard, mouse, monitor are. The answer is, I don't have any hooked up to this computer, and I'm being dead serious. In fact the only thing connected to the computer is the power cable and the network cable, since this is a server, as mentioned earlier. How loud is the NZXT Source 210 Elite? Well, using a scale from 0.0 to 10.0, where 0.0 is a dead elite and 10.0 is an elite screaming a battle cry through a megaphones, I would rate the NZXT Source 210 Elite at approximately a 3.5. It certainly isn't silent; but also very far from being called loud. In regards to cooling, overall I can say this case does a reasonable job for my build. I am running a stock cooler and no graphics card, so it is a bit harder to tell. However, it definitely does not overheat under heavy load, and the stock fans don't get overly loud, either. To be honest, this case and fan setup is not designed to be super quiet in the first place. On the other hand, the Source 210 Elite isn't designed to be enthusiast level either, so what we have here is a very reasonable chassis when it comes to cooling.
-----------------------------------------
When all is said and done, the NZXT Source 210 Elite is absolutely not a face-roller. I would even say this chassis is an absolute stunning entry level star. Retailing for $50 at press time, I can't even believe how low the price is for what you get. With admirable build quality, a surprisingly nice painted interior, and even front USB 3.0 ports, I actually thought the Source 210 Elite was $70 at press time without looking. The innovative tool-free design for 3.5" drive bays is full of win, and the tool-free design for the 5.25" drive bays also works quite well. The internal space of the chassis is compact, yet spacious, which allows for a painless installation. The overall external design is sleek, simple and aesthetically pleasing. With that in mind, like any existing product in the world, this case is by no means perfect, and there is room for some improvement. Simply making the back expansion slots tool-free -- even with thumbscrews -- and increasing the gap between the motherboard tray and right side panel would make all the difference. Overall, the flaws are relatively minor. Although the case only comes with two fans due to cost limitations, it has a lot of openings for aftermarket fans (I would like to point out this is a double edged sword, because dust can be an issue). If you are building a new computer and you want a great value chassis, I highly suggest you take a look at the NZXT Source 210 Elite. It really holds up to the word "elite", and I'm sure this one would give even Spartan-117 a run for his money.
NZXT provided this product to APH Networks for the purpose of evaluation.

APH equal.balance Award | APH Review Focus Summary:
8/10 means Definitely a very good product with drawbacks that aren't likely going to matter to the end user.
7/10 means Great product with many advantages and certain insignificant drawbacks; but should be considered before purchasing.
-- Final APH Numeric Rating is 7.1/10
Please note that the APH Numeric Rating system is based off our proprietary guidelines in the Review Focus, and should not be compared to other sites.
Got a budget, or just looking for a good value oriented chassis? The NZXT Source 210 Elite fits the bill exactly, with many great features to help you build a new machine.
Do you have any comments or questions about the NZXT Source 210 Elite? Drop by our Forums. Registration is free, and it only takes a minute!
---
Page Index
1.
Introduction, Packaging, Specifications
2.
Physical Look - Outside
3.
Physical Look - Inside
4. Installation and Conclusion