By: Jonathan Kwan
April 19, 2013
"That was an awkward question to ask," someone jumped in as I was having a conversation with another friend. "It was almost like asking when their wedding is." Responding to his remark, I jokingly addressed my friend and said, "So, when's your wedding?" -- to which he replied with, "Well, when's your funeral?" Yeah, he really went all the way there. As such, I quickly shot back to one up him. "I don't know when my funeral is, but I can sure as heck tell when yours is!" As you can see, there are some questions no one likes to respond to, but contains an answer everyone else wants to know. A couple of years ago, my colleague Preston reviewed the Kingston DataTraveler Ultimate G2 32GB. It was a decent USB flash drive in terms of speed, but it was not exactly good looking. Mainly, as Preston pointed out in his article, it could really use a Jenny Craig treatment. Obviously, if you asked what Kingston would do to fix up their product in the next iteration at the time, they probably would not have given you a satisfactory answer. Fast forward to today, the company is back again with their latest creation in the DataTraveler Ultimate line. Depending on how you look at it, it did not exactly receive a Jenny Craig treatment. Instead, they gave it a South Korean style plastic surgery. Metal casing? Check. Capless design? Check. The list goes on. Simply put, it looks nothing like its predecessor. Is the Kingston DataTraveler Ultimate 3.0 G3 32GB the answer to all of our questions we do not dare ask? Equally as important, did they up its performance as well? Read on to find out!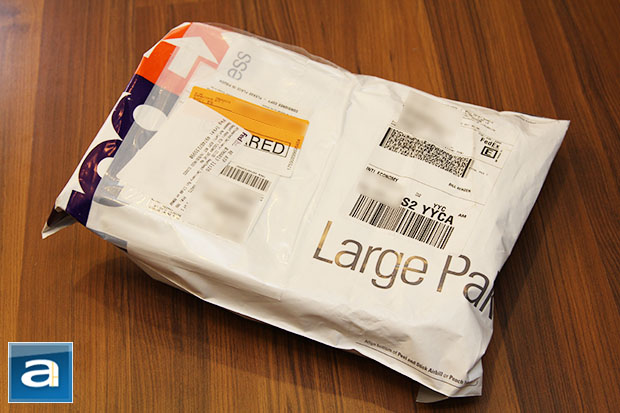 Our review unit of the Kingston DataTraveler Ultimate 3.0 G3 32GB USB flash drive arrived in a plastic FedEx Large Pak from the company's American offices in California, USA. To ensure everything arrives safely, the good people at Kingston provided extra protection by adding an extra layer of protection with a small, brown corrugated cardboard box inside. Using the International Economy service, everything arrived safely and quickly in excellent condition for our review. In our package is the DataTraveler Locker+ G2 32GB as well, in which we have reviewed a few weeks ago.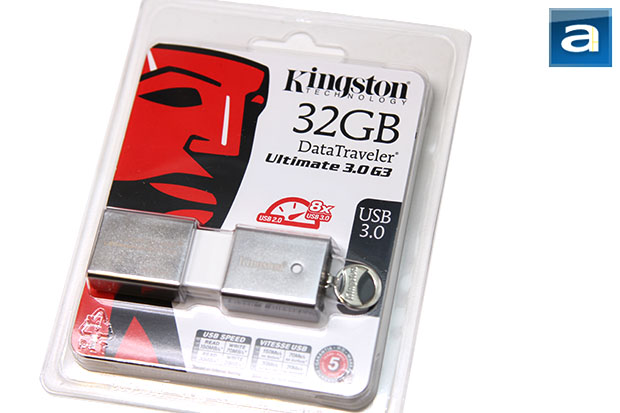 As with the past, Kingston's shipping department ensured everything arrived in excellent condition by putting an extra corrugated cardboard box inside the envelope for protection. Sandwiched between even more packing material is the DataTraveler Ultimate 3.0 G3 32GB flash drive itself. The retail packaging, as shown in our photo above, exhibits a much more consumer-like look than the enthusiast oriented HyperX 3.0 64GB and business oriented DataTraveler Locker+ G2 32GB. Its plain white background is interrupted by the prominent red Kingston logo along the western edge; creating a clean yet distinctive design for the end user. The model name and storage capacity can be clearly seen as well. While I am certainly not a big fan of blister packs, it is hard to argue against the company's choice of packaging, because it is quite fitting, especially if you are going to pick this up at your favorite local retail store. At the bottom, the company highlights its specified performance. Being a USB 3.0 drive, 150MB/s read and 70MB/s write is definitely not the fastest we have seen, but this is still pretty darn good. We will see how it really compares in our benchmarks in just a moment. But before we move on, let's take a look at the specifications of this product, as obtained from the manufacturer's website:
Capacity: 32GB
Speed (USB 3.0): Up to 150MB/s Read, 70MB/s Write
Speed (USB 2.0): Up to 30MB/s Read, 20MB/s Write
Dimensions (Without keyring): 2.6929" x 0.8961" x 0.4567" (68.40mm x 22.76mm x 11.6mm)
Dimensions (With keyring): 3.3622" x 0.8961" x 0.4567" (85.40mm x 22.76mm x 11.6mm)
Operating Temperature: 32°F to 140°F (0°C to 60°C)
Storage Temperature: -4°F to 185°F (-20°C to 85°C)
---
Page Index
1. Introduction and Specifications
2.
A Closer Look, Test System
3.
Benchmark: AIDA64 Disk Benchmark
4.
Benchmark: ATTO Disk Benchmark
5.
Benchmark: Crystal Disk Mark 3.0
6.
Benchmark: HD Tach 3.0.1.0
7.
Benchmark: HD Tune Pro 4.60
8.
Conclusion