By: Jonathan Kwan
July 13, 2012
Whew, what a hectic past two months it has been. Just to go over a little bit of history, I have started writing reviews ever since I started high school -- and being almost seven years of and counting, now I am typing away on my computer keyboard here at work to fire up for my latest review that was supposed to be due, well, a long time ago. Since I know my supervisor and colleagues do read APH Networks occasionally (Hi guys, what's up?), let me just clarify that this creativity process is happening during my lunch hour; I do legitimate company work on company time. With that in mind, last year we have covered quite a number of Gigabyte video cards -- the Radeons in particular included the ever popular Radeon HD 6870 SOC we have grown to love. Fast forward a year and a bit, sitting here in our labs is the latest midrange performance card from AMD. The Radeon HD 7870 2GB we are taking a look at today is, once again, Gigabyte's interpretation -- a beautiful WindForce 3X cooler, overclocked from the factory, with quality electronic components to boot. Does repeating the same recipe over and over again bring on the same level of success? Read on to find out what we have found!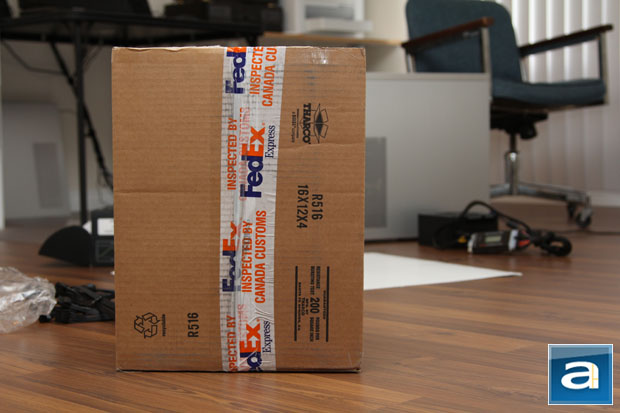 Our review unit came in a medium sized cardboard box, as usual, from Gigabyte's American offices in California, USA. Popping a quick glimpse over at the Review Tracker, it has really been a long time since we have this video card in our labs here at APH Networks. I mean, how long ago was Good Friday? We got this one day before that. Dang, not good. Either way, arriving via FedEx International Economy, our Gigabyte Radeon HD 7870 2GB OC arrived in excellent condition for our review today.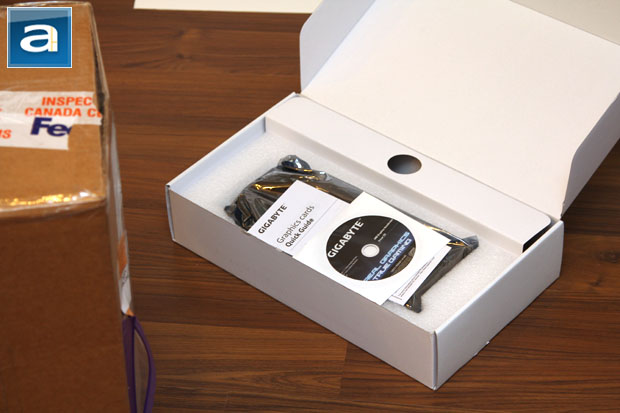 Usually, in this section, we will be making comments on how amazing the retail box looks, and how cool it is. As much as I would love to crack down on the details and tell you how appealing it is to a computer geek such as yours truly, this time around, we got an ever-so-fancy... yep, white box. Cool. At first, I thought it was a mistake, or that the Canadian customs thought it was funny to steal it. However, it seems we are not the only review site who got a white box for a review unit, so rest be assured the colorful pictures are not at someone else's house right now. That said, if you look at Gigabyte's website, the packaging is stylish as always -- composing of a florescent glow that outlines what that resembles an eye displayed prominently in the center, and stickers on the side highlighting its WindForce cooler and its factory overclock. Well, that is as much as what I can say. So before we move on, let's take a look at the specifications of this video card, as obtained from the manufacturer's website:
Chipset: Radeon HD 7870
Digital max resolution: 2560 x 1600
Analog max resolution: 2048 x 1536
Process Technology: 28 nm
PCB Form: ATX
Core Clock: 1100 Mhz
Memory Clock: 4800 MHz
Memory Size: 2 GB
Memory Bus: 256 bit
Card Bus: PCI-E 3.0
Memory Type: GDDR5
DirectX: 11
OpenGL: 4.2
Multi-view: 4
I/O: HDMI * 1
DVI-I * 1
Mini DisplayPort * 2
Card size: H= 42.5mm, L=280 mm, W=134 mm
Power requirement: 500 W
Out of the box, you will not receive all that much -- just the card itself, two Molex to PCI Express adapters, user's manual, and a driver disc. This is rather disappointing, because as you will see later on in this review, the Gigabyte GV-R787OC-2GD Radeon HD 7870 2GB OC only has one DVI port. An HDMI to DVI adapter is definitely a necessity in my personal opinion.
---
Page Index
1. Introduction, Specifications, Bundle
2.
AMD Radeon HD 7800 Series Architecture
3.
A Closer Look, Test System
4.
Benchmark: 3DMark 11
5.
Benchmark: Battlefield: Bad Company 2
6.
Benchmark: Call of Duty: Black Ops
7.
Benchmark: Colin McRae: DiRT 2
8.
Benchmark: Far Cry 2
9.
Benchmark: Just Cause 2
10.
Benchmark: Metro 2033
11.
Benchmark: Unigine: Heaven v2.5
12.
Power Usage, Temperature, Noise
13.
Overclocking and Conclusion