By: Jonathan Kwan
August 29, 2014
Some questions have obvious answers. For example, what is the difference between a dress and a skirt? Uhh... actually, I am a guy, so I really did not know the difference until someone told me three months ago. As it turned out, my colleague Aaron was no exception; he actually found out just last week. If you have not searched up the difference yet, basically, a dress is full body, whereas a skirt only covers up to the waist. Therefore, to make reword this into a question with an obvious answer those of the male gender will understand, what is the difference between a wired network and a wireless network? If you answered one has wires and one does not, congratulations, this is not a trick question -- my Electrical Engineering professor who taught a third year course in communication systems will have to agree with you (This was actually a real question that appeared on a quiz and the midterm when I took it a few years ago). Judging by the same logic, as we come together today to review the SteelSeries Sensei Wireless, one could say this is just the wireless version of the APH Recommended SteelSeries Sensei reviewed by Devin Chollak in December 2011. I mean, they called it the Sensei Wireless for a reason. Apparently, unlike the obvious-question-has-obvious-answer I proposed earlier, the SteelSeries Sensei Wireless is not just a wireless version of the SteelSeries Sensei, even though it is, indeed, wireless. Instead, it is the wireless version of a modified and upgraded SteelSeries Sensei. Featuring an improved sensor and more durable switches in addition to cutting the cord, is this the mouse to rule them all? You have questions, we got answers.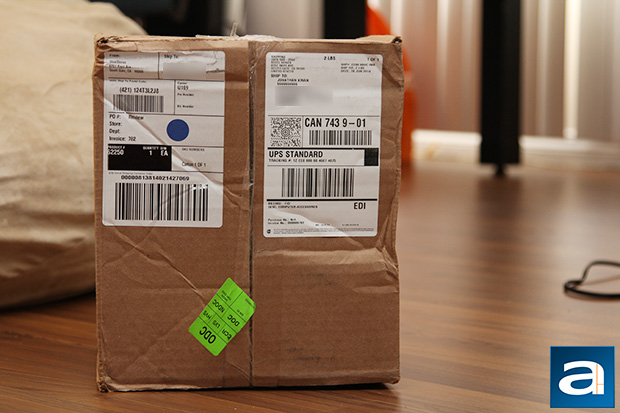 Our review unit of the SteelSeries Sensei Wireless came in a medium sized, brown corrugated cardboard box from the company's American offices in Chicago, Illinois, USA. On one lazy July afternoon, UPS dropped off the package on our doorstep here in Calgary, Alberta, Canada. We have not exactly been expecting it at the time, so it was a nice surprise for the day. With the heat now mostly behind us, and I am playing "Wake Me Up When September Ends" by Green Day once more, I unboxed the mouse, and got to work. Using the Standard service, it was really beat up when it got here, but at least everything is safe and sound inside.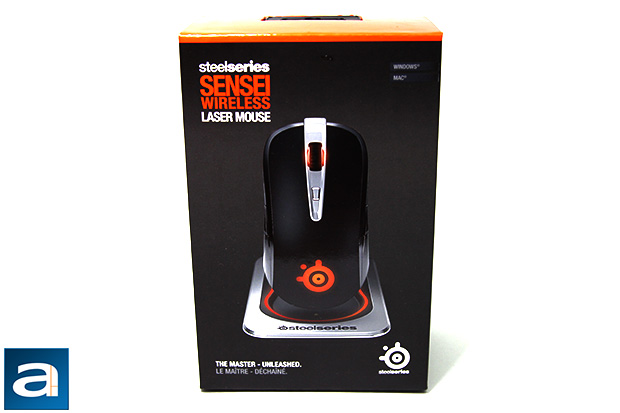 The retail box design for the SteelSeries Sensei Wireless is practically identical to the SteelSeries Rival. Actually, the layout and format is exactly the same as its stablemate; being an updated design derived from the original Sensei reviewed by my colleague Devin nearly three years ago. I have always been a big fan of SteelSeries' clean and relatively modern design, as shown in the photo above. The black and dark grey background is accentuated by white text printed on the box, with the model name in sharp, deep orange in the upper left hand corner. A photo of the mouse and charger can be seen occupying the majority of the box in the middle. There is only one phrase that describes the SteelSeries Rival in front, and that is "The Master - Unleashed" in two different languages. More detailed descriptions are at the back. If I were to see the SteelSeries Sensei Wireless in a retail store, this is surely a visually appealing design with a slick slogan to behold.
Before we move on, let's take a look at the specifications of the SteelSeries Sensei Wireless, as obtained from the manufacturer's website:
Laser Sensor
- 50 to 8200 Adjustable CPI
- 1 ms Response Rate / 1000 Hz Polling Rate
- 150 Inches Per Second (IPS)
- 30 g Acceleration
Properties
- 16 hrs Battery Life, Max 20 hrs
- 8 Programmable Buttons
- 16.8 M Color Illumination w. 4 Zones
- Soft-Touch Coating
- Cable Texture: Braided
SteelSeries Switches
- >30 Million Click Durability
Size & Weight
- Weight: 120 g (0.264 lbs)
- Height: 41 mm (1.61 in)
- Width: 69 mm (2.72 in)
- Length: 129 mm (5.08 in)
- Cable Length: 2 m (6.5 ft)
- Base: 165x100x24 mm, 208 g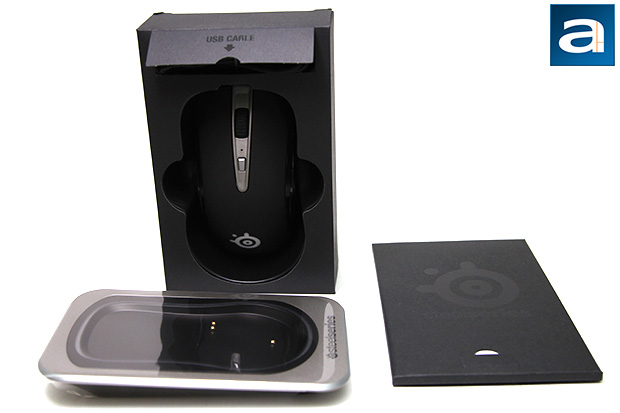 Out of the box, you will receive the SteelSeries Sensei Wireless mouse, metal charging base, USB cable, as well as a quick start guide. I found everything quite classy, with no excessive waste at all. A note is included to tell you to always switch off your mouse before unplugging the USB cable from it, if you are using it in wired mode. The company also provides a sticker to show off your SteelSeries pride. As expected, there is no driver CD. You will have to download it from their website directly. The file size of SteelSeries Engine 3.2.7 (The latest version at press time) is 50.4MB, which has grown by about 5MB since I have last used it with the Rival in April.
---
Page Index
1. Introduction, Packaging, Specifications
2.
A Closer Look - Hardware and Software
3.
Subjective Performance Tests
4.
Conclusion