By: Jonathan Kwan
April 11, 2014
"He is the Asian guy with black hair, brown eyes, and glasses," I told my friend. "Oh yeah, I know that guy!", my friend replied, albeit with a slight tone of sarcasm that can be clearly sensed from a mile away without any further explanation required. Sometimes, it is quite impressive how often we can give a description of someone or something that can be so detailed, yet so useless all at the same time. What is the first thing that comes to your mind when I mention "optical mouse"? For me, it will have to be a beige Microsoft Wheel Mouse Optical I got years before APH Networks even came into existence. This was back in the days when CRT monitors were still common, and everyone still had a ball mouse. The Microsoft Wheel Mouse Optical was my very first optical mouse, and having one was definitely something only the cool kid on the block had. Heck, it even came with red LED lights! Well, that was until someone showed up with an IntelliMouse Optical, but that was a completely different story. Fast forward to 2014, if you told your friends you have an optical mouse, will it still have the same effect as it did ten years ago? Probably not; but just like I told my friend to look for the Asian guy with black hair, brown eyes, and glasses, you are really just giving a description that is technically correct, yet fundamentally useless at the same time. To prove my point, today, we will take a look at the SteelSeries Rival, the latest optical mouse from the renowned gaming peripherals manufacturer. Designed specifically with first person shooter gaming in mind, and featuring a sensor that can go as low as 50 DPI to as high as 6500 DPI (Or CPI in SteelSeries language), this is certainly not my decade old Microsoft Wheel Mouse Optical packed away in a box somewhere in the basement. Let us take a closer look and see if it is the real deal!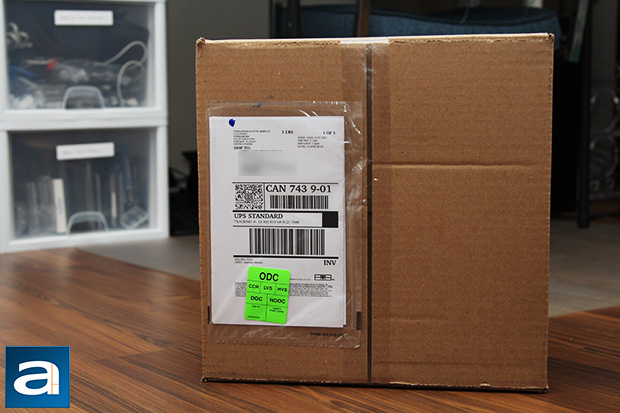 Our review unit of the SteelSeries Rival came in a medium sized, brown corrugated cardboard box from the company's American offices in Chicago, Illinois, USA. We have been steadily reviewing products from SteelSeries again in the past few months here at APH Networks; this included the SteelSeries Apex back in November 2013, and the SteelSeries H Wireless in January of this year. However, due to the nature of the products, every time, it arrived in a different sized box. That said, just like the last few times, it was transported by UPS Standard. As always, the guys in the brown suit dropped it off to us here in Calgary, Alberta, Canada safely and securely for our review today. We cracked open the box, and got to work.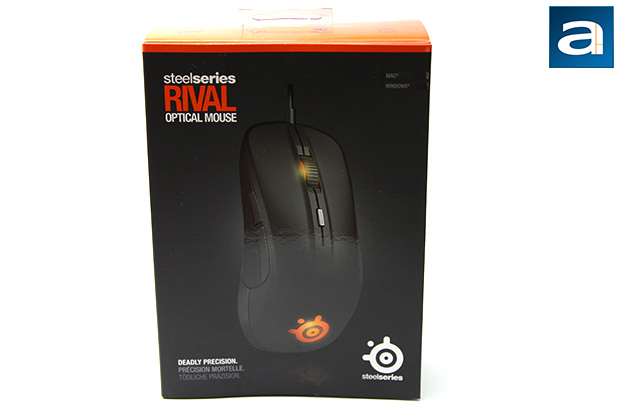 The retail box design for the SteelSeries Rival is no different thematically compared to the Apex and H Wireless as aforementioned. Actually, the layout and format is exactly the same as the SteelSeries Sensei laser mouse reviewed by my colleague Devin back in December 2011. Despite the fact a good two years and some months have elapsed since then, I am still a big fan of SteelSeries' clean and relatively modern design, as shown in the photo above. The black and dark grey background is accentuated by white text printed on the box, with the model name in sharp, deep orange in the upper left hand corner. A photo of the mouse itself can be seen occupying the majority of the box in the middle. There is only one phrase that describes the SteelSeries Rival in front, and that is "Deadly Precision" in three different languages. More detailed descriptions are at the back. If I were to see the SteelSeries Rival in a retail store, this is surely a visually appealing design with a slick slogan to behold.
Before we move on, let's take a look at the specifications of the SteelSeries Rival, as obtained from the manufacturer's website:
Optical Sensor
- 50 to 6500 Adjustable CPI
- 1ms Response Rate / 1000Hz Polling Rate
- 200 Inches Per Second (IPS)
- 50Gs of Acceleration
Properties
- 6 Programmable Buttons
- 16.8M Color Illumination w. 2 Zones
- Soft-touch coating
- Injected rubber side grips
- Cable Texture: Soft Rubber Cable
Size & Weight
- Weight: 128 grams (0.28 lbs)
- Height: 45 mm (1.8 in)
- Width: 70 mm (2.76 in)
- Length: 133 mm (5.23 in)
- Cable Length: 2m (6.5 ft.)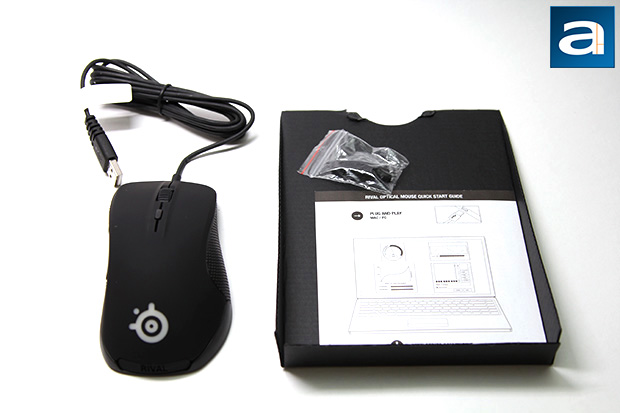 Out of the box, you will receive the SteelSeries Rival mouse, along with a quick start guide. A plastic bag that contains a second user interchangeable nameplate -- more on this later -- is the only accessory included from the factory. A sticker attached to the end of the USB cord instructs the user to go to SteelSeries' website to download the latest software from the company's website. The file size of SteelSeries Engine 3.20 (The latest version at press time) is 45.8MB, but I am willing to bet a vast majority of the users who are interested in this mouse will have a reasonably fast internet connection at home. After all, it is 2014, not 2004, haha.
---
Page Index
1. Introduction, Packaging, Specifications
2.
A Closer Look - Hardware and Software
3.
Subjective Performance Tests
4.
Conclusion