By: Jonathan Kwan
November 13, 2013
Back in the days, I used to visit my cousin in Toronto every year. Actually, I still do, but that is another story. We used to hang out in the den of his house, where he would sit in front of his desktop computer, and I would work away on my laptop. Occasionally, as guys goes, we would hurl random insults at each other. The conversation will end when the epitome of all insults are made. "Yeah, well, your keyboard is loud," we used to say, and it will be quiet for about five seconds before we burst out laughing at our immaturity and geekiness. After all, we were both in Junior High back then. Since when is calling someone's keyboard loud an insult? Even we are not sure how that was started, but the thing is, having a loud keyboard may not be the most pleasant thing at all times. Here at APH Networks, we have covered quite a number of mechanical keyboards from various manufacturers such as Cooler Master and Thermaltake. Like many computer enthusiasts, we love our mechanical keyboards. Its independent keyswitches provide a unique level of tactility, response, and reliability that cannot be replicated by anyone else. On the other hand, it is not the solution to all problems in life. What if I prefer short key travel like my laptop? What if I wanted something a little quieter, so your cousin next to you cannot say your keyboard is loud? In situations like this, you might want something other than a mechanical keyboard, and fortunately, there are some pretty good ones to choose from. Today, we will take a look at the SteelSeries Apex, a high end non-mechanical keyboard that features twenty two macro keys, four macro layers, and five independent backlight zones configurable to over sixteen million colors at eight intensity levels. Is this the keyboard to splash your cash on? Read on to find out!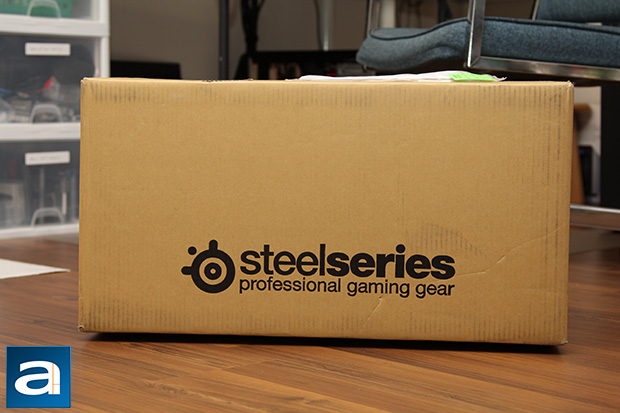 Our review unit of the SteelSeries Apex came in a surprisingly large, brown corrugated cardboard box from the company's American distributors... not from California, but rather Chicago, Illinois, USA. With the amount of stuff coming in to us here at APH Networks, I would say over ninety five percent of the products we review come from California, so we are in for a change this time around. Using UPS Standard, the SteelSeries branded box came relatively unharmed; with the exception of a nice little rip at the top. Thankfully, nothing was broken during transport. Therefore, we cut open the tape, and got our camera ready.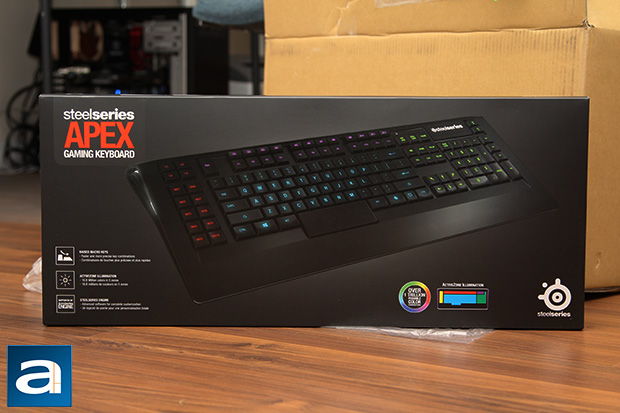 Upon opening the big brown package, I was rather surprised to see no additional packing material were used -- all that was inside the shipping box was the SteelSeries Apex in its retail box; the rest were all empty space. As far as the retail box of the SteelSeries Apex is concerned, the design theme has not changed much since my colleague Devin reviewed the SteelSeries Sensei in December 2011. I am a big fan of SteelSeries' clean and modern design, as shown in the photo above. The black and dark grey background is accentuated by white text printed on the box, with the model name in sharp, deep orange in the upper left hand corner. A photo of the keyboard itself can be seen occupying the majority of the box in the middle. Feature highlights can be seen in the front, with more detailed descriptions at the back. If I were to see the SteelSeries Apex in a retail store, this will definitely give me a pretty good idea of what the product is, along with what makes it special. Obviously, SteelSeries spent a lot of time marketing its multi-zone illumination, and rightly so -- more on this later. I will have to give the company a pat on the back for providing to the point information in an appealing package!
Before we move on, let's take a look at the specifications of the SteelSeries Apex, as obtained from the manufacturer's website:
Low profile keys: ✓
Backlight color: 16.8 mill. at 8 levels
SteelSeries ActiveZone: 5 zones
Anti-ghosting: 6 simultaneous keypresses of 20 antighosting capable gaming keys
Macro keys: 22
Macro layers: 4
W-key with tactile bump: ✓
Media keys: Dedicated
Adjustable keyboard tilt: Two angles (7° & 10°)
SteelSeries Engine support*: ✓
Surface material/treatment: Textured/Glossy
Braided, anti-tangle cord: ✓
Rubber dome keys: 5 mill. keystrokes
USB hub: 2 ports
OS compatibility: Windows, OS X, & Linux
Recommended price: $99.99/€99.99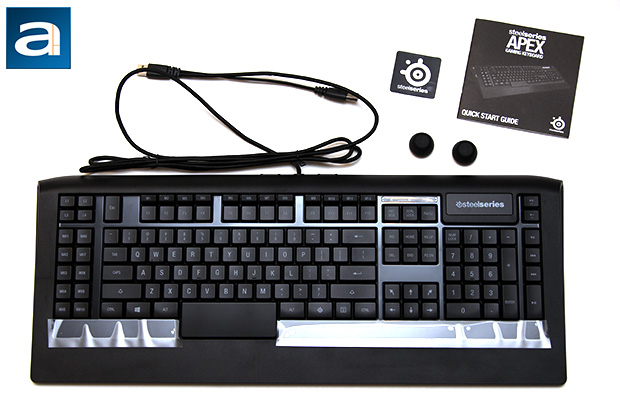 Contents inside the retail package can be removed after opening either the left or right flap on the exterior box. The keyboard, in conjunction with a small amount of accessories, is secured inside a cardboard tray enclosed by a flap top. As you can see in our photo above, the bundle is pretty minimal, which is somewhat unusual for a upper market gaming keyboard, but I am not complaining. Generally speaking, you will get pretty much only what you need. Out of the box, in addition to the SteelSeries Apex keyboard, you will find two rubber risers (More on this later), a SteelSeries sticker, and a quick start guide. Protective clear plastic tape is placed over portions of the keyboard's glossy surfaces to prevent it from being scratched during transport. With that in mind, let's cut straight to the meat, and take a closer look at the SteelSeries Apex keyboard itself.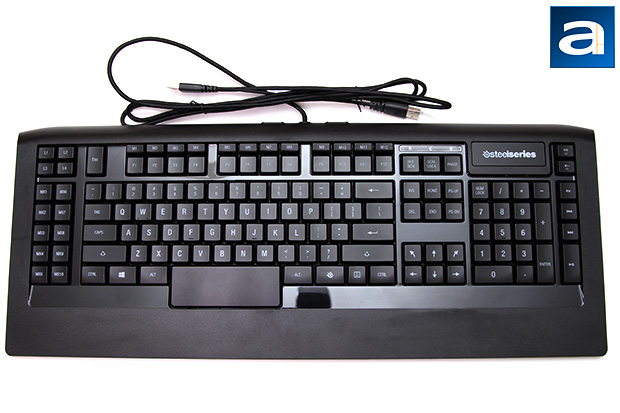 Interestingly, at first glance, the SteelSeries Apex is not all that special to look at. It is good looking, but not particularly outstanding like the Logitech diNovo Edge, or even the Gigabyte Aivia K8100. I may have been biased, because I have seen the SteelSeries Apex plugged in and turned on -- the lighting effects are absolutely stunning in my opinion. We will get to that in just a moment. That said, its textured plastic construction around the outer surfaces edges is comfortable to touch. This is important, as the SteelSeries Apex features an integrated wrist rest. I found the integrated wrist rest is a bit short; extending it by half an inch or so would be excellent in my opinion. The material changes as we move towards the center of the keyboard between the keys. The piano black, glossy plastic finish as shown in the photo above is always good to look at, but everyone knows they are epic fingerprint magnets. Thankfully, unless you have super sweaty hands, chances are that it is not as big of an issue, since you are less likely to touch it. As far as the keyboard layout is concerned, the Apex is pretty traditional; but a few elements may catch your eye right off the bat. For me, it has to be the extra large spacebar. The dual row spacebar makes it practically impossible to miss for the clumsiest of all. To be fair, have I ever missed hitting the spacebar in any other keyboard in the past? Absolutely not, but the Apex's design makes it very comfortable to type use, yet it requires no particular adjustment for the end user. There are no detrimental effects to having a big spacebar. If you take a closer look, you will see a dual row Escape key at the top left corner, which, again, is a welcomed addition.
With twenty two macro keys across four layers for a total of eighty eight programmable combinations, the SteelSeries Apex comes in at 55cm width, 22cm depth, and 3.5cm height, at least according to my own measurements at its largest points. This is a pretty big keyboard. I don't know how much it weighs, since the company does not specify this number, but it is definitely not heavy like your standard mechanical keyboard. The reason for its relatively lightness compared to many modern gaming keyboards is due to the fact the Apex is not a mechanical keyboard, but rather, a very traditional rubber dome keyboard. Wait... what? A $100 keyboard using rubber dome keys? You read that right. It does not even feature a scissor mechanism. At first, I do not know how SteelSeries is going to pull this off. Selling a relatively expensive keyboard targeted towards the enthusiast with rubber dome keys in 2013 is simply a formula for failure. My fears subsided when I began to type on the SteelSeries Apex. The short key travel distance with ultra slim keycaps, good activation distance design with a well implemented non-linear activation force is surprisingly tactile and natural feeling. Despite the lack of scissor support mechanism behind each keycap, the SteelSeries Apex is actually pretty good for people who prefer laptop-type keyboards for overall feel and response. I found this keyboard's typing experience not quite ThinkPad, which has long been hailed as the epitome of laptop keyboards, but very good nonetheless. Overall, I found its actuation effort to be minimal, while delivering an acceptably distinct and tactile response for accurate typing. Additionally, the 'short' travel distance is implemented pretty well, as I don't feel like I am bottoming out the keyboard prematurely every time I type. If you are picky enough, there is some very minor keyboard flex at the base, but this is only if you push really hard. It will be nice if the base is stronger, but I don't see this being a problem with the Apex. The switches are rated for five million keystrokes.
The SteelSeries Apex features partial NKRO, also known as N-key rollover. You can press up to six simultaneous keys at once without interference. It is rather unfortunate the SteelSeries Apex does not feature full NKRO, especially for a high end gaming keyboard. That said, there are twenty anti-ghosting capable keys. This includes 1, 2, 3, 4, 5, Q, W, E, R, A, S, D, F, left Ctrl, left Shift, space bar, and the four arrow keys. I think this is a pretty complete list sufficient for almost all types of gamers out there. Most people probably will not press more than six keys simultaneously, but since we have ten fingers, I think bumping the maximum simultaneous keypresses to ten is not too much to ask for, especially for a keyboard of this caliber. The SteelSeries Apex polls at 1000Hz by default, which translates to a speedy 1ms response time.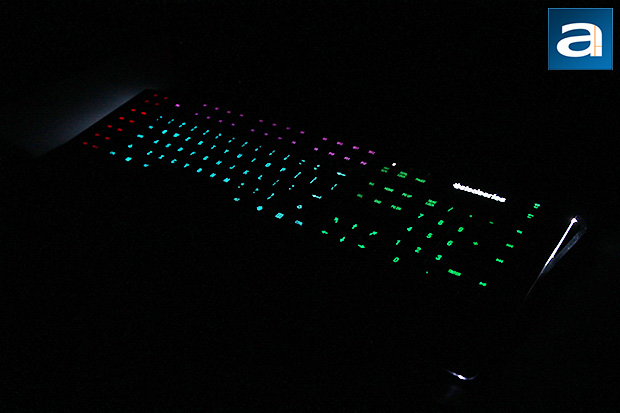 The real highlight of the SteelSeries Apex is its amazing lighting effects. Once plugged in, this keyboard is simply stunning in every way. The company calls it the ActiveZone Illumination, where each of the five independent zones can be configured by the user via software. The lighting color of each five available zones can be set to many different colors. Like the Logitech G19, there are 16.8 million different colors to choose from, with eight levels of intensity that can be adjusted on the fly. The colors for each of the four macro layers can be set independently as well, making each profile visually differentiable from one another. The backlight quality is excellent; the intensity distribution is very even with no leaking on the side.
In addition to providing visual profile identification, configurable active layer colors with five independent zones allow you to find groups of macros based on its function. SteelSeries provides an example of setting something, say, red for attack, blue for defense, and green for harvesting -- there are actually practical reasons for doing this. The color zones are separated into distinct sections on the Apex, with them being the left macro keys, top function and macro keys, main keyboard areas, control keys and number pad, and the SteelSeries logo plus side lighting. In case you have not got my point, I am a huge fan of the SteelSeries Apex's lighting design -- the side LED strips remind me of Audi headlights, and it really accentuates the style of this keyboard. The biggest problem you will probably ever face is having it stolen at a LAN party, haha.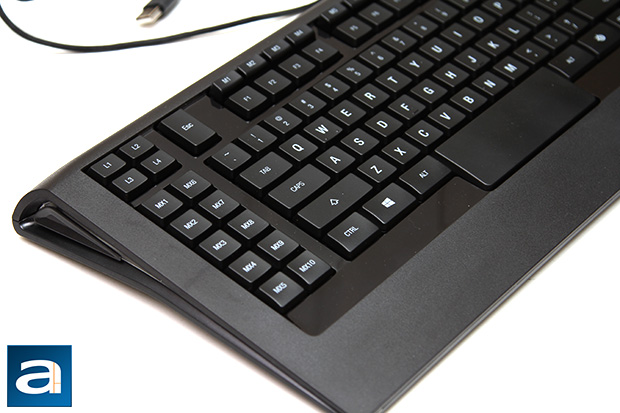 A closer shot at the left side of the SteelSeries Apex. As you can see in the photo above, ten user programmable macro keys labeled MX1 through MX10 is located here. The layer or profile selection keys are found at the upper left hand corner; labeled L1 through L4, for each independent layer, respectively. At the top, you will find the double height Escape key, while the uber large spacebar is located at the bottom as aforementioned. Once again, I have to say it is definitely a welcomed addition, as it makes the keys easier to hit, with no detrimental side effects. Of course, I think the decision to make the Escape key double height is also for design reasons. Twelve macro keys labeled M1 through M12 are placed directly on top of the elevated F keys to provide easy adjacent key combination commands. At first, I thought it was a bad idea, as the small size of the M-series keys, along with its close proximity to the F keys, can easily be activated unintentionally. However, once you actually get a hold of the Apex, you will notice they are actually elevated slightly above the F keys at an increased angle, making them physically distinct.
Regular keyboards have bumps on the F and J key, so the user can easily align their fingers on the home row without looking. The SteelSeries Apex takes this one up, and has two dots on the W key, so the user can get their WASD battle positions ready quickly. Because the two dots are situated near the outer corners, it will not serve as a distraction during normal usage.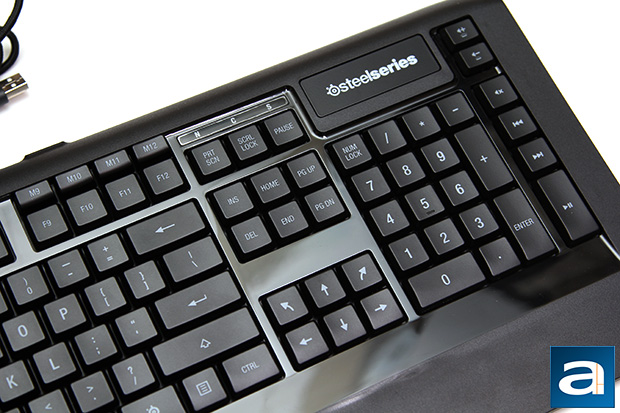 Almost everything here is pretty standard in terms of layout, with a few additions. That said, the arrangement of production keys is in classical formation -- users who are used to the Logitech arrangement will need to switch back. I am a big fan of the single row Enter key layout, as present on the SteelSeries Apex. Keyboards with a double row Enter key usually means the "\" button is moved to the left side of the right "Shift" key; reducing the size of the latter. I am more used to having a full width Shift on the right, and a half height Enter. Obviously, this is more or less personal preference, but having a half height Enter key makes a lot more sense to me.
One of the highlights of this keyboard is the SteelSeries key, which is basically a rebranded Function key. If you hold down the SteelSeries key, and hit the Windows key, it will toggle the latter on or off. This is an important feature in any gaming keyboard, because let's face it: How many times have you tried to duck in your favorite FPS while engaging an enemy, only to be killed instantly, because you missed the "Ctrl" key and your game was minimized? This is a legitimate issue, and the Win Lock function is a good solution. For most people who did not read this review, you will need to look at your user manual to figure out this command -- something most people do not bother with. One small flaw I find with this feature on the SteelSeries Apex is the lack of a Win Lock indicator LED. There is no way to tell if the lock is engaged or not until you actually press it. For some inexperienced users, if Win Lock is engaged without their knowledge, they may think that particular key is broken.
The SteelSeries key also allows on the fly backlight intensity adjustment when used in combination with the volume up/down buttons on the media control stack. Backlight intensity can be adjusted in eight levels as discussed earlier in this review, where the lowest level is off. The indicator LEDs stay on at a constant intensity at all times, regardless of backlight setting. Thankfully, its brightness is just right. The media control stack on the right also has a dedicated mute, skip back, skip forward, and play/pause key. What I did not like is the play/pause button is the same size as the Enter key on the number pad, which can be a bit confusing at times. I have definitely hit play/pause in lieu of the Enter key on the number pad by accident on multiple occasions.
Finally, you probably have noticed the additional arrow keys available on the SteelSeries Apex. The forty five degree left and right keys does exactly what it appears to do -- it sends a command equivalent of hitting 'up' and 'left' on your keyboard. Different people may find different uses for it, but I found it particularly useful in Photoshop when adjusting APH review logo stamps to the upper left or upper right corner.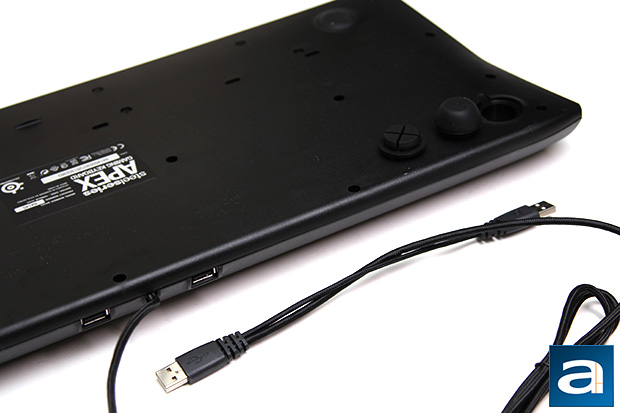 At the back of the SteelSeries Apex is the USB cable lead out. It comes out in the middle, and is not detachable. There are two USB connectors at the end of the cable, which, if you look at the back of the keyboard, are also two USB ports. If you plug the USB connectors from the keyboard back into the Apex's USB ports, you would have made yourself a nice wireless keyboard. (Just kidding, that's not how it works.) On the serious side of things, the two USB ports at the back of the Apex serve as a USB hub. Obviously, the USB cable goes to your computer. However, if you want the ports to be properly powered, you will need to plug in the second connector to your PC to supply additional current.
This nicely braided cable extends 1.8m in length, and connects to your computer by a regular USB connector. It is not gold plated, but it does not matter. When we bring about the question of whether gold plated connectors are actually useful or not, let's just say if it was the actual pins, then possibly -- since gold offers better conductivity than other metals. This theoretically establishes a better connection with your computer, but on a digital signal level, we must understand it is a discrete one or zero; so if anyone tells you they can tell the difference, you can definitely defeat their theory with a double blinded test. Additionally, if you are referring to the gold part of the connector you see on the plug, I would like to point out it actually does not make any physical contact electrically with your computer. In other words, it is nice to have, and it is pretty to look at, but it is not anything significant on a practical level.
At the bottom are four rubber feet to help the SteelSeries Apex stay in place during intense gaming sessions. It works reasonably well according to my experience. By default, this keyboard is tilted seven degrees towards the user. The back rubber feet can easily be replaced by taller ones included out of the box to increase the tilt angle to ten degrees, as you can see in our photo above. No keyboard drain holes are available, so be sure to keep your Mountain Dew far away.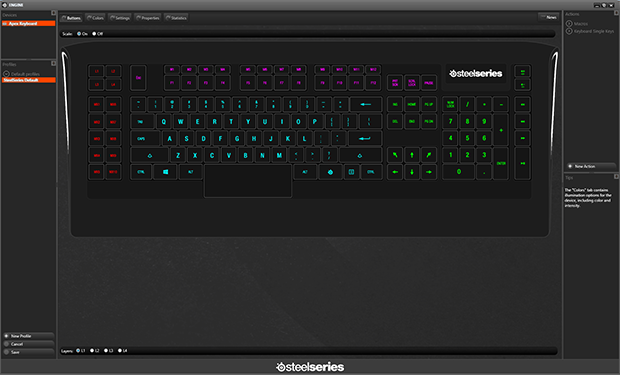 The SteelSeries Apex is managed by the familiar SteelSeries Engine software; the same program used for other hardware from the company like the SteelSeries Sensei. Upon installation, it will automatically update your keyboard firmware to the latest version. Here, you can custom tune everything from zone illumination color to custom macro combinations. SteelSeries Engine is reasonably easy to use, with a pretty clean interface. However, it suffers from some JPEG-like compression artifacts in some areas, while carrying some minor grammatical errors in a number of sections. It will still require a bit of polishing to make it perfect!
Once the SteelSeries Apex is selected from the left hardware devices menu, five tabs at the top will allow you play around with settings on your keyboard. The first screen is Buttons, where a virtual version of the Apex is displayed, and allows you to select and customize the function of pretty much key on the keyboard. The Colors tab, as its name suggests, allows you to customize backlight color presets of each individual zone across four different layers. The Settings screen lets you fine tune the polling rate and keyboard layout; the default polling rate is 1000Hz -- I don't see why it needs to be tuned down, unless you have a seriously weak computer. Properties allow you to load, export, and manage profiles. Finally, under Statistics, if activated, allows you see how frequently buttons are used and help you calculate your actions per minute. If you are a hardcore Asian StarCraft player, this will be like a feature of divine appointment for you, haha.
------------------------------------------
When gaming peripheral manufacturers got together a few years ago and made the mechanical keyboard popular again, they successfully created a large market for expensive products, but at the same time, cast a mass amount of people into a large illusion to believe everything they see as "mechanical = good" and "not mechanical = bad". Sure, mechanical keyboards are great, and we here at APH Networks are not set up to deny this fact. Actually, I used one every day for the last two years, and I loved it. But sometimes, we have to understand just because it is not a mechanical keyboard, does not make it an inferior product. The SteelSeries Apex is a fine example that defies everything people know about mechanical keyboards, and, to loosely quote Justin Timberlake, the Apex is "bringing membrane switches back". As ridiculous as this sounds, the Apex delivers surprisingly good typing feel. The short travel distance, with low profile keycaps and a well designed rubber dome mechanism, is a real pleasure to use. The accessible and logical laid out macro keys works out very well in practice, and its full set of dedicated media controls is certainly appreciated. Small refinements such as the large spacebar, dual height escape key, W key bumps, and extra arrow buttons turns the Apex from just great to awesome. Did I mention its downright stunning lighting effects? Of course, there is a short list of small improvements this keyboard could use in my personal opinion. The integrated wrist rest should be larger, a dedicated Win Lock LED added, play/pause media key relocated, more powerful anti-ghosting capability implemented, and a bit of polishing made to the SteelSeries Engine. At the end of the day, these are not real significant items. I wrote this entire four thousand word review on the SteelSeries Apex, and this is a powerful testimony to how great this keyboard is to type on. It also comes with an appearance unmatched by any other on the market today, as well as a full set of features for the all-round enthusiast computer user who does more than just gaming. The best part of it all? If I were to use the SteelSeries Apex next to my cousin in Toronto, calling my keyboard loud definitely won't be on his list of insults.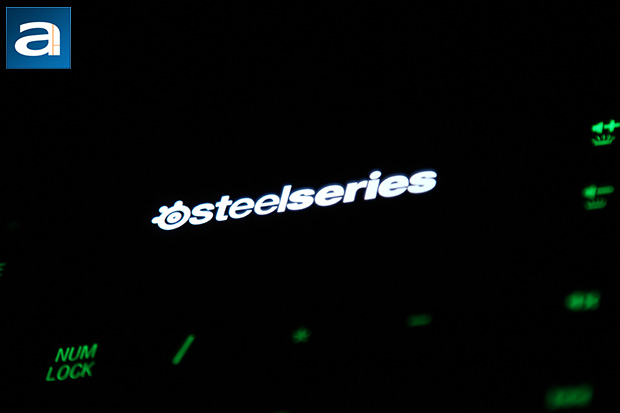 SteelSeries provided this product to APH Networks for the purpose of evaluation.

APH:Renewal Award | APH Review Focus Summary:
8/10 means Definitely a very good product with drawbacks that aren't likely going to matter to the end user.
7/10 means Great product with many advantages and certain insignificant drawbacks; but should be considered before purchasing.
-- Final APH Numeric Rating is 7.7/10
Please note that the APH Numeric Rating system is based off our proprietary guidelines in the Review Focus, and should not be compared to other sites.
The SteelSeries Apex is a keyboard that defies traditional wisdom by delivering surprisingly good typing response, stunning looks, and outstanding practicality without being mechanical.
Do you have any comments or questions about the SteelSeries Apex? Drop by our Forums. Registration is free, and it only takes a minute!